Daily Blog - Wednesday August 12th
FCS, FCS, FCS. I have to keep repeating that to myself. For as long as I can remember I have called it 1AA football and it is tough to teach an old dog new tricks. 1AA is now called FCS.

This week we ran a fan poll which listed the 68 FCS (1AA) teams that play FBS (1A) opponents. Just the fact that 68 teams from the FCS play major opponents this year should have you rushing to get all the FCS material you can get your hands on. The bottom line is that there is very little FCS material on the newsstands right now. My ACC/Big East Regional is over 300 pages with 136 pages on the FCS with a complete half page for each of the 135 FCS teams!
Click here to order.

Here are the 5 teams that you voted for on the fan vote and you get their complete half page on each team for free. The most requested team in the fan vote which wrapped up the Poll last night was The Citadel. The Citadel open their season vs North Carolina. The number 2 team in amount of votes was Massachuttes. The Minutemen play Kansas St in the opener and I have them #19 in the country. The #3 most requested team was Jackson St. They play Miss St this year. The SWAC actually got 2 of the top 5 in terms of votes with Alcorn St #4. Alcorn plays Southern Miss this year. Tied for the 5th most requested team were Northern Iowa (who plays Iowa) and Tennessee Martin (who plays Memphis). There are 93 games this year between FCS and FBS team. For a complete list of all 93 games click here!

Now here are the top 6 teams you voted for. There are 135 FCS teams and I have a complete half pages on each one. I will show you the Citadel page (see below) and to see the other 5 top vote getters, just click on their link.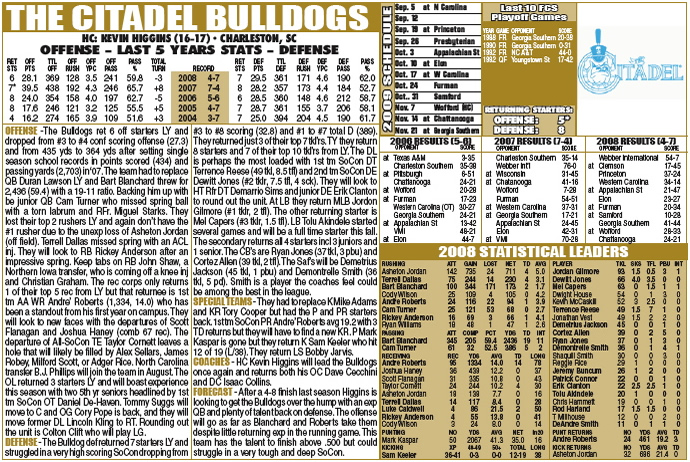 Now for each of the other 5 teams just click on the link below
Massachuttes Complete half page, click here
Jackson St Complete half page, click here
Alcorn St Complete half page, click here
Northern Iowa Complete half page, click here
Tennessee Martin Complete half page, click here

Finally Josh Buchanon (JBScouting.com) does a great job following FCS football. There are a LOT of late transfers from FBS (1A) schools to the FCS. You can get a full report of who is going where (and there are some big names). Click on the link below to get his full report for this week!
CLICK HERE for Josh's August report

Remember I want to do a complete FULL PAGE on every FCS team for next year and may even put out a separate stand alone FCS magazine but I need to see how many FCS fans are really out there. Click here to order this years ACC/Big East regional which has 136 pages on the FCS for just $6.99 plus $2 shipping. $6.99 is less than you spend for a beer in many ballparks across the country and you can show your support for increased coverage for the FCS for next year!


22 DAYS UNTIL FOOTBALL SEASON!