Weekend Blog - August 22-23rd
Football is less than 2 weeks away. On Friday at 12 noon we closed the conference poll and I have the final results. This is how you the voters picked each of the conference races this year. I will keep track of how each of the votes went and compare it to my magazine and the other magazines and let you know where the fan votes finish in the accuracy poll.
For the next week I will post this poll under the Projected Standings for 2009. At the end of next week I will shift it to my computer's projection for the season. This will be updated on a weekly basis after the previous week's games are complete and the computer has new power ratings. I find it fascinating that many times you will see some teams open up 2-0 and at the top of the league yet finish near the bottom due to the strength of schedule at different times. If you look at the current conference standings you do not get a true picture for a team's true odds of where they will finish in the standings. These standings are projected by my main computer rankings which take into account the yards rushing and passing as well as the points scored and special teams. These are NOT my personal projections.
Here are the projected votes for the conferences this year and I will give a conference by conference analysis below for each of the BCS conferences.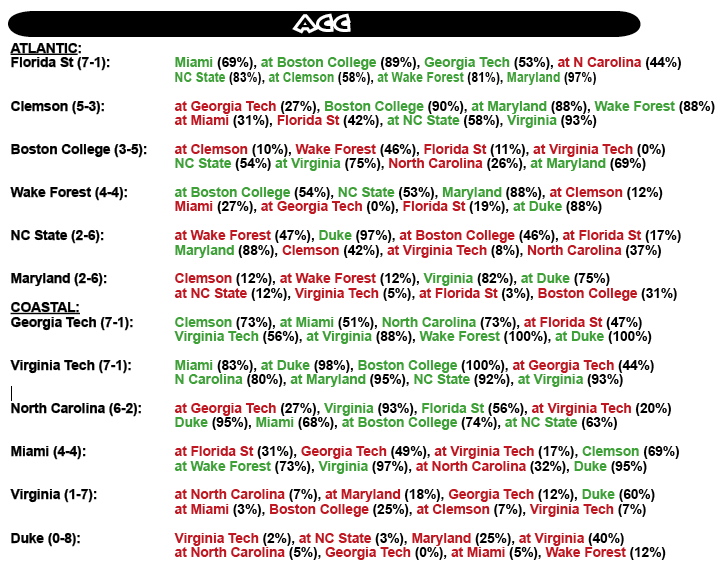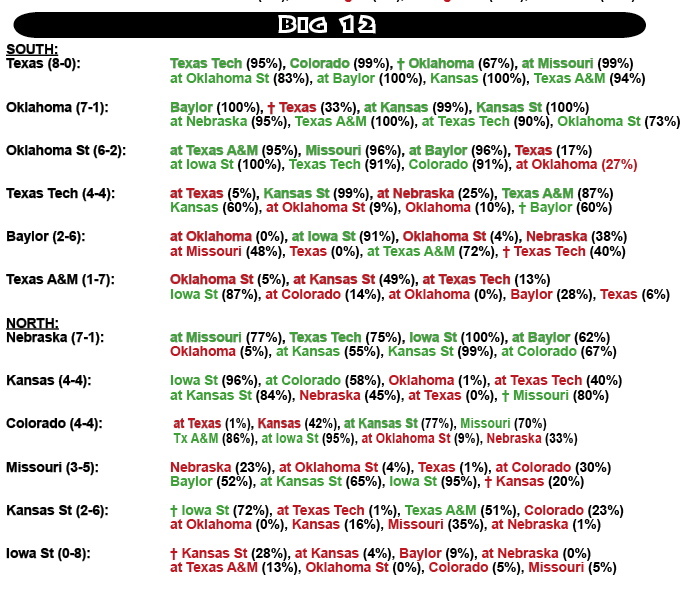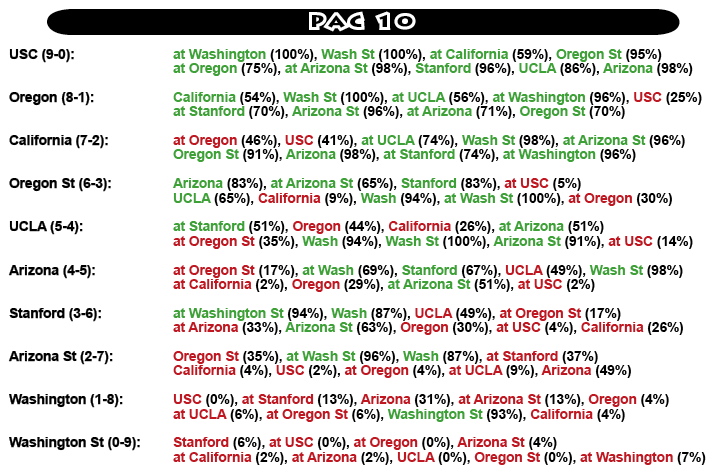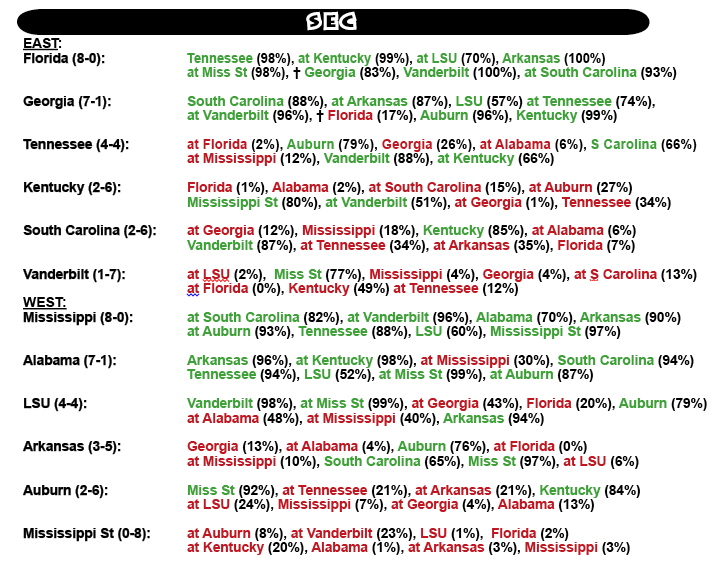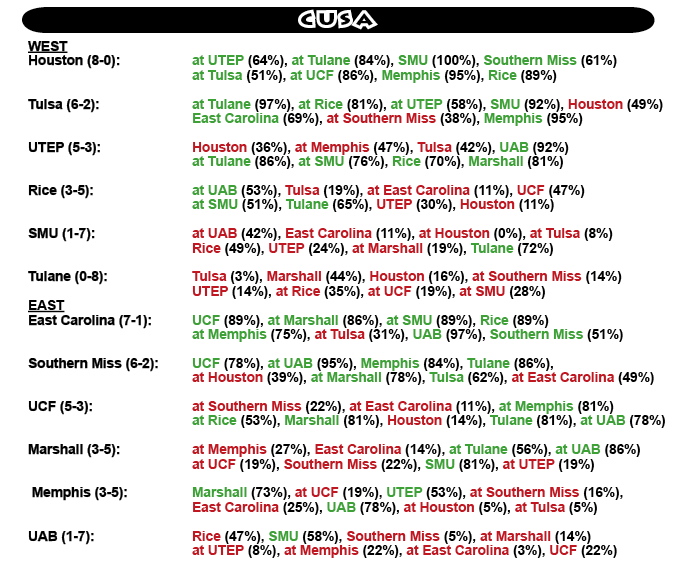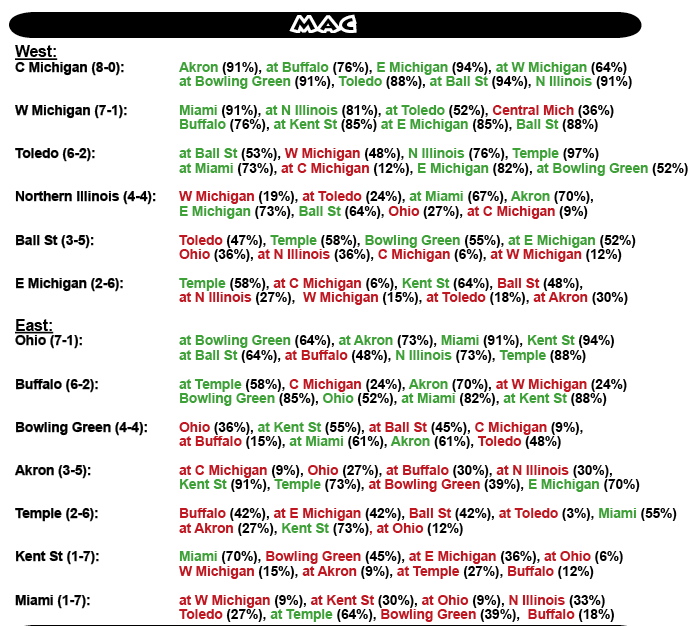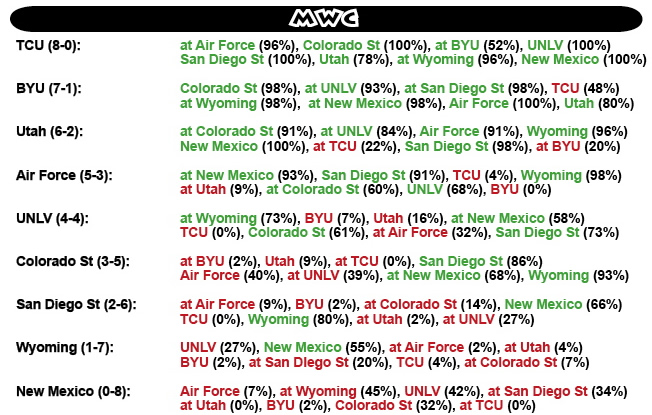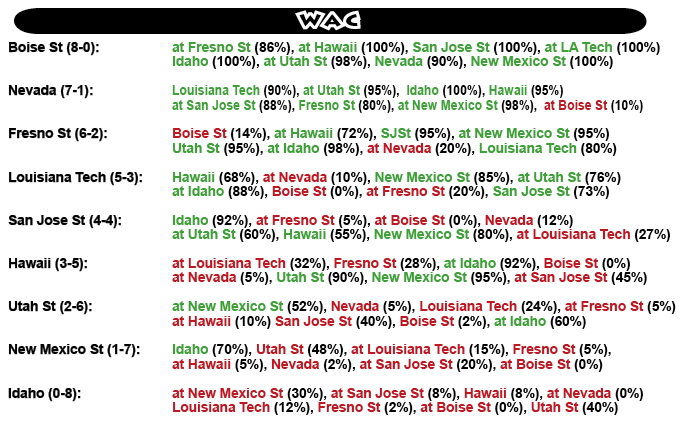 SEC – Ole Miss is the projected winners of the West with their closest game being 60% of the vote vs LSU. They received 70% of the vote vs Alabama. Arkansas was picked 4th in the West with 3 wins but 0% of the voters voted for them to beat Florida and just 4% to beat Bama and 6% to get past LSU while 10% think they can beat Ole Miss. Auburn is picked 5th but with just 2 wins. Naturally Florida is the pick in the East with 93% plus votes in 6 games and the only two question marks being 83% vs Georgia and 70% at LSU. Georgia got the call over LSU (57%) and is pegged to go 7-1 with Tennessee at 4-4 a clear 3rd and Kentucky and South Carolina tied for 4th. Kentucky was picked to beat Vandy by a slim 51-49% margin.
Big Ten – Penn St received 72% of the vote in their showdown vs Ohio St and is the pick to win the Big Ten with an 81% vote over Illinois the next closest. After Ohio St at #2 (7-1) the voters have picked a two way tie for third with Iowa and Illinois all at 6-2. Mich St was picked at 5-3 and Wisconsin was pegged at 4-4 but had 49% of the vote vs Minnesota so were almost 5-3. There was only one 0% vote in the Big Ten and that was Indiana which received ZERO votes in their game vs Penn St.
Big 12 – Nebraska got 55% of the vote in their road game at Kansas and is projected to finish the year at 7-1. The voters say the North will not be close with Kansas and Colorado tying for a distant 2nd at 4-4. Texas surprisingly received 67% of the vote to get past Oklahoma and 83% to get past Oklahoma St and that has them winning the South. Baylor is projected to win just 2 Big 12 games but one was a 72% margin AT Texas A&M so the Aggies were voted to win just 1 game. There were some 0% votes in the Big 12 with Iowa St given ZERO chance of beating Nebraska or Oklahoma St. Surprisingly Kansas got 0% of the vote vs Texas and 1% vs Oklahoma. Kansas St got 0% vs Oklahoma and 1% vs Nebraska, Baylor got ZERO % vs both Oklahoma and Texas and A&M got 0% vs Oklahoma.
ACC – Florida St was the pick to win the Atlantic Division at 7-1 with Clemson a distant 5-3 and in 2nd place. Wake was pegged 4-4 and surprisingly NCSt was picked tied for last. Georgia Tech was picked to win the Coastal as they are forecast to tie VT at 7-1 but beat the Hokies at home by 56% of the voters. NC is pegged at 6-2 and Miami at just 4-4. The only games where ZERO % of the voters picked a team were Duke over Georgia Tech, Wake Forest over Georgia Tech and surprisingly Boston College over Virginia Tech.
Pac-10 – USC was pegged for 9-0 but only 59% had them getting past Cal on the road. Oregon was pegged for 2nd at 8-1 with 54% calling for them to beat Cal at home. Washington was given ZERO chance of upsetting USC and Wash St got 0% of the votes vs FOUR teams in USC, Oregon, UCLA and Oregon St and their highest % of the vote was just 7% vs their in-state rival.
Big East – It looks like my magazine had a little to do with the Big East vote as Rutgers was pegged to go 7-0 with their closest vote being 60% vs Pittsburgh. On the surface most would not have picked Rutgers but picking game by game and seeing they have the home and situational edge vs all of the other contenders, the voters agreed with my magazine forecast. West Virginia, USF and Pitt were all pegged at 5-2 and there was not a single 0% vote in the league despite the presence of Syracuse!