Daily Blog - Wednesday June 10th
Yesterday I put up the Toughest Schedules in the country for all 120 teams and as mentioned I feel the way I tabulate the rankings based on this years power ratings as opposed to last years records is by far the best way to determine the toughest schedule.
Today I will look at the teams that will benefit from playing a much easier schedule that last year and conversely teams that play a much more difficult schedule.
Every year in the magazine in my toughest schedule article I publish a GOING UP box which shows the top teams in terms of having a much easier schedule than the previous year. Last year teams like Utah (9-4 to 13-0), Notre Dame (3-9 to 7-6) and Arizona (1st bowl since 1998) made that list. I started this box in 2004 and roughly 80% of the teams that made the box have had an improved record the next year. Last year once again 8 of the 10 teams improved their record. Here is the Going Up Box from this year Toughest Schedule article and the number in the parenthesis is the number of spots that this years schedule is easier than last years schedule.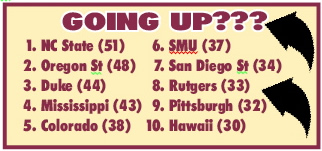 I also put a GOING DOWN box in the article which shows the teams that take on a much tougher schedule. In the 5 years that I have published the box an amazing 82% of the teams had a weaker record the next year! Last year Kansas went from 12-1 to 8-5, Arkansas went from 2 straight New Years Day Bowl games to a losing record and New Mexico had their worst record of the decade. Here are the teams that unfortunately for them play a much tougher schedule and made my GOING DOWN box.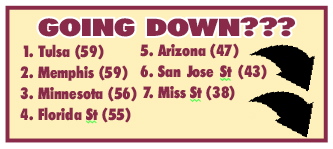 Don't forget the Phil Steele's 2009 College Football Preview is on the newsstands right now and available at Wal-Mart, Barnes & Noble, Walden Books, Borders, Hastings, Media Play, Target, Books-A-Million, Kmart and Circle K. There are other locations where we shipped to, so check the magazine section at stores near you.
85 Days until the start of football!