| | |
| --- | --- |
| Daily Blog • August 10, 2010 | |
When comparing the amount of coverage the FCS gets in preview magazines it pales in comparison to the FBS. This year, Lindy's has 4 pages in their national magazine devoted to the FCS. Athlon devoted none and The Sporting News who merged with Street and Smiths in '08 had 18 pages devoted to 1AA or FCS teams last year.

Last year we devoted 136 pages of FCS coverage in our ACC/Big East regional. We went to a half-page on each FCS school and this year we have expanded our coverage again. I am pleased to announce that we now have devoted a full page each on all of the 124 teams in the FCS and expanded our coverage to 175 pages strictly on the FCS! Every team has a full page with the last 6 years results, 2009 statistical leaders that are bold and un-bold showing which players are coming back, the last 6 years statistics, this year's schedule and a complete position-by-position breakdown which we expanded this year (roughly 1000 to 1500 words on each team)!

The FCS coverage can be found in this year's SEC/ACC/Big East regional magazine, which also has 4 pages on every SEC/ACC/Big East team and 328 pages overall (same as national FBS mag)! This regional is available on newsstands in the Southeast/Coastal/ Northeastern regions for just $8.95. Let's face it you regularly pay more for a tip at a fancy restaurant but for just $8.95, you can become an expert on all the FCS teams! You can also purchase it through our offices for $13.70 (includes priority shipping) and we will ship them out to you within 24 hours unless ordered on the weekend. Call 1-866-918-7711 to get your copy today!

Here are a couple of team pages from this year's magazine for you to look at to get an idea of our detailed FCS coverage.
Click here to download the PDF version.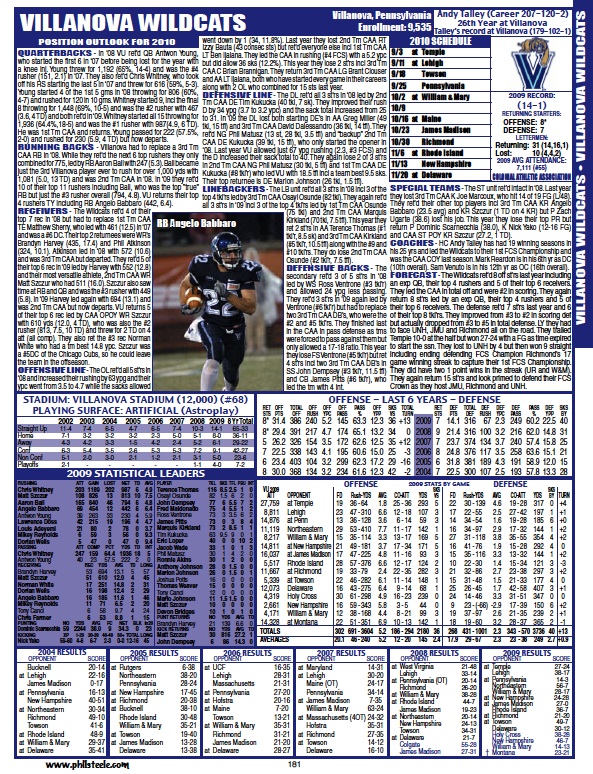 Click here to download the PDF version.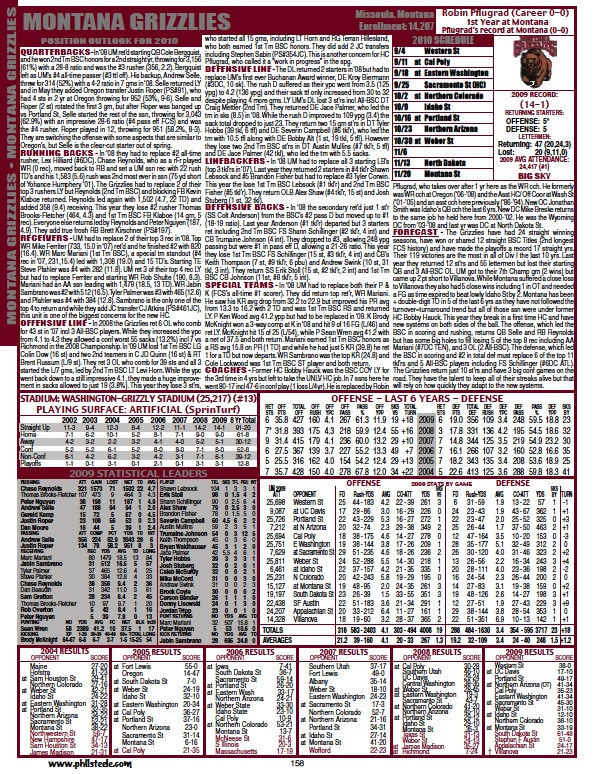 Remember most FBS teams (85) are scheduling one FCS team a year now as there are 89 games this year involving FCS vs FBS teams! Arizona State, Virginia, Syracuse, Ball State & San Jose State each play two FCS teams in 2010 and there will be 15 FCS schools playing two games vs. FBS competition this year. Some are of the marquee matchups involve Florida taking on Appalachian St, North Carolina plays William & Mary and Temple takes on cross-town rival and defending FCS champ Villanova. If you want to become an expert and get a detailed breakdown on the FCS team your favorite school maybe playing this year there is no better way than purchasing our FCS regional mag!

Also if you are FCS fan and would like to see our FCS regional magazine in your school bookstore please email brandon@philsteele.com and give us the contact # for the bookstore and we will try to get the magazines available there for you to purchase. Also if you have any school contacts that would like to promote our magazine whether it be on Facebook or any other school affiliated site, please take the time to promote your school with a magazine that is second to none when it comes to FCS information.

Also this year's NFL magazine is 256 pages, which is considerably thicker than most NFL magazines out there. In this magazine you get six pages on every NFL team packed with stats, position write-ups, past game results and so much more. Here on the blog today I thought I would put the six pages of the defending Super Bowl Champion New Orleans Saints. Click here to download the pdf version from this years magazine and this will show you all the information on each of the 32 teams that we produce. I will not go into great detail as to what is on the pages as you can see for yourself and I think you will agree that it is more information than any other NFL preview.

The Pro magazine should have hit newsstands across the country last week. However, with this being just the 2nd year I have put the magazine on the newsstands it will only have about half of the distribution that my College Magazine has. If you cannot find my Pro Football Preview anywhere near you, try ordering thru the PhilSteele.com store or call our offices at 1-866-918-7711. The cost is just $12.70 (includes priority shipping) and we will ship it out of our offices within 24 hours unless ordered on the weekend and in that case it will get shipped 1st thing on Monday.

Only 23 Days Until the First College Football Game!!!