| | |
| --- | --- |
| Daily Blog • August 17, 2010 | |
The last couple of years, I have I put up a poll for everyone to pick who would win each conference game during the year. I found these results fascinating prior to the year. When you vote in the poll, it tabulates the current % of votes for each team in each individual game. Here are the results of the fan poll from 2009.

When initially reviewing the results I was quite impressed with the accuracy as you the fans did quite well in numerous conferences. In fact, when I calculated the results (similar to what stassen.com does for all the major preseason college football magazines) you guys finished #1!!!! Check out my June 10 Blog for more details.
On Saturday, we closed the polls for all the conference predictions and below is the results for every single conference game. Now up on PhilSteele.com, is all the non-conference games for you to vote on. he Non-Conference Poll will run until Sunday, Aug 29th. On Monday the 30th, look for the Weekly Polls to start. There are games every day Thursday September 2nd thru Monday September 6th as the first week of the season looks to kick off with a bang! Weekly prizes will be awarded throughout the season.

SEC WEST
According to your votes Defending champ Alabama is predicted to go undefeated in the regular conference season for the 3rd year in a row! Georgia was the last SEC team to do so back in 1980-82 playing a six game schedule. The Crimson Tide's closest game is expected to come against LSU as they received 66% of the vote. According to you, Auburn will start 6-0 in the SEC before dropping their last two to Georgia and Alabama. In somewhat of a surprise, LSU gets the nod over Arkansas despite the game being played in Little Rock on November 27.
SEC EAST
In the East, Florida is expected to win all of their games except their road trip to Alabama as the Gators will look to make it three straight SEC East titles. Georgia also is expected to go 7-1 but just 41% of you so far expect them to beat Florida. Surprisingly to me, you have South Carolina at just 3-5 in conference play as they must face three of the best teams in the SEC West in Auburn, Alabama and Arkansas. Finally, Tennessee with a tough opening schedule is expected to start 0-5 before winning their final three.
BIG TEN
Ohio St is expected to go through the conference unscathed and this would be their sixth straight shared or outright Big Ten title. Their closest games are expected to be their road trips to Wisconsin (67%) and Iowa (67%). Speaking of the Hawkeyes, they the nod for 2nd place over Wisconsin (69%) and according to you should win most of their games comfortably with only the Penn St and Wisconsin games coming under 75%. Wisconsin and Penn St do not play each other this year and the Badgers and Nittany Lions are expected to tie for 3rd with both of them having 6-2 records. Michigan St may be in line for HC Dantonio's best season yet and according to you they will finish with a 5-3 mark. Michigan HC Rich Rodriguez may be sitting on the hottest seat in all of college football this year and is job could be in jeopardy if the Wolverines finish with a 3-5 mark as you predict.
BIG 12 SOUTH
My first question when I picked up the voter data for the Big 12 was "Who is picked to win Texas/Oklahoma?" The answer is Oklahoma with a convincing 73% of the vote. Naturally that means Oklahoma was picked top go 8-0 by the voters with 85% calling for a road win at Texas A&M. Defending champ Texas is also expected to lose to Nebraska while Texas A&M looks to have their best conference finish in many years according to you with losses coming only to conference heavyweights Oklahoma, Texas and Nebraska. Texas Tech looks to be in store for another nice season under first year HC Tommy Tuberville with a 5-3 conference mark.
BIG 12 NORTH
Nebraska looks to make it to a 2nd consecutive trip to the Big 12 title game in their final season in the conference. Their closest game is the rematch of last year's classic Big 12 Title game against Texas but this time 62% of you have the Cornhuskers beating the Longhorns in their game at Lincoln. If Nebraska does run the table, it would set up for a huge Big 12 Title showdown against Oklahoma in what could be the last meeting in a storied rivalry. Missouri is next in the division with a 4-4 conference record. It is interesting to see four Big 12 South teams with 5-3 or better overall records while only one team in the Big 12 North is expected to finish above .500. Naturally this shows that the South is without question the stronger division in the league.
ACC ATLANTIC
According to you, Florida St will win the ACC Atlantic with their only loss coming to Miami. So far the Seminoles look like clear winners in all the other games (80%+) with the exception of a home game against North Carolina (54%). Despite being picked to win at Boston College, Clemson is in 3rd with their tough schedule that includes predicted losses to ACC Coastal teams Miami, North Carolina and Georgia Tech. Meanwhile Boston College only gets one of the four possible Top 25 teams from the Coastal in Virginia Tech and gets the nod at 5-3.
ACC COASTAL
In the Coastal, the Hokies are heavy favorites in most of their games with only road games against Miami (55%) and North Carolina (66%) coming under 84%. Miami is picked to go 7-1 while Georgia Tech and North Carolina are picked to finish 5-3 in the conference.
PAC-10
The Pac-10 was the toughest conference for me to forecast this year as there is very little difference between the top 9 teams. So far your voting tallies agree with my "toughest conference to forecast" assessment as you have several tight races between conference favorites. USC even though they stand alone at the top with a 8-1 record, five of their games are in the 49-64% range which means one or two could go either way. Defending champ Oregon is picked to go 7-2 with only two their two losses coming under 70%. Oregon St in somewhat of a surprise is picked by you to finish tied at 2nd at 7-2 despite breaking in a new QB. Washington also is picked to go 7-2 while Stanford is projected to go 6-3. Two teams who I have rated much higher than you guys; Arizona and California are expected to finish below .500 in conference play but both teams had at least two games that could have gone the other way according to your votes.
BIG EAST
The Big East also figures to be very competitive this year and so far your votes reflect that. Right now you favor Pittsburgh to finish the conference season unscathed with West Virginia coming in at #2 with a 6-1 mark. Cincinnati, USF and Connecticut all finished at 4-3 with the Bearcats coming close to 5-2 (49% at Connecticut).
MWC
This conference has been dominated by Utah, BYU and TCU (Air Force a clear #4) in the past several years and this year looks no different. Right now you have TCU edging out Utah (60-40%) as the Horned Frogs look to be a heavy favorite in the other seven games with a 90%+ vote in each! Outside of the TCU game, Utah is also a heavy favorite in most of their games. BYU is projected to go 6-2 while Air Force is 5-3 with annual wins against all the conference teams outside of the Big Three.
CUSA WEST
Houston is your runaway choice to win the CUSA West division with only the game at SMU (65%) coming in under 78%. Meanwhile SMU looks to make it to their 2nd bowl game in a row and according to you, that should be no problem with a 7-1 projected conference mark. Tulsa looks to rebound from last year's disappointing 5-7 season as the Golden Hurricane are predicted to go 5-3 in conference play.
CUSA EAST
In the East, UCF is the favorite with a 7-1 record and wins over traditional CUSA powers Southern Miss and East Carolina. I do find it surprising that despite returning just 8 starters and having a new coach that East Carolina was predicted to finish at 5-3. UAB who I think has a great shot at bowl eligibility this year was projected to finish at just 2-6 in conference play.
WAC
There is no surprise here as Boise St is your heavy favorite to win the WAC with no game coming in under 90%. Nevada and Fresno St like my magazine are picked to finish just behind the Broncos. I do think it is surprising that you have Hawaii picked to finish 4th with a 5-3 record.
MAC EAST
Like my magazine predicts, Temple is your favorite to thru the MAC schedule unscathed and make their 1st trip to the MAC Championship game. The Owls were easy choices in most of their games with only a road trip to Northern Illinois coming under 70%. Ohio is predicted to finish 2nd in the East while new Buffalo HC Jeff Quinn looks to have a successful 1st year with a 5-3 projected finish.
MAC WEST
In the West, Northern Illinois is your pick to win it all as the Huskies barely edge out Western Michigan (55%) in the October 30 showdown. Surprising to me is that Central Michigan despite losing its HC, record-setting QB, its top two WR's, and their top RB from last year are picked to finish 6-2 in conference play.
SUN BELT
Middle Tennessee is projected to finish 8-0 in the conference for the first time in their history with only their home game against Troy (59%) being considered a toss-up. Defending champ Troy comes in at 7-1 while Arkansas St is projected to finish 6-2. Their was some reshuffling around in these standings since my last update as North Texas was projected to go just 1-7 in conference play but now the Mean Green are expected to go 3-5 which is a little closer to my 3rd place projection for them.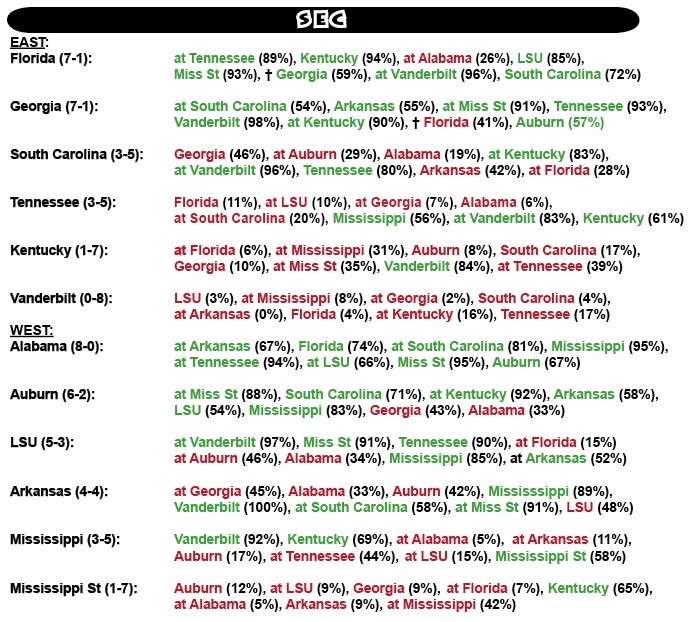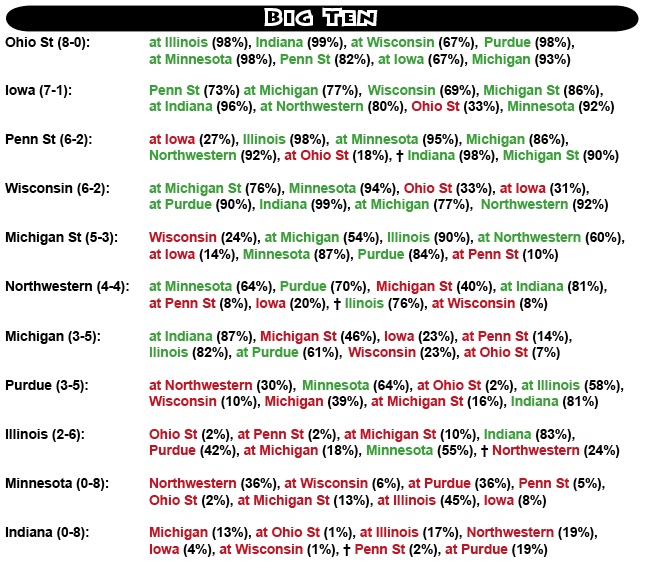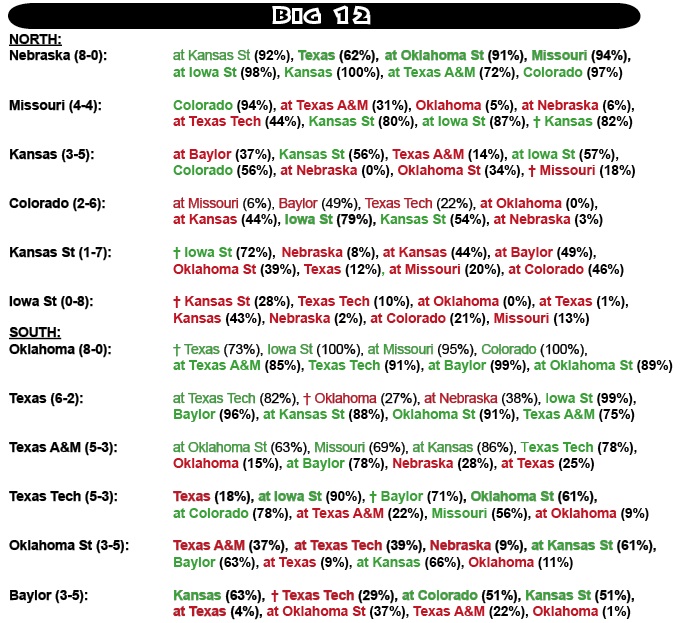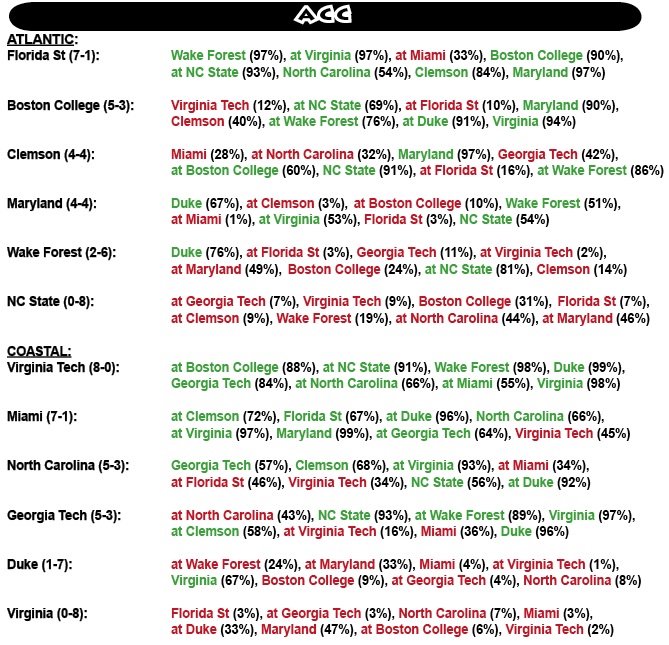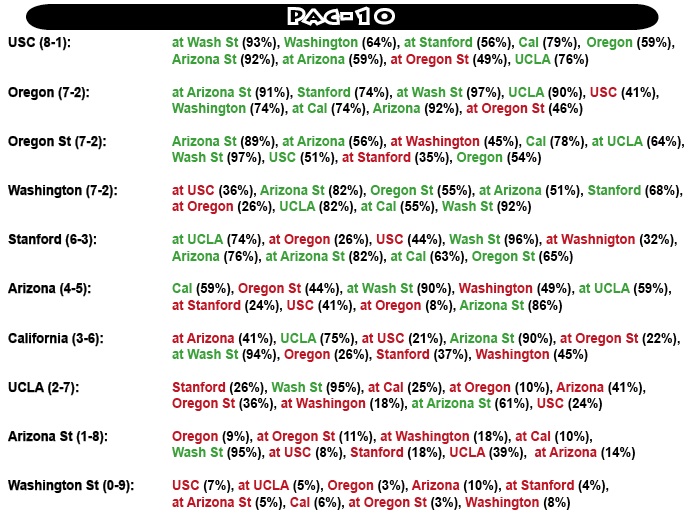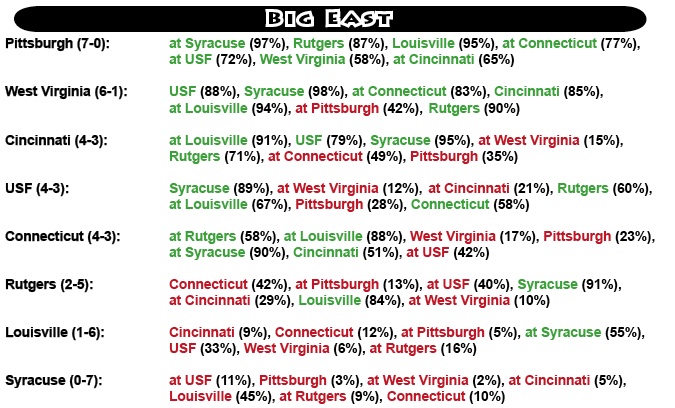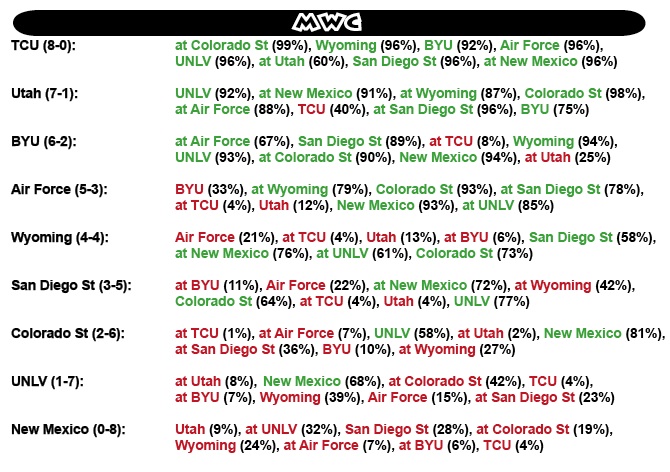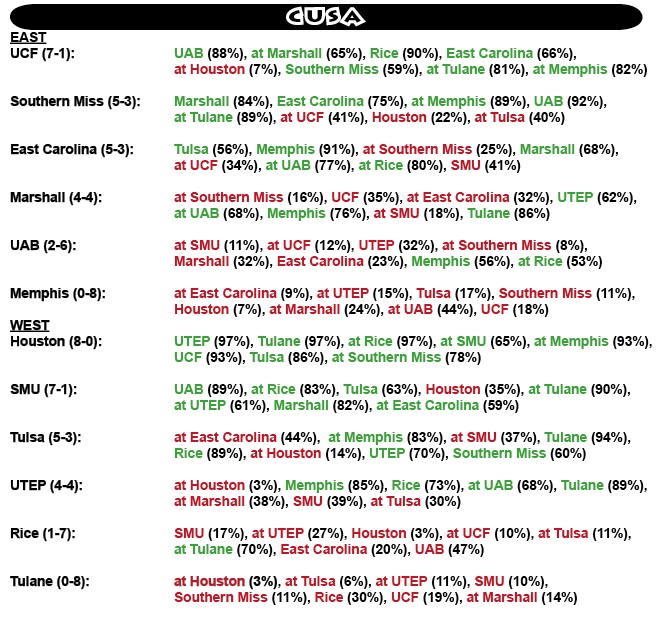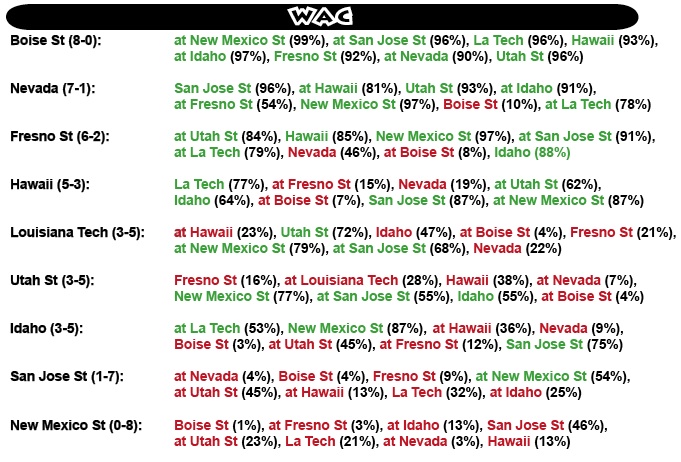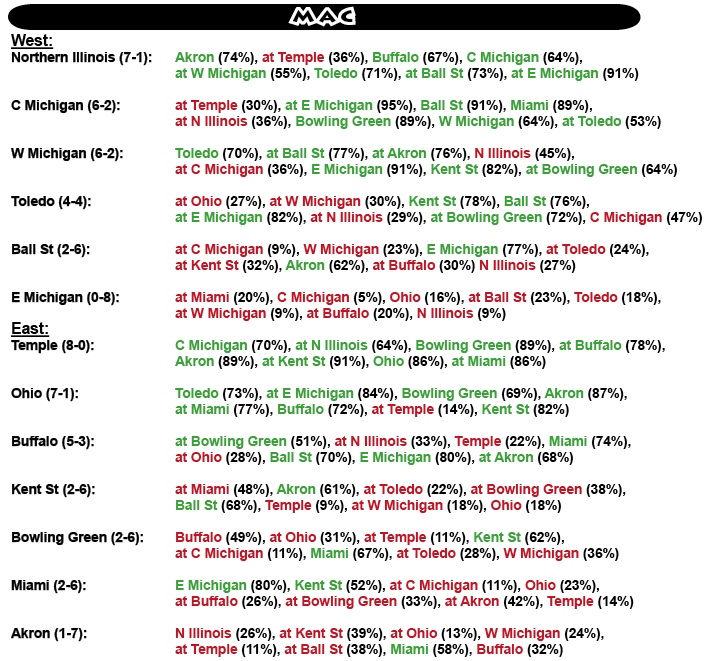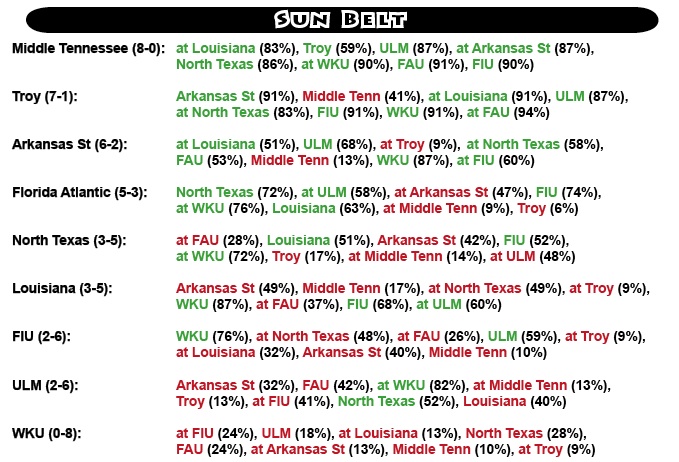 Only 16 Days Until the First College Football Game!!!