| | |
| --- | --- |
| Daily Blog • June 9, 2010 | |
The official on sale date for my 2010 College Football Preview was yesterday and if you do not already have a copy, head out to the bookstores and newsstands today. The magazine is available nationwide at Wal-Mart, Barnes & Noble, Waldenbooks, Borders, Hastings, Media Play, Target, Books-A-Million, K-Mart and Circle K. There are other locations where we shipped to, so check the magazine section at stores near you. The cost is just $8.95 in the stores but they tend to fly off the shelves. If you're having trouble finding a copy visit our store or call 1-866-918-7711 and order your copy thru the office (plus shipping).

The past few weeks I have been giving you some advanced articles from the magazine to wet your appetite for the upcoming year. Today I will give you the results of the Draft Day Party Hangover, which is on page 308.

After several years of research I have found that almost 7 out of every 10 teams that rank among the top in the NCAA in players drafted struggle the next year and have a weaker record. I call it the Draft Day Party Hangover Effect.
For the system I have created, 7 points are awarded if a player was picked in the 1st round. A 2nd round pick garners 5 points, a 3 round pick four, 4th round three and a 5th round two. In the NFL there's not much difference between a 6th or 7th round pick and a high quality undrafted free agent signee so I award 1 point to a 6th or 7th round pick. Using this point system I went back and plugged in the last 13 years' draftees and found some interesting results. I limited my research to those teams that totaled 12 or more points, which makes them among the best in the NCAA.
I do eliminate a team from my list that totaled 12 or more points if that is less than the previous year's total. Let's face it, some programs turn out lots of draft picks every year and 12 is a low total for some teams. If you need more information please refer to pg 308 in this year's College Preview magazine.
Over the last 13 years teams that earned more points than the previous year and accumulated....
12 or more points - Weaker or same record 179 of 236 (75.8%)
24 or more points - Weaker or same record 49 of 58 (84.5%)
35 or more points - Weaker record 13 of 15 (86.7%)

With that in mind, this year there were 21 teams that earned 12 points or more from their losses in the NFL draft. Three teams on that list have LESS points than last year in USC (25), Oregon (12), Mississippi (12).
One thing I pointed out in past years is that the National Champ does have a good shot at appearing on these lists. In the past 13 years there have been 14 National Champs (LSU and USC were co-champs in '03) with 12 of the 14 having earned 12 or more points in the draft the previous year. The only exceptions were '06 Florida (7 pts) and '08 Florida (11 pts). The two teams that overcame the biggest draft losses and still managed to win a title were the 2001 Miami Hurricanes, who had 34, and the 1998 Tennessee Volunteers (32). Seven of the 14 actually earned 20 or more points in the draft loss category. Last year's champion Alabama had 19 points in the draft loss category.
According to past history, in reviewing the 18 teams in the box below, only 4 or 5 will manage to improve their record this year, BUT the National Champ is very likely to be one of the 18 teams on the Draft Day Hangover List.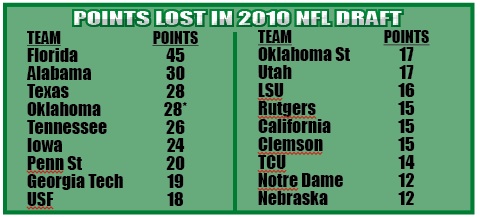 For 2010, I did make one tweak as Oklahoma came up with 35 but Jermaine Gresham a #1 pick (7 pts) did not play a down so I took his numbers out (see asterisk above).
Please check PhilSteele.com everyday to get my Top 30 Countdown, which posted #9 Miami, Fl yesterday. Thru June 16th, I will post both magazine pages on a new team ranked in the Top 30 and you can get an early look on how I breakdown your favorite team. Remember those magazine pages are available for only 24 hours for you to download. Today, USC comes in at #8.

Only 85 DAYS LEFT UNTIL THE FIRST COLLEGE FOOTBALL GAME!!!