| | |
| --- | --- |
| Daily Blog • May 21, 2010 | |
In Today's blog I will start releasing my Preseason All Conference teams with the PAC-10 and Independent teams.
The Pac-10 is very balanced this year as nine of the ten teams (Washington St) have a player on my 1st Team. Washington leads the way with five players led by QB Jake Locker. USC and Arizona both have four players on my 1st Team while Oregon, Oregon St, UCLA and Stanford each have 3 players.
Oregon St RB Jacquizz Rodgers and WR James Rodgers both appear on my preseason 1st Team for the 2nd year in a row as well as USC OC Kristofer O'Dowd, California LB Mike Mohamed, UCLA K Kai Forbath and California P Bryan Anger.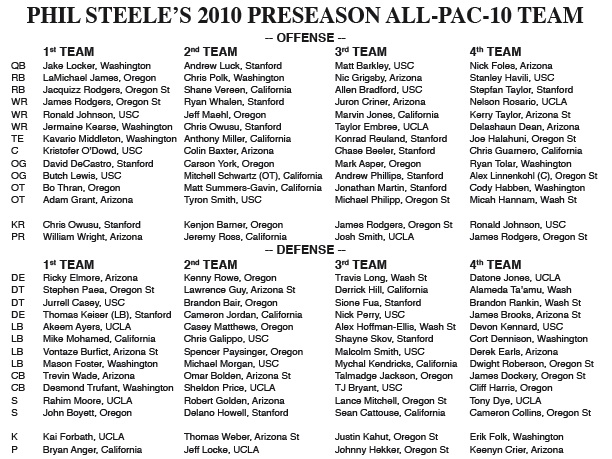 With just 3 independents left and one of them being a BCS team loaded with VHT players and the other two being service academies, it is tough to do a balanced All-Independent team. However, Navy has been catching up with Notre Dame over the past few years and have beaten the Irish twice in the last three years! Notre Dame leads the way with 14 1st Team players while Navy has 8 and Army 4.
QB Ricky Dobbs becomes the 1st non-Notre Dame QB to be named preseason 1st Team since Dan Orlovsky (Connecticut) in 2003! Also Notre Dame RB Armando Allen, Navy S Wyatt Middleton and Notre Dame CB Darrin Walls have been named to my preseason 1st Team 3 years in a row!
Download All-Independent Team.PDF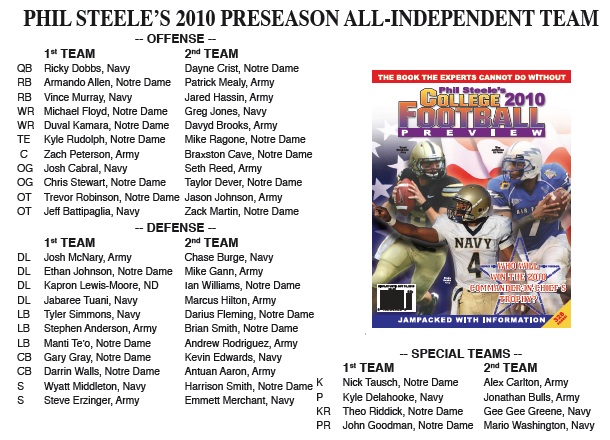 Please check PhilSteele.com everyday to get my Top 30 Countdown which continued yesterday with #28 Utah. Every day now thru June 16th, I will post both magazine pages on each team and you can get an early look on how I breakdown your favorite team. Remember those magazine pages are available for only 24 hours for you to download. Today Pittsburgh comes in at #27.

I will be back tomorrow with the All-ACC and All-MAC conference teams!

ONLY 17 DAYS UNTIL PHIL STEELE'S 2010 MAGAZINE IS ON SALE!

104 DAYS LEFT UNTIL THE FIRST COLLEGE FOOTBALL GAME!!!