| | |
| --- | --- |
| Daily Blog • May 22, 2010 | |
In Today's blog, I will continue releasing my Preseason All-Conference teams with the All-ACC and All-MAC teams.
The ACC is similar to the Pac 10 this year in that it is very balanced. I think the conference is the strongest it has been in years as I see the potential to have several top 25 teams this year.
North Carolina leads the way with 6 players on my 1st team including five on defense alone. When I talk to Gil Brandt or Mel Kiper about top NFL draft prospects for 2011 it seems like they are mentioning a North Carolina defensive guy every other player!
Miami and Boston College are 2nd with 5 players each and Florida St has 3 including QB Christian Ponder.
7 players made my Preseason 1st Team for the 2nd year in a row including Boston College OT Anthony Castonzo, Maryland LB Alex Wujciak, North Carolina LB Quan Sturdivant, Virginia CB Ras-I Dowling, North Carolina FS Deunta Williams, Miami K Matt Bosher and Maryland KR Torrey Smith.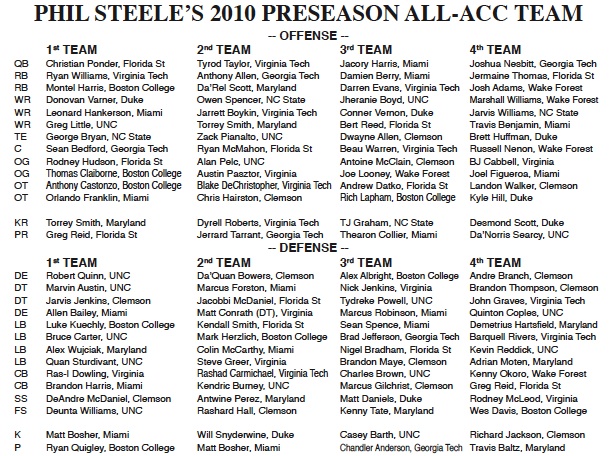 The MAC has been making some strides in the past few years and with Central Michigan's win over Troy in the GMAC Bowl, the MAC went 5-0 against Sun Belt teams last year.
Temple looked like the best team in the MAC last year at 7-0 but without RB Bernard Pierce, they lost to Ohio on the road in the finale and did not make the MAC Title Game. This year the Owls lead the MAC with an impressive 8 players on my Preseason 1st-Team list including Pierce who led the MAC last year in rushing with 1,361 (5.8). Ohio and Kent St are 2nd with 4 players each while Buffalo, Miami, Western Michigan, and Central Michigan have 2 players.
Central Michigan C Colin Miller and LB Nick Bellore are the only 2 players to make my Preseason 1st-Team list the last two years.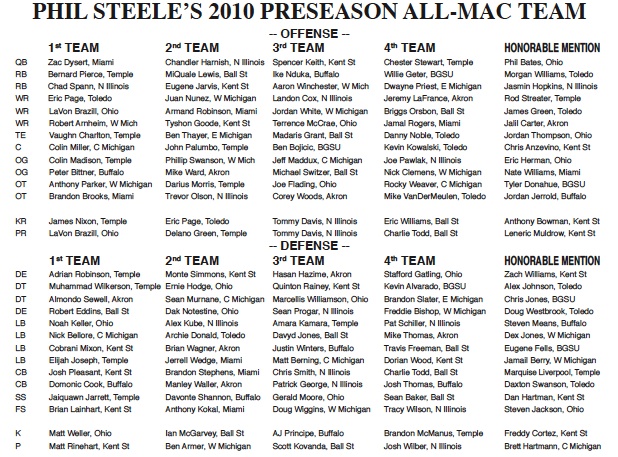 Please check PhilSteele.com everyday to get my Top 30 Countdown which continued yesterday with #27 Pittsburgh. Every day now thru June 16th, I will post both magazine pages on each team and you can get an early look on how I breakdown your favorite team. Remember those magazine pages are available for only 24 hours for you to download. Today LSU comes in at #26.

I will be back on Monday with the All-Big 10 and All-WAC conference teams!

ONLY 16 DAYS UNTIL PHIL STEELE'S 2010 MAGAZINE IS ON SALE!

103 DAYS LEFT UNTIL THE FIRST COLLEGE FOOTBALL GAME!!!