| | |
| --- | --- |
| Daily Blog • May 24, 2010 | |
In Today's blog, I will continue releasing my Preseason All-Conference teams with the All-Big Ten and All-WAC teams.
Defending Rose Bowl Champ Ohio St leads the way with nine 1st Team selections led by QB Terrelle Pryor who had a phenomenal Rose Bowl hitting 23-37 for 266 (72 rush). Wisconsin has five players led by RB John Clay who led the Big Ten in rushing last year with 1,517 (5.3) and 18 TD's. Orange Bowl Champ Iowa placed four on my 1st Team led by DE Adrian Clayborn (11.5 sk) who turned down a shot at the NFL.
Seven Big Ten players made my Preseason 1st Team for the 2nd year in a row: Wisconsin RB Clay, Penn St RB Evan Royster, Purdue WR Keith Smith, Penn St OG Stefen Wisniewski, Ohio St OG Justin Boren, Michigan St LB Greg Jones and Ohio St CB Chimdi Chekwa.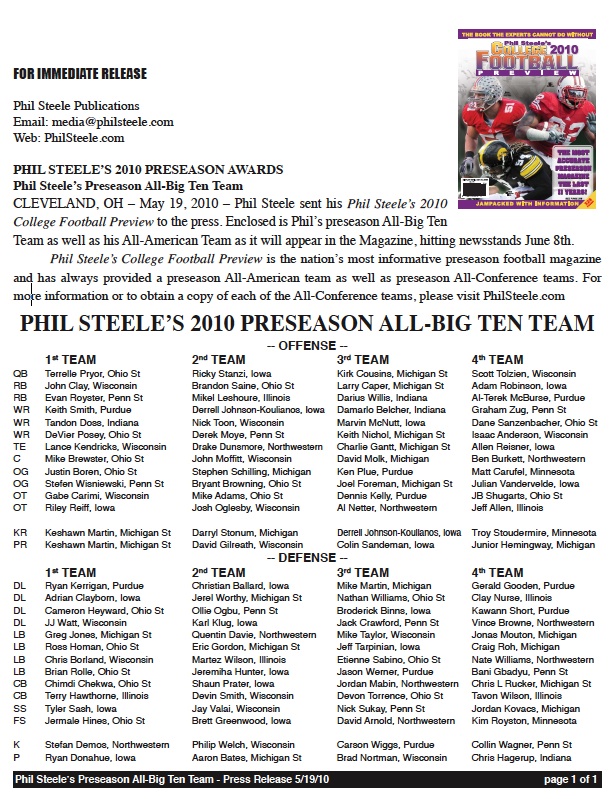 Boise St leads the way with 10 players on my 1st Team led by QB Kellen Moore who is a legitimate Heisman candidate this year after throwing for 3,536 yds (64.3%) with an amazing 39-3 ratio last year.
Fresno St has five players on my 1st Team led by LB Ben Jacobs who had 106 tkls last year. Nevada placed four on my 1st Team led by RB Vai Taua who is the leading returning rusher in the WAC after having 1,345 (7.8!) last year. Louisiana Tech also has four led by return-man Phillip Livas who led the WAC in kick return avg (27.0) last year.
In the WAC, 10 players made my Preseason 1st Team for the 2nd year in a row: Nevada RB Taua, Bosie St WR Austin Pettis, Hawaii WR Greg Salas, Fresno St OG Andrew Jackson, Louisiana Tech OT Rob McGill, San Jose St SS Duke Inhenacho, Fresno St LB Jacobs and K Kevin Goessling, Boise St P Kyle Brotzman and Louisiana Tech PR Livas.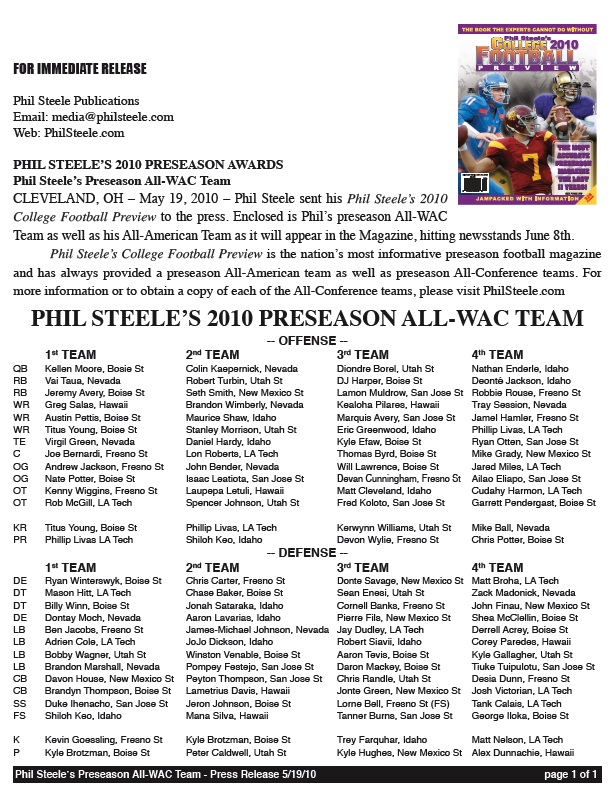 Please check PhilSteele.com everyday to get my Top 30 Countdown which yesterday posted #25 Arizona. Thru June 16th, I will post both magazine pages on a new team ranked in the Top 30 and you can get an early look on how I breakdown your favorite team. Remember those magazine pages are available for only 24 hours for you to download. Today, Houston comes in at #24.

I will be back on Tuesday with the All-Big East and All-Mountain West Conference Teams!

ONLY 15 DAYS UNTIL PHIL STEELE'S 2010 MAGAZINE HITS THE NEWSSTANDS!
101 DAYS LEFT UNTIL THE FIRST COLLEGE FOOTBALL GAME!!!