| | |
| --- | --- |
| Daily Blog • May 25, 2010 | |
In Today's blog, I will continue releasing my Preseason All-Conference teams with the All-Big East and All-MWC teams.

In the Big East, West Virginia leads the way with seven 1st Team selections led by Noel Devine who rushed for 1,465 yds (6.1) last year. Connecticut returns 16 starters from last year's 8-5 team and placed six guys on my 1st Team led by Lawrence Wilson who led the Big East last year with 140 tackles (#10 NCAA).

The two best teams from last year, Pittsburgh and 2-time defending champ Cincinnati each placed five players on my 1st Team. The Panthers are led by All-American candidates RB Dion Lewis (1,799, 5.5), WR Jon Baldwin (1,111, 19.5) and DE Greg Romeus (Co-BE DPOY) while the Bearcats return many of their top receivers from a year ago led by Armon Binns who had 888 yds (14.6) and 11 TD's last year.

Six players made my preseason All-Big East 1st Team for the 2nd year in a row: RB Devine, Rutgers OT Art Forst, Pittsburgh OT Jason Pinkston, DE Romeus, Connecticut LB Scott Lutrus and Syracuse P Rob Long.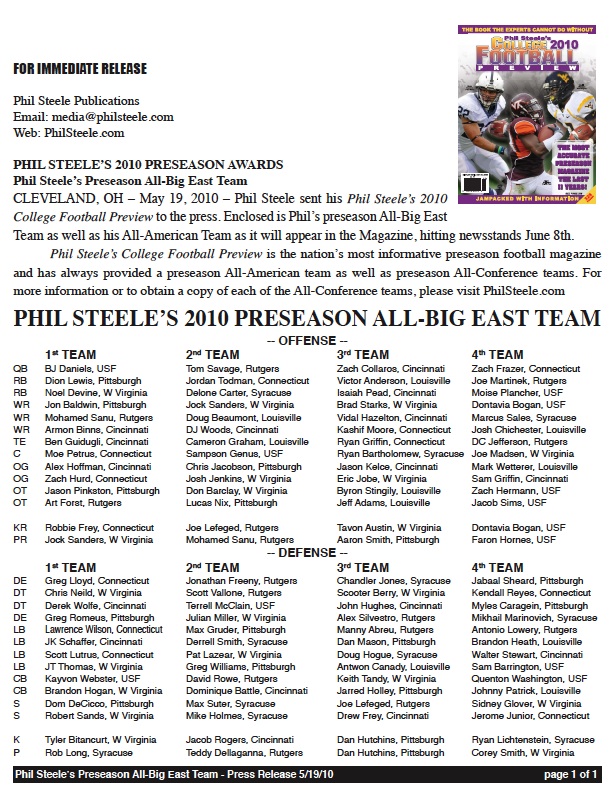 In the MWC, TCU easily leads the way with ten players on my 1st Team. The Horned Frogs are led by last year's MWC OPOY QB Andy Dalton who threw for a career high 2,756 yds (61.6%) with an outstanding 23-8 ratio and 512 rush (4.4). The Frogs also have an All-American Candidate in KR/PR Jeremy Kerley who was the MWC STPOY last year.
Utah is next with five on my 1st Team led by RB Eddie Wide who had 1,069 yds (5.3) last year after starter Matt Asiata was injured early in the season.

At the time we sent the magazine off to the presses on May 12, BYU RB Harvey Unga's availability was questionable so he does appear on my preseason All-MWC 1st Team for the 3rd year in a row. Naturally, last week we learned he will not return to BYU this year.

Only three other players made my Preseason All-MWC team for the 2nd straight year and they are all Horned Frogs in WR Jimmy Young, K Ross Evans and Kerley.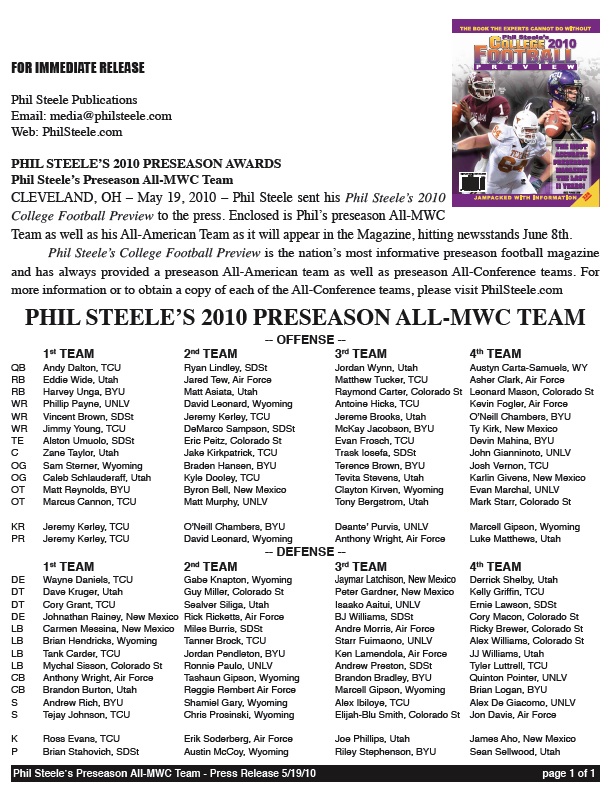 Please check PhilSteele.com everyday to get my Top 30 Countdown which posted #24 Houston yesterday. Thru June 16th, I will post both magazine pages on a new team ranked in the Top 30 and you can get an early look on how I breakdown your favorite team. Remember those magazine pages are available for only 24 hours for you to download. Today, Wisconsin comes in at #23.

I will be back on Wednesday with the All-Big 12 and All-CUSA Conference Teams!

ONLY 14 DAYS UNTIL PHIL STEELE'S 2010 MAGAZINE HITS THE NEWSSTANDS!

100 DAYS LEFT UNTIL THE FIRST COLLEGE FOOTBALL GAME!!!