| | |
| --- | --- |
| Daily Blog • May 26, 2010 | |
In today's blog, I will continue releasing my Preseason All-Conference Teams with the All-Big 12 and All-CUSA Teams.
In the Big 12, Oklahoma leads the way with eight 1st Team selections led by All-American Candidates RB DeMarco Murray (705, 4.1) and WR/PR Ryan Broyles who had 1,120 rec yds (12.6) and 15 TD's to go along with his 15.9 PR avg (1 TD). Texas is 2nd with five players including four on a defense that returns seven starters from from a unit that allowed just 252 ypg and 16.7 ppg last year.

Four Nebraska players made 1st Team including All-American Candidates DT Jared Crick (9.5 sks, 5.5 tfl) and CB Prince Amukamara (5 int, 11 pbu). Texas A&M also placed four on my 1st Team led by QB Jerrod Johnson who threw for 3,579 yds (59.6%) with a 30-8 ratio and had 506 rush yds.

RB Murray has made preseason 1st Team All-Big 12 for the third consecutive year while four players made my preseason list it for the second year in a row: Oklahoma DE Jeremy Beal and LB Travis Lewis, Nebraska K Alex Henery and Baylor P Derek Epperson.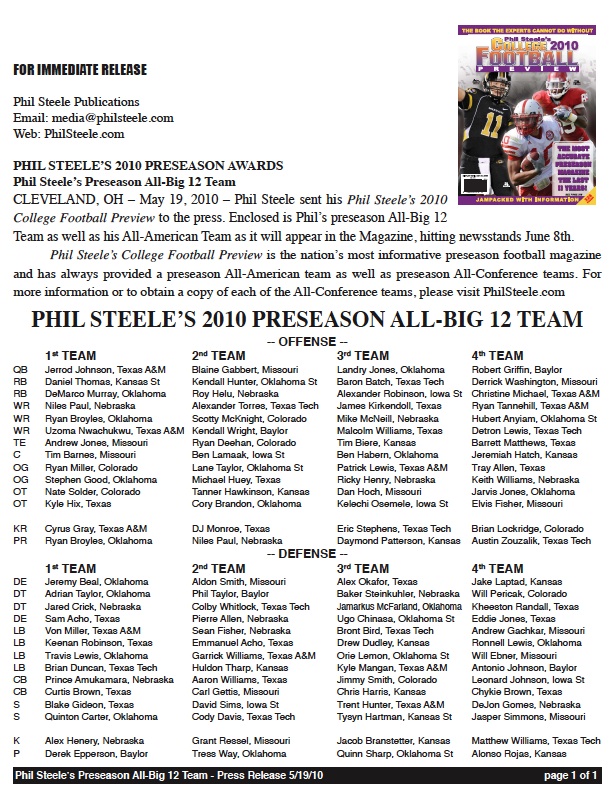 In CUSA, Houston sets the pace with six players led by Heisman candidate QB Case Keenum who threw for 5,671 yds (70.3%) with a 44-15 ratio. On the defensive side, the Cougars return LB Marcus McGraw who was #3 in the FBS with 156 tkls last year.

Southern Miss is next with five players including WR DeAndre Brown who had 785 rec yds (16.7) with 9 TD's last year. UCF has four players led by DE Bruce Miller who was the CUSA DPOY last year with 13 sks and 5 tfl.
Four players made my preseason 1st Team for the second consecutive year including Keenum, McGraw, Brown and Marshall LB Mario Harvey.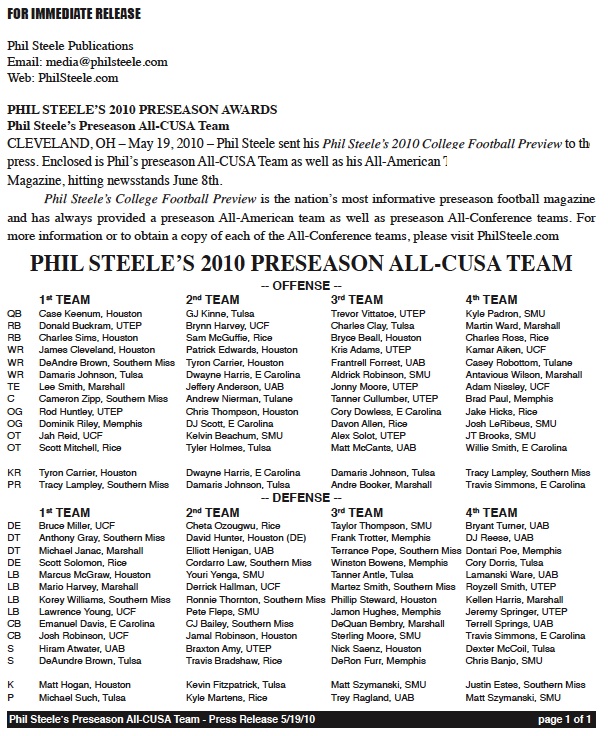 Please check PhilSteele.com everyday to get my Top 30 Countdown which posted #23 Wisconsin yesterday. Thru June 16th, I will post both magazine pages on a new team ranked in the Top 30 and you can get an early look on how I breakdown your favorite team. Remember those magazine pages are available for only 24 hours for you to download. Today, West Virginia comes in at #22.

I will be back tomorrow and wrap up my preseason All-Conference Teams with the All-SEC and All-Sun Belt Teams!

ONLY 13 DAYS UNTIL PHIL STEELE'S 2010 MAGAZINE HITS THE NEWSSTANDS!

99 DAYS LEFT UNTIL THE FIRST COLLEGE FOOTBALL GAME!!!