| | |
| --- | --- |
| Daily Blog • May 27, 2010 | |
In today's blog, I will finish releasing my Preseason All-Conference Teams with the All-SEC and All-SBC Teams.
In the SEC, Defending National Champion Alabama leads the way with six 1st Team selections led by last year's Heisman Trophy winner Mark Ingram who rushed for 1,658 yds (6.1) with 17 TD's.

Georgia also placed six on my 1st Team thanks in large part to their outstanding special teams unit which has three 1st Team players! On offense, the Bulldogs are led by All-American candidate WR AJ Green who many feel will be the top WR taken in next year's NFL draft.

The conference is a little more balanced than the last couple of years as Auburn, LSU and Florida each have three players on the 1st Team while Arkansas, South Carolina and Kentucky each have two.

Only three players made my preseason SEC 1st Team for the second consecutive year: Green, Alabama WR Julio Jones, and Arkansas TE DJ Williams.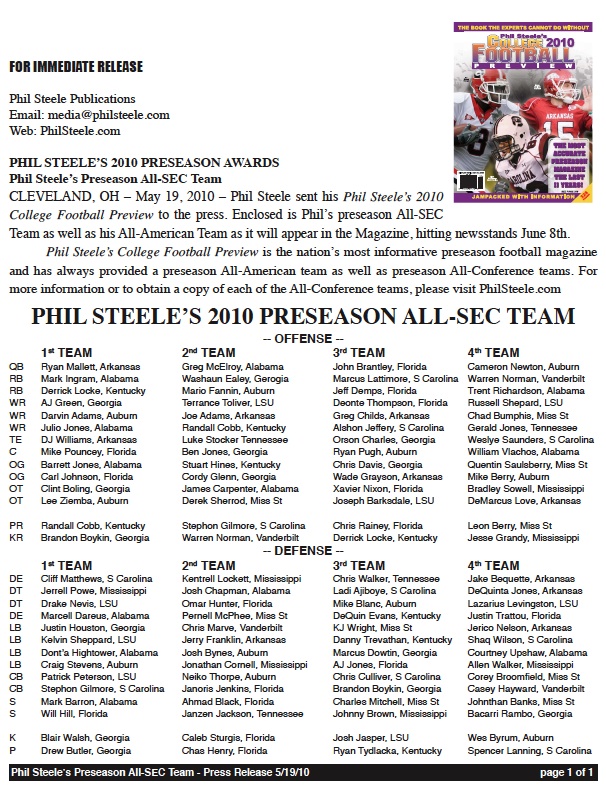 In the Sun Belt, Middle Tennessee returns 14 starters from last year's 10-3 team and has six players on my 1st Teamled by QB Dwight Dasher who broke the school record for total offense with 3,943 yds including 1,154 rush yds (5.2).

North Texas figures to be improved from last year's 2-10 finish and placed five on the 1st Team including a pair of OL in G Kelvin Drake (HM SBC LY) and T Esteban Santiago (1st Tm SBC LY).

Florida International has four on the 1st Tm including T.Y. Hilton who made 1st Team at WR and KR.

Three players made my preseason SBC 1st Team for the second consecutive year: Hilton, Troy WR Jerrel Jernigan and Arkansas St DT Bryan Hall.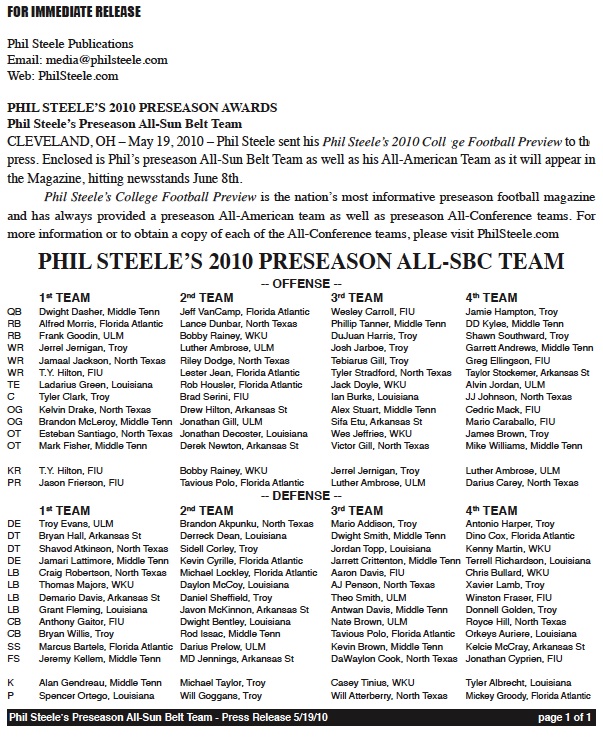 Please check PhilSteele.com everyday to get my Top 30 Countdown which posted #22 West Virginia yesterday. Thru June 16th, I will post both magazine pages on a new team ranked in the Top 30 and you can get an early look on how I breakdown your favorite team. Remember those magazine pages are available for only 24 hours for you to download. Today, South Carolina comes in at #21.

I will be back tomorrow with Part One of my New and Improved Experience Chart and then on Saturday will feature Part 2 of the chart which will stay up thru Memorial Day with many of you away from your computers.

ONLY 12 DAYS UNTIL PHIL STEELE'S 2010 MAGAZINE HITS THE NEWSSTANDS!

98 DAYS LEFT UNTIL THE FIRST COLLEGE FOOTBALL GAME!!!