| | |
| --- | --- |
| Daily Blog •August 17, 2011 | |
Turnovers can have a huge impact on games and on a team's season. They can also lead to many misleading final scores. During the season I list all of the previous week's misleading final scores on PhilSteele.com on my Monday Daily Blog. By reading about them each week you can uncover some underrated and overrated teams throughout the season.

Here are a couple of examples from last year. Iowa St benefitted in B2B weeks from a combined +8 in TO's beating Northern Iowa and Texas Tech by a combined 79-38. The next week they were even in TO's vs Utah and were pummeled at home losing 68-27.

West Virginia outgained Conn 414-278 and had a 24-16 FD edge but were -4 in TO's and lost 16-13. The next week they hammered Cincinnati 37-10 as a small favorite.

Turnovers can not only make a difference in a game but can make the difference between a winning and losing season.
Two years ago there was another GREAT example. In 2008, Buffalo won the MAC Title thanks mostly to being +19 in turnovers. They were actually outgained by an avg of 408-370 during the season! Last year they had 13 returning starters and this time outgained foes 405-343. That means they went from -38 ypg to +62 ypg (100 ypg better) but their record dropped to 5-7 as the TO's were -7.

Teams that benefited from double-digit turnovers the previous year rarely get a repeat of that good fortune. In the last 18 years, 263 teams have had double-digit plus turnovers. Of those 263, 169 have had weaker records the following year (64.2%). Only 62 teams (23.5%) have improved their record and the other 32 had the same record. Teams with a positive double-digit TO ratio had the same or weaker record 76.4% of the time since 1996. Listed below are last year's most fortunate teams: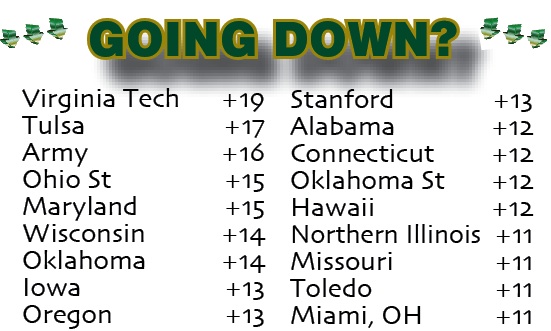 Last year 11 teams were in the "Going Down" box and only 4 managed to improve their record slightly. The teams with the biggest dropoffs were Rutgers which went from 9-4 to 4-8 and ended a streak of 5 straight bowls and Middle Tennessee which went from 10-3 to 6-7.

As I previously stated, if a team received bad breaks the year before, they will usually be headed for better fortune the following year. In the past 18 years, there have been 220 teams that have finished the season minus double-digits in turnovers. Of those 220 teams, 152 (69%) have had better records the next year! Teams with a negative double-digit TO ratio had the same or stronger records 81% of the time since 1996. Which teams are headed for better fortunes and better seasons?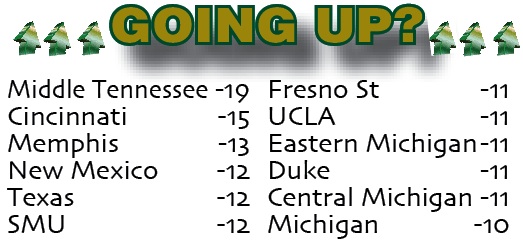 Last year Miami, Oh was at the top of the "Going Up" box as they were -24 in Turnovers in 2009. They simply became the FIRST TEAM IN NCAA HISTORY to go from double digit LOSSES to Double Digit WINS! (1-11 to 10-4)!!! Of the 12 teams that made the box last year only two failed to improved their records including New Mexico St which went from 3-10 to 2-10 (1 less FCS foe). The 12 teams in the box were a combined 50-98 33.8% in 2009 but improved to a combined 78-76 51% in 2010!!
Turnovers also have the same impact on the pro game. At first I figured that the NFL game would not show as much of a turnaround, but was actually surprised to see that the NFL game has had more turnarounds. First of all, the NFL season is 16 games long as opposed to 12 or 13 in college. With the extra NFL games, I upped the criteria from double-digit TO's to plus or minus 12 turnovers or .75 per game. I then analyzed all the NFL teams since 1991 that have benefited from +12 turnovers or more. In that span of 19 years there have been a total of 67 teams that benefited from +12 turnovers or more. Of those 67, 49 or 73% had weaker records the next season including 15 of 16 over the last five seasons!! There were seven teams that had the same record. Only 11 of the 67 teams (16%) were able to improve their record the next season after benefiting from +12 turnovers or more.

Two years ago Miami (+17) made my "Going Down Box" and the Dolphins went from 11-5 in '08 to just 7-9 in '09. Tennessee was +14 in 2008 and finished the season 13-3. In '09 the Titans did not catch the same breaks and they dropped to 8-8. Baltimore went 11-5 in '08 and made an appearance in the AFC Champ game thanks in large part to being +13 in TO's. The next year the Ravens did not have the same fortune and fell to 9-7.

Here are the teams that were +12 or more last year and could be heading to a disappointing season….New England +28, Pittsburgh +17 and Atlanta +14.

As I previously stated, if a teams received bad breaks the year before, they will usually be headed for better fortune the following year. Once again I was very surprised the NFL game yielded even higher percentages. Since 1991, 67 NFL teams suffered from -12 turnovers or more. Of those 67 teams, an amazing 47 or 70% had a stonger record the next season and 8 had the same record the next year. Of the 67 teams with -12 turnovers or more, only 12 or 18% did not improve their record the next season!!

Here are some teams that could be heading to better finishes this year. Buffalo -17, Jacksonville -15 and Miami -12.
If you like this type of information, you will love the News and Notes section which is updated weekly at PhilSteele.com. I review such information as "Misleading Final Scores" and much, much more. Keep tabs on all of these teams this year and watch how turnovers WILL EQUAL turnaround in 2011!
Only 15 Days Until the First College Football Game!!!