| | |
| --- | --- |
| Daily Blog •August 24, 2011 | |
For the last couple of years I have had team pages for all 120 FBS teams complete with notes, schedules, results, statistical leaders, game-by-game stats and start charts. With this being the first year of having a stand-alone FCS magazine I have also decided to do team pages on all 126 FCS schools complete with the same amount of info!
I can guarantee you that you will not find any other site on the internet today with as much dedicated to every single FCS school in one place and remember there are 38 matchups opening weekend involving FBS vs FCS teams.

Below is an example of what our William & Mary Page looks like.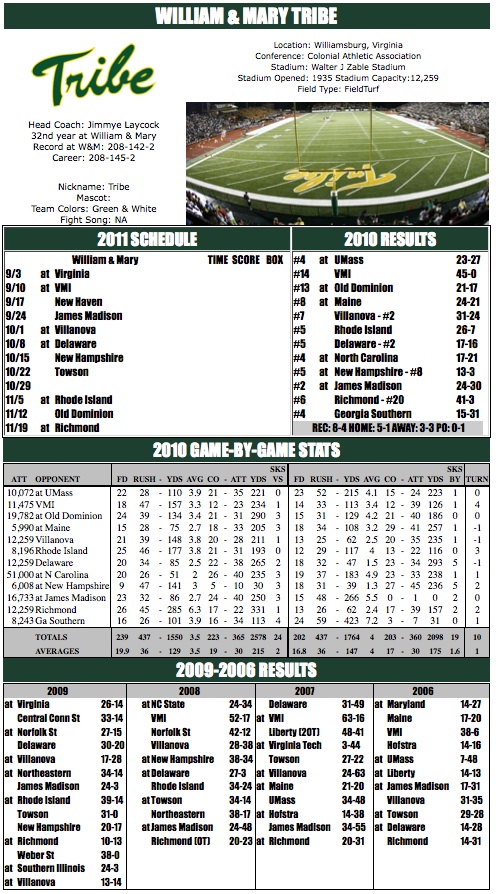 Help Support the FCS by purchasing Phil Steele's 2011 FCS Preview!

If you're an FCS fan I can promise you there is no other preview magazine like it on the market today with 240 pages dedicated to the FCS including one full page on every team! You can order it through our offices by calling us at 1-866-918-7711 or by going to PhilSteele.com and it is just $13.70 (S&H included). You will become an instant expert on EVERY FCS team and remember every year there are more and more matchups between FCS and FBS schools. So get a leg up on one of your favorite team's possible FCS opponent this year by purchasing Phil Steele's 2011 FCS Preview today!

If you're an FCS coach, AD, conference coordinator, SID or FCS fan please help me promote each and every one of the 126 FCS schools by purchasing my 2011 FCS preview and by putting the word out to your associates and known FCS fans. I want to put out a FCS Preview each year as college football is a labor of love for me but with printing costs, plus time and effort I have to see that there is a significant demand out there. If you have a twitter or facebook account or a blog spread the word to anyone that you know is a FCS fan. Last year we sold just under 1,000 copies of the FCS magazine that was located in one of our regional magazines but this year with it being a stand-alone magazine that number should greatly increase especially with your help .

The FCS continues to provide fans with quality football and with 96 games this season against FBS foes interest will continue to grow. TV contracts are also becoming bigger, which will continue to expand the viewing audience while more and more upsets seem to occur each season. The NFL draft also brings to light the quality of players that come from the FCS. It is time the Nation realizes that many of these quality FCS programs can compete day in and day out with many FBS conferences.

Since there will be a limited distribution of the magazine in book stores and newsstands the best way to get your hands on the 2011 FCS Preview is ordering online at the PhilSteele.com store or by purchasing thru our offices at 1-866-918-7711. Let's make the FCS Preview a standard tradition much like what my National College Preview has become the last 17 years!
Only 8 Days Until the First College Football Game!!!