| | |
| --- | --- |
| Daily Blog •December 7, 2011 | |
Now Available in iTunes! Steele Stats iPhone App!
Just $1.99


While I am not always up-to-date on the latest technology, there have been several requests that PhilSteele.com needed to have an iPhone app and I am very pleased that earlier this year we released our first app and we have gotten some great feedback. Here are some of the comments….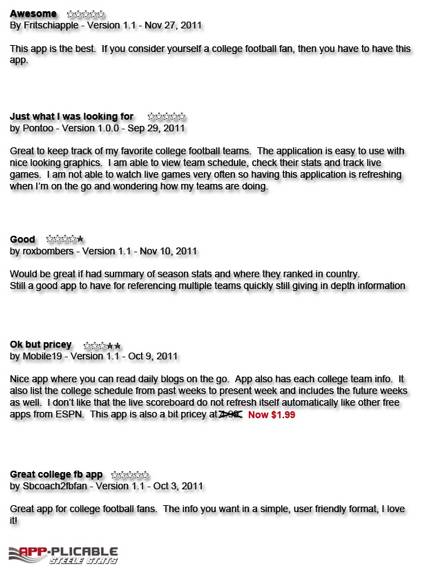 The App is Now on sale for $1.99 and features Live scores, box scores, team schedules, week-by-week schedule, 2011 team and individual game statistics including FBS Power Ratings for the 2011 season and includes all 120 teams!

The Steele Stats App has it all!

2011 Live Scores - Live college football scores for all FBS 2011 Games

Individual Team Content at your fingertips!

2011 Individual Team Schedules - All FBS college footballs team schedules, locations, and times.

Quick Facts – Summary of facts about each team including coach, coaching records, colors, mascot, year founded, team formation, stadium and other fun facts.

2011 Game Scores – Final game scores for all season games.

2011 Box Scores for each game once 2011 season begins! Box scores include team, game and individual stats as well a recap of action for each quarter of all games!

2011 Week-by-Week Schedule! Select a week or day and see a complete listing of all game times and scheduled television coverage. Time listed in ET.

2011 FBS Power Ratings!

My Daily Blog - Expert commentary from college football's own Phil Steele, publisher of "College Football Preview" since 1995. Phil's blog covers College and Pro Football coverage. Available on the App daily at 2 p.m. ET!

Search by Conference or Team Name!

Only one app needed! No need to buy individual team apps or additional in-app purchases to access 120 FBS teams for scores, stats and schedules!

Whether you are at the game, in your living room or sitting around a table with your friends, follow your favorite FBS college football teams! Includes 120 all teams!

Initial loading of the App will take 0-30 seconds, please be patient! Once loaded, previously viewed data will cached.