| | |
| --- | --- |
| Daily Blog •July 19, 2011 | |
In 2007 I made the commitment to provide quality in-depth FCS information and I provided a ¼ page on each FCS team in my Pac-10 Regional. There was moderate interest and I increased the coverage to 1/2 page per team in 2008. In 2009 I moved the coverage to my ACC & Big East Regional giving the FCS even more exposure. Last year I increased the coverage on each team to a FULL PAGE and the interest increased. This season I am very proud to produce a magazine that gives each and every school equal FCS coverage! I am counting on you the FCS fans, alumni, school leaders and athletic departments to help spread the word and make this magazine a success allowing me to continue publishing it.

The FCS continues to provide fans with quality football and with 96 games this season against FBS foes interest will continue to grow. TV contracts are also becoming bigger, which will continue to expand the viewing audience while more and more upsets seem to occur each season. The NFL draft also brings to light the quality of players that come from the FCS. It is time the Nation realizes that many of these quality FCS programs can compete day in and day out with many FBS conferences.

As you probably know I spend 7 days a week and 365 days a year working on nothing but football. It has made my FBS Magazine the "Most Accurate Preseason Magazine The Last 13 Years" and that same type of hard work and dedication goes into this FCS Preview as well as my NFL Magazine.

This year I am also pleased to have The Sports Network provide a special featured section with FCS articles and information. We just sent the final pages off to press and today we will begin our FCS Top 40 Countdown giving you a sneak peak of what the magazine pages look like and remember those pages will only be available to download for 24 hours!

If you're an FCS fan I can promise you there is no other preview like it on the market today with 240 pages dedicated to the FCS! You can order it through our offices by calling us at 1-866-918-7711 or by going to PhilSteele.com and it is just $8.95 (S&H not included). You will become an instant expert on EVERY FCS team and remember every year there are more and more matchups between FCS and FBS schools. So get a leg up on one of your favorite team's possible FCS opponent this year by purchasing the Phil Steele 2011 FCS Preview today!

Below is an example of what one of our pages look like.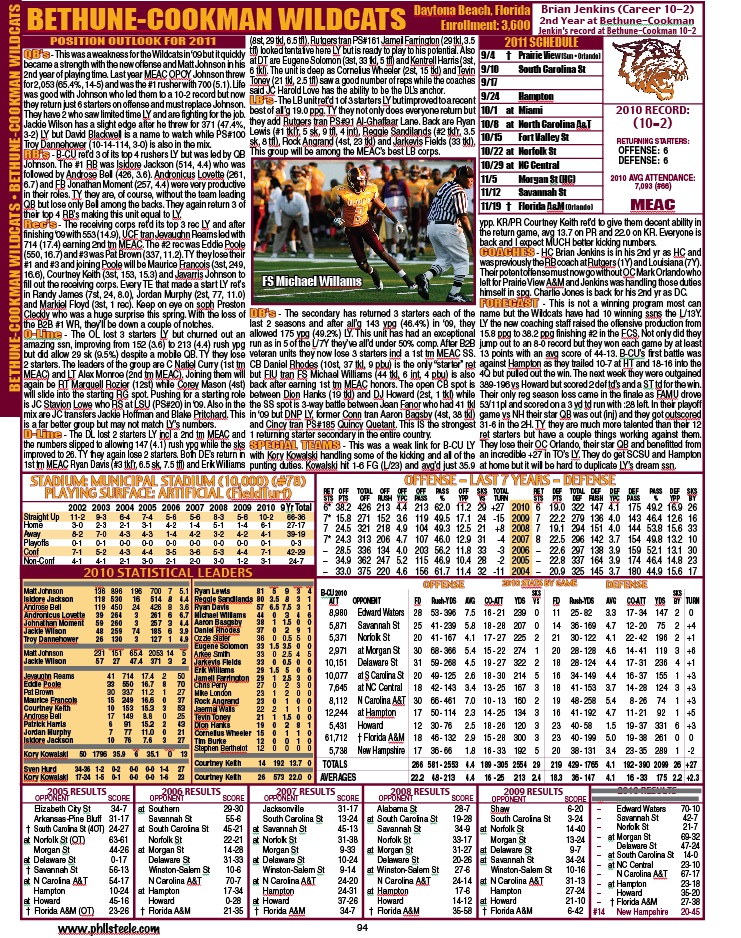 2011 FCS Only Preview 240 Pages!!!
$8.95
Call 1-866-918-7711
Only 44 Days Until the First College Football Game!!