Today I release my 2011 Preseason All-American Teams, which will be featured in my 2011 College Preview magazine. More than 50 different schools are represented and all of the 11 conferences have at least one player on the list. Alabama, Oklahoma and Oregon lead the way with each having three 1st-Team selections while Alabama had more players total (7) than any other school followed by Florida St (6) and Stanford (5) Oklahoma, South Carolina, Miami (Fl), Georgia, and Notre Dame all had four players.
The SEC leads the way with 26 players on my All-American team while the ACC is next with 18 and the Pac-10 is third with 17. Several non-BCS teams had multiple players on the team and naturally were led by powers Boise St (3) and TCU (2) while Houston has 2 as well.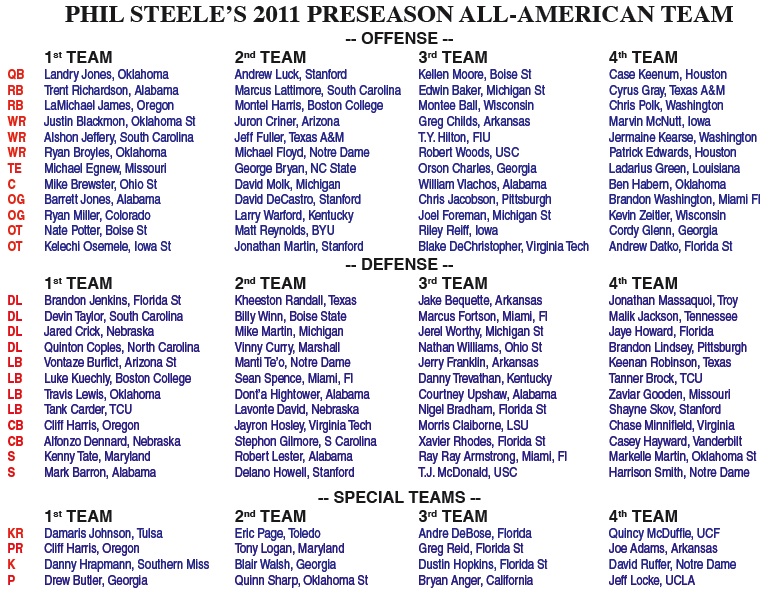 Please check PhilSteele.com everyday to get my Top 30 Countdown which continued yesterday with #16 Stanford. Every day now thru June 15th, I will post both magazine pages on each team that day and you can get an early look on how I breakdown your favorite team. Remember I will make those magazine pages available for only 24 hours for you to download. Today Ohio St comes in at #15.
6 DAYS UNTIL PHIL STEELE'S 2011 MAGAZINE IS ON SALE!
ONLY 91 DAYS LEFT UNTIL THE FIRST COLLEGE FOOTBALL GAME!!!