| | |
| --- | --- |
| Daily Blog •June 22, 2011 | |
OPERATION: PHIL STEELE PASS IT ON
Today I am proud to introduce a new promotion "OPERATION: PHIL STEELE PASS IT ON" for our brave men and women currently serving in the military. Any military personnel who purchases my 2011 College Football Preview Magazine will receive a second copy for one of your comrades absolutely FREE! This is my way of saying thank you for your service to this country.
You can purchase the 2011 College Football Preview for just $13.70 (includes Priority Mail shipping) by calling our office at 1-866-918-7711 and mention "OPERATION: PHIL STEELE PASS IT ON" to get that extra copy for FREE!
This offer is valid only to those with an AE, AP or active military address and you can choose between any of the 11 different covers including our very special Armed Forces Cover (featured below).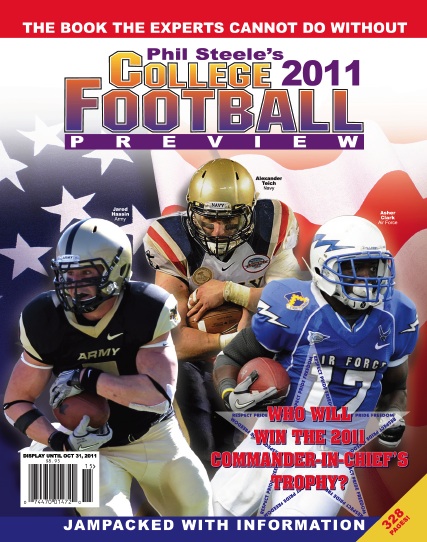 Regional, NFL and FCS Preview Information
Due to rising costs of shipping and the limited demand over the past few years we will not be producing the Regional Magazines this year. I will still be producing an NFL Preview and not only is it the most accurate NFL magazine, but it also has more information per NFL team (6 pages) than the two full pages I put on the FBS teams in my College Football Preview! This year we are expanding the Fantasy portion of the magazine and are bringing in a Fantasy football writer from a popular Emmy-Award winning web based show to author that section!
I am also publishing an FCS ONLY magazine, which I believe is the only magazine of its kind on the market today! Last year we expanded our FCS or IAA information to a full page on each of those teams (over 150 pages). This year our new FCS Preview will have closer to 200 pages devoted solely to the FCS! Keep in mind UTSA and Texas St are joining the WAC and UMass is joining the MAC next season. You can get complete coverage on those three teams this year in my FCS Preview.
As of right now I am looking at on sale date on August 9th for both of these publications (orders should ship on or before that date). The cost of the NFL Magazine is $12.70, which includes Priority Mail shipping while the FCS Magazine will cost $13.70 (also includes Priority Mail shipping). While the NFL Preview's circulation grows every year, the FCS Preview will be at a limited number of newsstands. However, you can order both of these publications at the PhilSteele.com store or through our office (1-866-918-7711) right NOW!
Only 70 DAYS LEFT UNTIL THE FIRST COLLEGE FOOTBALL GAME!!!