In today's blog I will continue releasing my Preseason All Conference teams with the All-Big East and All-Pac-12 teams.
West Virginia easily leads the way with 10 1st-Team All-Conference players led by QB Geno Smith but the Mountaineers only have 13 players overall. Pitt is next in line with five 1st-Team Selections and have 16 players overall. Cincinnati and Connecticut are next each with four 1st-Team players but the Huskies have one more overall than the Bearcats (17).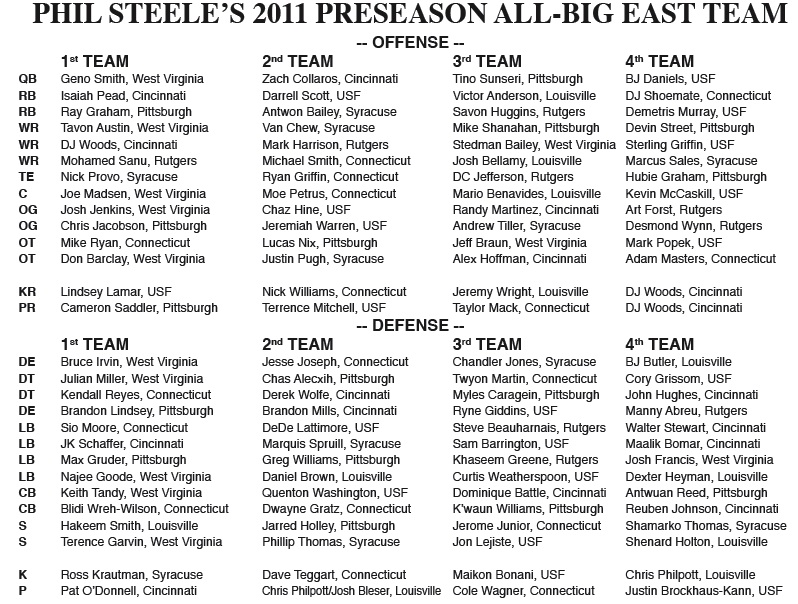 The Pac-12 adds Colorado and Utah this year but the Ducks, Trojans and Cardinal dominate the All-Pac-12 team. The Ducks led by Heisman candidate RB LaMichael James have five 1st-Team selections while the always talented Trojans have five as well led by WR/KR Robert Woods. Both the Cardinal and Huskies have four 1st-Team players and they are led by their offensive stars in Stanford QB Andrew Luck and Washington RB Chris Polk.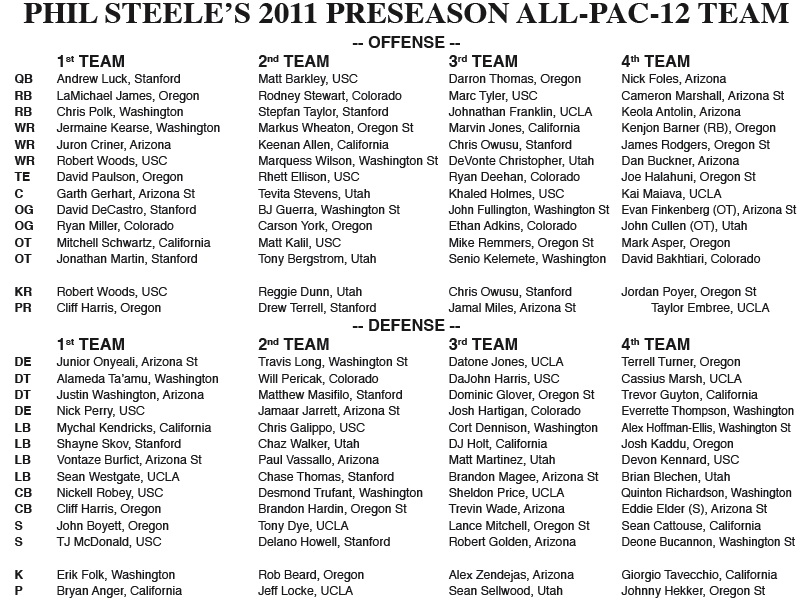 Please check PhilSteele.com everyday to get my Top 30 Countdown which continued yesterday with #22 Arizona St. Every day now thru June 15th, I will post both magazine pages on each team that day and you can get an early look on how I breakdown your favorite team. Remember I will make those magazine pages available for only 24 hours for you to download. Today Houston comes in at #21.
12 DAYS UNTIL PHIL STEELE'S 2011 MAGAZINE IS ON SALE!
ONLY 97 DAYS LEFT UNTIL THE FIRST COLLEGE FOOTBALL GAME!!!