In today's blog I will continue releasing my Preseason All Conference teams with the All-ACC and All-Big 12 teams.
In the ACC, Florida St returns 16 starters from last year's 10-4 team and lead the way with seven 1st-Team selections and have severall All-American candidates including DE Brandon Jenkins. Defending ACC Champ Virginia Tech has five 1st-Teamers including CB Jayron Hosley. The Hurricanes also have five 1st-Team selections including three players on defense that each of them has All-American potential.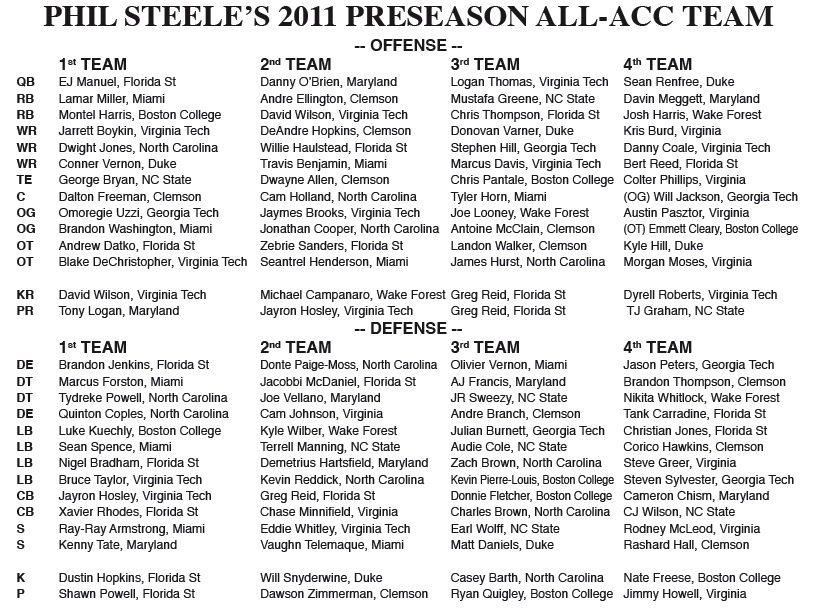 The Big 12 loses Nebraska and Colorado this year and that opened the door for several schools to have multiple 1st-Team selections. Naturally Oklahoma leads the way with seven including All-American candidates Landry Jones, Ryan Broyles and Travis Lewis. Texas A&M and Oklahoma St are represented well with five 1st-Team players each and are led by their star WR's in OSU's Justin Blackmon and A&M's Jeff Fuller. Missouri and Texas each have four players as well.
*A quick note: Our Preseason All-Conferences teams were sent to the press on Friday May 13 before Oklahoma LB Austin Box unfortunately passed away and we have decided to keep him on the list to signify the loss.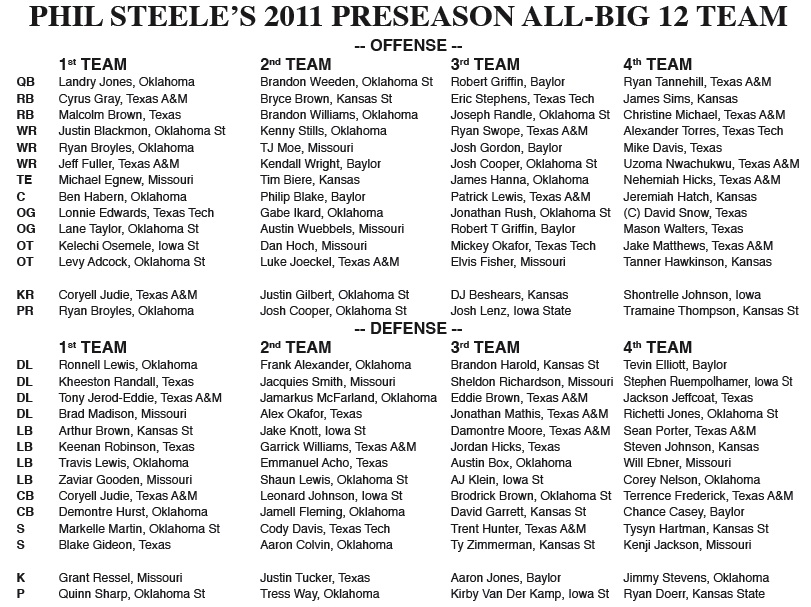 Please check PhilSteele.com everyday to get my Top 30 Countdown which continued yesterday with #21 Houston. Every day now thru June 15th, I will post both magazine pages on each team that day and you can get an early look on how I breakdown your favorite team. Remember I will make those magazine pages available for only 24 hours for you to download. Today Southern Miss comes in at #20.
11 DAYS UNTIL PHIL STEELE'S 2011 MAGAZINE IS ON SALE!
ONLY 96 DAYS LEFT UNTIL THE FIRST COLLEGE FOOTBALL GAME!!!