In today's blog I will conclude releasing my Preseason All Conference teams with the All-Big 10 and All-SEC teams.
In the Big 10 with the addition of Nebraska and the five key Ohio St players suspended for nearly half the season, the All-Conference teams are very well balanced and 11 of the 12 schools have at least one player on my 1st-Team! The only exception is Purdue but they have five 2nd-Team selections. Wisconsin leads the way with five 1st-Team players including RB Montee Ball while Michigan St and Nebraska are next with four 1st-Team selections.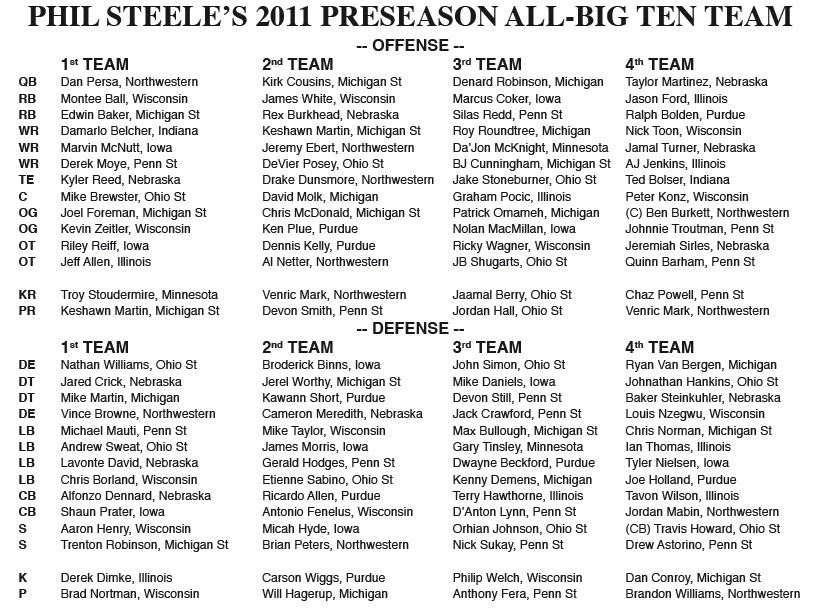 The SEC clearly is still the best conference in college football but there is less balance on my All-Conference team than the Big Ten. Four schools dominated my 1st-Team led by Alabama with seven 1st-Team selections including four players on arguably the best defense in the country. Georgia has five players on my 1st-Team led by QB Aaron Murray and Arkansas has five as well led by WR's Joe Adams and Greg Childs. Finally South Carolina has four players on my 1st-Team led by RB Marcus Lattimore and WR Alshon Jeffery.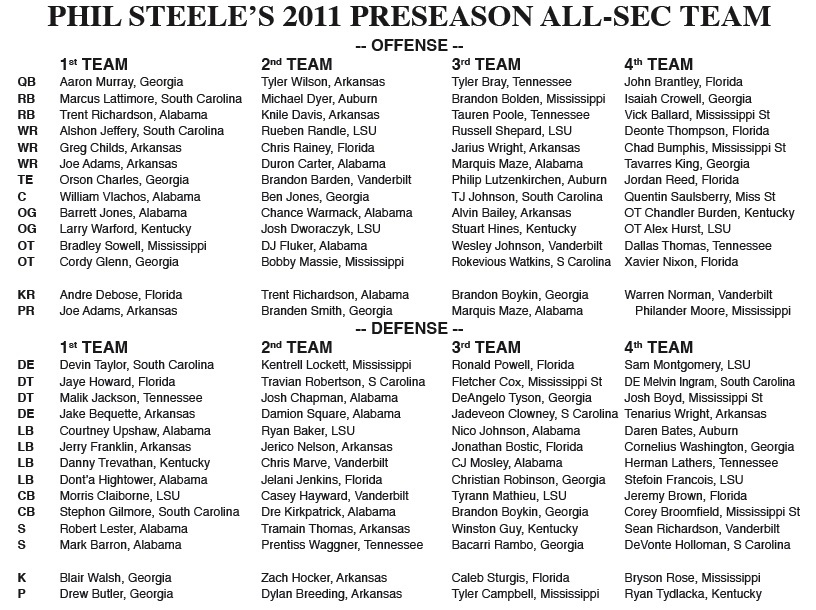 Please check PhilSteele.com everyday to get my Top 30 Countdown which continued yesterday with #20 Southern Miss. Every day now thru June 15th, I will post both magazine pages on each team that day and you can get an early look on how I breakdown your favorite team. Remember I will make those magazine pages available for only 24 hours for you to download. Today Oklahoma St comes in at #19.
10 DAYS UNTIL PHIL STEELE'S 2011 MAGAZINE IS ON SALE!
ONLY 95 DAYS LEFT UNTIL THE FIRST COLLEGE FOOTBALL GAME!!!