| | |
| --- | --- |
| Daily Blog •October 21, 2011 | |
Now Available in iTunes! Steele Stats iPhone App!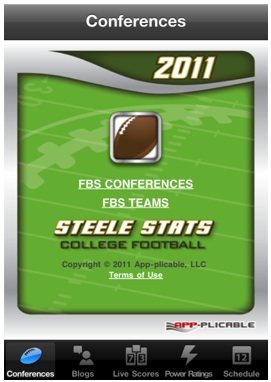 Phil's Daily Blog!
FBS College Football - 12 Conferences and 120 College Football Teams!
Live scores, box scores, team schedules, week-by-week schedule, 2011 team and individual game statistics including FBS Power Ratings for the 2011 season! At your fingertips!
Learn about at www.app-plicable.com/support.html
Or in the iTunes Store under "Steele Stats"
For the last couple of years I have picked the games involving the Top 25 teams and thrown in a couple of upset picks. This year I thought you might be interested in who I think will win EACH FBS game this weekend. Every Friday I will give you my personal forecast on every game that involves a FBS team.
I list the projected scores from my computers forecast. Another column shows you the computers yardage forecast for each game. I think it will be interesting to see who the computer picks to win the yardage battle and see if they win the game. In my College Football magazine I have the plus and minus ratings. I update them weekly and then factor in the home edge and I will show you who the Plus Minus ratings forecast. I will also list who Vegas has favored to win each week and we can see how they do picking the actual winners of games. There is also a WEEKLY POLL which you can enter for free each week. What I will do is on Friday morning I will tabulate the vote on each game and list who the fans are picking to win the games.
Listed below are each of these category picks for this week and I will then have a running total for the season for them! Here are the selections.......
Thursday, October 20th
PHIL STEELE
Weekly Poll
Computer PTS
Computer Yds
+ / -
Gm Grade
Vegas
8:00 PM
UCF at UAB
UCF
UCF
UCF
UCF
UCF
UCF
UCF
By 17
87%
23-13
461-316
By 8.5
BY 28.71
By 16.5
9:00 PM
UCLA at Arizona
UCLA
Zona
Zona
Zona
UCLA
Zona
Zona
By 3
52%
32-31
474-393
By 0.5
By 4.28
By 5
Friday, October 21st
PHIL STEELE
Weekly Poll
Computer PTS
Computer Yds
+ / -
Gm Grade
Vegas
8:00 PM
West Virginia at Syracuse
WVU
WVU
WVU
WVU
WVU
WVU
WVU
By 17
96%
39-22
486-334
By 11.75
By 19.39
By 14
8:00 PM
Rutgers at Louisville
RU
RU
RU
Ville
RU
RU
RU
By 3
63%
16-13
299-228
By 1.25
By 1.29
By 1.5
Saturday, October 22nd
PHIL STEELE
Weekly Poll
Computer PTS
Computer Yds
+ / -
Gm Grade
Vegas
12:00 PM
Oklahoma St at Missouri
OKST
OKST
OKST
Mizz
OKST
OKST
OKST
By 1
91%
38-35
532-475
By 9
By 4.17
By 7
12:00 PM
North Carolina at Clemson
Clem
Clem
Clem
Clem
Clem
Clem
Clem
By 14
94%
36-23
482-345
By 16.50
By 11.85
By 10.5
12:00 PM
Kansas St at Kansas
KSU
KSU
KSU
KSU
KSU
KSU
KSU
By 24
97%
39-23
403-379
By 15
By 12.93
By 11
12:00 PM
Illinois at Purdue
Purdue
ILL
ILL
ILL
Purdue
ILL
ILL
By 1
85%
By 1
373-339
By .50
By 8.15
By 4
12:00 PM
Cincinnati at South Florida
USF
USF
Cincy
USF
Tie
USF
USF
By 4
64%
31-29
452-373
0
By 6.29
By 3
12:00 PM
Jacksonville St at Kentucky
UK
UK
UK
UK
UK
N/A
UK
By 14
98%
29-23
408-292
By 22
By 10
12:00 PM
Northern Illinois at Buffalo
NIU
NIU
NIU
NIU
NIU
NIU
NIU
By 3
88%
39-26
476-381
By 17.50
By 10.70
By 14
12:00 PM
Indiana at Iowa
Iowa
Iowa
Iowa
Iowa
Iowa
Iowa
Iowa
By 28
98%
38-17
480-330
By 21
By 15.96
By 23.5
12:21 PM
Arkansas at Ole Miss
Ark
Ark
Ark
Ark
Ark
Ark
Ark
By 13
97%
38-24
483-374
By 17.25
By 14.54
By 15
12:30 PM
Wake Forest at Duke
Wake
Wake
Wake
Duke
Wake
Wake
Wake
By 1
86%
33-32
446-416
By 1.75
By 1.23
By 2
1:00 PM
Western Mich at Eastern Mich
WMU
WMU
WMU
WMU
WMU
WMU
WMU
By 24
82%
39-21
469-388
By 18.50
By 10.88
By 12
2:00 PM
Central Michigan at Ball St
CMU
Ball St
Ball St
Ball St
Ball St
Ball St
Ball St
By 1
54%
32-26
436-404
By 4.25
By 3.74
By 2.5
2:00 PM
New Mexico at TCU
TCU
TCU
TCU
TCU
TCU
TCU
TCU
By 42
99%
52-9
570-235
By 41.25
By 41.55
By 41
3:00 PM
Boston College at Virginia Tech
VT
VT
VT
VT
VT
VT
VT
BY 31
99%
29-9
445-266
By 22.75
By 24.94
By 21
3:00 PM
Idaho St at Brigham Young
BYU
BYU
BYU
BYU
BYU
N/A
BYU
By 41
100%
43-5
596-144
By 54
By 38
3:00 PM
Louisiana Tech at Utah St
La Tech
Utah St
Utah St
Utah St
La Tech
Utah St
Utah St
By 1
83%
32-25
444-326
By 1
By 10.59
By 6.5
3:30 PM
Auburn at LSU
LSU
LSU
LSU
LSU
LSU
LSU
LSU
By 24
98%
36-7
410-205
By 24
By 21.15
By 21
3:30 PM
Air Force at Boise St
Boise
Boise
Boise
Boise
Boise
Boise
Boise
By 28
100%
52-14
578-262
By 29
By 28.23
By 31
3:30 PM
Oregon at Colorado
Oregon
Oregon
Oregon
Oregon
Oregon
Oregon
Oregon
By 28
99%
49-23
493-417
By 29
By 22.98
By 31
3:30 PM
Nebraska at Minnesota
Neb
Neb
Neb
Neb
Neb
Neb
Neb
By 28
99%
43-21
416-319
By 21
By 22.09
By 24.5
3:30 PM
Texas A&M at Iowa St
A&M
A&M
A&M
A&M
A&M
A&M
A&M
By 21
97%
43-19
518-389
By 19.25
By 19.08
By 20.5
3:30 PM
Georgia Tech at Miami (FL)
M(FL)
GT
M(FL)
M(FL)
M(FL)
GT
M(FL)
By 14
53%
35-28
449-411
By 7.25
By 6.55
By 3
3:30 PM
Maryland at Florida St
FSU
FSU
FSU
FSU
FSU
FSU
FSU
By 24
93%
By 35-18
502-248
By 20.25
By 20.98
By 17
3:30 PM
Temple at Bowling Green
Temple
Temple
Temple
Temple
Temple
Temple
Temple
By 17
90%
31-11
421-281
By 13
By 17.33
By 13.5
3:30 PM
North Carolina St at Virginia
UVA
UVA
UVA
UVA
UVA
UVA
UVA
By 1
77%
28-19
469-273
By 1.5
By 17.85
By 5.5
3:30 PM
Ohio at Akron
Ohio
Ohio
Ohio
Ohio
Ohio
Ohio
Ohio
By 21
86%
32-19
394-326
By 15
By 15.25
By 14.5
3:30 PM
East Carolina at Navy
Navy
Navy
Navy
Navy
Navy
Navy
Navy
By 7
81%
40-24
452-403
By 10
By 6.37
By 10
3:30 PM
Memphis at Tulane
Tulane
Tulane
Tulane
Tulane
Tulane
Tulane
Tulane
By 10
82%
28-22
426-264
By 6
By 12.41
By 12
4:00 PM
Louisiana at WKU
ULL
ULL
ULL
WKU
ULL
ULL
ULL
By 4
68%
26-20
326-314
By 5
By 4.79
By 3
4:05 PM
Fresno St at Nevada
Nevada
Nevada
Nevada
Nevada
Nevada
Nevada
Nevada
By 21
78%
37-21
542-300
By 14
By 15.52
By 10.5
4:30 PM
Marshall at Houston
UH
UH
UH
UH
UH
UH
UH
By 31
96%
41-15
582-323
By 14
By 20.50
By 22.5
7:00 PM
Penn St at Northwestern
PSU
PSU
PSU
NU
PSU
PSU
PSU
By 7
60%
23-21
384-366
By 6
By 8.87
By 4
7:00 PM
Utah at California
Cal
Cal
Tie
Cal
Utah
Cal
Cal
By 10
56%
19-19
362-255
By 6
By .64
By 3
7:00 PM
Army at Vanderbilt
Vandy
Vandy
Vandy
Vandy
Vandy
Vandy
Vandy
By 21
89%
35-15
401-321
By 10
By 6.78
By 10.5
7:00 PM
Tulsa at Rice
Tulsa
Tulsa
Tulsa
Tulsa
Tulsa
Tulsa
Tulsa
By 10
83%
36-27
496-381
By 13
By 16.23
By 11
7:00 PM
ULM at North Texas
ULM
ULM
ULM
ULM
ULM
ULM
ULM
By 7
55%
27-18
401-249
By 7
By 10.36
By 6
7:00 PM
Miami (OH) at Toledo
UT
UT
UT
UT
UT
UT
UT
By 17
85%
33-14
444-276
By 14
By 18.27
By 17.5
7:15 PM
Tennessee at Alabama
Bama
Bama
Bama
Bama
Bama
Bama
Bama
By 35
100%
40-6
495-185
By 26
By 21.0
By 29
7:30 PM
USC at Notre Dame
ND
ND
ND
ND
ND
ND
ND
By 17
77%
37-21
487-378
By 11
By 16.60
By 8.5
8:00 PM
Texas Tech at Oklahoma
OU
OU
OU
OU
OU
OU
OU
By 31
99%
54-20
638-317
By 28
By 21.22
By 29
8:00 PM
Wisconsin at Michigan St
MSU
Wis
Wis
MSU
Wis
Wis
Wis
By 3
83%
29-22
402-258
By 9.75
By .52
By 7
8:00 PM
Washington at Stanford
Stan
Stan
Stan
Stan
Stan
Stan
Stan
By 10
97%
41-21
517-303
By 22.25
By 26.30
By 21
8:00 PM
Middle Tennessee at FAU
MTSU
MTSU
MTSU
MTSU
MTSU
MTSU
MTSU
By 3
59%
29-25
373-369
By 3.50
By 1.62
By 6.5
8:00 PM
SMU at Southern Miss
S Miss
SMU
S Miss
S Miss
S Miss
S Miss
S Miss
By 10
51%
34-30
477-413
By 7
By 1.39
By 3
8:00 PM
Colorado St at UTEP
CSU
UTEP
UTEP
UTEP
UTEP
UTEP
UTEP
By 1
72%
34-20
439-363
By 12.50
By 8.73
By 7
10:30 PM
Oregon St at Washington St
OSU
Wash St
Wash St
Wash St
Wash St
Wash St
Wash St
By 1
71%
30-23
416-354
By 4
By 6.33
By 3
12:00 AM
New Mexico St at Hawaii
Hawaii
Hawaii
Hawaii
Hawaii
Hawaii
Hawaii
Hawaii
BY 17
97%
42-24
500-330
By 20.25
By 15.33
By 21.5
Last Week:
35-17 (67%)
YTD:
373-103 (78%)