| | |
| --- | --- |
| Daily Blog •August 22, 2012 | |
The FCS Magazine finally arrived today
and is ready to ship!


In 2007 I made the commitment to provide quality in-depth FCS information and I provided a ¼ page on each FCS team in my Pac-10 Regional. There was moderate interest and I increased the coverage to 1/2 page per team in 2008. In 2009 I moved the coverage to my ACC & Big East Regional giving the FCS even more exposure. In 2010, I increased the coverage on each team to a FULL PAGE and the interest increased. Last year I was very proud to produce a magazine that gave each and every school equal FCS coverage and have done so again this year!

If you're an FCS fan I can promise you there is no other preview magazine like it on the market today with 240 pages dedicated to the FCS including one full page on every team! You can ONLY order it through our offices by calling us at 1-866-918-7711 or by going to PhilSteele.com and it is just $14.25 (S&H included). You will become an instant expert on EVERY FCS team and remember every year there are more and more matchups between FCS and FBS schools. So get a leg up on one of your favorite team's possible FCS opponent this year by purchasing Phil Steele's 2012 FCS Preview today!

If you're an FCS coach, AD, conference coordinator, SID or FCS fan please help me promote each and every one of the 122 FCS schools by purchasing my 2012 FCS preview and by putting the word out to your associates and known FCS fans. I want to put out a FCS Preview each year as college football is a labor of love for me but with printing costs, plus time and effort I have to see that there is a significant demand out there. If you have a twitter or facebook account or a blog spread the word to anyone that you know is a FCS fan. In 2010 we sold just under 1,000 copies of the FCS magazine that was located in one of our regional magazines and last year with it being a stand-alone magazine the number only increased to 1,500 copies.

If I do not see a significant increase in demand this year then this will be my last year of publishing an FCS Preview! I'm not looking to get rich with an FCS Preview but I would like to cover the tremendous amount of labor/printing costs it takes to produce it! If you know of anyone or any company that would be interested in advertising and/or sponsoring the FCS magazine feel free to email brandon@philsteele.com.
There are 105 games this year between FCS and FBS Teams! Florida St plays Murray St in the opener and here is Murray St's page.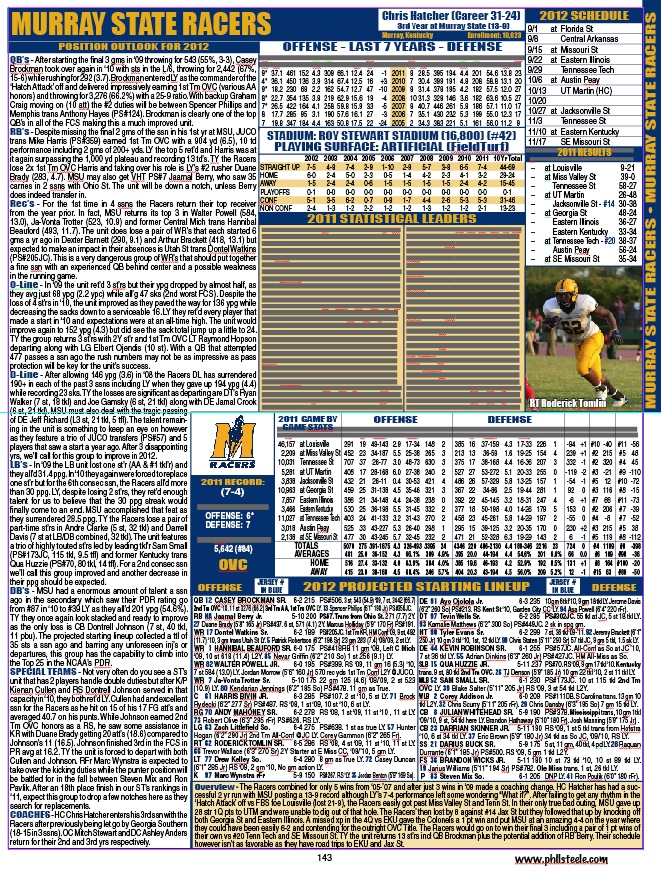 Again the ONLY way to get your hands on the 2012 FCS Preview is ordering online at the PhilSteele.com store or by purchasing thru our offices at 1-866-918-7711. Let's make the FCS Preview a standard tradition much like what my National College Preview has become the last 18 years!

Help Support the FCS by purchasing
Phil Steele's 2012 FCS Preview!
Only 8 Days Until the First College Football Game!