| | |
| --- | --- |
| Daily Blog •July 31, 2012 | |

Football 365 Days a Year!
One of the more popular questions I get throughout the summer when I am doing 300 radio shows across the country is how am I able to produce so much information on all 124 teams in my college football preview each year? First, let me say that during football and magazine season there are many many 100-hour work weeks put in by me in order to meet all of the deadlines. My most relaxing months are over the summer as those are the months I get to talk to my readers/fans and also spend a lot of time with my 5-year old daughter Savannah as I "only" work 60 hours a week.
In today's blog I thought I would give you guys a look at my year-round schedule since it is frequently asked about.
Football is what I do for a living seven days a week, 365 days a year. As you can tell by the sheer volume of information, I write each of the 124 team previews which basically puts me on the magazine "deadline" from the end of December through the middle of May.
During the months of January and February, I read through the mountains of information that was underlined and begin to write the teams for the magazine. I give myself about four hours to read just one team and that team is all I focus on. I find it interesting when a writer in the 2nd week is calling for a QB to be benched but then is talking about what a great QB he is at the end of the year after a big game. It really gives me a feel for what went on with the team last year. During the four hours I allot for each team, I read everything from the year and take notes. I also write the QB, RB, receivers and Special Teams portions for that team. I write these early because they are the easiest to analyze and have the fewest position changes during the spring. Many times DB's move to LB's, LB's to DL or OL and DL's switch sides. For those positions I wait until spring starts before doing my writing.

During March, April and May it is time to get all the latest info on the teams and analyze the freshmen and JUCO signees. I also read through all of the information from the spring practices. At this time I double check what I wrote to make sure it all still applies after any spring changes. I then write the other 4 positions and go through my individual power ratings on each unit. I once again give myself three to four hours per team and try to do three per day. The next step is to go through what I wrote in the magazine and start cutting out some words because I usually have too much information to fit on the page. While I chop the text down I also go conference-by-conference, to review my power ratings and pick the All-Conference teams. This is another three-week process. I finalize my 9 sets of power ratings and feed them into my computer which has all the schedules and them let the computer play out the season.
I finally wrap-up the magazine in early May. My next month is spent going over each individual game for the upcoming year. I look at all the history between the teams, read the last two years of past histories for the matchups and then analyze the matchup to see if there are any mismatches (big, strong O-line vs small, weak DL, etc). At this point my staff is hard at work on the FCS magazine, which has one full page on all 122 schools. In 2009, we revamped the NFL magazine with 6 full pages on each NFL team in full color. It came out even better than I expected with more NFL information at your fingertips than any other magazine. In June and July, I go through the NFL for the upcoming year and do hundreds of radio shows. Before you know it, it's August and time to start watching the games.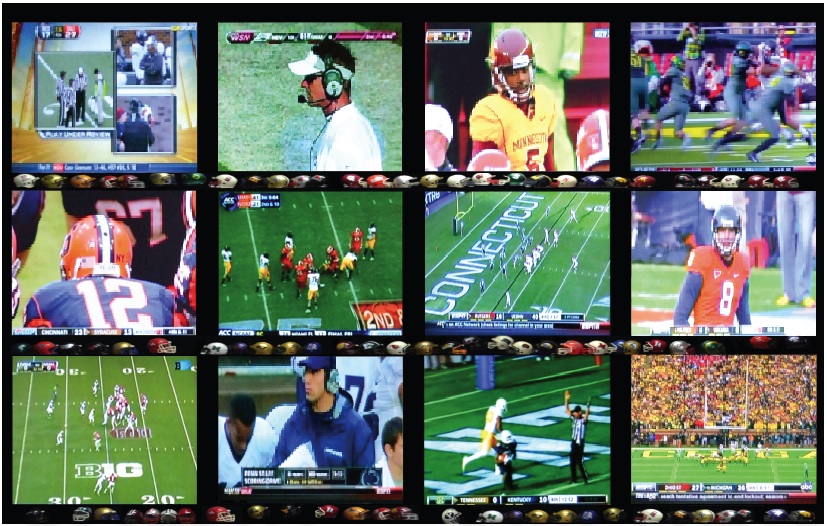 What you see in the picture above is what I look at during football season for 12 hours on Saturday and from 1-7 pm EST on Sunday. I have a great satellite setup (DIRECTV & Dish) which allows me to watch almost every college and NFL game. I used to have just 9 TV's in front of my desk but added 3 more in 2004 and the picture above (from 11/26/11) is the actual setup at my office. At my home office I only have 8 TV's in front of my desk. Many people ask me "How can you watch 12 games at one time?" When the photographer was shooting the photo, it took him about 20 minutes to actually capture game footage on all 12 TV's with no commercials. As you can see, at this particular moment, there are 6 plays in progress and the rest are not. Keep in mind the average play takes 4 to 6 seconds and then there are usually 35 seconds between plays. Throughout the office one of my staff members is "charting" one of these games, or doing the play-by-play and taking notes on the game. We also utilize Sirius radio for the non-televised games so we can listen to them and write down the play-by-play. The person charting focuses on one game and if there is something they think I should know about in a particular game, they let me know afterwards. I usually focus on the 4 TV's directly in front of my desk. At the moment of this picture, the key games for me were Ohio St-Michigan, Virginia Tech-Virginia, Connecticut-Rutgers and Tennessee-Kentucky. The TV I look at the least is the one in the upper left-hand corner. That game at the time was Rice-SMU.
On Monday, Tuesday and Wednesday, I go through the play-by-play of each game that took place the previous weekend to make sure I did not miss anything. My staff has interesting notes on each game, and of course, I watched the majority of them. I then write the Past Histories (which is my recap of the games) and those are the same Past Histories that you will find on PhilSteele.com. I refer to these often during the offseason to get the true feel of the game as final scores can sometimes be misleading.
I mentioned my staff "charting" the games. I have also assigned different members of my staff to cover different conferences. During the week they get articles from the local papers and the Internet and underline all of the interesting information that could affect a team's performance, or have to do with injuries, etc. All the underlined information is then typed into a file for each team. These team reports are anywhere from 35 to 200 pages by the end of the year (there are a lot more articles on Ohio St than on Buffalo). I do not have time to read all the information during each week so I read through these reports every year during the months of December, January and February.
In the months of November and December, in addition to my weekly football responsibilities I am also a voting member and serve on the head committees on nearly every single CFB individual award (Heisman, Davey O'Brien, Thorpe, Nagurski, etc.). By the time the bowl season wraps up its back to reading those team reports in preparation for the upcoming magazine.
So there you have a small look at what I do 365 days a year and how so much information can be captured on so many teams. The 100-hour work-weeks are indeed long and I always look forward to the summer and those 60-hour work weeks but Football is my passion and will always be my favorite sport. The kind comments that I receive on Facebook and Twitter from thousands of you certainly make those 100-hour work weeks worth it!
Only 30 Days Until the First College Football Game!