| | |
| --- | --- |
| Daily Blog •June 21, 2012 | |
Three years ago, I decided to put out a full color NFL Preview Magazine and I could not have been more pleased with the results. I correctly predicted 7 out of 8 division winners which was more than any other preview magazine and I was the only magazine to predict the Super Bowl Champion New Orleans Saints to win the NFC South! Last year with the NFL Lockout, I waited to publish my magazine until August to have the latest and most accurate information and now in the last 3 years I have correctly predicted 16 out of 24 division winners!
This year the NFL and Fantasy Football Preview Magazine was sent off to the press earlier than ever before and today the truck showed up to our offices.
You should be able to find my NFL Magazine on the newsstands in early July but if you're like me and want to have your hands on new information ASAP, try ordering thru the PhilSteele.com store or call our offices at 1-866-918-7711 and you will get it in your hands at least a full week before it officially hits the newsstands. The cost is just $13.25 (includes priority shipping) and we will ship it out of our offices within 24 hours unless ordered on the weekend and in that case it will get shipped 1st thing on Monday.
Unlike the College magazine where I write each of the 124 team previews myself, the NFL magazine was written by others including Erik Kuselias who wrote the Fantasy Section for the 2nd year in a row. I did do the forecast for each team using my 5 sets of Power ratings that I have for the NFL (I use 9 different sets for the colleges).
This year's magazine is 288 pages which is considerably thicker than most NFL magazines out there. Here on the blog today I thought I would put the six pages of the defending Super Bowl Champion New York Giants. Below you can see how the pages look and click here to download the pdf version from this years magazine and this will show you all the information on each of the 32 teams that we produce. I will not go into great detail as to what is on the pages as you can see for yourself and I think you will agree that it is more information than any other NFL preview.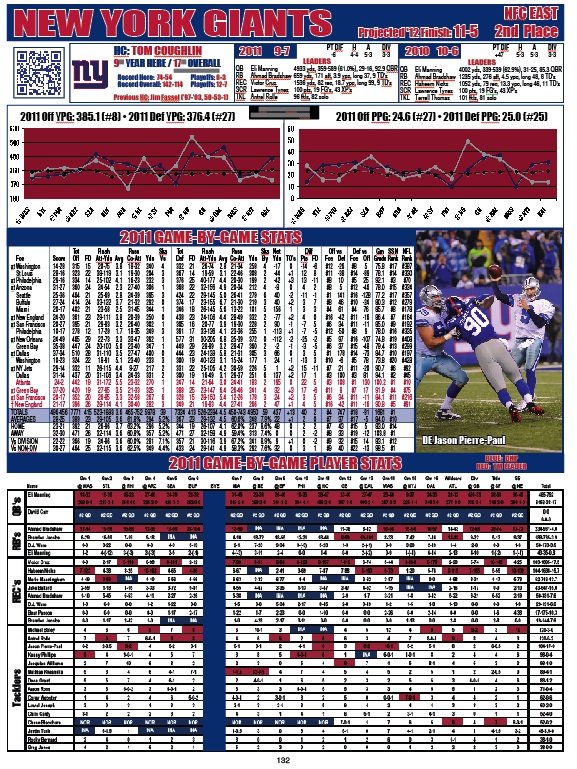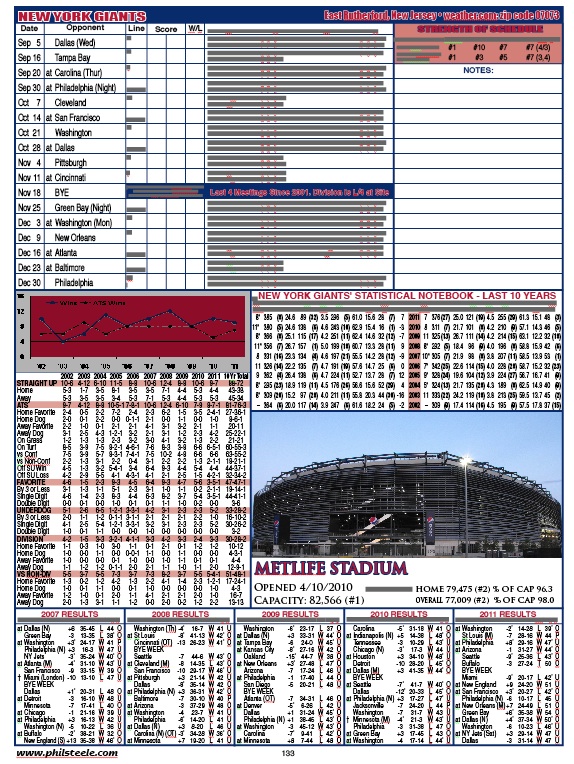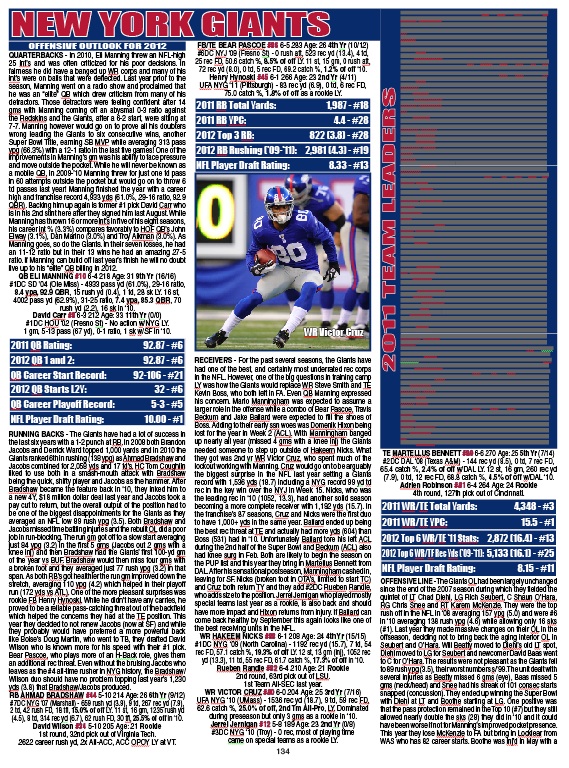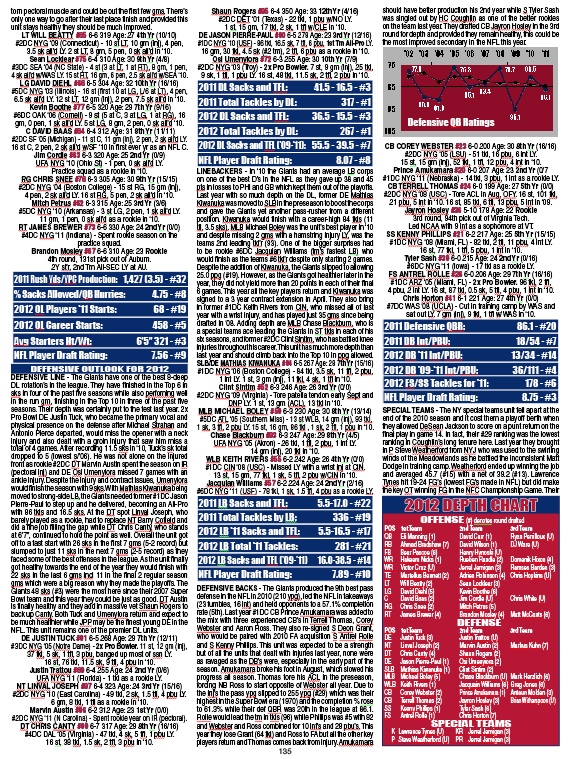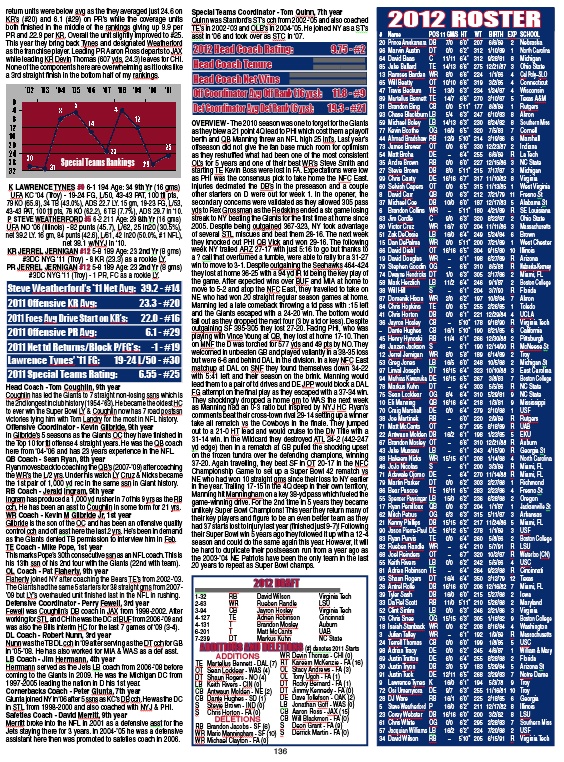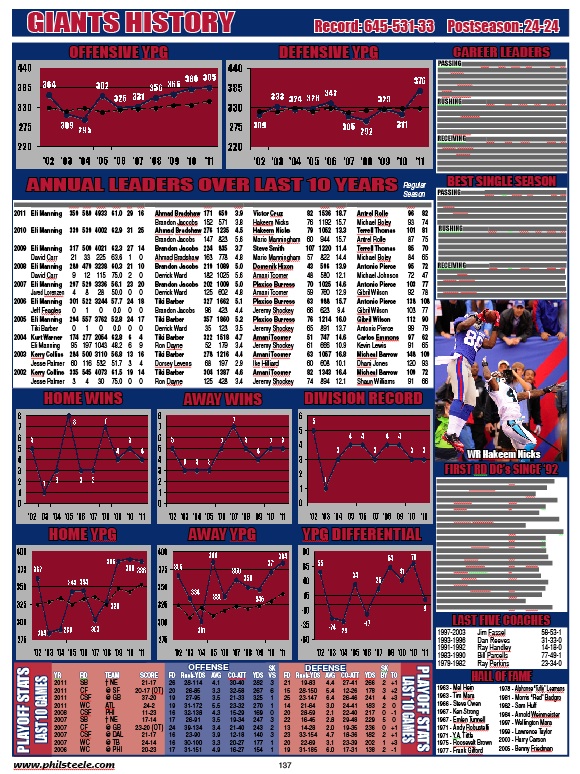 ONLY 70 DAYS LEFT UNTIL THE FIRST COLLEGE FOOTBALL GAME!!!