Today's blog includes all of my Magazine Covers with the exception of the National Cover.

Making a magazine cover has always been a big deal for college players all the way back to the old Street & Smith days which featured the top players without their face masks. In past years I have had 10 different covers that I ship out to different parts of the United States so you can pick up a mag with your favorite player in that region on it. Last year I expanded it to 11 covers by revealing my new "Northwest Cover" which featured players from Oregon, Washington and Boise St on it!

While most magazines break down their covers by conference, I feel my covers separate themselves as I produce special Florida, Texas and Alabama/Auburn covers. Also I am the only magazine that has an Armed Forces cover!

This year we are featuring a record 41 different players from 38 schools made my cover(s)! 5 players made my cover for a 2nd year in a row in West Virginia QB Geno Smith, South Carolina RB Marcus Lattimore, Oklahoma QB Landry Jones, Florida St QB EJ Manuel and Michigan QB Denard Robinson. USC QB Matt Barkley has now made 3 covers in a row! Broken down by position: 16 QB's made my covers followed by 12 RB's, 4 LB's, 3 WR's, 3 DL and 3 DB's. Check out all the covers below!

The official on sale date of my magazine is June 5th! Trucks should be here in Cleveland with copies ready to ship a full week before it hits the newsstands. The cost of the mag on the newsstands is $8.95 but if you want to order thru the offices the cost is $14.25 and that includes Priority Mail ($5.30) with an estimated delivery time of 3-5 days, however THIS IS NOT GUARANTEED BY THE POST OFFICE. You can place your order through our office at 1-866-918-7711 or at PhilSteele.com. You get your choice of 11 different covers and the website is your best option. (PhilSteele.com store)

Please check PhilSteele.com everyday starting next Monday to get my Top 40 Countdown! Every day starting Monday May 14th thru June 12th, I will post both magazine pages on each team and you can get an early look on how I breakdown your favorite team. Remember those magazine pages are available for only 24 hours for you to download!
I will also give you information in a blog next week on how you can get an advanced copy of this year's magazine!
SEC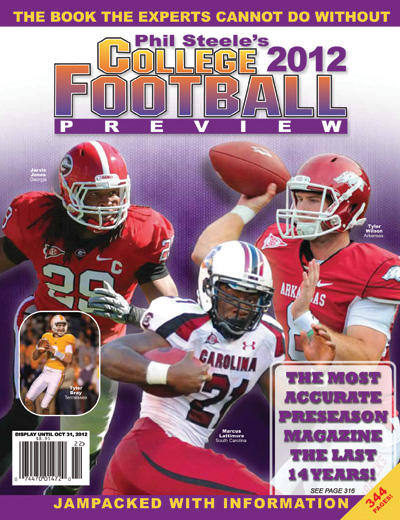 Big 10

Midwest

Pac-12

East Coast

Florida

Texas

Alabama

Northwest

Armed Forces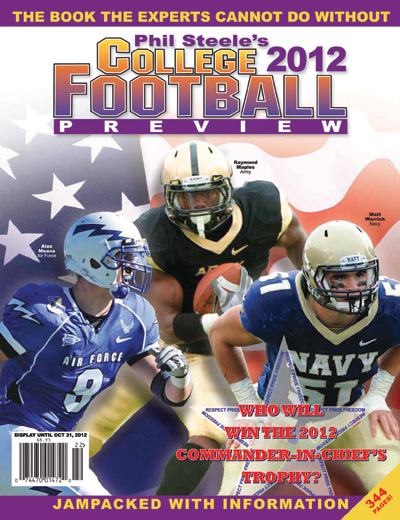 25 DAYS UNTIL PHIL STEELE'S 2012 MAGAZINE IS ON SALE!