In today's blog I will start releasing my All Conference teams starting with the All-WAC and All-Sun Belt teams.
The Sun Belt is led by FIU and WKU who both have seven 1st Team All-Conference players including FIU RB Kedrick Rhodes and WKU TE Jack Doyle. Louisiana fresh off their first ever bowl game is well represented with six 1st Team players led by RB Alonzo Harris and Arkansas St has arguably one of the most underrated QB's in the country in Ryan Aplin.

In the WAC defending champ Louisiana Tech leads the way with nine 1st Team All-Conference players led by QB Colby Cameron and WR's Quinton Patton and Myles White. San Jose St which was much improved LY and returns many of their key players also has nine 1st Team selections while Idaho and San Jose St each have four players on my 1st Team.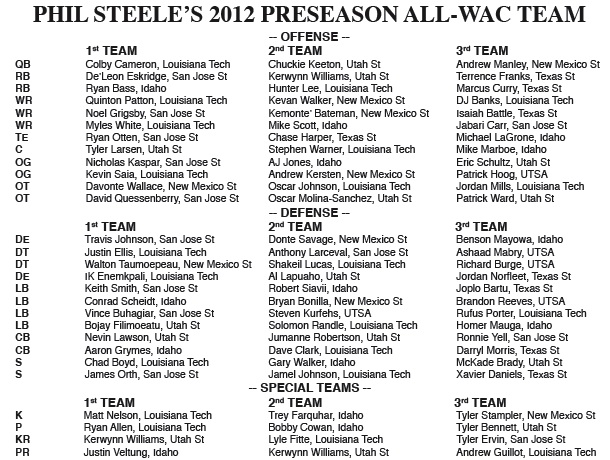 Please check PhilSteele.com everyday to get my Top 40 Countdown which continued the today with #34 Louisville and #33 Utah. Every day now thru June 12th, I will post both magazine pages on each team that day and you can get an early look on how I breakdown your favorite team. Remember I will make those magazine pages available for only 24 hours for you to download.
19 DAYS UNTIL PHIL STEELE'S 2012 MAGAZINE IS ON SALE!
ONLY 105 DAYS LEFT UNTIL THE FIRST COLLEGE FOOTBALL GAME!!!