In yesterday's blog I started releasing my Preseason All Conference teams and today I will continue with the All-Independent and All-MAC teams
The MAC has 10 teams with two or more 1st-Team selections and are led by Bowling Green who has five players including 2 on their fine ST's unit. Defending East Champ Ohio has four 1st-Team selections while Western Michigan and Miami, Ohio each have three 1st-Team players and are led by offensive stars WMU QB Alex Carder and Miami WR Nick Harwell.

The All-Independent team has naturally been dominated by ND players but with the addition of BYU last year, the team has gotten more balanced. This year ND again leads the way with 13 1st-Team selections (20 overall) while BYU has 11 1st-Team selections (18 overall). Navy and Army each have one 1st-Team player while Army has 7 players overall Navy has 6.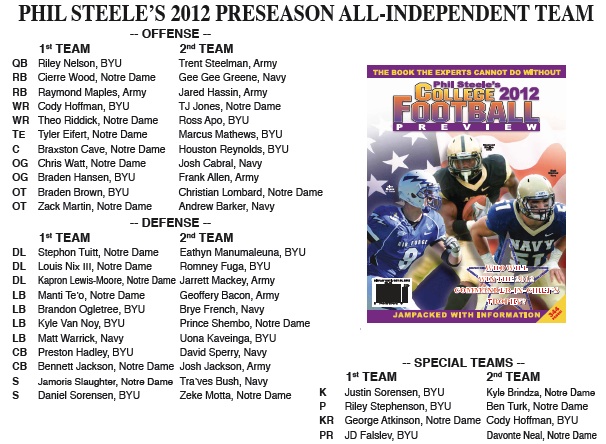 Please check PhilSteele.com everyday to get my Top 40 Countdown which continued the today with #32 Houston and #31 Ohio. Every day now thru June 12th, I will post both magazine pages on each team that day and you can get an early look on how I breakdown your favorite team. Remember I will make those magazine pages available for only 24 hours for you to download.
18 DAYS UNTIL PHIL STEELE'S 2012 MAGAZINE IS ON SALE!
ONLY 104 DAYS LEFT UNTIL THE FIRST COLLEGE FOOTBALL GAME!!!