A couple days ago I started releasing my Preseason All Conference teams and today I will continue with the All-ACC and All-Big 12 teams
11 of the 12 ACC teams have at least one 1st-Team selection on my Preseason All-ACC Team. Clemson leads the way with six 1st-team selections while Florida St and North Carolina each have five 1st-Team players. The Seminoles do lead the way with an overall 20 players which is seven more than Clemson.

9 of the 10 teams in the Big 12 are represented with at least one 1st-Team selection. Oklahoma leads the way with seven players while defending champ Oklahoma St has five and Texas has four. Big 12 newcomers West Virginia and TCU are each well represented as the Moutaineers have three 1st-team selections while TCU has five 2nd-Team selections.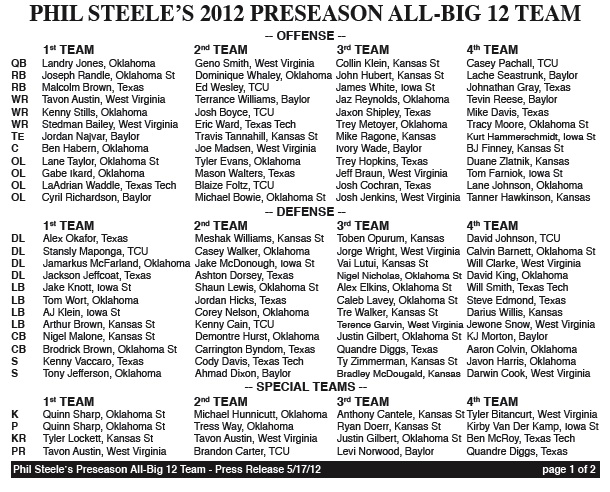 Please check PhilSteele.com everyday to get my Top 40 Countdown which continued today with #26 Boise St and #25 West Virginia. Every day now thru June 12th, I will post both magazine pages on each team that day and you can get an early look on how I breakdown your favorite team. Remember I will make those magazine pages available for only 24 hours for you to download.
14 DAYS UNTIL PHIL STEELE'S 2012 MAGAZINE IS ON SALE!
ONLY 100 DAYS LEFT UNTIL THE FIRST COLLEGE FOOTBALL GAME!!!