| | |
| --- | --- |
| Daily Blog •August 7, 2013 | |
This is my 2nd update on how the conference poll voting is shaping up. The last couple of years, I have I put up a poll for everyone to pick who would win each conference game during the year. I found these results fascinating prior to the year. When you vote in the poll, it tabulates the current % of votes for each team in each individual game. Prizes will be awarded at the end of the year for the people who predicted the conference's most accurately. However, you need to vote on every single game to qualify. You cannot just vote on the six BCS conferences and skip the others.

Here are the current conference standings for all of the major conferences with the percentages of each game factored in according to your votes.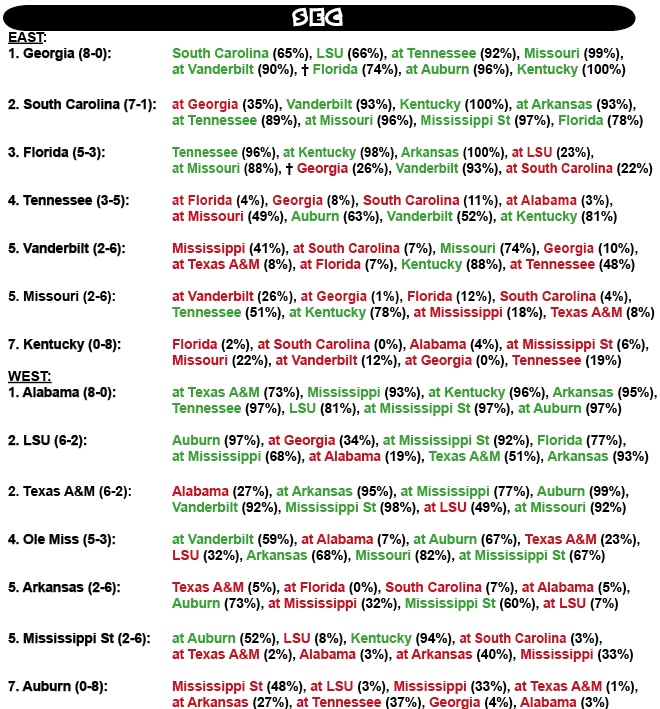 Last year Alabama and Georgia played a classic game in the SEC Championship and this year you guys are calling for a rematch just like I am in my 2013 College Football Preview. Georgia's road looks to be a little more difficult as they have two games in the 60% range while all of Alabama's games are 73% or higher. Two teams that both went 11-2 last year in South Carolina and Texas A&M figure to give the Bulldogs and Crimson Tide a run for their money thanks to advantageous conference schedules but due to the recent Johnny Manziel news, the Aggies have been slipping in their games and now are projected to lose to LSU.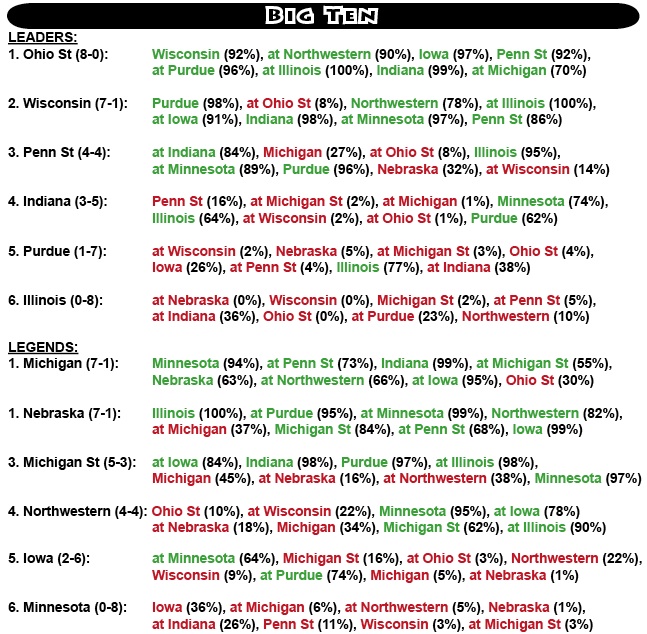 There is no surprise that Ohio St is an overwhelming favorite to win the Leaders division this year as all of their games are at 70% or higher and their schedule is a major reason why many including myself are calling for them to play in the National Title game. The Legends race is much more wide open and currently you have Michigan and Nebraska tied for the top spot. However, Michigan would own the tiebreaker due to their win over Nebraska according to you and that would set up an Ohio St/Michigan rematch in the Big 10 Championship game for the only time (move to same division next year).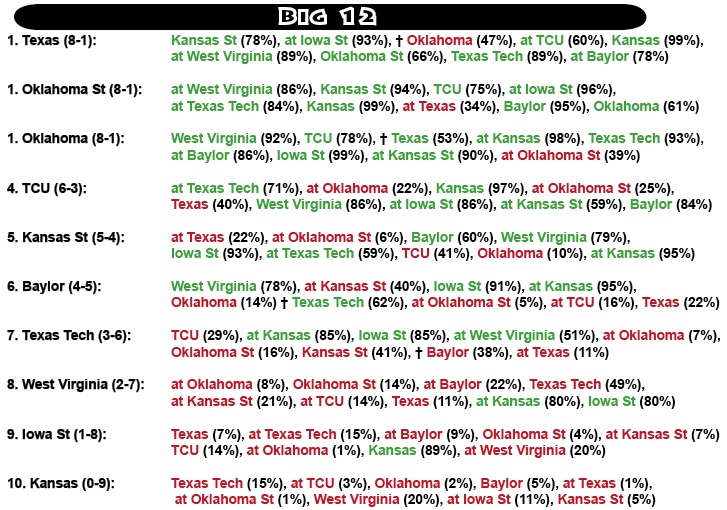 The national perception for the Big 12 this year is that it is a deep wide open conference and according to your votes so far, you agree as you have three teams tied at the top. Texas is my pick to win the Big 12 and they are only a few % points away from being the favorite according to you as the Oklahoma game is nearly 50-50. Oklahoma St has to travel to Austin this year while Oklahoma has to travel to Oklahoma St and you have both of the home teams winning those.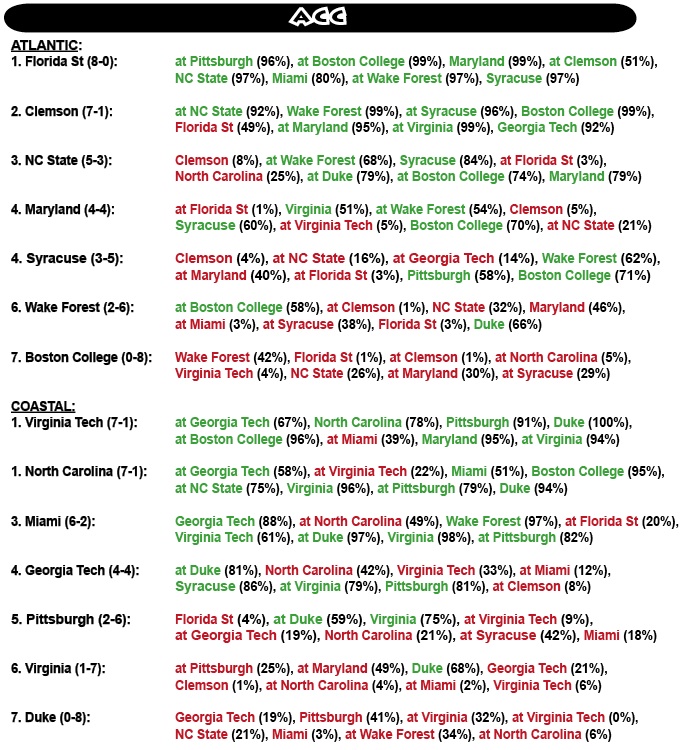 Many publications have Clemson as their pick to win the ACC Atlantic, but you guys so far agree with me that Florida St will run through their conference schedule unscathed. On the Coastal side, you guys have a bit of a surprise as the Hokies are tied with North Carolina at the top with Miami picked for 3rd. Most publications actually have the Canes winning the division (VT is my pick).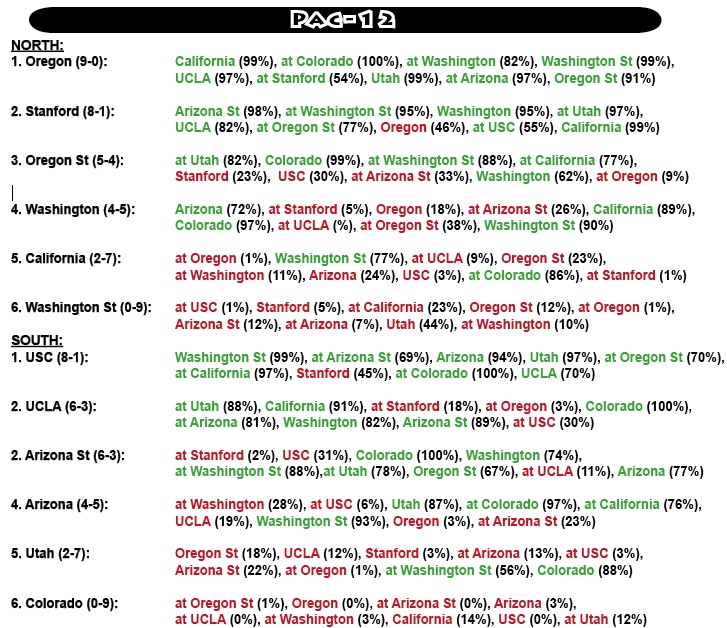 Oregon and Stanford have dominated the Pac-12 in the last three years as both have made BCS Bowls in each of those years. Their November 7th battle will likely decide the Pac-12 North once again and 54% of you have Oregon pulling out the road win. In the South, my pick is for USC to have a major bounce back year and you guys agree as they are the clear choice to win the South by two full games over UCLA and Arizona St.

Let me know what you think of this breakdown on Facebook or Twitter!

Only 22 Days Left Until the First College Football Game!