| | |
| --- | --- |
| Daily Blog •August 22, 2013 | |
Inside the Pressbox:
In the last few years in my daily blog during the college football season, I have given you my weekly Top 25 Forecasts and picks for every FBS game played that week complete with computer projections, Las Vegas lines, etc for FREE. This year we will be going to a new format and I will only be giving you a select few games for free on my daily blog.
If you want the same type of information you have grown accustomed to on every game and want even more information, then you are why I started the Inside the Pressbox.
If you refer to page 4 of this year's College Football Preview, you will see that originally we were looking at charging $15 per week or $149 for the entire season. In the college preview, we were offering an introductory rate of $49 if you use the code: PS Pressbox.
However, today on the blog, I am offering an even further discount if you choose to make a $25 deposit into Draft$treet.
For a little more than 3 cents per game
(700+ college games this year) you get:

A. Game-By-Game Stats - Including Phil Steele Grades
B. The Most Complete Logs - Team & Opponents Records, Conference Records, AP Rank, Phil Steele's +/- Power Ratings and for the FIRST TIME EVER get Phil's OFF, DEF and ST's ranks.
C. Common Foes With Stat Comparisons and NCAA Rank vs PHIL STEELE Rank
D. Weekly Leaders and Year-to-Date Leaders
E. Team Avg's YTD, Conference and Away vs Home
F. Statistical Match-ups For the Last 4 Years
G. Phil's Computer Forecasts and Match-up Edges
H. PHIL STEELE'S FORECAST!

WHEN: Available every Wednesday at 1:00 pm ET

HOW: Receive a Link via Email

DOWNLOAD: Entire Newsletter or Click on Links for Individual Games (one entire page devoted for each FBS vs FBS game)

PRICE: $49 by calling 1-866-918-7711 or just $25 by going to PhilSteele.com (click on the green DraftStreet banner, deposit $25 into an account and they will pay for your subscription.


(click image below to download same page)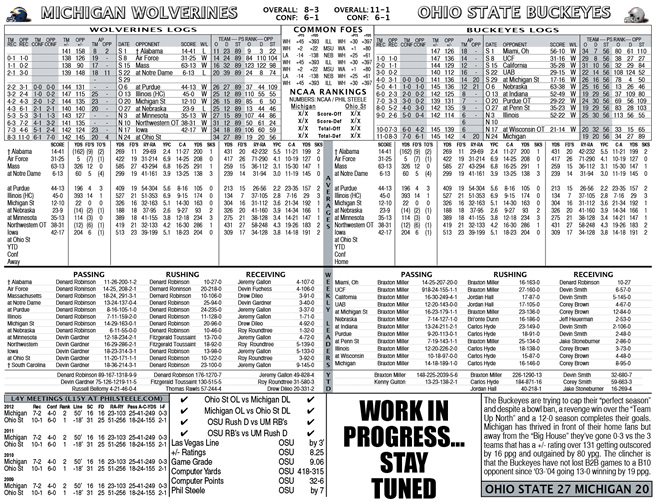 Only 7 Days Left Until the First College Football Game!