| | |
| --- | --- |
| Daily Blog • December 9th | |
By Phil Steele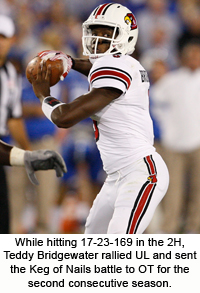 Louisville won 31-24 and thereby gave UCF the AAC crown and a BCS bid. For the 2nd year in a row the two teams went to OT. Teddy Bridgewater hit 23-37-255 and Brendon Kay 22-40-304. Cincinnati opened with an interception on the 3rd play of the game and UL went 60/4pl capped by a 36 yard td pass, 7-0. UC went 53/10pl but was intercepted at the UL5 on 3&10 from the 25. UL got 2 FD's but punted. UC got 5 FD's to the 27 but punted on 4&23. Two more punts. UL went 41/11pl for a 31 yard FG, 10-0 with 5:35 left in the half. UC went 70/11pl and got a 1 yard td run with 1:15 left in the half 10-7. Bridgewater was intercepted at the UC39 from about midfield with :16 left. At the half UC did have a 183-150 yard edge. In the 3Q UL punted and UC went 87/10pl for a td and the lead 14-10 (7:58). UL got 3 FD to midfield and punted. Three punts. UL went 86/13pl and on 4&12 Bridgewater appeared sacked but broke away, broke another tackle, went down the sidelines without stepping OOB for a spectacular 14 yard run for the FD. On 3&8 Bridgewater dropped back to pass, rolled away from pressure, threw to the EZ and got a 22 yard td pass to Copeland, 17-14 (8:08). It didn't take UC long to answer. They got a 57 yard pass to McCain and a 15 yard td run for a 72/2pl drive to retake the lead, 21-17 (7:17). UL went 60/11pl and got a 4 yard td pass, 24-21 with 2:26 left but UC went 67/10pl and got a 26 yard FG with :07 left for OT. In OT UL got 1 FD and on 3&gl from the 5 pass interference gave them a FD and they got a 2 yard td run on the next play, 31-24. UC tried a reverse pass on the first play which was blown up for a 4 yard loss and on 4&14, had a pass go out of the receivers hands incomplete at the 5.
All of the talk coming into the MAC title game was Northern Illinois being the BCS buster and Jordan Lynch being a Heisman contender. The bottom line–Bowling Green outplayed them with a 574-454 yard edge and Matt Johnson hit 21-27-393 for BG while Lynch hit just 21-40-219 for NIU. Lynch did have 126 yards rushing while Johnson 33 but Johnson had Travis Greene in the backfield and he had 133 on 26 carries. TE Alex Bayer for BG had 7 rec for 124 yards including a couple of td's where he was wide open in the EZ. Each team opened with a long drive for a td, 7-7 (9:08). BG went 67/5pl for a td, forced a punt then went 76/5pl for a 36 yard td pass, 17-7 (2:25). NIU18 went 48/9pl and got a 51 yard FG, 17-10 (14:45). BG punted and NIU went 37/6pl for a 45 yard FG to pull within 17-13. NIU executed a successful onside kick but was called for touching the ball early and had to re-kick. After the re-kick, BG started at their 12 after a penalty. BG went 88/9pl for a td, 24-13 (5:39). NIU went 34/12pl but lost 3 yards and missed a 58 yard FG (2:32). BG fumbled with 1:22 left in the half at midfield but Lynch was intercepted 3pl later with 1:05 left. BG went 51/8pl and got a 12 yard td pass with :13 left to lead 31-13 at the half and had a 389-229 yard edge. NIU opened the 3Q with a 64/7pl drive for a td. BG25 went 67/8pl but missed a 26 yard FG. NIU20 got 3 FD and missed a 44 yard FG. BG then went 39/10pl for a 52 yard FG including a 4&4 conversion on a 5 yard run to the NIU25. NIU was intercepted at the BG43 and BG returned it 37 yards to the 20. They went 20/4pl for a td, 40-20 (10:17). NIU got 2 FD and on 4&8 fired incomplete at the BG41 with 8:10 left. BG went 59/10pl and on 4&13 got a 16 yard td run by Greene, 47-20 (2:44). NIU went 79/11pl for a 2 yard garbage td with :14 left, 47-27.
The CUSA title game might just have been determined when Rice finished higher in the BCS rankings despite the fact UCF was drawing votes in both the Coaches and Harris Polls and Rice did not draw a single vote. That gave Rice the home field edge and Marshall was two different teams this year at home vs away. Coming into the game Marshall had won by an average of 53-13 but on the road were just 3-3 only winning by an average of 36-30. Rice had a 487-371 yard edge. Rice opened with an 82/10pl drive then out of the Wildcat, RB Turner hit Moore with a 35 yard td pass, 7-0 (10:15). After MU went 3&out Rice27 on 2&12 got their longest play from scrimmage this year, a 75 yard pass from McHargue to Taylor, 14-0 (8:05). Two punts. MU went 64/12pl and had a FD at the 14 but settled for a 27 yard FG. Rice quickly went 62/4pl for a 4 yard td run, 21-3 (11:29). MU went 65/8pl for a 1 yard td run, 21-10 (9:18). There were 5 punts. At the half Rice had a 283-182 yard edge. MU25 got 3 FD's to the Rice40 but was intercepted at the 22. Two punts. Rice39 went 61/7pl for a td on a 17 yard run, 27-10 (5:34). Rice went 70/7pl once again, Turner out of the Wildcat hit Cella with an 8 yard td pass, 34-10 (:24). MU went 78/12pl for a 7 yard td pass with 11:02 left, 34-17. MU was SOD on 4&1 at their own 37 and Rice got a 16 yard td run, 41-17 (8:09). MU25 went 75/8pl for a 3 yard td pass, 41-24 (5:35). Rice recovered the onside kick, got 3 FD's and ran the clock out at the MU35.
This was a misleading final with a fluke score on the last play. Oklahoma St had a 400-358 yard edge in their HG vs Oklahoma but let the Big 12 title and a Fiesta Bowl berth slip from their grasp despite the fact OU lost their starting QB to injury. Trevor Knight hit 3-7-28 in the 1H while running for 47. When he was injured, Stoops opted to go with Kendal Thompson but he hit just 2-9-17 and Blake Bell took over at the end and guided the come-from-behind win. The game was played in 18-degree temps with a wind chill of -6. The first play OSU had a 75 yd td called back. The first 4 possessions were punts. OSU was pinned at its 1 yard line after a punt but would go 99/10pl getting a td with 4:00 left in the 1Q, 7-0 (4:00). Each team punted but Saunders returned a punt 64 yards for a td and OU tied it at 7 (:18). OSU28 went 70/8pl and on 4&1 was stuffed for a 1 yard loss. OSU got it back after OU punted 31 yard into the wind and started at the OU41 and got 1 FD and got a 41 yard FG on a 17 yard drive, 10-7 (8:40). OU36 went 60/15pl and converted on 4&1 with a 12 yard screen to WR Saunders down to the 32 but settled for a 21 yard FG after 1&gl at the 5. Knight also went into the locker room injured. At the half OSU had a 201-132 yard edge. Thompson was intercepted on the first play of the 2H and OSU went 75/7pl for a td and the lead, 17-10 (13:18). The next 5 possessions were punts. OSU was intercepted at the OU40 (4:44). OU40 went 60/7. They lined up for a FG and the holder ran the option, pulled back and passed to their smallish K Hunnicutt (176 lbs) who grabbed it and was hammered by 2 players but still scored the td, 17-17 (2:35). OSU went 3&out and OU went 53/12pl and Hunnicutt got a 39 yard FG for the lead, 20-17 (10:01). OSU got 1 FD and punted with 8:00 left but OU, pinned at their own 1, got a huge 57 yard pass to Shepard to get some breathing room to the OSU42 but punted on 4&9 with 4:27 left. OSU went 89/7pl and got a 1 yard td run with 1:46 left to apparently pull out the win, 24-20. OU got 2 FD and on 3&10, a pass to Saunders got them 13 yards to the 17. They got another FD at the 7 with :24 left and then Bell hit Saunders in the corner of the EZ with a 7 yard td pass with :19 left. On the last play of the game, OSU on 3&17, from their own 30 tried the lateral play. After a 14 yard gain, they kept going backwards and backwards until the ball actually rolled into the EZ and OU fell on it for a td and a 9 point win.
Connecticut looked dead in the water at 0-9 but would win their last 3 games and got better with each one. They absolutely dominated Memphis with QB Casey Cochran hitting 36-54-461 and UC had a 31-14 FD edge and 538-257 yard edge. 2004 was the last time UC had a QB throw for over 400 yards (Dan Orlovsky) until Cochran's 461 here. The first 3 possessions were punts. UM went 37/6pl for a 43 yard FG and led 3-0 (5:34 1Q). Each team punted. UC took over with 2:18 left in the 1Q and their offense caught fire. They went 89/11, 86/13, 63/7pl on their final 3 possessions of the half all for td's, the latter was an 11 yard td pass with :09 left, 21-3. At the half UC had a 279-130 yard edge. UC took their opening possession of the 3Q 53/7pl for a td then after recovering a fumble, went 24/6pl for a 46 yard FG, 31-3 (7:20 3Q). UM went 71/7pl for a td, 31-10 (4:48). Two punts. UC started at the UM41 on 4&1 they got a 32 yard td pass with 1:12 left in the 3Q, 38-10. UM was SOD at the UC47 and punted then UC went 59/4pl for another td with 9:47 left. After a UM punt with 7:01 left, UC went 64/12pl with 4 FD's running out the clock at the UM25 yard line.
There were only a few hundred fans in their seats for the SMU/UCF game as there was an ice storm that hit the Dallas area which I guess would compare to a blizzard up North. This was the coldest home game in school history and matches SMU's coldest game ever (1993 Sun Bowl). This was also UCF's coldest ever. SMU even offered free admission and while the announced attendance was 12,598, there were clearly less than 1,000 there. SMU was without their starting QB Garrett Gilbert but Neal Burcham had a good game hitting 24-34-222 yards. Garrett Krstich came in at the end when Burcham was injured on a QB run with 8:22 left and hit just 1-5-13. SMU was trying to become bowl eligible and had the situational edge as UCF had actually wrapped up the AAC title and a BCS bowl berth on Thursday night when UL beat Cincinnati. SMU looked like they would get an upset. They opened up with a 54/15pl drive for a 33 yard FG. Two punts. UCF went 55/12pl for a 32 yard FG, 3-3 (11:00). SMU41 on 3&14 got a 31 yard run and then on 2&8 a 30 yard td pass made it 10-3. Two punts. UCF7 went 54/7pl getting to the SMU39 but their Hail Mary pass was inc. At the half SMU had a 168-122 yard edge. UCF opened the 3Q with a 69/5pl drive but fumbled at the 12 after a 24 yard gain by Godfrey. UCF went 66/8pl and got a 1 yard td run, 10-10 (8:09 3Q). SMU answered (24) as they went 54/9pl with a 39 yard FG, 13-10 (3:24). UCF38 went 63/10pl and got a 15 yard td run, 17-13 (:14). SMU35 got 1 FD and on 4&5, fired incomplete. On the next drive, SMU took over at their 37 with 12:30 left and went 23/7. On 4&1, Burcham was stuffed at the UCF40 and UCF punted with 6:51 left and Krstich was intercepted on his 2nd pass at the SMU38. UCF got 2 FD's to the 9 but missed a 24 yard FG with 2:21 which would have clinched it. SMU20 got 1 FD and on 4&14, gained 5 yards and UCF took a knee. UCF finished with a 338-313 yard edge. Blake Bortles hit 24-35-242.
I came away from the SEC title game very impressed with Auburn. During the week they spent a good deal of time lobbying to make sure if they won and Ohio St won, that they would get into the title game over OSU. They were also coming off a huge game vs Alabama and Missouri appeared to be overlooked coming into the game. Auburn's rush offense is extremely difficult to stop. Granted, Missouri came into the game allowing 385 ypg. AU fumbled at their own 43 on their 1st possession and MO got a 42 yard FG (10:50). The next 3 possessions were 75 yards for td's and AU led 14-10 (4:09). AU recovered a surprise onside kick but missed a 54 yard FG. MO37 went 38/7pl and was intercepted at the AU9. AU fumbled and Gaines returned it 11 yards for a td, 17-14 (13:11). AU went 75/8pl for a td (10:25), MO 58/9pl but only settled for a 36 yard FG, 21-20 (7:19). AU21 got a 52 yard run by Mason (tremendous day rushing 46-304) then his 3 yard td run capped the 79/4pl drive, 28-20 (6:26). MO didn't hold serve as they punted with 4:24 left but AU, after getting 2 FD's punting with 1:10 left. MO then took momentum. They got 2 FD's to midfield and Franklin hit Green-Beckham with a 55 yard td pass with :18 left to pull back within 28-27. At the half AU had a 376-304 yard edge. The first two 3Q possessions were punts. AU, after a 14 yard PR, went 13 yards for a 52 yard FG, 31-27 but MO took the lead going 75/7pl hitting a 10 yard td pass, 34-31 (5:35). AU went 75/6pl for a 2 yard td run, 38-34 (3:32). AU got a 22 yard PR to the 46 and got 2 scores ahead going 54/5pl with an Artis-Payne 15 yard td run, 45-34 (:31). MO got a 65 yard run by Josey but he was pushed OOB into a cart and injured (finished with 123 yards but 9 carries). After a 15 yard personal foul, Franklin ran a QB draw for a td and they got within 45-42 (:09 3Q). AU25 went 75/8pl and on 4&gl from the 1, Mason pushed in for the td. Two punts. MO was SOD with 4:27 left at their own 13 yard line and AU tacked on a Mason 13 yard td run on the next play. MO went 68/9pl and on 4&gl from the 7 were SOD with 1:46 left. AU finished with a 677-534 yard edge and 30-22 FD edge.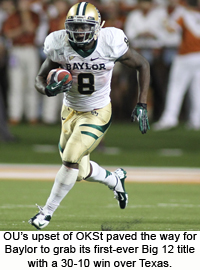 When Oklahoma upset Oklahoma St earlier in the day, the Baylor/Texas game became the Big 12 title game and it was the final home play in Floyd Casey Stadium. BU grabbed their first 11 win season in school history and got their first outright title of any league since 1980 with that team led by LB Mike Singletary. HC Mack Brown's team, battling for his job, did have a solid 1H as Texas was in the game that was played in unusually cold weather (20-degrees). UT has been banged up all season, losing their top RB Gray, QB Ash, LB Hicks and one of their top DL (Whaley) to injuries plus had their top tackler, Steve Edmond, missed the game with injury. BU took its opening drive 68/11pl for a 22 yard FG and led 3-0 (11:01). UT missed a 44 yard FG (8:16) and BU was stuffed on a fake punt at its own 33 but UT was SOD on 4&4 at the B37 (5:55). BU missed a 49 yard FG (3:25). UT was driving but intercepted at the BU13 :46. BU had the wind at their back in the 1Q and called time-out with :01 left to get off a 63 yard punt on the final play of the quarter. BU missed a 35 yard FG into the wind (11:58) and got off a 10 yard punt. UT went 47/10pl and got a 42 yard FG with 4:31 left to tie at 3. At the half BU had a 224-154 yard edge. BU's opening drive of the 3Q could have been stopped but they converted on 3&11, 3&11 then on 3&9 got an 11 yard td pass to take the lead. UT chose to go into the wind in the 3Q, a smart call as generally there are more plays in the 4Q when the game is on the line. UT went 3&out and BU went 47/7pl for a td 17-3 (6:64). UT went 3&out and BU went 29/7pl for a 42 yard FG, 20-3 (2:47). Once again BU got off a 50 yard punt on the final play of the quarter taking advantage of the wind. UT got a 50 yard PR by Shipley and started at the BU11. They found Brown in the EZ for a 2 yard td pass, 20-10 (12:38) as McCoy scrambled around. BU34 went 55/10pl and got a 28 yard FG with 9:18 left. Each team punted. UT was driving to close it to a 6 pt game and on 2&10 from the BU42, McCoy was intercepted and returned 57 yards for a td. They called Morton for taunting at the 18 line as he slowed down so they spotted the ball at the 18 and on the first play Glasco Martin took it in the EZ to make a lot of BU fans happy, extending the lead to 20 with 4:04 left. UT opted to punt on 4&10 from their own 30, basically waving a white flag and BU got 2 FD and ran the clock and got to their Big 12 title game. Bryce Petty hit 21-37-287 and Case McCoy struggled all day hitting 12-34-54 yards. UT did run the ball for 163 on 35 carries with Malcolm Brown rushing for 131.
It was 52-degrees and windy as well as overcast for the game. Florida St just needed to win to get to the BCS Championship game and were a 4 td favorite over Duke and actually struggled early on. The 1Q was scoreless. Jameis Winston hit just 3-8-33 in the 1Q. Duke also struggled as they had 8 possessions in the 1H and failed to pick up a FD on 7 of those. Anthony Boone hit 20-40 but for just 138 yards with 2 int. Winston hit 19-32-330. The first 3 possessions were punts. FSU's 2nd possession started at the Duke47. On 2&10 from the 25, Freeman ripped off a 22 yard run down to the 3 but fumbled. Duke actually went on a 67/14pl drive but missed a 48 yard FG. Two punts. FSU took over with 1:39 left 1Q and went 64/9pl and got a 14 yard td pass to Benjamin, 7-0 (12:36 2Q). Duke got a 40 yard PR to the FSU37 but was intercepted on 3&6 (8:38). FSU went 73/11pl for a td with 3:37 left, 14-0. Duke went 3&out then Winston had an overthrown pass that was an easy pick at the 50. Duke on 4&3 punted 43 yards for a TB with 1:23 left in the half and FSU went 53/7pl for a 45 yard FG, 17-0 (:25). At the half FSU had a 267-90 yard edge. FSU punted to open the 3Q and Boone was hit as he threw and intercepted at the 26. FSU went 26/3pl for a td (9:46) then 87/5pl (6:31) for a td, 31-0 and after Boone fumbled, FSU went 61/9pl for a td, 38-0 (2:38 3Q). FSU was intercepted at the Duke28 but then went 92/9pl and got a 7 yard td run by Freeman with 7:20 left, 45-0. Duke went 75/14pl picking up a garbage td on a 5 yard run with 1:06 left and FSU ran the clock.
I came away impressed with Connor Cook who hit 24-40-304 for Michigan St vs Ohio St. Jeremy Langford ran for 128. MSU's D also held OSU to over 100 yards below their season average and to a season low 374 total yards with Braxton Miller rushing for 142 and Carlos Hyde for 118. This was a game of ebbs and flows as MSU jumped on top 17-0, OSU came back and led 24-17 but the Buckeyes, who came in with the nation's longest win streak (24) suffered a loss and were knocked out of the National Title game. It reminded me a bit of 1969 when the OSU team from 1968, led by super sophomores, won the National Title in an unbeaten year and in 1969 destroyed all of their opponents all season long and just needed to beat Michigan to play for the National Title in the Rose Bowl and were upset. Urban Meyer did not play Marcus Hall who told the Michigan fans OSU was #1 as he left the field last week. MSU finished with a 438-374 yard edge. They went 47/14pl and got a 40 yard FG that just made it over the uprights to open 3-0 (8:31). Three punts. MSU had a 2&14 when they got a 72 yard td pass on the first play of the 2Q, 10-0 (14:50) 68/2. MSU then went 66/5pl and got a 33 yard td pass, 17-0 (9:01 2Q). OSU16 went 84/5pl for a td,17-7 (6:26). There were 3 punts and OSU took over with 1:23 left in the half and got a couple of FD's and got a 28 yard FG on a 53/7pl drive. That gave them momentum. They trailed 17-10 but had a 198-197 yard edge. They used that momentum to open the 3Q with a 75/7pl drive for a td and got an int at midfield but punted. After a MSU punt, OSU went 44/5pl for a td and appeared on their way to their title game, 24-17 (5:36 3Q). MSU got 1 FD then on 4&2 went for it and got a 6 yard gain. They would nail a 44 yard FG to pull within 24-20 (2:29). OSU21 got 1 FD and punted. MSU10 went 90/8pl and got a 9 yard td pass to Price 27-24 (11:41) for the lead. OSU recovered the surprise onside kick at their own 41 but went 3&out punting on 4&6. MSU punted and OSU started at the MS47 (7:36) but on 4&2 Miller was stuffed with 5:46 left. With OSU trying to tackle the ball instead of the player, MSU quickly went 62/6pl for a 26 yard td run, 34-24 2:16. OSU34 got 1 FD but on 4&10 fired incomplete (1:13).
I thought the situation clearly favored Rutgers. Even though they came limping into this, they were off a couple of road losses and back at home playing for a bowl bid. They were playing in chilly temps vs a USF team and trying to avoid a losing season. Chas Dodd started for RU and hit 19-24-179. Mike White hit 14-31-141 for USF. Paul James was leading the nation in rushing when he was injured earlier in the year and he was back and had 113 yards on 26 carries. RU finished with a dominating 25-8 FD edge and 355-151 yard edge. The first 3 possessions were punts. RU went 49/9pl for a 5 yard td run by James, 7-0 (5:41). USF fumbled at their 24 and RU needed just 2pl for a 12 yard td pass, 14-0 (4:10). USF was intercepted at their own 29 on 3&8. RU got a 1&gl at the 1 but then Jones fumbled into the EZ for a TB and it appeared the momentum may change. USF20 went 73/13pl and got a 24 yard FG, 14-3 (8:54). Two punts. RU took over with 5:29 left and went 52/6pl getting a 2 yard td pass with 2:29 left in the half. USF30 went 58/11pl and got a 29 yard FG with :22 left. At the half RU only had a 169-154 yard edge and led 21-6. Each team punted and RU34 went 49/11pl but had a 34 yard FG blk'd. RU went 69/14pl and had a 1 yard td run by James, 28-6 (7:24). RU went 43/9pl and added a 20 yard FG with :52 left after having a 1&gl at the 5 and RU accepted a bid to the Pinstripe Bowl moments after the game.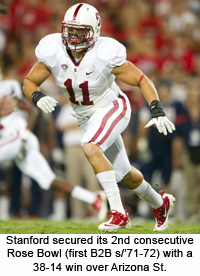 I used Stanford in the NY Post and on the Erik Kuselias Show and my Inside the Pressbox. Early in the year, Stanford dominated Arizona St and on my radio shows this week I pointed out that SU matched up well with ASU as their big, physical O-line was taking on a small, speedy D and SU is the one top-notch D that does well vs spread offenses. SU finished with a 517-311 yard edge despite having to play this one on the road. ASU was without their top rusher and scorer, Marion Grice. DJ Foster had 142 total yards (62 rush) and 2 td's but then suffered a knee injury and missed the 2H for ASU. ASU K Zane Gonzalez missed his first FG attempt in 19 tries. On 2&17 on the 2nd play of the game, Gaffney ripped off a 69 yard td run down the left sideline and finished the game with 133 yards. Just 5pl later Foster got a 51 yard run up the middle to tie it at 7. SU went 60/8pl and got a 1 yard td run by Gaffney 14-7 (7:30). ASU got 3 FD's to midfield and punted and SU went 89/5pl for a 22 yard td run, 21-7 (14:51) then after a 16 yard punt, went 37/6pl and Gaffney's 4&gl, 1 yard plunge made it 28-7 (9:49). There were 4 punts. ASU appeared to get back in it when Kelly hit Foster with a short pass that went 65 yards for a td with 3:52 left in the half, 28-14. SU23 went 62/10pl and on 4&7 from the ASU44, they were going for a Hail Mary but Hogan took off and got all the way down to the 15 yard line when he was hammered. At the half SU had a 301-174 yard edge. Each team opened the 2H with a long drive with ASU missing a 31 yarder and SU getting a 30 yard FG 31-14 (6:12). ASU went 74/17 and on 3&gl from the LB Skov anticipated the snap and jumped over the OL stopping Hogan in the backfield. On 4&gl from the 1, ASU was stuffed (:09) and SU put the game away. They went 99/5pl and got a 24 yard td pass, the key a 3&6, 78 yard pass to the 17. ASU was SOD on 4&7 at their own 35 and after recovering a fumble, SOD on 4&3 at their own 33. SU was SOD at the ASU25 (4:35).
Earlier this year South Alabama was off a bye, hosting a banged up Kent St team coming off a couple of key conference games and travelling to the South. It was a great situational edge. This situational edge that they had vs Louisiana was pretty close. UL was without their starting QB and was giving Brooks Haack his first start. He, Jalen Nixon and D'Shaie Landor combined to hit 9 passes (26 attempts) with 2 int's. UL has also already accepted a bid to the New Orleans Bowl while USA was at home trying to get their 6th win for bowl eligibility. Some key turnovers actually opened this one up for USA and UL with a backup QB did not have the possibility of catching up. UL on their 3rd possession tried a fake punt on 4&6 and were tackled at their own 48. USA went 25 yards for a 40 yard FG. UL fumbled at their own 28 and USA went 28/3pl for a td, 10-0. UL fumbled the KO at their own 30 and USA went 30/3pl for another short td, 17-0 (3:29). USA went 83/12pl but settled for a 19 yard FG then went 77/10pl for a another 20 yard FG to lead 23-0 with :55 left 1H. UL was at their own 39 when Haack was intercepted and returned 42 yards for a td with :16 left in the half to make it 30-0. At the half USA had a 248-114 yard edge. The 2H opened with 8 punts and a combined 2 FD's in that span. USA got 4 FD's on the 13 play drive but punted 19 yards. Two punts. UL took over with 7:07 left and went 80/7pl and got a 47 yard td pass, 1 down after converting on 4&1. USA was SOD on 4&8 at the UL15 with 2:21 left and UL on 4&19 roughing the passer gave them a FD to the 35 and on 2&10 were intercepted at the 27 with :38 left. USA had a 363-212 yard edge and 22-12 FD edge.
Derek Carr hit 36-53-404 and Fresno St literally dominated Utah St at home but a key 14 point swing seconds before the half actually kept US in the game and mirrored some of the FSU games during the season. Darell Garretson hit 12-26-198 and was injured and Craig Harrison hit 4-9-55. FSU finished with a 460-304 yard edge and 24-17 FD edge. FSU was playing very disappointed after blowing a possible BCS bowl berth with their loss the previous week to San Jose St. Derek broke his older brother David's single season school record for td passes (46), yards passing (4839) in his final home game and with just 2 more td passes in the bowl, can become the 5th QB in FBS history to get to 50 td passes in a season. FSU fumbled at the US18 on the first drive (14:02). US was SOD on 4&4 at the FSU36. FSU went 51/11pl for a 30 yard FG, 3-0 (8:36). Five punts. FSU went 45/7pl for a td then went 66/14pl and on 4&1 got a 5 yard td run to lead 17-0 (7:17). US did go 53/7pl getting to the 23 but was intercepted at the 2 with 4:26 left 1H. FSU got 1 FD on a 68 yard pass to the US30 but on 4&3, were SOD at the 22. US got a 48 yard pass to Butler but on 4&10 missed a 42 yard FG with :46 left in the half. FSU was driving to add to its lead, about to make it 24-0. They'd gone 57/5pl and had a FD at the US11. On 2&10, FSU fumbled and Jake Doughty scooped it up and returned it 86 yards for a td with just :06 left 1H to get them back in the game, 17-7. FSU had a 341-152 yard edge at the half. FSU was intercepted on their first 2 drives of the 2H at the US45 and at the 50. US was SOD on 4&1 at the FSU41 and FSU went 59/13pl . They got a 3 yard td pass to make it 24-7 with 1:33 left 3Q. US went 78/13pl including a 4&4 conversion then 5pl later had a 10 yard td run, 24-14 (11:55). US recovered the onside kick and went 35/7pl for a 20 yard FG, 24-17 (9:00). FSU went 57/11pl but on 4&2 were SOD at the US38. US was SOD on 4&7 at its own 36 but FSU went for it on 4&3 and only gained 1 yard to the US28 with 1:42 left leaving them in the game. US got 2 FD including a 31 yard pass to the FSU39 but on the next play were intercepted at the 17.
Follow Phil Steele anywhere!

•

•

•
•

•

•

•

•
Phil Steele is a college football analyst who has been publishing his annual College Football Preview since 1995. His magazine is regarded as one of the best in the business.
Google+