Pick a team…any team!

Pick an opponent…any opponent!

Get the Last 16 Years History on Every Single Matchup for the 2013 Season.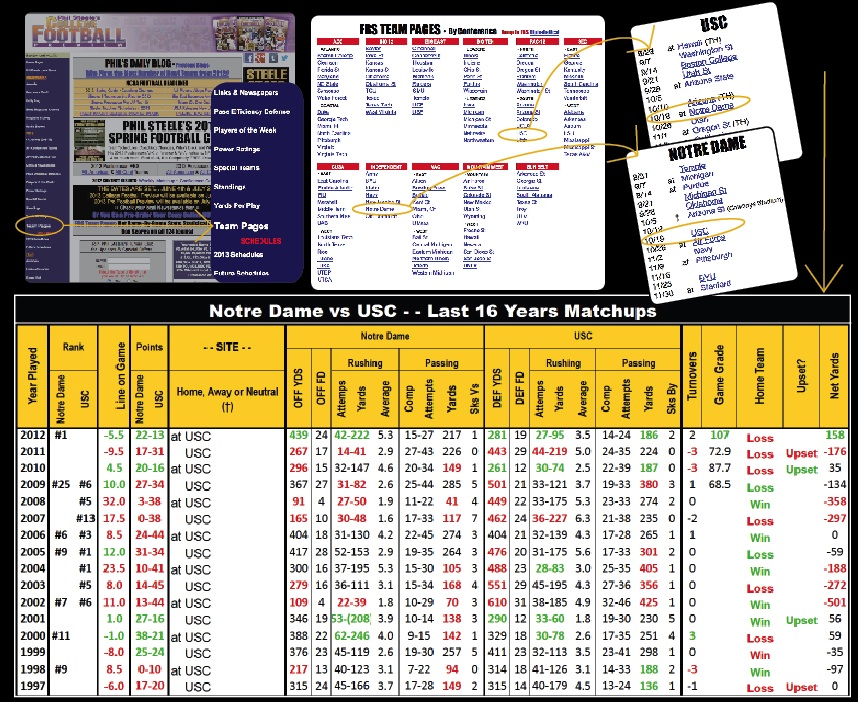 My website is loaded with information, but the chart above is my favorite type of info. When you click on this year's schedule for each team, click any opponent's link and the past matchups chart will pop up. I used the Notre Dame/USC matchup above as an example as it is one of the top rivalry games. The chart not only gives you the score of each of the past 16 years, but it provides you the complete box score and much more. You will notice that the matchup above is from the Notre Dame side of the schedule. Therefore, green numbers are good for ND and red numbers are bad.
The Individual Game Grade is something I devised 3 years ago so it only goes back that far. The "Upset" column lets you quickly see how many upsets there have been in the series (4) in the last 16 years. This is available RIGHT NOW for EVERY FBS game being played this year!
Only 51 Days Until the First College Football Game!!!