| | |
| --- | --- |
| Daily Blog • November 11th | |
By Phil Steele
Bowling Green/Miami met for the 70th time and it was the most lopsided victory in the history as BG rolled 45-3 over one of their rivals. There were questions in the spring about whether Anthon Samuel (997 yards rushing last year) would return and while he did not (transferred to FIU), Travis Greene has filled in nicely. Greene had 112 yards rushing and now has 1,018 (6.1). Matt Johnson hit 20-26 for 252 yards. MU actually opened with an 11pl drive to the BG34, but after a sack, punted. BG went 80/9pl and got a 6 yard td pass, 7-0. MU went 41/12pl and got a 51 yard FG, 7-3. BG went on a 76/13pl drive and had a FD at the 10 but settled for a 29 yard FG, 10-3. MU was playing without QB Austin Boucher who was out for the year and alternated Drew Kummer and Austin Gearing throughout the game (combined 15-25-131). MU fumbled at its own 29. BG went 29/4pl for a td then 69/9pl for a td with 1:19 left in the half. At the half BG had a 276-143 yard edge. BG opened the 3Q with an interception at its own 49 but MU fumbled it back 4pl later. BG went 61/10pl for a td then got an 11 yard FR td just :15 later, 38-3. BG went 75/5pl and got a 38 yard td pass and with 2:43 left in the 3Q they led 45-3. Two possessions later MU went 71/11 but on 4&1 was SOD at the BG29. BG, after a 49 yard PR with 2:40 left, was at the MU18 at the end. BG finished with a 447-228 yard edge.
Branden Oliver rushed for 249 yards for Buffalo and 2 td's. Khalil Mack had another forced fumble, giving him 13 in his career, just 1 short of matching the NCAA record. I've noticed a big difference in QB Tyler Tettleton for Ohio as he's not running the ball as much as he used to. He hit just 14-31-126 and had 6 carries for -21 yards which includes sacks. This was a close game late in the 2Q, however, Buffalo dominated from there and finished with a 421-233 yard edge including 252-69 on the ground. The first 7 possessions of the game were punts. OU had a controversial fumble on 2&7 from the UB28 and it was ruled a fumble and replays appeared to show the knee down, but I guess it wasn't conclusive. The Bulls went 72/6pl and got a 2 yard td run to lead 7-0. UB's next possession ended on a 3&1 pass from the OU37 which was intercepted in the endzone. Two possessions later, OU went 39/13pl and settled for a 23 yard FG to make it 7-3 at the half and UB had a 172-129 yard edge. OU was called for a safety on intentional grounding that happened at the 4. It ended up costing OU 2 points. Even the ref was at the 2 when he made the call of safety and they could not review it. UB, after the free kick, went 46/8pl for a td and keep in mind, had it been spotted at the 3, OU would have been kicking from their 3 as opposed to the 13 so that drive would have probably still happened. UB went 61/7pl for a 24 yard td pass, 75/7pl for a 25 yard td pass to Alex Nuetz to make it 30-3 with 13:05 left. OU brought in Derrius Vick at QB for a drive and went 67/12pl but was SOD at the UB27 with 1:50 left. UB controls its destiny getting to the MAC Title game while OU will need a lot of help to get there.
Ball St continued its impressive season moving to 9-1 and 6-0 in the MAC with a 44-24 win over Central Mich. BSt was probably even more impressive than the final score. Keith Wenning hit 20-29-299 yards. CMU's Cooper Rush did hit 20-32-284. The game was played in a light rain in the 1Q on a Tuesday night. The surprise was that Zurlon Tipton returned to the lineup for CMU. He was their 1,000 yard rusher from last year that was injured in the opener. He did have just 8 yards on 5 carries and surprisingly Saylor Lavallii who had been doing a great job in his place, only rushed for 16 yards on 9 carries. BSt took its opening drive 75/9pl for a td and CMU was intercepted at the BS31. After a 39 yard PR, BSt was SOD on 4&3 but CMU went backwards and punted. CMU got off a 77 yard punt to the 4 and then Horactio Banks, who led BSt with 143 yards rushing, ripped off a 38 yard run and they would go 96/3pl for a td, 14-0. BSt went on to a 31-3 lead at the half with a 355-193 yard edge as CMU fumbled at the BS18, settled for a 30 yard FG and fumbled at the CM39. In the 2H BSt drove 64/10pl to lead 34-3. The next 3 possessions all went for td's and it was 41-17 at the start of the 4Q. BSt was SOD on 4&9 at the CM36 then, after a 42 yard PR, went 22/7pl for a 26 yard FG to lead 44-17 with 2:51 left. CMU got a 33 yard run and 2pl later a 22 yard td pass to cap a 56/3pl garbage td drive with 1:33 left.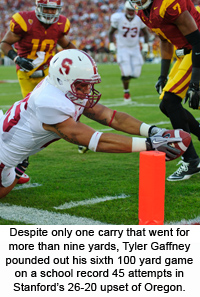 If you would have told me coming in that Stanford's leading rusher, Tyler Gaffney, would average just 3.5 ypc and QB Kevin Hogan would only throw for 103 yards with Marcus Mariota hitting 20-34-250 - I would have thought the Ducks won. Not mentioned there is that Hogan made some great runs in clutch situations and ran for 57 yards on 8 carries and while Mariota's running is a huge part of the offense, he played with a knee brace and had just 6 carries for -16 yards after sacks were factored in. Also while Gaffney did avg the 3.5 ypc it came on 45 rushes which allowed SU to dominate the LOS and continue to get FD's on 3&short. Also the bulk of Mariota's passing yards came in the 4Q when SU had the game firmly in control as they led 23-0 after 3Q's. This is a Stanford team that has played arguably the best 6Q's in college football this year as they had a dominating first 3Q's vs Arizona St and a dominating first 3Q's vs the Ducks. A couple of TO's did assist them. On UO's 2nd possession they had a 4&gl from the 4 and went for it and fired incomplete and SU would grind out a 96/12pl td drive then went 58/8pl with Hogan's 11 yard td run to lead 14-0. UO converted on 4&9 with an 18 yard run to the 11 but on 2&10 Mariota hit a 9 yard pass to the 2 and they fumbled at the end of an 80/10pl drive. SU went on a 96/20pl drive taking over with 8:26 left in the half and ending the half with a 19 yard FG on 1&gl from the 2. The drive included 3&6, 3&6 and 4&1 conversions. The FG came on an un-timed down after on 3&gl from the 3, defensive PI gave them another play. At the half SU had a 238-137 yard edge and held the ball for 20:53. SU opened the 3Q with a 57 yard KR by Ty Montgomery, a sight I'm used to seeing (long KR's). They would get a 34 yard FG, 20-0. UO went on a 12pl drive but fumbled at the SU29. SU went 63/14pl eating another 7:30 and settled for a 26 yard FG, 23-0, then went 46/8pl and got a 30 yard FG with 11:40 left to lead 26-0. The Ducks went 60/5pl for a 23 yard td pass. SU went on another 10 play drive but then a huge play happened. SU was about to make it 29-7 and ice the game with 5:08 left when they had a 40 yard FG blocked and returned for a td to make it 26-13 (2ptng). UO then recovered the onside kick and would go 57/10pl and on 4&gl from the 12 Mariota hit a 12 yard td pass and shockingly the Ducks were within a score with 2:12 left. This time, SU recovered the onside kick and ran out the clock. SU had a 42:34 to 17:26 TOP edge and 377-312 yard edge and has held the Mighty Ducks' offense to just 14 points in each of the last 2 games as the 1 td was off a blocked FG.
Ironically, while I watched the Troy/Louisiana game along with the other 2 major games being played on Thursday night, this was the most competitive of the 3 and Troy nearly became bowl eligible. I compared the game to their earlier game vs Duke where the team's traded scores which they did early and often in the 1H but surprisingly in the 2H the teams combined for just 16 points. Terrance Broadway hit only 8-13 passes but for 185 yards and ran for 63 for UL. Troy would finish with 469-378 yard and 27-19 FD edges, ending the game with a 1&gl with a chance at the win. Troy opened with a 72/9pl drive but settled for a 39 yard FG. UL then appeared to take control of the game. UL went 75/5pl for a td, got a 67 yard PR td by Darryl Surgent. Troy did get a school record 53 yard FG from Will Scott with the wind at his back 14-6 but 2pl later Broadway hit Elijah McGuire with a 60 yard td pass and UL led 21-6 with 3:32 left in the 1Q. Troy went 86/14pl for a td but UL answered with a 49/7pl drive for a td, 28-13 (10:22). Troy went 75/14pl and got a 6 yard td pass with 4:03 left then a key play happened. UL was driving, threatening to go back up by 2 td's, when they were intercepted and returned 65 yards for a td with 1:24 left and that got Troy back within 28-26 (2ptng). UL went 61/3pl and got a 36 yard td pass with :45 left, 35-26 and a 288-256 yard edge. Troy got a 28 yard PR to the UL47 and would settle for a 21 yard FG, 35-29. UL went 75/16pl getting a td on the first play of the 4Q, 41-29 (2ptng). Troy went 50/9pl but Scott missed a 42 yard FG. UL went 3&out and their punter mishandled the snap and was tackled at the 14 and Troy got a td 6pl later, 41-36 with just 6:59 left. Troy forced a punt on 4&1 with 5:22 left and the Trojans would go 81/11pl and had a 1&gl at the 8 but on 4&gl from the 4, fired incomplete with 2:01 left. UL got 1 FD and was forced to punt and took an intentional safety but Troy jumped offsides on the play which allowed UL to run out the clock.
Oklahoma lost DT Jordan Phillips and LB Corey Nelson in back-to-back weeks and their defense has not been as strong. They did put in a good effort vs Baylor "holding" the Bears 259 yards below their season average at 459 yards. Perhaps their biggest injury was the loss of FB Trey Millard as their rush attack, which had been averaging over 200 ypg and over 5 ypc, was held to just 87 yards rushing on 34 attempts. Had they been able to get the run game going, it would have given the defense a little more help. OU was a 3 td favorite the previous year and was 21-1 SU in the series but BU won despite the fact that OU was over a 2 td dog this time. BU lost RB's Lache Seastrunk and Glasco Martin to injury but Shock Linwood emerged and had 182 yards on 23 carries. Bryce Petty hit 13-26-204 and had some clutch runs and finished with 45 yards on 16 carries. Blake Bell only hit 15-35 for 150 yards and BU had a 28-16 FD edge. This game was actually 5-3 mid-2Q. BU got a 29 yard FG on its 2nd drive and OU went 64/9pl on its 3rd drive and on 4&gl from the 1 was stopped. OU did get a safety 2pl later then after a 54 yard KR by Jalen Saunders, blew another opportunity in the redzone, this time settling for a 22 yard FG and only led 5-3. BU missed a 52 yard FG and OU missed a 48 yard FG. With 8:16 left in the 2Q BU took over trailing 5-3. The Bears went 69/5pl for a td, 93/10pl for a td and then perhaps the key play of the game. The last td came with 1:00 left and on the next play OU opted to go for it and threw on FD and it was intercepted at the 38. BU converted on 3&10 with a key 14 yard run by Petty then on 2&10, got a 24 yard td pass to Antwan Goodley to go up 24-5 with just :13 left in the half. They had a 229-98 yard edge and a lot of TV sets across the country switched channels from FoxSports1 to ESPN to watch the Stanford vs Oregon game with this looking out of reach. The 3Q opened with 3 punts but then after a 31 yard OU punt, BU went 34/5pl for a 17 yard td pass, 31-5. OU went 71/10pl and got a 10 yard td pass, 31-12 but BU went 53/5pl and on 4&23 nailed 40 yard FG 34-12. OU went 43/7pl getting to the BU22 and this time on 4&3, Bell fired incomplete. BU drove 54/9pl but missed a 41 yard FG. BU went 52/3 for a td, 41-12. OU was intercepted at the BU19 on their next possession with 8:10 left. BU had a 459-237 yard edge.
New Mexico retired Brian Urlacher's #44 jersey at halftime and he gave the team the pregame speech as well. There were basically just 16 possessions in this game yet New Mexico and Air Force combined for 82 points and 924 yards so as you can tell, the majority of those drives ended in td's on this Friday night. NM had 479-445 yard and 27-25 FD edges. The Lobos went 66/10pl converting on 4&5 with an 8 yard run to the AF25 and got a 28 yard td pass 2pl later. AF had the game's only punt on the next drive. There were 4 long drives for td's and AF's, with 3:14 left in the half, pulled them back within 21-14. NM got to the AF23 but was sacked and fumbled on the last play of the half. The 2H's first 6 possessions went for td's. After AF had scored a td on the first play of the 4Q their xp was blocked and they still trailed 35-34. The 6th possession of the half was a 76/8pl drive for a td by NM, 42-34. AF got 3 FD's to the NM25 but an illegal block forced a 4&24 and they were sacked for a 13 yard loss. NM took over at the AF48 and got a 24 yard FG for a 45-34 lead with 2:32 left. AF got a 52 yard FG with 1:25 left on 4&10 but NM recovered the onside kick.
Teddy Bridgewater was in the spotlight for a 3rd midweek TV game and once again failed to overwhelm voters and probably will not even be in the conversation when the Heisman race is finishing in November. Bridgewater did not have a bad game, hitting 21-37-288, but it was vs an overmatched Connecticut team that came in winless. UC QB Tim Boyle hit 14-29-113 and Casey Cochran came off the bench to hit 6-9-66. Ironically UC has not won a game since upsetting Louisville last year. UL had only a 369-237 yard edge with my computer having called for a 435-266 yard edge. In the last 4 games Boyle has had no td's and 8 interceptions since taking over for Chandler Whitmer after the coaching change. There was a score at the end of the game that some folks might have found interesting as UC got a td with :35 left to "only" lose this one by 21. UC opened with a 52/8pl drive but fumbled at the UL9. Each team punted but UL blocked a punt and returned it 7 yards for a td. UC went 57/14pl and got a 35 yard FG and at this point had a 109-63 yard edge and only trailed 7-3. UL went 64/7pl and Bridgewater hit DeVante Parker with a 28 yard td pass. Two possessions later, UL went 56/6pl and got a 5 yard td run, 21-3. A punt bounced off a UC upman and UL took over at the 45 with :44 left in the half but their Hail Mary was batted down. At the half UL did have a 210-122 yard edge. The 3Q opened with 4 punts and UL was SOD on 4&2 at the UC29. UL was intercepted at the UC8 on its next drive, but on the next play Boyle threw a pass that was tipped and not only intercepted but returned 17 yards for a td and UL led 28-3. UL went 42/9pl and got a 35 yard FG with 8:45 left, 31-3. UC drove 63/9pl but on 3&8 from the 15, Boyle was intercepted in the endzone with 5:12 left. UL punted with 4:12 left and with Cochran at QB, UC went 63/11pl and on 3&1 got a 14 yard td pass with :35 left to pull within 3 td's.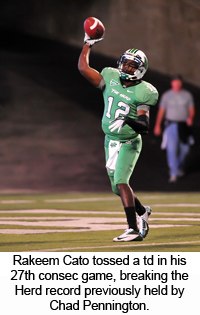 Marshall averaged 12.6 ypp, breaking a school record they set way back in 1991 vs VMI (12.4). With 4 td's, Rakeem Cato also became Marshall's all-time leader in consecutive games with a td pass with 27 topping Chad Pennington. Cato hit just 14-20-276 with 3 td passing/1 td rushing. UAB's Jonathan Perry hit 10-17-176. Marshall rolled up 657 yards offense but allowed 464 although UAB got 100 yards on their final 2 drives trailing 56-14. UAB was sacked on the 3rd play of the game and fumbled at its own 12. MU got a td. Each team went on a long td drive, 14-7 (7:26 1Q). UAB was SOD at the MU29 on 4&3 and MU got a 71 yard td run on the next play. MU went 80/4pl for a td on their 4th possession, 28-7. After UAB went 88/6pl for a td to pull within 28-14, MU did not score a td on its 5th possession and settled for a 38 yard FG which was blocked. UAB went 68/7pl but fumbled at the 11. MU went 89/5pl for a td and led 35-14 at the half with a 386-294 yard edge. UAB did miss a 59 yard FG on the 1H's final play. MU went 79/6, 94/10 and 86/6pl on their first 3 possessions of the 2H all for td's meaning they scored td's on 8 of their first 9 possessions for the 56-14 lead.

Florida St tied a school record with 6 interceptions vs Wake Forest and actually only had 296 yards but didn't need any more in their 59-3 rout and in fact pulled Jameis Winston after 2 series in the 3Q leading 49-0. Second string QB Jacob Coker hit 4-9-37 and 3rd string Sean Maguire hit 1-2-11. FSU was very happy after watching Oregon go down on Thursday knowing they held the berth to the title game in their grasp. The Noles went 80/13pl for a td then after an interception "drove" 2 yards for a td. After another interception, FSU "drove" 18 yards for a td then got a 56 yard IR td and a 23 yard FR td to make it 35-0. FSU took over at its own 1 with 10:31 left in the half and on 3&8 gained 17 yards and fumbled at the WF39, the first time their offense did not score. FSU punted for the first time with 4:27 left in the half and missed a 43 yard FG with 2:45 left. They got it back with 1:47 left in the half and went 57/8pl for a td to lead 42-0 despite only having a 190-81 yard edge. FSU opened the 3Q with a 52/9pl drive but was intercepted at the WF31. They got an interception right back and returned it to the 5 and would get a 5 yard td run, 49-0. After their 5th interception, they "drove" 15 yards for a 42 yard FG to make it 52-0 with 8:24 left and that was with backup QB Coker in. Coker had 3 drives with 1 FD and after WF got a 23 yard FG with 8:52 left to avoid the shutout, FSU got a 97 yard KR td playing all of their backups.
TCU did have a 368-283 yard edge vs Iowa St but a couple of key plays kept ISU in the game and TCU actually needed a td with :38 left to pull out the win. Casey Pachall hit 20-36-245 while Grant Rohach has taken over the QB job hitting 18-39-148 for Iowa St. ISU fumbled a punt on its own 23 with 6:23 left in the 1Q and on 3&5 Trevone Boykin's 18 yard td run made it 7-0. Eight of the first 9 possessions of the game ended in punts. ISU got 1 FD and punted but then faked a punt and Kirby Van Der Kamp hit a 25 yard pass to Justin Coleman to the 15. That would get ISU back in it with a 15 yard td pass, 7-7 with 12:44 left in the 2Q. TCU went 69/8pl and got a 3 yard td run, 14-7. 3 punts. TCU got to the ISU15 but Pachall was intercepted at the 2 with :45 left in the half. TCU had a 188-121 yard edge. ISU got a 98 yard KR td to open the 3Q. 5 punts. ISU went 64/15pl and got a 35 yard FG with 1:33 left in the 3Q to take a 17-14 lead. ISU's next drive went 39/10pl but at the end of a 3 yard pass, they fumbled at the TCU30. 2 punts. TCU took over at its 1 with 7:31 left and went 77/5pl, but on 3&9 from the 45, Pachall was intercepted at the 22. ISU punted with 2:44 left. TCU converted on 4&1 and went 58/10pl for a 1 yard td run with :38 left to pull out the win. ISU on 3&10 did get a 20 yard gain to the 45 but then tried the lateral on the last play and failed.
Iowa had 28-12 FD and 509-266 yard edges vs Purdue. Jordan Canzeri ran for a career high 165 yards on 20 carries. Canzeri had just 173 yards rushing on the season. Jake Rudock who was questionable coming in, hit 12-20-191. Danny Etling for PU hit 15-28-145. Both teams broke some streaks as UI had not scored in the 4Q since September 28th and hadn't scored a td in the 4Q since September 21st. PU also had not entered an opponents' redzone since September 28th, and all of those streaks ended. PU had been shutout the previous 2 games but managed a 1H td. UI took its 2nd drive 60/10pl but on 4&4 was SOD at the PU35. UI went 90/9pl for a td, 7-0. UI fumbled a punt at its own 35 and that's when PU finally got into the RZ and went 35/6pl and got a 2 yard td pass, 7-7. UI went 67/10pl and on 3&7 got a crucial 22 yard td pass with 1:57 left to lead 14-7. At the half UI had a 250-119 yard edge. PU took its 2nd 3Q drive 44/9pl but fumbled at the UI29. UI went 71/8pl for a td, 70/12pl for a 28 yard FG and 67/6pl for a 3 yard td pass, 31-7. PU was SOD at its own 27 and UI tacked on a td 6pl later with 2:48 left, 38-7. PU then got a 44 yard garbage td pass with 1:51 left.
Missouri's Maty Mauk hit 17-28-203 yards and 5 td's and James Franklin even got back in the game in the 4Q seeing a little action. If MO wins out they are going to the SEC Title game. MO only had a 426-369 yard edge but on the scoreboard won this one by 31 points. Kentucky opened with a 76/8pl drive but after a 1&gl settled for a 21 yard FG. After a 13 yard shanked punt, MO went 39/3pl for a td. MO then blocked a punt and drove 4 yards for a td, 14-3. MO went 67/10 and 87/15pl for a pair of td's to lead 28-3 at the half with a 252-105 yard edge. UK went 73/13pl for a td to open the 3Q but then fumbled at its own 44. MO went 44/3 for a td, 35-10 (6:13 3Q). UK went 75/8pl and got a 1 yard td run, 35-17. MO got a 63 yard KR to the UK31. On 4&3, a 7 yard td pass capped the 31/5pl drive, 41-17. Henry Josey ripped off an 86 yard td run on their next drive, 48-17. MO fumbled at its own 46 with 7:03 left and UK's last drive got to the MO24 where on 4&3 they were SOD.
Georgia was a very banged up football team and were taking on Appalachian St which came in just 2-7 after dealing with a coaching change this year. ASt lost its 8th game for the first time since 1979. If I was HC Richt I would have rested all of my key players with a big game vs Auburn on deck but Todd Gurley played and had 13 carries for 75 yards. Aaron Murray hit 19-26-281 and even Michael Bennett had 5 catches for 87 yards. ASt QB Kameron Bryant opened 8-8 passing for 73 yards and finished 22-39-221. UGA SS Corey Moore was ejected in the 2Q. As expected, UGA went through the motions in the 1H. ASt went 62/13pl for a 33 yard FG on their first drive and 50/8pl for a 49 yard FG on their 2nd while UGA had a 72/6pl drive for a td and it was 7-6. UGA was intercepted on its next possession but ASt had a 49 yard FG blocked. UGA went 68/7pl for a td then on 4&5 was SOD at the AS46. ASt missed a 46 yard FG with 3:23 left in the half and UGA only led 14-6 at the half with a 210-185 yard edge. UGA went 48/7 for a 42 yard FG then on its 2nd possession, 68/8 for a 2 yard td run by Gurley, 24-6. Their 3rd 3Q possession went 60/4pl for a td, 31-6. ASt fumbled and UGA went 49/5pl for a 3 yard td run, 38-6. Hutson Mason came in at QB with 10:55 left. UGA went 67/7pl for a td and their next drive they had a 4&7 at the 35 and were intercepted and returned 15 yards at the 41 with 2:40 left. UGA had 568-253 yard and 27-17 FD edges.
Bryn Renner is OFY for North Carolina but Marquise Williams had a td passing, rushing and receiving as they rolled over Virginia 45-14. I thought when UNC, which had played poorly all year, had a good game vs Miami that perhaps the buy sign went on and they would have some good performances and they have in each of those games since they narrowly lost to the Hurricanes. Williams hit 15-28-185 yards passing and rushed for 46. He also had 1 catch for 29 yards. UVA's David Watford hit 14-30-129. Surprisingly the teams each had 19 FD's and UNC only had a 415-316 yard edge. UVA's opening drive went 50/11pl but they punted 34 yards to the 13. UNC went 86/12pl for a td then 76/10pl and Davis hit Williams with a 29 yard td pass, 14-0. UNC punted on its next 2 possessions, but then got an 85 yard PR td, 21-0. UVA was SOD at the UNC30 with 2:08 left in the half and UNC missed a 38 yard FG. At the half UNC had a 206-124 yard edge. UNC opened the 3Q with a 65/8pl drive for a td. UVA took its second 3Q possession 68/9pl for a td to make it 28-7. UNC was intercepted but 2pl later Watford threw back across his body and was intercepted by Dominique Green who returned it 62 yards for a td, 35-7. UVA was SOD at the UNC42, then intercepted at its own 35 and UNC (after PF) drove 22/4pl for a td, 42-7 (12:50) in their 45-14 win.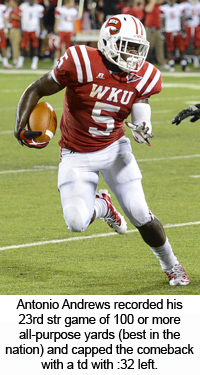 Army had a 347-334 yard edge but WKU pulled out a win with a late score. Army fumbled at the WKU2 on its 1st possession which went 87/5pl. The next 4 possessions were punts. WKU went 45/13pl and on 3&11 was intercepted in the EZ from the 19. Army went 72/14pl and got a 25 yard FG, 3-0. At the half Army had a 169-120 yard edge. Army opened the 3Q going 77/11 and got a 1 yard td run, 10-0. WKU went 60/9pl and got an 11 yard td pass, 10-7. Army was SOD on 4&1 at its own 44 and WKU went 44/9 for a td and the lead, 14-10. Army went 75/15pl and got a td with 7:03 left and Antonio Andrews, after a 16 yard run, fumbled at his own 46 with 6:54 left. Army punted after 4pl. WKU took over at their 13 with 4:35 left then Andrews got a 2 yard td run on 2&gl with :32 left for WKU to pull out the win. Army fumbled on their final play.
Garrett Gilbert hit 38-47-403 yards. SMU rolled up 451 yards offense and 24 FD's. Cincinnati rolled up 29 FD's and 462 yards. Brendon Kay hit 27-32-299. The game had some momentum swings. SMU dominated early but a couple FD's deep in UC territory resulted in a total of 3 points in the 1H and that was the key to the game. SMU's top KR, JaBryce Harper, was injured in the 2Q and taken off field in an ambulance. SMU opened with a 75/13pl td drive. UC was SOD at the SMU49 on 4&1. SMU missed a 48 yard FG. UC on 3&25 was intercepted at the SMU34. SMU went 59/9pl. They had a 1&gl at the 9 but settled for a 24 yard FG, 10-0. UC got back in it with a 75/7pl drive, 10-7. SMU only got off a 22 yard punt. On the next play UC got a 62 yard td pass and shockingly took the lead, 14-10. After an exchange of punts, SMU took over with 5:10 left in the half. They went 70/11pl and had a FD at the 13 and then an 11 yard td run on 3&8 gave them the lead but a late holding call forced a 4&3 and they would miss a 43 yard FG getting 0 points out of the drive. SMU had a 269-189 yard edge at the half and trailed. UC went 75/11pl for a td to open the 3Q then recovered a surprise onside kick on the next play but was intercepted. After SMU punted, UC went 96/17pl and led 28-10 (1:03 3Q) on a drive that ate up 8:12. SMU went 92/6pl and got a 5 yard td pass on 4&gl, 28-17. UC went 65/15pl but fumbled. SMU went 90/15pl and got a 4 yard td pass with 3:27 left. With all of their time-outs left, it was surprisingly that they opted to onside kick after the 2 point conversion and only trailed 28-25. UC recovered the onside kick and a ridiculous PF on SMU was called when the defensive players arm hit the other player in the middle of the body. It was called helmet to helmet and naturally overturned but the 15 yard penalty stood and UC started at the SMU30. They got a FD to the 20 and on 4&1 SMU was called for a delay of game as they were barking out signals and UC took a knee.
Minnesota had a 381-353 yard edge. Philip Nelson hit 15-24-186. Christian Hackenberg 14-25-163. UM won its fourth straight Big Ten game for the first time in the same season since 1973 and has not reached 8 wins in a season since 2003. Zach Zwinak for Penn St rushed for 150 yards on 26 carries. PSU fumbled on the first play of the game and UM gained 2 yards and got a 45 yard FG. UM went 96/15pl including a 4&2 conv on a 24 yard pass down to the 4 and got a td 2pl later, 10-0. Each team went on a long td drive, 17-7. PSU went 65/13pl settling for a 27 yard FG, 17-10. UM went 74/11 and on 3&10 a 24 yard td pass with :17 left put them up 24-10. At the half UM had a 241-160 yard edge. Each team punted to open the 3Q and UM fumbled at its own 37 but PSU punted on 4&10 36 yards to the 1. UM shifted field position with a 62 yard punt pinning PSU back at the 2. PSU went 60/14pl including a 4&6 conversion on a PF out to the 48 and then on 4&9 fired incomplete from the UM38. PSU went 72/7pl and on 4&10 was SOD at the 16. PSU went 69/6pl and on 2&gl from the 1, fumbled at the 2 and UM got 4 FD's and ran the final 6:40 off the clock.
Vanderbilt knocked off Georgia and Florida in the same season for the first time in school history. It was interesting that when Jeff Driskel went down early in the year and Tyler Murphy had a good first game many commentators nationally said they may be in better shape with Murphy at QB. Murphy turned the ball over 5 times and that was the difference in UF losing to VU. In fact, you would think VU's offense was potent as they outscored UF 34-17 but they had td "drives" of 10, 22 and 4 yards all following Murphy TO's. At the half they led 17-3 but UF had a 140-92 yard edge. UF now has to win 2 of their last 3 just to become bowl eligible. VU opened with one of their best drives of the game going 62/14pl but settled for a 31 yard FG, 3-0. UF took its opening drive 48/12pl but missed a 44 yard FG. After Murphy was intercepted and returned 20 yards, VU drove 10 yards for a td. Murphy was intercepted and returned 28 yards to the 22 setting up a VU td and UF trailed 17-0. The Gators then went 85/17pl and had a 1&gl at the 1 yard line. Amazingly they settled for a 23 yard FG and trailed 17-3 and appropriately Murphy was sacked and fumbled at midfield with :21 left in the half. Murphy opened the 3Q in the same fashion being intercepted on the 3rd play and VU drove 4 yards for a td after a 38 yard IR. UF went 75/11pl for a td, 24-10, but VU put together its best offensive drive of the game 87/17pl and got a 1 yard td run. The drive contained 3&6 and 4&1 conversions. UF went 37/11pl but punted on 4&31 after a sack and a PF. UF went 73/6pl for a td with 7:40 left. UF took over with 5:18 left, got 3 FD to the VU41 but on 4&23 was sacked for a 26 yard loss back to its own 20 and VU got a 31 yard FG with :45 left.
Tulane had a commanding 24-15 FD and 348-315 yard edges but 2 big plays were the key in UTSA pulling out the home win. Both teams blew numerous scoring opportunities. UTSA took its first drive 73/9pl but fumbled at the 1. After an exchange of punts, TU went 61/13pl and had a 1&gl at the 4 but fumbled and it was returned to the 21. 2 punts. UTSA fumbled at the TU42. TU went 58/7pl for a td to lead 7-0. TU's outstanding Groza winner, Cairo Santos, missed a 55 yard FG on the final play of the half. At the half TU had a 169-102 yard edge. Each team punted to open the 3Q. TU went 50/9pl but Santos missed a 50 yarder (both in his range). UTSA got its first big play when, on the very next series, Brandon Armstrong ripped off a 68 yard run for a td to stunningly tie it at 7. Two punts. TU was intercepted at the UTSA25 with 12:04 left. TU got 3 FD's to its own 41 but punted with 3:21 left. UTSA20 got 1 FD. After a sack they faced a 3&16 and looked like they would have to punt the ball back to Tulane when the 2nd big play happened – a 62 yard pass down to the 13 yard line. On 4&14 they got the game winning 34 yard FG with :14 left.
Eastern Michigan fired HC Ron English on Friday for inappropriate language during a film session with the players. The interim HC is Stan Parrish. This was a game Western Michigan had wrapped up, but EMU got a miracle comeback at the end and won it on OT. Each team took its opening drive for a td. EMU was intercepted and WMU went 24/4pl for a 48 yard FG to lead 10-7. WMU went on a 12pl drive getting to the EMU4 but 2 penalties and a sack had them punt on 4&20. EMU went 89/12pl and got an 8 yard td run to make it 14-10. WMU went 59/5pl for a 23 yard FG to pull within 14-13 then went 73/14pl and got a 30 yard FG to lead 16-14 at the half. EMU did have a 130-128 yard edge. EMU opened the 3Q with an 80/7pl drive and got a Bronson Hill 10 yard td run to go up 21-16. WMU went 70/2pl with a 70 yard td pass from Zach Terrell to Corey Davis. Terrell hit 24-39-348 while EMU's QB Brogan Roback hit 9-22-136 but Ryan Brumfield rushed for 148 for EMU and Bronson Hill rushed for 111 in a ground dominated attack. EMU fumbled at midfield and WMU went 38/9pl and got a 29 yard FG to go up 26-21. WMU was intercepted at the 30 on the next drive but EMU was SOD at its own 44 and WMU went 36/6pl settling for a 25 yard FG to make it 29-21 with 6:51 left. EMU took over at its 25, converted on 3&6. On 3&21 they made it 4&6 and converted then on 4&2, got a 10 yard td pass with :51 left. The 2 point tied it. In OT WMU got a 36 yard FG and EMU converted on 3&10 for a FD to the 15 and on 2&gl a 4 yard td run by Ryan Brumfield was the game winner.
Nick Marshall ran for 214 yards and Auburn piled up 444 yards on the ground vs Tennessee. The return game was also huge. Chris Davis had an 85 yard PR, Auburn's longest since 1970 then Corey Grant got a 90 yard KR td to open the 2H – the first time ever that Auburn had scored on a PR and KR in the same game. Auburn attempted just 7 passes all game hitting 3 with 1 interception. UT was playing its 5th straight opponent ranked 11th or higher. UT took its first drive 53/9pl but settled for a 39 yard FG. Auburn got a 42 yard PR by Davis down to the UT22 setting up a 2&13, 25 yard td pass to lead 6-3 (xp blocked). UT went 50/11pl but settled again for a 42 yard FG. At this point the Vols had a 107-25 yard edge but the game was tied at 6. UT went 57/4pl for a td to lead 13-6 but AU got a 62 yard run by Marshall on the first play of the next drive, then a 13 yard td run by Mason. Davis' 85 yard PR 7pl later putting AU ahead 20-13 and the Tigers drove 85/6pl for another td, 27-13. UT got an 18 yard IR td by Jacques Smith with 1:28 left but after a 33 yard KR to the UT45, Marshall ripped off a 38 yard td run to give AU momentum at the half, 34-20. At the half AU had a 280-247 yard edge. The Tigers got a 90 yard KR for a td to open the 3Q. UT went on an 11pl drive and again settled for a 40 yard FG and AU went 55/8pl for a td to put it away, 48-23 (7:52 3Q). Two possessions later, AU went 72/12pl for a td with 13:07 left, 55-23. UT was SOD on 4&1 at the AU28 with 9:35 left and AU went to the ground running the ball all 14 times for 67 yards getting to the UT5.
Ole Miss' Bo Wallace hit 26-33-407 yards with a lot of big passes including a 75 yard td to Ja-Mes Logan. Arkansas clinched the fact they would not be going to a bowl in Bret Bielema's first year dropping to 3-7 and 0-6 in SEC play on the season. UA did have a 196-112 yard rushing edge but UM finished with a 531-381 yard edge. Each team opened with a short drive for a long FG, 3-3. UM went 82/12pl for a td then went 93/10pl. They had 1&gl at the 2 but settled for a 19 yard FG and led 13-3 (10:18 2Q). Two possessions later UA went 80/6pl for a td to get within 13-10 with just 2:43 left in the half. UM got 1 FD and on 3&10 a 10 yard pass got them to midfield and they would continue on a 75/8pl drive getting a 14 yard td pass with :45 left in the half to go up 20-10. UM had a 290-155 yard edge at the half. UM was intercepted on the 3pl of the 3Q and UA went 46/6pl for a td, 20-17. After an exchange of punts, UM got a 75 yard td pass to Logan, 27-17 then a 52 yard td pass to Donte Moncrief on its next drive, 34-17. UA went 40/6pl to the UM35 but was intercepted in the EZ with 13:53 left. UA went 87/13pl getting a 20 yard td pass to pull within 34-24. UM went 51/9pl but on 4&6 was intercepted at the UA2. The Hogs would go 52/12pl but with :50 left on 4&10 tried a 58 yard FG to get within 1 score then had an onside kick. The FG had the distance but was wide.
Bill Snyder is one of the best in the nation as an underdog and Kansas St went on the road and dealt Texas Tech its 3rd straight defeat after TT had opened the season 7-0. They did so in convincing fashion, 49-26. As usual, KSt alternated QB's Jake Waters (6-9-65) and Daniel Sams (1-2-11) and Sams rushed for 81 and Waters for 38. Davis Webb hit 13-20 but for just 78 yards for TT but was benched and Baker Mayfield hit 34-44-276 yards. KSt finished with a 3-0 TO edge. TT's opening drive went 69/14pl for a 23 yard FG. KSt got a 63 yard td run by John Hubert on the 2nd play, 7-3. TT went 75/13pl and Webb's 2 yard td pass made it 10-7. KSt answered with a 65/9pl drive for a td and led 14-10 after 1Q. KSt took their next drive 66/9pl for a td then went 73/7 for another td, 28-10. Mayfield came in but fumbled at hi own 32 and KSt went 32/5pl for a td and led 35-10 at the half with a 279-196 yard edge. TT finished with a 459-367 yard edge but was playing from behind the entire 2H. TT went 55/13pl and got a Mayfield 4 yard td run, 35-16. TT went 73/10 and got a 31 yard FG, 35-19 with 3:01 left in the 3Q. KSt recovered an onside kick and went 46/7pl for a td. 3pl later Mayfield was intercepted and returned 43 yards for a td, 49-19 with 14:07 left. TT punted but then went 57/8pl for a td and on their final drive, 46/10pl but was intercepted at the KS3 with :35 left.
Steve Addazio talked very highly about Boston College RB Andre Williams prior to the season and he has lived up to his advanced billing. Against New Mexico St, it was tied at 34 but Andre Williams rushed for 295 yards on 30 carries. NMSt HC Doug Martin was BC's OC the previous year so he knew the personnel very well. The first 6 possessions featured 3 FG's and 3 punts with a combined 3 FD's as BC had fumbled a punt at its own 29 setting up an NMSt FG and BC led 6-3 with 3:48 left in the 1Q. BC got a 69 yard td pass from Chase Rettig to Mike Naples. After an exchange of punts, NMSt went 84/17 and Austin Franklin hauled in a 14 yard td pass, 13-10 (8:25). Both went on long td dri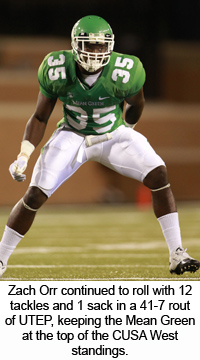 ves and NMSt got a td run with :01 left in the half to trail just 20-17. At the half BC only had a 289-248 yard edge. The first 6 possessions of the 2H saw each team get a long td drive and both had 2 punts. BC punted and NMSt went 48/15pl for a 32 yard FG to tie it but Myles Willis returned the KO 98 yards for a td to put BC back up 34-27 with 10:23 left. Andrew McDonald hit Austin Franklin with a 49 yard td pass with 8:07 left, 34-34 and BC fumbled at the NMS36. NMSt punted with 5:22 left and BC was pinned at its own 3. They got a FD and then Williams ripped off an 80 yard td run with 4:53 left. After an interception, Williams tacked on a 47 yard td run with 2:33 left. NMSt got to the 26 at the end but ran out of time. BC only had a 550-539 yard edge and NMSt a 27-18 FD edge.
North Texas had a dominating game vs UTEP recording 8 sacks, a 471-184 yard edge and even blocking a punt and a FG. UTEP gave Fr Mack Leftwich the start and he hit 14-20-128 but was sacked by 5 different NT players. Zach Orr continued to roll with 12 tackles and a sack. UTEP went 55/10pl but had a 46 yard FG blocked on the first possession. NT went 40/5pl for a td. NT blocked a punt for a td with :14 left in the 1Q, 14-0. NT had punted on 2 of its first 3 possessions but led 14-0. NT went 70/6pl for a td. After 5 punts, the 1H finished with NT leading 21-0 with a 191-75 yard edge. NT went 93/4 with a Brandin Byrd 82 yard td run. UTEP went 75/11pl and on 3&13 got a 22 yard td pass. After an exchange of punts, NT went 88/10 with a 42 yard td pass then got an interception and went 40/7pl for a 31 yard FG. After a 32 yard UTEP punt they went 46/9pl for a 25 yard FG with 5:41 left to close the scoring at 41-7.
Follow Phil Steele anywhere!

•

•

•
•

•

•

•

•
Phil Steele is a college football analyst who has been publishing his annual College Football Preview since 1995. His magazine is regarded as one of the best in the business.
Google+