| | |
| --- | --- |
| Daily Blog • November 14th | |
By Phil Steele
My QB's of the Week
Taylor Kelly, Arizona St • Brendon Kay, Cincinnati • Joel Stave, Wisconsin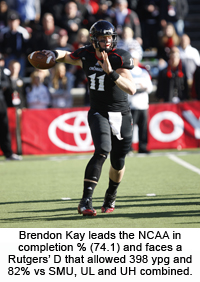 QB Taylor Kelly (Arizona St) –Arizona St was held to a season-low 293 yds in their narrow win last week against Utah, but Taylor Kelly's dual-threat ability was still felt as while he threw for just 144 yds and a td, he ran for 2 more scores. In fact, over his last 4 contests Kelly has rushed for all of his 7 td's which compliments nicely with his 24 passing scores on the season. Prior to their bye week Oregon St allowed a season-high 489 yds in conference play against USC. The Trojan offense is not even close to the caliber offense that ASU brings to the table which should spell out a big offensive outburst for the Sun Devils here.
QB Brendon Kay (Cincinnati) – Since taking over as the starter in the 3rd game of the season Brendon Kay has led the Bearcats to a 6-1 record which includes 2 contests in which he's achieved at least 4 total td's. Cincy now takes on a Rutgers defense that has been gouged against some of the AAC's elite offenses (SMU, Louisville, Houston) allowing 543 ypg. Kay has completed 54-67 (81%) of his passes the last 2 games while passing for 299+ in his L/3. Those recent numbers have us believing that he could put up his best outing of the '13 season this weekend.
QB Joel Stave (Wisconsin) – Over the years Wisconsin has been best known for their dominance in the run game with overpowering Offensive Lineman and strong-legged RB's. While labeled as more of a game-manager, QB Joel Stave has shown the ability to sling the ball with authority when it's justified and that might be what's on hand this week for the Badgers as they may have to match score for score early against an Indiana squad that is averaging 43 ppg.
My RB's of the Week
Vintavious Cooper, East Carolina • Alonzo Harris, Louisiana • Malcolm Brown, Texas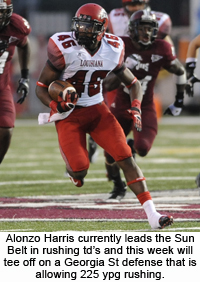 RB Vintavious Cooper (East Carolina) – As we've mentioned in previous weeks it's not too much of a stretch to take a player on ECU but usually we focus on the pass game with either QB Shane Carden or WR Justin Hardy. This week we look at a different aspect of the Pirate offense in RB Vintavious Cooper who has 628 yards on the ground while also proving to be a commodity in the pass game out of the backfield as well with 34 receptions. ECU's opponent for this weekend (UAB) has allowed 536 ypg over their L/3 games so another big performance from the Pirate offense should be expected.
RB Alonzo Harris (Louisiana) – While an 881 yard, 10 td season is commendable, Alonzo Harris appears to already be on the cusp of breaking his marks from a season ago with 719 rushing yards to go along with a career-best 12 td's. His biggest performance of the season came just 2 weeks ago when he recorded 5 rushing td's against New Mexico St. With Louisiana riding a 7-game winning streak, the Georgia State rush defense (allowing 225 ypg TY) could be in for a long day.
RB Malcolm Brown (Texas) – After sharing carries with Johnathan Gray (OFY-injury) for the entire season Malcolm Brown now gets his shot to be the primary ball carrier. As a matter of fact, Brown has received 88 of his 111 rushing attempts over his last 4 contests which includes two 100+ yard outings and a spectacular 4 td outing vs Kansas 2 weeks ago. This is a must-win game this weekend for the Longhorns if they are to have any shot at a BCS berth so expect the Texas offense to lean heavily on Brown here.
My WR's of the Week
Shane Williams-Rhodes, Boise St • Allen Hurns, Miami • Nate Phillips, Arizona
WR Shane Williams-Rhodes (Boise St) – While Williams-Rhodes doesn't lead the Broncos in receiving yards for the season, he does lead the squad in both receptions and receiving td's to go along with being a dangerous returnman for the Broncos. Over the past 5 games Williams-Rhodes has pulled in 42 catches as Boise St is clearly leaning on his play-making ability. Take a shot on this young receiver before it's too late.
WR Allen Hurns (Miami, FL) – With RB Duke Johnson now out for the season for the Hurricanes the offense has had to lean even heavier on the passing game which features the deep receiving threat of Allen Hurns who is averaging nearly 20 ypc on his 37 receptions including a 4 catch, 142 yd performance last week against Va Tech. After starting the season off 7-0 Miami has lost 2 straight so there is no question how important this weekend's matchup against Duke truly is. Look for QB Morris to take to the air early and often against the Blue Devils with Hurns likely reaping the rewards.
WR Nate Phillips (Arizona) – After a preseason injury to their leading receiver from a season ago Arizona was desperate to find someone to replace his production. Freshman Nate Phillips may be just the man they're looking for as he's now pulled in at least one td in each of his L/5 contests including posting both season highs in receptions and yards last weekend against UCLA. The Wildcats now take on a Washington St secondary that has proven to be vulnerable against the pass over the past 5 games allowing 390 ypg.
My D's of the Week
Kansas St • Oklahoma • Penn St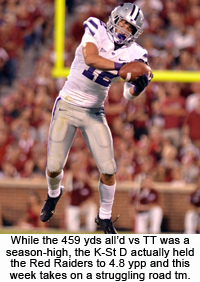 Kansas St Defense – It's bounce back Weekend for our Surprise Fantasy Defenses as all 3 saw their share of struggles a week ago. First on the list is Kansas St who allowed a ssn-high 459 yds a week ago against Texas Tech, nearly 100 ypg more than their yearly average. This week's opponent TCU has battled inconsistency on the road in '13 averaging just 17 ppg and 313 ypg. We like the Wildcats' chances this Saturday.
Oklahoma Defense – Nobody has been able to slow down the Baylor offense but hat's off to the Sooners defense for trying as they allowed 459 yds which was actually 259 ypg under Baylor's gaudy seasonal numbers. This will be "Night & Day" for Oklahoma's defense this weekend as they face an Iowa St offense that is averaging just 263 ypg and 15 ppg over their L/4. Easy call for the Sooners to make this list here.
Penn St Defense – Penn St ran into an extremely hot team last week in Minnesota and paid the price in the 24-10 defeat. While the defense didn't play terrible, you can almost bank on a better outing this weekend against a Purdue squad averaging just 6 ppg and 32 ppg away from home. Going against Purdue's offense has become quite the norm in this blog and why not with the success that we've had.
Follow Phil Steele anywhere!

•

•

•
•

•

•

•

•
Phil Steele is a college football analyst who has been publishing his annual College Football Preview since 1995. His magazine is regarded as one of the best in the business.
Google+