| | |
| --- | --- |
| Daily Blog • November 18th | |
By Phil Steele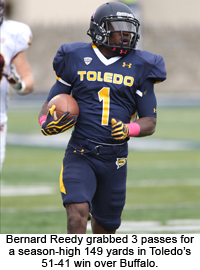 Toledo's Kareem Hunt filled in ably with 186 yds rushing and 6.2 ypc. The final score and box score were a little misleading as Buffalo only lost by 10 and finished with 27-22 FD and 601-551 yd edges. The fact is that UT led this one 31-0 at half and 38-14 after 3Q's and was in complete control and UB did most of its damage late with 27 points in the 4Q helping them get the yardage edge and only lose by 10. UB RB Branden Oliver did top 100 yds for the 6th straight game and Alex Neutz had 168 yds on 8 receptions (21.0) for the Bulls. Joe Licata hit 36-58-497 with a 4-0 ratio while UT's Terrance Owens hit 11-20-228. UT went 72/3, 73/9 and 60/2pl (53 yd td run) to lead 21-0 after 3 possessions. Each team was SOD and UT went 69/11pl for a td. UT punted twice but then recovered a fumble at the UB8 with :02 left in the half and got a 32 yd FG on the 1H's final play. At the half UT had a 350-140 yd edge. UT opened the 3Q with a 64/2pl drive. After Bernard Reedy's 56 yd td reception, TU led 38-0 with a 414-140 yd edge. UB then went 64/5 and 90/8pl for a pair of td's to get back to 38-14 after 3Q's. UT got a 42 yd FG with 11:59 left to lead 41-14 and UB went 72/7 and 71/10pl for td's, 48-28. The Bulls recovered an onside kick and went 53/6pl for a td with 5:26 left, 48-35. UT recovered the onside kick and returned it to the 8 and got a 22 yd FG with 3:00 left. UB went 65/12pl getting a td with :48 left and UT recovered the onside kick.
Bowling Green's victory over Ohio set up an Eastern Division showdown with Buffalo on Friday, November 29th. While Anthon Samuel was considered a big loss for BG when he decided not to return, Travis Greene has actually been an upgrade at the RB spot. Greene rushed for 149 yds (6.8) and has over 1,000 yards already this year. Matt Johnson took over the starting QB job this year from Matt Schilz and has done great hitting 66% with a 14-5 ratio. As you can tell by the final score, BG was dominant. They went 54/2pl for a td, 7-0. After OU was stopped on a fake punt at its 32, got a 32 yd td pass, then went 72/11 and 61/9pl for td's and led 28-0 after their first 4 possessions. They were intercepted at the OU43 on their 5th but after recovering a fumble went 60/8pl for a td to lead 35-0 at the half with a commanding 333-50 yd edge. BG opened the 3Q with a 73/4pl drive capped by a 57 yd td pass, 42-0 and finished with 460-172 yd and 20-9 FD edges. OU's only 2 scoring threats in the 2H came on a 60/12pl drive that ended on an interception that was returned 82 yds which set up a BG td. The other threat came on the Bobcats' their last drive which went 47/13pl but on 4&9 they were SOD at the BG25. They only got 1 FD on their other 4 drives of the 2H.
Sixteen seniors played their final home game for Kent St on Senior Day and KSU had a dominating 447-176 yd edge along with a 21-10 FD edge over Miami, OH. KS took a gamble in its opening drive, faking a punt from its own 31, but was stopped. MU got a FD at the 18 but settled for a 33 yd FG and a 3-0 lead. KS went 61/9pl capped by a 2 yd td run. MU, 2 possessions later, went 40/8pl but fumbled at the KS18. Each team went on a long drive with KS getting a 1 yd td run while MU settled for a 28 yd FG (after having a 1&gl) and trailed 14-6. At the half KS only had a 197-144 yd edge. KS was SOD at the MU29 on its opening 3Q drive, but 2 possessions later went 53/3pl for a td, 21-6. Two possessions later the Flashes went 66/10pl and finished with a 23 yd FG, 24-6. The RedHawks had 1 FD on their first five 2H possessions and on their 6th were intercepted at their own 43. KS got down to the 1 yard line but fumbled with :59 left in their 24-6 win.
Jordan Lynch had another big game for Northern Illinois hitting 26-32-345 yds while also rushing for 123 and 2 td's. The 48-27 score vs Ball St made for a very misleading final. BS had a 29-28 FD edge, and while NIU did finish with a 569-494 yd edge, it was hardly a 3 td blowout. In the 1H the teams traded scores. The Cardinals led 21-13 with 1:28 left in the half before the Huskies got a 58 yd td pass to pull within 1. Ball St got a 43 yd FG with :25 left to go up 24-20. At the half NIU had a slim 280-266 yd edge. NIU went on an 85/17pl drive with a td on 4&1 while BS went 79/13pl but settled for a 19 yd FG on 4&2. That made it tied at 27 after 3Q's, 27-27. With 8:23, NIU took over in a tie game and would go 94/7pl getting a 36 yd td pass with 5:49 left to go up 34-27. BS went for it on 4&4 and was stuffed at the NI45 with 3:47 left. NIU went 55/7pl for a td with 1:26 left to give them some breathing room, 41-27 and 2pl later got a 49 yd IR td for the very misleading final of 48-27. Keith Wenning hit 35-49-324 and Jahwan Edwards rushed for 156 for the Cardinals.
The Tulsa/Marshall game started 1:00 late to commemorate the moment of the plane crash of Nov 14, 1970 which killed 75 players and staff. MU wore "75" on their helmets for the game. It was the Herd's first road game on a November 14th since the tragedy. MU did finish with 619-345 yd and 32-20 FD edges and appeared on its way to a route. The Herd went 59/8, 49/2 and 70/11pl on their first 4 possessions. TU had 1 FD on its first 4 possessions. The game shifted on the Herd's 4th possession when, leading 21-0 and with a 1&gl on the TU9, they were intercepted at the 5. TU went 93/9pl for a td and only trailed 31-14 at the half with MU having a 371-206 yd edge. MU had 5 TO's in the game keeping TU in it. Rakeem Cato was sacked and fumbled on the 2nd play of the 3Q and TU went 15/4pl for a td. After another fumble, TU went 54/9pl and shockingly was back in it at 31-28. MU basically had a TO with an 18 yd punt and TU went 38/8pl for a 29 yd FG. MU fumbled again, this time at the TU45 and TU went 42/11pl. On 4&9, they got an 11 yd pass and would get a 30 yd FG with 12:27 left to take the lead, 34-31. The MU TO's continued. They had a 3&8 at the TU43 and got a 33 yd pass to Essray Taliaferro but he fumbled at the end and TU returned it from the 10 out to the MU49. The next 3 possessions were punts. MU punted with 5:48 left then forced one with 4:51. MU got a 10 yd PR to start at the TU39. On 3&8 they got a 19 yd pass and on 2&10 an 18 yd td pass with 3:47 left to give them the lead, 38-34. TU was sacked for a 20 yd loss on 4&11 at the 4 and MU got a td 2pl later by Taliaferro, 45-34. TU was intercepted at its own 49 on 3&7. MU got 1 FD and took a knee.
Clemson's Tajh Boyd was injured at the start of the 4Q vs Georgia Tech, but it didn't have an effect on the game and shouldn't have an effect on the rest of the year. Boyd still managed to become the ACC's all-time career td leader and did so with flair as it came on a 76 yd td pass to Martavis Bryant. Boyd hit 20-26-340 and Cole Stoudt in his place hit 2-2-35. They even got 3rd string Chad Kelly some work (1-2-8). Robert Godhigh was very impressive for GT as he had 126 rushing on 12 carries and 5 receptions for 103 yds. CU's D had an extra week to prep for the option and shut it down early with GT's first 4 drives managing just 16 yds and 1 FD. CU would get 40 and 51 yd FG's and 41 and 4 yd td passes, 20-0. GT went 82/7pl to get to 20-7 and Boyd struck Bryant for the 76 yd td, 27-7. Boyd was intercepted at the GT11 with 2:29 left in the half and GT went 71/10pl for a 33 yd FG to make it 27-10 at the half. CU had a 280-185 yd edge. Godhigh got a 65 yd td run to make it 27-17 in the 3Q. CU went 71/6pl for a td to go back up by 17 and then Godhigh was stuffed on 4&2 at his own 44. Boyd hit Sammy Watkins with a 44 yd td pass on the next play, 41-17. Each team went on a td drive with Stoudt finishing the final 27 yds of their 75/10pl drive after Boyd was hurt. The Yellow Jackets were intercepted and returned 20 yds to their 34 and four plays later CU got a 2 yd td run, 55-24 with 9:47 left. GT went 85/8pl for a 1 yd td run with 2:02 left to "only" lose by 24.
Myles Jack had another outstanding effort playing LB and RB for UCLA as he had 4 td's, the most since Maurice Jones-Drew had 5 back in 2004. Washington has not beaten UCLA at the Rose Bowl since 1995 and 4 TO's – 2 on their first 2 drives – cost them here. Bishop Sankey was limited to 91 yds rushing on 27 carries. UW lost Keith Price to a shoulder injury right before halftime. UCLA wore its black "LA Midnight" uniforms. It's a good thing this wasn't on a Saturday when I'm watching 12 tv's as the Bruins looked nothing like themselves including their blue, instead of gold, helmets (a big pet peeve of mine). On the Huskies 3rd play of the game, they fumbled and UCLA went 36/7pl for a td. Three plays later UW fumbled again and UCLA went 48/6pl for a td. After an exchange of td's made it 20-7, UW punted and UCLA went on a 73/14pl drive and Jack got his 3rd td run of the game with 12:05 left in the 2Q, 27-7. UCLA fumbled at its own 13 and UW got a td 4pl later, then drove 70/8pl but settled for a 34 yd FG, 27-17. At the half UCLA had a 288-218 yd edge. Price had hit 10-18-181. After taking over, Cyler Miles hit 15-22-149. UCLA fumbled the opening KO of the 3Q and Miles led them 26/8pl for a td, 27-24. UCLA went 64/12pl and got a 2 yd td run. UW faked a punt on 4&9 from its own 26 and got it to continue on a 45/10pl drive but had a 48 yd FG blocked. After 3 punts, UW was SOD on 4&2 at its own 40, a huge play as on the very next snap, UCLA got a 40 yd td pass to go up 41-24. UW went 75/6pl capped by a 14 yd td pass with 8:01 left. UCLA got 2 FD's and punted with 4:35 left. After a hold Miles was intercepted at his own 39 on 3&13. The Huskies did force a punt, but Miles was intercepted again, this time at his own 33. UCLA was SOD on 4&2 with :42 left and UW got 1 FD.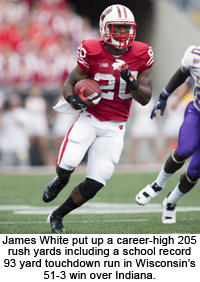 Every time Wisconsin plays Indiana, they dominate, and this year was no exception. UW finished with 676-224 yd and 27-14 FD edges. James White rushed for 205 yds on 20 carries and Melvin Gordon for 146 on 13 with both topping 10 ypc. Corey Clement just missed 10 ypc mark with 108 on 11 carries. IU's potent pass attack was held to 12-30 for 122 yds with 1 interception playing the game in poor weather and winds. White opened up with a 93 yd td run–the longest run in Wisconsin history–topping an 91 yd run by Tom Brigham vs Western Michigan in 1963. IU was playing without Tevin Coleman, their top rusher. Not only did the Badgers have the impressive run on their first play from scrimmage, but they recovered a fumble 2pl later. They went 14/3pl for a td, 44/6 for a FG and then 52/6pl for a 36 yd FG. At the half, due to the FG's they settled for, they only led 27-0 with a 356-84 yd edge. After UW settled for a 26 yd FG to open the 3Q, IU went 70/14pl and got a 23 yd FG to avoid the shutout. UW punted but then went 64/2, 63/6 and 83/9pl all for td's for the 51-3 win.
Coming into the season, Kansas was thought to have an outstanding run game and they finally lived up to that potential as James Sims ran for 211 yds vs a banged up West Virginia D that has now lost 7 players for the season to injury. This was WV's first trip to KU and while the Jayhawks came in 120th in the NCAA in total offense, they put up 376 while allowing 386. WV took its opening drive 75/6pl for a td. KU went 64/14pl but after a 1&gl a the 6, settled for a 25 yd FG. After 5 punts, KU went 89/5pl with a 62 yd run by Sims setting up his 3 yd td run, 10-7. 3 punts. Sims, on the first play of the next drive, got a 68 yd td run with :28 left in the half to go up 17-7. WV got in position for a 42 yd FG but KU blocked it. WV was intercepted and returned 54 yds to the 14 early in the 3Q and KU went 14/5pl capped by a 2 yd td run, 24-7. Later, WV was SOD on 4&10 at its own 49 then punted on 2 of its next 3 possessions. In between punts, WV's Millard was intercepted at his own 29 and returned 28 yds to the 1 setting up KU's td to make it 31-7 with 6:24 to go. WV drove 75/7pl for a td, but after a delay of game penalty, the 2 point conversion was no good, 31-13. After recovering a fumble, WV took the yardage edge by going 73/10pl for a garbage td with :28 left, but again the 2 point was no good.
Bob Stoops tied Barry Switzer for most wins in Oklahoma history. The game did not start well for OU. Blake Bell hit just 2-5-10 and was injured in the 2Q. Trevor Knight did not have great passing numbers hitting 8-14-61 but rushed for 123 yds on 10 carries. In the 1Q, OU had 1 FD and just 25 yds offense despite the fact they figured to be playing angry off a loss. Iowa St's 2nd possession got to midfield but Grant Rohach was intercepted at the OU17. On the Cyclones 3rd possession they went 69/14pl for a td to lead 7-0. OU did go 70/15pl, but after a 1&gl at the 8, settled for a 22 yd FG, 7-3. ISU went 58/6pl and got a 29 yd FG to lead 10-3. OU punted with 2:53 left in the half. ISU went 3&out. Then the key play of the game happened: Jalen Saunders returned the punt 91 yds for a td with 1:09 left in the half tie it at 10. That gave OU the momentum and on the 2nd play of the 3Q, Damien Williams went 69 yds for a td. Their offense then exploded as they had 110 yds in the 1H and 413 yds in the 2H. They went 52/12pl for a 32 yd FG, 80/5pl capped by a 63 yd td run, 84/3pl with a 56 yd td run, 40/7pl for a td and 90/8pl for a td, 48-10 with 3:56 left. They finished with a 523-291 yd edge.
Just two years ago Southern Miss was 12-2, CUSA Champs and won their bowl game. Larry Fedora left for North Carolina and SM has fallen into the abyss, not winning a game in two years. Lately, they've been noncompetitive. Last week even FAU clubbed them 41-7 with a 368-189 yd edge. FAU QB Jaquez Johnson hit 5-9-37 as the Owls ran for 333 while holding SM to 20 yds rushing. FAU took its opening drive 83/12pl for a td. After an exchange of punts, SM was intercepted at the FAU6 on its 2nd drive. FAU went 71/9pl for a 40 yd FG then, after a fumble, 18/8pl for a 33 yd FG, then 50/7pl for a td to lead 20-0. On the last play of the 1H, the Golden Eagles sealed the deal as they were at the FAU36 and were not only intercepted, but returned 61 yds for a td and trailed 27-0 at the half being outgained 228-63. FAU went 49/10pl after a 21 yd punt and 72/7pl for td's on their first two 3Q drives. SM did go 88/14pl with a PF on 4&27 giving them a FD at midfield and got a td with 10:57 left to avoid the shutout.
Cincinnati went into Rutgers and dominated with a 619-357 yd edge as Brendon Kay hit 24-38-405 yds. Gary Nova for RU hit just 18-38-170. Paul James, who was leading the nation in rushing when he was injured, did return to the lineup and he had 78 yds on 19 carries. UC actually had a 422-150 yd edge in a dominating 1H. UC went 69/10pl for a td and got an interception on RU's first pass taking that 36/2pl for a td to lead 10-0. UC had the ball stripped at the 50 after a 26 yd gain with 6:42 left in the 1Q and RU went 50/7pl for a td which came on 3&12 with a 16 yd pass to Brandon Coleman, 10-7. On 3&8, UC got a 66 yd td pass to Mekale McKay, 17-7. UC recovered the onside kick and went 53/4pl for a td, 24-7 after 1Q. Early in the 2Q, the Bearcats went 3&out and RU would have blocked the punt but John Lloyd took off and got a FD to the UC47. They continued on a 69/10pl for a td, 31-7. After punting on their next possession, UC got a 41 yd td pass with 4:16 left in the half, 38-7. After a Nova interception, UC missed a 51 yd FG with 1:29 left in the half. It was 52-7 when UC was intercepted at the RU8 and returned 37 yds with 9:11 left. RU went 55/9pl to pull within 38 and later RU went 61/11pl and got a 36 yd FG with :16 left.
Vanderbilt is eligible for a 3rd straight bowl game for the first time in program history. It was a little bit of a misleading final vs Kentucky as VU, on 4th down, got a 13 yd td pass with :47 left to extend their 15-6 lead to 22-6. UK has now lost 14 straight SEC games. Austyn Carta-Samuels returned to the lineup for VU and hit 19-24-184. UK ran the hurry-up on its first possession after a VU punt and went 75/12pl and got a td with 6:23 left in the 1Q but VU blocked the xp and returned it for 2. So instead of 7-0 it was 6-2. UK punted on its 2nd possession and Jalen Whitlow was intercepted at his own 38 and returned 12 yards on the next. VU went 26/3pl with a 3&5, 21 yd Brian Kimbrow td run, 9-6. Whitlow was intercepted at the VU22 with 6:11 left in the half and then intercepted at the VU2 from the 43 on a Hail Mary on the last play of the half. At the half UK had a 169-79 yd edge but trailed 9-6. UK was SOD at the VU31 on 4&6 and VU missed a 34 yd FG (5:39). VU went 65/10pl and got a 26 yd FG with 13:00 left, 12-6. VU went 74/8pl and got a 38 yd FG with 7:13 left to lead 15-6. UK got a 45 yard pass to Jordan Aumiller down to the VU13, but a hold brought it all the way back to the UK32 and Whitlow was intercepted at the VU45 on the next play. VU drove 55/10pl and on 4&4 the 13 yd td pass made a lot of their backers happy by making them win by 15.
Ryan Switzer was the star of the North Carolina/Pitt game with not one, but two PR td's including a 61 yd PR with 4:46 left to break a 27-27 tie. Pitt finished with 359-322 yd and 22-17 FD edges. For awhile it appeared that UNC was on its way to an easy win. Marquise Williams hit 15-27-173 and led with 79 rush yards. Tom Savage hit 23-38-313 despite being sacked 7 times, losing 86 yards. Pitt came into the game off its emotional win over Notre Dame and took its opening drive 64/10pl for a 28 yd FG. Pitt looked to be in control going 61/8pl when, on FD from the UNC12, Savage was sacked and fumbled at the 24. Pitt's offense, which had 125 yds at that point, had just 23 yds the rest of the half and UNC took over. UNC went 76/13pl for a td, 53/10pl for a 26 yd FG, 90/8pl capped by a 10 yd td run and then with just 1:03 left in the half, got a 65 yd PR for a td by Switzer to go up 24-3. In the 3Q, Savage was sacked and fumbled at his own 12 and UNC got a 27 yd FG for a commanding 27-3 lead–then it started to slip away. Pitt went 76/7pl for a td, 96/15pl (including 3&11 and 4&2) and on 3&gl got an 8 yd td pass, 27-17. UNC fumbled on its own 28 and Pitt got a 42 yd FG. UNC fumbled the ensuing KO and Pitt went 13/2pl for the tying td with 8:52 left. UNC punted with 6:24 left but Pitt went 3&out. Switzer then got his 61 yd PR td. Pitt got down to the UNC26 but on 4&1 was SOD with 1:10 left.
Temple continues to impress under the guidance of PJ Walker. Since he was inserted the Owls' have had a much stronger offense and even vs a strong UCF D, Walker hit 26-44-382 and TU actually led for a good portion of the game, only giving up a late tying score then a late big play to set up the game winning FG. TU dropped to 2-78 all-time vs top 25 foes. UCF finished with a 657-518 yd edge. TU was tackled in the EZ after being pinned at their 1 on a punt (2-0 6:39) and after the free kick UCF had a 1&gl at the 6 on a 46/7pl drive but settled for a 20 yd FG. Each team got a long td pass (12-7), then each went on a long td drive, 19-14. TU got a 30 yd td pass with 2:13 left to lead 21-19 but UCF went 46/13pl and got a 35 yd FG to lead 22-21 at half. UCF had a 303-286 yd edge. Each team punted to open the 3Q and UCF was then SOD on 4&gl at the TU1. TU, 4pl later, got a 75 yd td pass to Robby Anderson to take the lead, 28-22. 4 punts. UCF went 84/5pl for a td, 29-28 (6:37 4Q). Walker was intercepted 3pl later but UCF punted with 4:51 left. TU went 80/8pl getting a 7 yd td with just 2:04 left in the game, 36-29. UCF got 2 FD to the TU30 then JJ Worton made a spectacular 1-handed catch in the back of the EZ for a td with 1:06 left. TU had to punt with :19 left and Blake Bortles launched a 64 yd pass to Rannell Hall to the 6 and the Knights were able to kick the 23 yd FG and escape with the win.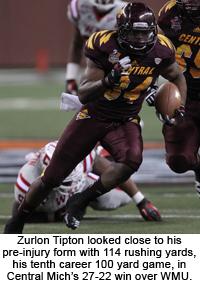 Zurlon Tipton was Central Michigan's 1,000 yd rusher last year but was injured in the '13 opener and missed most of the year. Last week he appeared rusty, but this week was back in form with 114 yds on 29 carries. Western Michigan had a 311-285 yd edge in the game but CMU pulled out the win. CMU took its opening drive 58/7pl for a td and WMU was SOD at the CMU41 on 4&1. CMU went 59/7pl for a td to lead 14-0. WMU went 58/14pl but settled for a 24 yd FG, 14-3. CMU went 50/14pl but missed a 45 yd FG. CMU fumbled at its own 46 and WMU got a 33 yd FG, 14-6 (4:39 2Q). CMU was SOD on 4&5 at the WMU33 on a dropped pass and at the half had a 184-129 yd edge. CMU was intercepted on its first possession of the 3Q and WMU got a 29 yd td run for the lead, 14-13. CMU was intercepted on the next play. WMU went 24/5pl but settled for a 21 yd FG, 16-14. CMU went 75/12pl capped a 3 yd td run, 20-16 (xp blocked). WMU was intercepted and returned 34 yards for a td, perhaps the key play of the game, 27-16. WMU got 2 FD and punted but CMU fumbled on the at its own 19. WMU went 19/2pl for a td to get within 27-22 then got an int 2pl later at the CMU47. However, they missed a 32 yd FG on 4&10 with 8:41 left. They forced a punt with 6:29 left and WMU went 55/12pl. On 4&11 from the CMU26 with a chance to win, they fired incomplete with 1:36 left and CMU ran the clock.
Walter Camp POW Andre Williams had another huge game and appears poised to be 1st Team AA. Against NC State he rushed for 339 yds breaking Boston College's single-season and single-game record (which he set last week) as well as an ACC record. BC had a 473-360 yd edge including a dominating 420-35 rush edge. Pete Thomas did hit 22-33-207 for NCSt. BC took its 2nd possession 72/6pl but settled for a 25 yd FG then went 72/10pl for a td and Williams had 131 yds in the 1Q. NCSt went 80/5pl capped by a 9 yd td pass, 10-7 (7:13 2Q) but BC responded with a 74/5pl td drive (4:46 2Q). Williams fumbled at the BC24 but NCSt had a bad snap on the FG with :18 left in the 1H. BC had a 254-143 yd edge and led by 10. The first 4 possessions of the 3Q were punts then BC went 57/11pl for a 39 yd FG. After each team punted, NCSt went 87/6pl and got a 49 yd td pass to get within 20-14. However, Williams, 2pl later, busted a 65 yd which he fumbled at the 1 but was recovered in the endzone by Alex Amidon for a td, 28-14. Thomas was sacked and fumbled at his own 31 and BC added a 41 yd FG, 31-14 (2:39). Each team got a long td in the final 2:00 for the 38-21 decision.

Due to injuries, Maryland had lost 4 of their previous 5 games but CJ Brown, who hit just 12-25 passes for 135 yds, led the way with 122 rush yards as the Terps upset Virginia Tech in OT. MD finished with a 319-264 yd edge catching the Hokies the week after their upset of Miami, FL. VT would be the favorite to be in the ACC Title game but let opportunities slip through their hands by losing 3 ACC games, all as favorites. VT took its 2nd possession 76/6pl for a td then went 33/7pl. They dismissed PK Cody Journell from the team during the week (he was 44-58 on FG and 101-for-106 on xp's at VT) and frosh walk-on Eric Kristensen, in his first career attempt, had a 34 yarder bang off the left upright. The game started to turn when Will Likely returned a punt 63 yds for a td with 7:47 left in the 2Q and MD tied it at 7. The Terps took over with just :52 left in the half at their own 44 and went 56/5pl getting a td with :17 left in the half for a 14-7 lead. They used that momentum to open the 3Q with a 78/5pl drive for a td, 21-7. VT got an 88 yard KR to the MD12 and 5pl later a td, 21-14. VT punted on its next 2 possessions but went 65/8pl for a td with 9:32 left in the game to tie it at 21. The next 5 possession were punts and the game went to OT. VT settled for a 31 yd FG. MD got a FD to the 3 and then CJ Brown's 3 yd td run gave the Terps the upset.
Washington St had 27-24 FD and 420-395 yd edges vs Arizona. After having lost their previous three games by a 169-83 margin, they won this one on the road. The Cougars' first drive was SOD on 4&2 at the UA28, but their 2nd went 60/7pl for a td. Their 3rd went 64/10pl but they settled for a 24 yd FG. They only led 10-0 despite the fact UA had 1 FD and WSU had 11. UA got a 30 yd td run by Ka'Deem Carey 4pl later, 10-7. Each team turned it over once, then after a punt, UA went 90/15pl capped by a 7 yd td pass and led, 14-10 (7:37 2Q). WSU got off a 3 yd punt with 1:53 left in the half. UA would get 2 FD's but missed a 40 yd FG on the final play of the half. At the half WSU had a 224-195 yd edge. UA's P fumbled the snap at his own 31 and WSU went 31/6pl finishing with a 23 yd td pass, 17-14. UA drove 57/13pl for a 25 yd FG to tie it. 2 punts. WSU missed a 46 yd FG with 10:24 left, but UA missed a 34 yarder with 6:59 left. WSU went 80/10pl and got a 25 yd td pass on 3&4 with 2:15 left. UA got to the 19 but on 4&4 from the 13, BJ Denker's pass into the EZ was incomplete. Denker hit 26-38-200 and Connor Halliday 39-53-319.
Akron has not had 4 wins in a season since 2007. It wasn't easy though as they only finished with a 341-323 yd edge against UMass. They were actually outrushed 172-133. UA's RB Jawon Chisholm fumbled on their first 2 possessions, but UM punted and was SOD at the UA30. On 3&4 UA's QB fumbled a bad snap. Each team punted and UM went 56/10pl for a 37 yd FG with :32 left in the 1Q. UA went 63/5pl capped by a 10 yd td run, 7-3. UM went 53/9pl settling for a 33 yd FG, 7-6 (9:56 2Q). UMass was SOD on 4&8 at the UA32 (3:14) and then AJ Doyle was intercepted at his own 40 and returned to the UM32 with :49 left in the half. UA had a 185-184 yd edge at the half. Each team punted to open the 2H. UM went 91/9pl with a Wegzyn-to-Blanchflower 2 yd td pass, 13-7. The Minutemen were intercepted and returned 22 yds to their own 35 but UA was SOD on 4&1. UM got 1 FD and punted. UA went 63/10pl finishing with a 17 yd td pass with 9:49 left to take the lead 14-13. UM was SOD on 4&1 at the UA47. Akron took over with 6:39 left, got 3 FD's to the UM8. UA kicked a 25 yard FG with 1:30 left, but a PF gave them a 1&gl at the 4 and they took a knee.
SMU had 460-385 yd and 27-20 FD edges. Garrett Gilbert hit 33-52-353 yds. Casey Cochran was given the start for Connecticut and had a decent game hitting 25-42-227. SMU's opening drive went 49/7pl but they were SOD at the UC20. There were 4 punts before UC missed a 42 yd FG with 5:40 left in the 1Q. SMU responded with 75/7pl and 80/12pl td drives and led 14-0 with 11:39 left in the 2Q. Before halftime, each team went on a long td drive and SMU led 21-7 at the break with a commanding 297-141 yd edge. Each team punted to open the 3Q then UC went on a 62/14pl drive for a td, 21-14. On their next possession, the Huskies were SOD at the SMU26 and SMU went 74/2pl capped by a 20 yd td pass, 28-14. UC got a 26 yd td pass with 10:05 left to make it 28-21. SMU got a 27 yd FG with 3:50 left then a 35 yd IR td with 3:15 left to make it 38-21. The Mustangs grabbed another interception a few plays later at their own 45 and got a pair of FD's, taking a knee at the UC26.
Mississippi set a school-record for total offense with 751 yards vs Troy while holding the Trojans to just 313. Bo Wallace hit 17-26-272 for the Rebels while Corey Robinson hit 24-36-258 for the Trojans. Robinson became just the 4th QB in NCAA history to pass for 3,000 yds in 4 consecutive seasons. Each team went on a long drive for a td, 7-7. Ole Miss went 68/10 and 49/8pl for td's to lead 20-7. Troy was intercepted at the UM6 with :51 left and it was 27-7 at the half despite Ole Miss having a 423-194 yd edge and. Ole Miss' first 3 possessions of the 3Q went 69/8, 95/6 and 72/8pl for a FG and 2 td's and the Rebels led 44-7. They were SOD at the T10 with 13:48 left and intercepted and returned 7 yds to their 17 with 11:11 left. Troy went 17/4pl for a td, 44-14. Each team went on a long td drive with Troy getting the final one with :36 left but they kicked off deep and Ole Miss took a knee.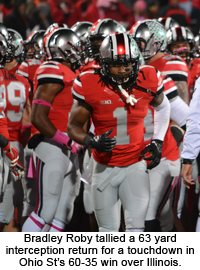 Ohio St may have put up 60 points vs Illinois, but still finds itself only .0013 ahead of Baylor in the BCS standings after they allowed 35 and only had a 591-420 yd edge with the FD's nearly even (+1 OSU). Braxton Miller rushed for 184 yds and hit 13-29-150. OSU was on its way to a romp. They went 77/3pl for a td, punted on their 2nd possession, went 94/10pl for a td, got a 63 yd IR td by Bradley Roby and led 21-0 with 3:30 left in the 1Q. OSU punted early 2Q, then went 44/3pl for a td. IL got on the board with a 67 yd PR td by V'Angelo Bentley, 28-7. OSU went 52/6pl for a td, 35-7 (5:47 2Q). IL got its first real offensive drive with a 75/12pl td drive with 2:25 left and at the half OSU had a 288-187 yd edge and led 35-14. IL opened the 3Q with a 75/9pl drive capped by a 1 yd td pass, 35-21. Miller fumbled on OSU's next drive at the IL39 but the D forced a 3&out. The Bucks punted on their next drive, but IL was tackled for a safety and OSU went 55/4pl following the free kick to lead 44-21. They did miss a 49 yd FG at the end of the 3Q. IL went 68/5pl for a td. OSU drove 62/8pl for a 30 yd FG, but IL responded with a 62/8pl td drive (2 point no good) and only trailed 47-35 with 8:49 left. OSU got a 51 yd td run by Carlos Hyde with 4:03 left and a 55 yd td run by Hyde with 2:09 left as he finished with 246 yards on 24 carries and 4 td's.
Penn St had not lost 2 straight games under Bill O'Brien since they opened last year 0-2. PSU had a 501-264 yd edge vs Purdue. PSU did get an important td with 4:27 left to go up by 24. PSU opened with a 75/13pl drive for a td then went 66/10pl for a td to lead 14-0. PU went 75/9pl for a td, 14-7. Each team turned it over and PSU went 33/6 for a td, 21-7 then 78/10pl for a td, 28-7 with 1:18 left in the half. Raheem Mostert returned the KO 100 yds for a td. At the half PSU had a 296-89 yd edge but only led 28-14. PU opened the 3Q with an 84/7pl drive for a td, 28-21. PSU went 62/6pl for a 29 yd FG, 31-21 (8:51). PU fumbled at its own 40 and PSU went 40/6pl for a td, 38-21. PU was SOD at the 34 but PSU was intercepted at the PU19. PU went 55/11pl but on FD, Danny Etling was sacked and fumbled and it was recovered at the PSU26. PSU went 74/11pl for a td with 4:27 left and PU punted with 3:30 left.
East Carolina's Shane Carden hit 21-31-347 and 5 td's as ECU steam rolled UAB 63-14. They had a 625-354 yd edge and 36-17 FD edge. ECU's 2nd drive ended at the 19 with an interception in the EZ but they went 66/5 and 67/4pl for td's to lead 14-0 and it was 35-7 at the half with ECU having a 436-197 yd edge. A key to the lead was UAB being intercepted at the EC5 and returned 36 yds with 1:02 left in the 1H. ECU went 59/4pl for a td. ECU opened the 3Q with a 79/10pl drive for a td then got a 50 yd IR td to lead 49-7. ECU's last td came with 4:57 left in the game capping a 75/8pl drive.
Follow Phil Steele anywhere!

•

•

•
•

•

•

•

•
Phil Steele is a college football analyst who has been publishing his annual College Football Preview since 1995. His magazine is regarded as one of the best in the business.
Google+