| | |
| --- | --- |
| Daily Blog • November 25th | |
By Phil Steele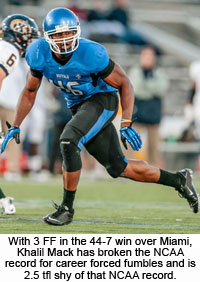 There is 1.5 weeks left before their MAC East title game showdown vs Bowling Green and as you would expect from one of the MAC's best, vs one of the weakest, Buffalo dominated with a 27-9 FD edge and 517-200 yard edge. Branden Oliver rushed for 150 yards for UB but Anthone Taylor topped him with 154 on just 17 carries. Joe Licata hit 20-32-172 and was pulled with 12:26 left in the 4Q. Miami, OH QB Austin Gearing hit 5-19-65. Surprisingly, UB punted on its first 2 possessions but then went 45/6, 71/10 and after a fumble, 52/6pl for td's to lead 21-0. UB punted with 2:37 left in the half but with :54 left, Khalil Mack sacked Gearing and Houston returned the fumble 60 yards for a td. Mack forced 3 fumbles in the game to become the career NCAA leader in FF. UB punted to open the 3Q, drove 53/8pl for a 22 yard FG and 58/9 to the 28 but was intercepted in the EZ. They drove 58/11 for a 28 yard FG, after an int at the MU26 with backup QB Tony Daniel in, gained 5 yards for a 38 yard FG. MU was SOD at its own 48. UB went 48/10pl and on 3&11 got an 11 yard td pass with 4:36 left, 44-0. Miami went 71/4pl and got a 2 yard td run by Drew Kummer, 44-7.
Kent St was playing its season finale and while it was close at the half with Ohio leading 13-10 and punting with 2:31 left in the half, KSU went 37/5pl after a 16 yard punt to get a td to take a 17-13 lead with a slim 205-170 yard edge. KS dominated the 2H and finished with a 537-204 yard edge and 29-16 FD edge. KS rushed for 312 yards with Dri Archer having 138 and they did get 61 yards on a fake punt when 6'4" 265 lb Nate Terhune took the snap and rumbled for the td early 3Q. OU had leads of 3-0, 6-3 and 13-10. Another ST's snafu saw OU's P fumble the snap from the KS33 and KS recovered out at the 48 late in the 2Q. The fake punt made it 31-13 and OU was intercepted at the KS9 with 5:33 left in the 3Q. KS would go 82/13pl with a 26 yard FG, 62/11pl for a 28 yard FG and did add a 29 yard Archer td run with 1:46 left for the 44-13 final.
A win by Northern Illinois would get them a berth in the MAC title game. Toledo needed a win just to stay alive as they only had one loss in MAC play. Heisman candidate Jordan Lynch was held to 30 yards rushing in the 1H. Turnovers were a key factor in the 1H. UT was sacked and fumbled on the first play and NI went 21/3 for a td. UT was intercepted at the NI22. NI went 72/11pl but missed a 23 yard FG. UT went 61/10pl for a 36 yard FG, 7-3 but then went 83/16pl. About to take the lead, RB Kareem Hunt–out of the Wildcat–charged towards the line then threw a jump pass into the EZ but it was intercepted. NI went 52/7pl and missed a 40 yard FG. UT went 77/6pl and got a 44 yard td pass, 10-7. NI went 45/6pl and missed a 47 yard FG. At the half UT had a 254-216 yard edge and led 10-7. Each team drove for a td to open the 3Q with NI getting 2 of those to lead 21-17. UT got 3 FD's on a 41/13pl drive but punted on the last play of the 3Q. NI went 99/15pl for a td opening the drive with a key 3&6 conversion. They then went 77/9pl for a td to go up 35-17 with 5:39 left. UT got to the NI18 with :22 left and was intercepted in the EZ. NI finished with a 566-419 yard edge and Lynch finished with 161 yards on the ground and hit 17-22-202. Cameron Stingily also rushed for 146 for NI. David Fluellen returned for UT but had just 54-15 with Hunt rushing for 91-19.
UCF moved 1 step closer to a BCS bowl berth and dominated Rutgers more than the final score and stats would indicate. UCF would finish with 27-14 FD edge and 452-221 yard edge in their 41-17 win. In the 1H USC went 69/8, 56/6 and 86/14pl all for td's to lead 21-0. RU got 1 FD and faked a punt and the upman Berger ran 38 yards to the UCF21. On 4&gl they got a 1 yard td run to only trail 21-17. UCF quickly went 79/11pl for another td, 28-7 and got the ball with :41 left in the half threatening to add to their lead and ended up punting. Amazingly RU blocked the punt and recovered for a td and it was 28-14 at the half. Taking away the yardage on the fake punt, UCF had a 277-66 yard edge at the half but only led by 14. UCF went 62/14 for a 32 yard FG and 79/6 for a td, 31/6pl for a 42 yard FG on their first 3 drives of the 3Q to lead 41-14. RU got the ball with 2:56 left and went on a garbage drive gaining 52/12pl and getting a 35 yard FG with :33 left.
Rice was a big favorite over UAB coming in 8-3 and 6-1 overall in CUSA. UAB had been noncompetitive in many games and was just 2-9 and 1-6 overall in CUSA. For UAB they did have 1 close loss earlier when they lost in the last minute to Middle Tennessee. This would be another tough loss as it actually went to OT. Rice controlled matters in the 1H. UAB was SOD on 4&1 at midfield with 5:14 left in the 1Q and Rice went 48/8pl for a td to lead 10-0. The next 5 possessions were punts then UAB got a 26 yard FR to the R1 and a td run on the next play with 4:18 left to pull within 10-7. Rice took over with 1:09 left in the half and went 69/5pl and got a 12 yard td pass on FD with :31 left to go up 17-7. At the half Rice had a 229-88 yard edge. UAB went 75/8 and 48/5pl for td's to open the 3Q and take the lead, 21-17. Rice answered with a 63/5pl drive getting an 18 yard td pass to go up 24-21 (4:05 3Q). 3 punts. Rice went 70/13pl and got a 2 yard td run for some breathing room, 31-21 (7:20). UAB converted on 3&21 and 4&1 on their next drive going 80/11pl getting a 20 yard td pass with 3:37 left. They kicked off deep. Rice, on 2&8, fumbled and UAB took over at the R33. After 2 FD's and a 1&gl at the 7, they settled for a 24 yard FG with :37 left. Rice did miss a 48 FG on the last play. In OT UAB lost a yard and got a 43 yard FG and Rice went 25/4pl for a td and pulled out the win. Rice did finish with a 467-333 yard edge.
The UNLV/Air Force game was played in temps in the single digits and a wind chill below zero and the field was snow covered. It didn't bother UNLV as they rolled to a 471-298 yard edge and 30-17 FD edge. All season long AF had played well the 1H then wore down in the 2H. Here, they were actually beaten in the 1H. AF's opening punt was blocked and UNLV went 30/2pl for a td. AF, going into the stiff wind in the 1Q had an 18 & 26 yard punts while UNLV had a 73 yard punt with the wind at their back. UNLV would go 53/5pl for a td with 4:29 left in the quarter and 48/4 after recovering an AF fumble for another td, 20-0 after 1Q. AF played better with the wind at their back in the 2Q and the teams would each go on two long td drives and it was 33-14 at the half. AF had a the wind at their back in the 3Q and got to 33-21. UNLV did fumble into the EZ for a TB and the teams punted 4 times. AF's last gasp ended on 4&22 at their own 46 with 2:12 left and Tim Cornett ripped off a 46 yard td run on the next play to give UNLV the 41-21 final. UNLV had a 471-298 yard edge and 20-17 FD edge.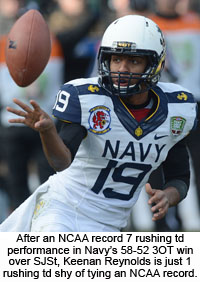 Keenan Reynolds set an NCAA record by scoring 7 rushing td's although I would change the rule on NCAA records as 3 of those were OT td's which set players up at the 25 yard line. Reynolds actually had his final td in regulation (4th td of gm) happen when San Jose St let him score to maintain hopes of being in the game. At the end of regulation this one was 38-38 but the 2 combined for 110 points in the 58-52 Navy win. David Fales hit 42-56 for 440 yards and became the school's all-time leader in passing yards. Reynolds hit just 4-6-46 but rushed for 240. The 1H had just 7 possessions with each team settling for a short FG and SJSt missing a 46 yarder on the final play of the half. The teams scored on every possession except for that missed FG and for Navy gaining 10 yards on 4&11 to the SJS43 on a play that was originally ruled a FD. At the half SJSt had a 254-169 yard edge and led 16-10. Navy opened the 3Q with a 75/9pl drive for a td and SJSt got the game's first punt on their opening drive of the 3Q. SJSt was chasing a missed xp that happened after their first td and went for 2 and failed and trailed 24-22. Navy's first punt came with 13:36 left then SJSt went 88/10pl and got a 4 yard td pass to go up 30-24 when they got the 2 point conversion as well. Navy got a 38 yard td run by Reynolds with 7:06 left to go up 31-10. SJSt fumbled at the Navy45 and Navy got a pair of FD's and then with just 2:43 left, Reynolds ran 20 yards for a td with SJSt letting them score and Niumatalolo telling him to go down. SJSt took over with 2:38 left and went 75/14pl converting on 4&5 and 3&10. On 1&gl from the 2, got a 2 yard td pass and 2 point conversion on the final play to tie it and force OT. Each team scored a td in the first 2OT's and Fales was intercepted in the EZ on 3&gl from the 3 in the 3OT. Reynolds' 25 yard td run fittingly gave Navy the win. SJSt had a 600-478 yard edge and 32-29 FD edge.
Duke clinched at least its share of the ACC Coastal title by beating Wake Forest 28-21 though it didn't come easy. Duke was a ranked team for the first time since 1995 when they played in a bowl vs Wisconsin and they reached the 9 win mark for the first time since 1941. Duke did finish with a 378-248 yard edge and Duke was playing without WR Michael Campanaro. Tanner Price hit just 12-27 for 124 yards. Anthony Boone was very accurate hitting 24-29 for 256 yards. WF appeared in control early. After each team punted, WF got a 54 yard FR td with 5:02 left in the 1Q then after a Duke 26 yard punt, WF went 47/10pl and got a td with 14:20 left in the 2Q to lead 14-0. The next 4 possessions were punts and WF got off a 24 yard punt. Duke went 43/5pl and got a td pass with 7:09 left in the half then on their next drive went 69/10pl for a 4 yard td pass to tie it at 14 with 1:11 left. Duke had a 168-160 yard edge at the half. WF opened the 3Q with a 75/9pl drive for a td, 21-14. Duke got 1 FD and hit a 58 yard td pass to tie. Duke's next drive went 70/9pl for a 3 yard td run by Brandon Connette to take the lead, 28-21. WF went on a 12pl drive to the Duke23 but after a false start and 2 sacks, punted on 4&35. WF fumbled at the Duke46 with 8:34 left. Duke missed a 48 yard FG with 4:11 left keeping WF in it. WF got to the 41 but was intercepted at its own 48 and returned 19 yards with 2:30 left.
Illinois WR Steve Hull caught a career high 10 passes for 169 yards. Illinois did finish with a 380-283 yard edge but Purdue led early and had a chance to win late. PU opened with a nifty 62 yard td run by Akeem Hunt. Each team went on a long td drive and after just 3 possessions, PU led 14-7. IL was intercepted on their next drive at the PU13 but then went 54/3pl for a td on the first play of the 2Q to tie it at 14. After 3 punts, Nathan Scheelhaase hit Spencer Harris with a 3 yard pass but he fumbled at the IL26. With 2:00 left in the half, PU missed a 35 yard FG on the 1H final play. Illinois had a 211-191 yard edge at the half. IL opened the 3Q going 65/9pl but was intercepted at the 2 and returned 13 yards. IL fumbled a punt at its own 27 but PU on 4&5 opted to go for it and lost a yard. Each team punting and IL went 42/8pl for a 32 yard FG and the lead, 17-14. They then went 50/10pl for a 33 yard FG, 20-14 with 7:08 left. Each team punted and PU would drive to the IL30 yard line but on 4&9 was intercepted at the 14 with :59 left. Illinois took a safety losing 19 yards on the final play for the 20-16 final.
It was the final home game for Tajh Boyd and he had 5 td's. Clemson finished with a 558-172 yard edge vs a Citadel team that came in 5-6. Boyd set more than 50 school records during his career. Sammy Watkins figures to have played his last game at home as well and had 7 catches for 58 yards. The Citadel, an option team, attempted just 5 passes completing 1 for -7 yards. Each team punted on their first possession then CU went 61/5, 95/8 and 71/8pl all for td's. CU returned a fumble 22 yards for a td 3pl later then went 65/10 and 58/8pl scoring td's on their final 5 possessions of the half to lead 42-0 with a commanding 361-63 yard edge. CU opened the 3Q fumbling at the Citadel34 and the Citadel went 41/5pl for a FG to break the shutout, 42-3. CU then went 51/8 and 75/9pl for td's, 52-3. The Citadel went 63/21pl and got a 29 yard FG with 1:54 left. The drive including two 4&1 and a 4&5 conversion.
Connor Cook threw for a career-high 293 yards and RB Jeremy Langford rushed for 150 and Michigan St clinched a berth in the Big Ten title game and also Northwestern clinched a losing season with their 7th loss in a row. Kain Colter was injured early and hit just 2-2-12. Trevor Siemian hit 25-43-227. Each team punted to open then NW went 75/13pl. They had a 1&gl at the 7 but settled for a 22 yard FG, 3-0. Each team punted and MSU took its 3rd possession 80/11pl for a 20 yard td run then on 3&5 on their next drive Cook hit Bennie Fowler with an 87 yard td pass. He basically tossed the ball up in the wind and the WR was fighting the DB for the ball, caught it and went untouched the final 65 yards for a td, 14-3. NW went on a 69/7pl drive but again settled for a 20 yard FG, 14-6. At the half MSU only had a 244-224 yard edge. The Spartans opened the 3Q with a 52/6pl drive for a 37 yard FG then went 87/8pl for a 15 yard td pass, 23-6. NW was intercepted on its next drive at the MSU14 and SOD on 4&8 at the MSU32 then intercepted at the NW40 with 12:45 left. After punting with 11:41 left, NW was SOD on 4&10 at the MSU47. On their next drive they were intercepted and returned 31 yards to the 5 and MSU took a knee 3x.
It was another lackluster win for 3 td favorite Louisville as has been their MO all season. They only had a 22-16 FD edge and 342-279 yard edge vs a Memphis team that came in just 3-6. Each team punted to open the UM was intercepted at the UL38 and returned 36 yards. However, UL on 4&1 was SOD at the UM25. UM, 4pl later, was sacked and fumbled but Preston Brown returned it 48 yards for a defensive td for UL giving them a 7-0 lead. UL went 53/13pl but had a 50 yard FG blocked. UM went 66/8pl and got an 18 yard FG, 7-3. UL went 60/5pl and got a 39 yard td pass then went 37/7pl for a 39 yard FG with 1:11 left in the half for a commanding 17-3 lead. UL had a 164-104 yard edge at half. UL went 73/16pl for a td to open the 3Q and led 24-3. After each team punted, UM went 62/5pl for a td on the first play of the 4Q, 24-10. UM then went 86/12pl and got a 6 yard td pass the key play was a 4&11, 15 yard pass to the 21. The 6 yard td pass made it 24-17. UL got 1 FD and only 7 points up, was punting on 4&13 when UM roughed the K. Three plays later on 3&7, with 2:48 left, UL got a FD. On 4&10 they gained 9 yards to the 6 with :37 left. UL got 1 FD and on 4&4 fired incomplete from their own 23.
Iowa had a very misleading final score vs Michigan with a 407-158 yard edge and 21-10 FD edge yet only won by 3 and even trailed 21-7 at one point. The dominate the LOS. It is believed to be the coldest start in the 84 year history of Kinnick Stadium as the temps were 18-degrees at game time with the windchill near zero. Devin Gardner hit 13-28-98 while Jake Rudock was 19-30-239. In the 1H Rudock threw a pass in the grasp of Jake Ryan, was intercepted by DL Brennen Beyer and returned 7 yards for a td. UI went 51/9pl but missed a 36 yard FG. UI went 45/7pl for a 5 yard td pass. UI was SOD at the UM36 and on its next drive was intercepted at the UI41 and returned 28 yards. UM drove 28 yards for a td and took a stunning 14-7 lead. UI punted with 3:24 left in the half and the punt only went 27 yards. UM put together their longest drive of the game going 47 yards (yes, under 50) in 10pl for a 9 yard td pass, 21-7. UI fumbled at the UM27 at the end of the half and UI had a 170-113 yard edge but amazingly trailed 21-7. UI got a 55 yard td pass on the 3rd play of the 3Q. After 5 punts, UI was intercepted at the UM19 from the 32. UI went 60/9pl for a td with 12:11 left to tie then 50/9pl for a 34 yard FG and the lead with 6:02 left. UM actually got 2 FD's on its next drive but fumbled at the UI31 with 2:12 left and UI got a pair of FD's and took a knee.
Cincinnati did have a dominating stat edge vs Houston: 26-13 on FD's and 573-278 on yards. Brendon Kay hit 29-50-386. John O'Korn hit 13-30-171 and was replaced by their running QB Greg Ward Jr for about 5 series. The game was played in wet, drizzly conditions and chilly temps for UH. On FD from the 14 UH fumbled at the UC23. UC went 53/10pl but missed a 41 yard FG. UC was SOD at the UH1 on its next drive but then went 47/7pl after UH punted from its own EZ and got a 3&16, 40 yard td pass, 7-0. UH was SOD at the UC27 and UC went 65/10pl for a 25 yard FG, 10-0. UH got an interception with 6:33 left in the half and a 12 yard td pass 2pl later to make it 10-7, but UC took over with 3:01 left in the half. The Bearcats went 85/7pl and got a 3 yard td pass, 17-7 at half. On the 2nd series of the 3Q O'Korn was sacked and fumbled at the 13 and on 3&11, UC got a 14 yard td run by Kay, 24-7. UC then was sacked and fumbled and UH got a 15 yard FR td, 24-14 then went 64/9pl and got a 27 yard FG to make it 24-17 with :23 left in the 3Q. Each team punted and UC got it back with 6:58 left and put together an 81/12pl drive but missed a 22 yard FG with 1:20 left. UH got all the way to the UC38 with :12 left when amazingly O'Korn with no time-outs, opted to run and gained 6 yards and they couldn't get another play off.
Brennan Clay ran for a career high 200 yards and Oklahoma had a 472-372 yard edge. Bob Stoops who was a defensive assistant under Bill Snyder for six years, improved his record vs Snyder. Trevor Knight filled in for an injured Blake Bell and hit 14-20-171 and rushed for 82. OU took its opening drive 64/8pl for a td. They took over at their 42 after a 28 yard punt and got a FD to the KSU37 but were intercepted at the 10 on their 3rd play. OU went 98/14pl for a td, 14-0. Kansas St went 60/3pl with a 48 yard td pass to Colin Lockett then 84/4pl with a 30 yard td pass to Lockett, 14-14. Clay got a 64 yard td run and Lockett hauled in a 90 yard td pass, 21-21 (3:40). OU went 44/12pl and got a 30 yard FG on the 1H final play to lead 24-21 with a 321-271 yard edge. Each team went on a long drive for a short FG to open the 3Q, 27-24. After each team punted, KSU punted from their own 3 and OU got a 30 yard PR to the 3 and a td on the next play, 34-24. They then broke it open with a 74 yard IR td, basically a 14 point swing, 41-25. KSU went 55/12pl and got a 1 yard td run, 41-31 but was intercepted at its own 44 with 1:59 left.
Mississippi St lost to Arkansas in OT in 1996, 2000 and 2010 and had never beaten the Hogs in Arkansas but this time got an OT win. MSU did have a 488-339 yard edge and 26-15 FD edge and can actually become bowl eligible if they knock off Ole Miss on Thanksgiving night. Arkansas came into the game having already been eliminated from bowl contention. All season long UA has gotten off to fast starts in most of its SEC games. Here they took their opening drives 56/8 for a td. After the teams combined for 3 punts, UA went 47/10pl and got a 54 yard FG to lead 10-0. MSU went 68/8pl for a 24 yard FG then in the play of the game, UA faked a punt on 4&2 from its own 44 with just 2:42 left in the half so instead of leading at the half, they handed the ball to MSU at the 40 and 3pl later Tyler Russell hit a 30 yard td pass, 10-10. UA fumbled the KO at its own 34 but MSU fumbled at the UA2. At the half MSU had a 213-171 yard edge. MSU opened the 3Q with a 63/8 drive for a 28 yard FG which was blocked. They were intercepted at the UA43 and UA went 57/6pl and got a 22 yard td run to lead 17-10. MSU went 75/11pl and got a 5 yard td pass to tie with 13:35 left. UA was driving for the go-ahead td going 75/4pl when Alex Collins had the ball taken out of his arms at the 9 yard line. MSU then went on a 66/15pl drive but missed a 42 yard FG with :18 left. MSU got a 26 yard td run by Williams and UA on 4&9 was intercepted and returned 45 yards on the final play of the game.
Virginia needed a td with 2:30 left to only lose to Miami, Fl by 19 points but that in itself is very misleading. For the game, UVA actually had a dominating 28-11 FD edge and 483-304 yard edge and probably should have won the game outright. With a win this week for Miami at Pittsburgh, Duke looses to North Carolina and Virginia Tech losses to Virginia, Miami would win the right to play Florida St in the ACC title game. UVA opened and on the first play of the game were intercepted and returned 19 yards for a td. UVA got a 45 yard PR and took its 2nd drive (MIA30) and went 15 yards for a 33 yard FG, 7-3. UM on 3&10 got a FD on the next play, a 62 yard td pass, 14-3. UVA went 75/8pl for a 24 yard td then 74/11pl for a 25 yard FG, 14-13. UM was intercepted with 4:46 left in the half but UVA started at the 43, got 2 FD and were intercepted at the UM16 and it was returned 81 yards to the UVA3. Instead of taking the lead just prior to the half, they set up UM for a 3 yard td "drive" and stunningly UM (due to the 14 point swing) led 21-13 despite the fact UVA had 235-112 yard edge. UM opened the 3Q with a 64/9pl drive for a 33 yard FG. The teams combined to punt 5 times and UM went 59/4 for a td, 31-13. UVA went 75/6 for a 10 yard td pass, 31-20. UM fumbled at their own 40 then got a 71 yard punt to pin UVA at the 3. UVA was intercepted and returned 14 yards and UM went 16 yards on another long "drive" to go up 38-20. UVA went 41/8pl and had a FD at the UM10 when they fumbled and it was returned 72 yards for a td, a 2nd 14 point swing, 45-20. UVA then went 75/9pl and got a 7 yard td with 2:02 left but UM recovered the onside kick.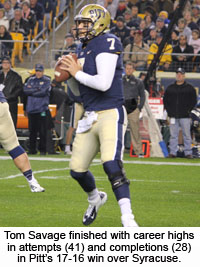 Syracuse actually had a 307-239 yard edge but Pitt a 19-16 FD edge. Tom Savage hit 28-41-218 and Terrel Hunt 18-28-159 for SU. SU opened with a 67/4pl drive for a td but missed the xp. Pitt went 51/19pl and had a 1st&gl at the 3 but after 2 sacks and a false start settled for a 43 yard FG on 4&24, 6-3. Two possessions later Pitt went 70/10pl for a 7 yard td pass, 10-6. Pitt fumbled a punt at its own 24 with :35 left but SU missed a 41 yard FG so Pitt led 10-9. SU took its 2nd 3Q possession 62/5pl for a 42 yard td, 16-10. Pitt went 88/9pl and got a 5 yard td run for the lead, 17-16 on the last play of the 3Q. Pitt was intercepted at the SU49 but SU, after driving 27 yards, missed a 41 yard FG. The teams punted 3 times and SU took over with 2:36 left at their own 44. They got 1 FD and on 4&10, fired incomplete from the Pitt36.
Central Michigan had a 298-173 yard edge and 14-11 FD edge and really in a game played in windy, frigid weather, blew the game open in the 2Q. Cooper Rush hit 13-21-231 for CM and AJ Doyle just 6-16-45 for UMass. Zurlon Tipton led CM in rushing but it was only 50 yards on 16 carries being outrushed by Shadrach Abrokwah who had 93 yards on 20 carries for UM. CM opened with a 75/8pl drive for a td but was SOD at the UM32 on 4&3. UM drove to the 29 of CM but was intercepted and returned 52 yards. CM converted on 3&12 and would get a 33 yard FG, 10-0. After each team punted, UM faced 3&10 and was intercepted and returned 34 yards for a td, 17-0. UM went 3&out and punted 17 yards. CM went 35/2pl with a 34 yard td pass to blow it open, 24-0. CM added a 33 yard FG at the end of a 32/6pl drive to lead 27-0 at the half with 2:21 left. CM had a 178-78 yard edge. UM fumbled at its own 46 and CM went 46/4pl for a 30 yard td pass, 34-0. UM went 53/9pl but on 4&14 was SOD at the CM15. CM went 78/14pl and added a 24 yard FG with 7:44 left, 37-0.
The yards were close and the FD were close between East Carolina and NC State with EC having a 445-441 yard edge and 25-22 FD edge. EC had a big CUSA title game on deck vs Marshall so the situation appeared to favor NCSt. Shane Carden hit 23-30-255 yards and EC pulled off a sweep of N Carolina and NC State, both on the road. Brandon Mitchell started for NCSt and hit 28-44-312. Each team went on a long td drive to open with EC going 10pl and NCSt 14. After each team punted EC went 84/11 and 77/10pl for a pair of td's to lead 21-7. NCSt punted on its next drive but then went 51/13pl and on 4&9, on the final play of the half, missed a 38 yard FG. EC had a 245-142 yard edge at the half. EC opened the 3Q with a 67/14pl drive for a td then NCSt was SOD on 4&1 at the EC37. EC went 63/6pl for a commanding 35-7 lead. NCSt went 60/16pl and on 4&6 were SOD at the EC15 (12:03). They then went 80/7pl for a td with 5:22 left but EC recovered the onside kick and went 41/6pl for a td, 42-14. NCSt returned the KO to the 50 and went 50/5pl for a td with just :51 left then recovered the onside kick and went 51/8pl for an 18 yard td pass with :05 left.
Arkansas St was already bowl eligible and Georgia St came in winless and 3 td underdogs but GSt finished with a 432-290 yard edge and led the game early, had a 17-14 FD edge but came up just short. ASt opened with a 57/3pl drive for a td. ASt fumbled at its 42 and GSt went 19/6pl for a 40 yard FG, 7-3. ASt got a 64 yard KR to the GS34 and was SOD on 4&1. Two possessions later GSt went 69/6pl for a td. Three punts. GSt fumbled the punt at its own 29 but ASt missed a 44 yard FG. GSt fumbled and ASt was returning it but fumbled into the EZ for a TB on the return (6:51). GSt made them pay when on the first play Wilson ripped off an 80 yard td run for a shocking 17-7 lead. ASt was SOD on 4&2 at the GS35 with 4:00 left in the half. At the half GSt had a 189-144 yard edge. GSt opened the 3Q fumbling and it was returned 21 yards for a td on the 2nd play. ASt then blocked a punt and recovered for a td scoring 2 td's in the first 4:51 of the half with their offense not having a single snap. GSt went 75/5pl for a td then fumbled at its own 27 and ASt went 27/6pl for a td to retake the lead, 28-24. GSt went 57/8pl and settled for a 35 yard FG. ASt went 64/8 for a td, 35-27 (11:01). Each team punted. GSt got a 70 yard td pass with 2:13 left but missed the 2 point conversion and ASt recovered the onside kick and got a FD.
Bowling Green had a big game on deck vs Buffalo but flat out dominated Eastern Michigan with 560-65 yard and 24-4 FD edges. The backups saw plenty of time with Matt Johnson coming to the bench with 4:47 left in the 3Q with 44-7 lead and it would actually get a FR td of 37 yards 3pl later to make it 51-7. In the 1H BG had a 337-33 yard edge and led 34-7 with EM getting a 10 yard IR td to shockingly lead 7-3. BG punted just once in the 1H. Travis Greene rushed for 126 yards and William Houston for 84 for BG.
North Carolina set records for points and td's as the game reached mid-3Q. In the 4Q, they had a running clock as there were 3 possessions and 16 total plays, one of the them NC taking a knee on 4&6 from the Old Dominion 10 yard line giving the ball back to ODU with 2:43 left. NC became bowl eligible with their 5th straight win, their longest win streak since 2001. UNC's PR Ryan Switzer had a 64 yard PR, his 4th in 3 games tying an ACC single-season record. The game was competitive early with ODU leading 10-7 with 5:34 left in the 1Q and then only trailing 14-13 after 1Q. UNC went 60/10, 65/4, 94/4, 84/12 and 18/2pl for td's on their next 5 possessions (latter set up when ODU was SOD on 4&1 at its own 18). ODU punted on the other 3 2Q possession and 14-13 turned into 49-13 with UNC having a 495-247 yard edge. The first 3 possessions of the 3Q were all td's with Logan having a 99 yard KR td, 63-20. UNC went 23/6pl and then after a 19 yard PR by Switzer, got a 63 yard td run by Logan with 5:28 left and a Switzer 45 yard PR with 3:50 left for the 80-20 final.

South Carolina has never fared well vs FCS foes generally playing disinterested but here they scored the first 6 times they had the ball and had a 639-294 yard edge vs a good Coastal Carolina team that came in 10-1. SC had a 32-13 FD edge despite resting several starters for Clemson (on deck). Jamari Smith led SC in rushing with 103 on 10 carries. It was 42-0 before CCU went 75/10pl for a td with 3:23 left in the half. CCU did get down to the SC12 but was intercepted in the EZ with :03 left. At the half SC had a 348-202 yard edge with CCU also fumbling at its own 23 and going for it on 4&1 at their own 39 setting up a pair of short SC td drives. SC would score td's and go 71/9, 84/2, 28/7 (after int) and 78/8pl for td's on their first four 2H possessions to lead 70-7. CCU got a 46 yard FG with 4:50 left. Fifth string QB Austin Hails was in for the last drive getting 2 FD's.
AJ McCarron only played into the 3Q vs Chattanooga. UTC was without its top QB Jacob Huesman (coach's son) was the leading rusher and passer and missed all but one play of the game with injury. Terrell Robinson started and hit 10-15-82. The backups played most of the 2H but Bama still had a 435-175 yard edge vs a 8-3 UTC team. Bama fumbled a punt to start but UTC on 4&5 was intercepted at the 17. Bama went 83/3pl, was SOD on its 2nd possession then went 80/7pl for a td, 14-0 then got a 75 yard PR td by Christion Jones, 21-0. On their next possession they went 42/5pl for a td to make it 28-0 at the half with a 222-105 yard edge. Bama scored td's on their first 2 drives of the 2H then went 70/13pl and were SOD at the 23. After UTC fumbled, Bama got a 6 yard td run on the next play with 5:07 left to close the scoring at 49-0. That was an important td to some.
Georgia Tech used a 3rd and 4th stringers in the 2H but still stream rolled Alabama A&M which came in 4-7 in FCS play. GT set the modern day school record for most points in a half with 52 in the first (most since 1950). GT simply dominated the 1H scoring td's on every drive and having a 52-0 lead with a 323-49 yard edge. GT went 47/7pl for a td to open the 3Q but then had their first punt with 14:04 left in the game. A&M went 61/7pl for a td with 5:09 left to avoid the shutout but GT went 69/3pl and Tim Byerly got a 22 yard td run with 3:46 left.
Florida came in a banged up team and was taking on the triple option of Georgia Southern. GSU attempted just 3 passes and completed none but piled up 429 yards rushing. A desperate UF team needed to win its last 2 just to be bowl eligible but were eliminated vs a 7-3 GSU team. UF opened with a 63/13pl drive and settled for a 27 yard FG. GSU had a bad snap on a punt giving UF the ball at its own 25 but UF gained 8 yards and had a 34 yard FG blocked. GSU fumbled on its own 14 and UF took advantage with a 14/5pl td drive, 10-0. GSU went 60/7pl but fumble at the UF2. After forcing a UF punt, GSU got a 45 yard td run to take a 10-7 lead with 2:01 left in the half. They had a 167-117 yard edge at the half. GSU went 49/8pl and got a 3 yard td run, 20-10. UF went 48/8pl but after 1&gl at the 10, settled for a 22 yard FG, 20-13. GSU got 2 FD and on 4&2 went for it at the UF41 and were SOD with 6:45 left. UF went 59/3pl and got a 46 yard td pass to tie it with 5:41 left. GSU went 75/5pl and got a 14 yard td pass, 26-20. UF got to the GS17 but on 4&3 had their pass broken up around the EZ putting Muschamp clearly on the hotseat.
Follow Phil Steele anywhere!

•

•

•
•

•

•

•

•
Phil Steele is a college football analyst who has been publishing his annual College Football Preview since 1995. His magazine is regarded as one of the best in the business.
Google+