| | |
| --- | --- |
| Daily Blog • November 27th | |
By Phil Steele
My QB's of the Week
BJ Denker, Arizona • Marquise Williams, North Carolina • James Franklin, Missouri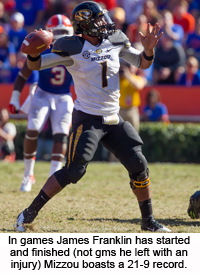 QB BJ Denker (Arizona) – In last week's upset of Oregon, BJ Denker resembled more of a Heisman candidate than true contender Marcus Mariota was able to show. Denker went on to pass for 178 yds, rush for 102 yds and deliver the biggest win of the Rich Rodriguez era in Tucson. Dual-threat QB's are always a nice option in this blog and Denker fully fits that profile as he has 25 total td's in 2013. It will be interesting to see what he has in store this Saturday against bitter Rival ASU.
QB Marquise Williams (North Carolina) – When's the last time a North Carolina/Duke football game meant more than a basketball matchup? How about never! After starting the season 1-5, the Tar Heels have rattled off 5 consecutive wins and now have a chance to play spoiler against Duke who is just a win away from earning a berth in the ACC Championship. If UNC is going to pull out the win, the steady hand and feet of backup Marquise Williams will have to step to the forefront again after he torched Old Dominion a week ago with 469 total yards and 5 td's. We like the Tar Heels in this meeting and believe Williams' effort last week can be repeated.
QB James Franklin (Missouri) – Now in his 2nd game back from injury Franklin gets the call here against Texas A&M with a berth in the SEC Championship on the line for the Tigers. Prior to his injury Franklin surpassed the 300 yard mark twice while posting a 14-3 ratio over the first 6 contests. Don't forget his running ability either as he has recorded double digit carries on 4 occasions this year while reaching the endzone 3 times.
My RB's of the Week
Charles Sims, West Virginia • Orleans Darkwa, Tulane • Javorius "Buck" Allen, USC
RB Charles Sims (West Virginia) – WVU returns from a bye likely still stinging off of their upset loss to Kansas their last time out. The loss cannot be blamed on the performance of Charles Sims however as he is on a tear over his past 3 games with 346 yards rushing, 106 yards receiving and 7 total td's. With no bowl game for the 1st time since 2001, we expect the Mountaineers to end this lackluster year on a positive note against Iowa St. With the Cyclones being victimized all season on the road on the defensive end allowing 545 ypg (and my #109 rated rush D), Sims, in his final collegiate game, should flourish this Friday on Senior day.
RB Orleans Darkwa (Tulane) – It's happy times to be a football fan in New Orleans right now as not only are the Saints back on top after LY's "Bountygate", but there is also positive news coming out of Tulane as well as the Green Wave are headed to their 1st bowl in 11 years! While their stout defense has been the key for their turnaround, RB Orleans Darkwa is back to his usual self as well after battling injuries last year. Darkwa has posted back-to-back 100+ yard rushing games against UTSA and UTEP while needing just 1 more td run to eclipse the double digit mark for the year.
RB Javorius "Buck" Allen (USC) – Buried on the Trojan depth chart at the start of fall camp, Buck Allen was able to climb into the rotation by the opener due to solid play and injuries to the unit. His biggest impact however has occurred during the past 4 weeks when he's surpassed the 100 yd rushing mark 3 times while recording 10 total td's. In a game that could very well determine whether interim HC Ed Orgeron is brought back for 2014, expect the Trojans to lean on their new star early and often against rival UCLA.
My WR's of the Week
Chris Gant, Hawaii • Geremy Davis, Connecticut • Tyler Boyd, Pitt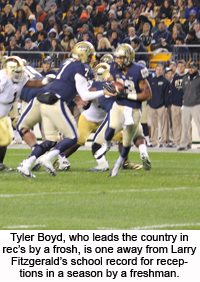 WR Chris Gant (Hawaii) – Last week we went to the Hawaii offense for the 1st time this season and QB Schroeder delivered with 499 yds passing and 6 td's. With his success, we decided to visit the Rainbow Warriors again by selecting one of his favorite targets on the year in Chris Gant who pulled in 8 receptions and 174 yds to go with 4 of Schroeder's 6 td passes. With one more chance to enter the win column in 2013, the Hawaii offense gets a matchup with Army who was allowed 431 ypg away from home TY.
WR Geremy Davis (Connecticut) – The UConn Huskies have dealt with an extremely tough 2013 campaign but after last week's comeback win over Temple for their 1st victory of the year, it's safe to say that they haven't thrown in the towel. Up next for the Huskies is a date with a team that is arguably struggling just as bad as them in Rutgers who has lost 4 of their L/5 allowing 351 ypg through the air during that span. With that all being said UConn WR Geremy Davis has posted 5+ receptions in 8 of his 11 games this year (three 100+ yd games) while reaching the endzone in back-to-back games. Could this be the game when the Junior WR delivers his top performance of 2013?
WR Tyler Boyd (Pitt) – The Pitt offense has 2 solid passing targets this season and we'll focus on their #1 WR this weekend in Tyler Boyd who has posted 100+ receiving yards in 4 contests while pulling in double digit receptions in 2 including a 10 catch outing a week ago vs Syracuse. Pitt's opponent this week, Miami (FL) notoriously fails to show up for cold weather games making the selection of Boyd a solid option.
My D's of the Week
Ball State • Wisconsin • Virginia Tech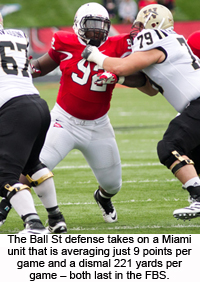 Ball St Defense – The BSU def is allowing 26 ppg and 433 ypg on the ssn so you probably think we're crazy in listing them as one of our Surprise Defenses. Before passing judgment we need you to take a look at their opponent this week. Going against the Miami offense (my #125 rated off) has been a regular thing for us in '13 as they are really just that bad. 9 ppg and 221 ypg is dead last in the FBS and we expect that futility to continue here.
Wisconsin Defense – While Wisconsin is best known for their ground and pound offense that is averaging nearly 300 yds rushing per game this season, the real story that is often overlooked has been the way their defense has performed allowing just 279 ypg on the year, good for 6th best in the nation (my #4 ranked D). Penn St comes in averaging just 18 ppg and 368 ypg on the road and could be in for a beat down in Madison on Senior Day.
Virginia Tech Defense – In a must win situation, the Hokies defense has to step up this weekend yet again against a Virginia offense that is averaging just 18 ppg in ACC play this season. Va Tech in the meantime is allowing just 19 ppg and 265 ypg within conference play making them a safe bet here to deliver.
---
CollegeFootballGeek.com's Sneaky Plays – Week 14
By Kevin Mount, CollegeFootballGeek.com
A very interesting Week Thirteen is in the books and it is now time to look ahead to the seventh week of the college football season and the "sneaky" plays it has in store for fantasy owners. Here is a look at some guys who might fill in nicely for owners in need of a potential diamond in the rough.

QUARTERBACKS
QB Adam Schulz, Utah (vs. Colorado):
Schulz accounted for 383 total yards and three scores last week against Washington State and could have another good effort against Colorado this week. The Colorado pass defense is ranked 104th in the country and has not offered much resistance all year long. Schulz could be a solid plug in option for owners in need at the QB position during the playoffs. Look for Schulz to account for a good amount of yards and a few scores this week against the Buffs. =
QB AJ McCarron, Alabama (vs. Auburn):
McCarron will never blow anybody away with his passing numbers, but he has shown a propensity to have his biggest statistical performances in the biggest games. This week's Iron Bowl with Auburn would qualify as such a game. The Auburn pass defense is ranked 98th in the nation and could give up some long plays to the Bama passing game this week. McCarron could easily approach 300 yards and two or three touchdowns this week and could be a viable option in Championship week.
RUNNING BACKS
RB Henry Josey, Missouri (vs. Texas A&M):
Josey has scored four rushing touchdowns in the past two games and appears to be running like his pre-injury form. He has a terrific match up this week with the 107th ranked rush defense of Texas A&M on the schedule. Look for Missouri to use Josey early and often to keep the ball away from Johnny Manziel and the potent A&M offense. The Aggies have not been able to stop the run all season long and there is no reason to think this week will be any different. Another trip or two to the end zone could be in store for Josey in Week 14.
RB Elijah McGuire, La Lafayette (vs. La Monroe):
This freshman has scored four total touchdowns in the past three games and went over the 100-yard mark both rushing and receiving last week against Georgia State. He could do some damage against the 93rd ranked La Monroe rush defense in Week 14. Look for McGuire to find his way back to the end zone this week and he could be a nice #2 RB against the Warhawks.
RB Akeem Hunt, Purdue (vs. Indiana):
Hunt is coming off his first 100-yard game of the season last week and could easily make it two in a row against Indiana. The Hoosiers rush defense is down right awful and shows no signs of getting any better this week. Hunt is an excellent receiver out of the backfield and could cause big problems for Indiana. Look for Hunt to rack up at least 100 total yards and a score or two this week in the battle for the Old Oaken Bucket.
RB Stephen Houston, Indiana (vs. Purdue):
With Tevin Coleman likely out again this week, Houston will likely step into the lead role against Purdue. This senior could go out with a bang as the Boilermakers rush defense has allowed 26 rushing scores on the season. This game could be very high scoring and Houston could have a big hand in all the fantasy fun. Expect this Hoosier to pile up over 100 total yards and add a couple of scores against Purdue. Houston could be a solid #2 RB in BCS only leagues in Week 14.
RB Rajion Neal, Tennessee (vs. Kentucky):
Neal has scored a touchdown in six of the last seven games and could add to that total against Kentucky. He could have a field day this week against a Kentucky defense that will likely have no answer for Neal and the Volunteers rushing attack. Look for Neal to pound the Wildcats into submission and likely find his way into the end zone on multiple occasions. Neal could be a low end #1 running back in many fantasy leagues this week.
WIDE RECEIVERS
WR Matt Miller, Boise State (vs. New Mexico):
Miller has hauled in six touchdowns over the past three games and has become the top threat in the Boise State passing attack. He could find plenty of open spaces this week against a porous New Mexico pass defense that yielded 543 yards and seven touchdowns to Fresno State last week. Expect Miller find the end zone at least one time this week and perform as a solid #2 wide out in many league formats.
WR Dezmon Epps, Idaho (vs. New Mexico State):
Epps is averaging 150 yards receiving over the past two weeks and could help owners in a big way this week. The New Mexico State pass defense has struggled this year and could be susceptible to giving up a couple of big passing plays to Epps this week. Look for to have a big week and help owners bring home a championship in Non-BCS leagues. He could be an excellent #2 wide out in most league formats in Week 14.
SNEAKY D'S

Ball State vs. Miami Ohio
LSU vs. Arkansas
Florida Atlantic vs. Florida International
UCF vs. South Florida
Boise State vs. New Mexico
There you have it everyone, enjoy this week's action and always remember to have fun playing college fantasy football. Good luck this week!

More…
For more college fantasy football information, visit CollegeFootballGeek.com:
• Start 'Em, Sit 'Em
• Injury Reports
• Player Rankings
• Player News
• Sneaky Plays of the Week
• Waiver Wire Reports

CollegeFootballGeek.com is your home for 2013 college fantasy football content! Draft kit, injury reports, player news, player projections, player rankings, mock drafts, community forums, and much more!
---
CollegeFootballGeek.com's 2013 College Fantasy Player Rankings - Week 14
Todd DeVries, CollegeFootballGeek.com
QUARTERBACKS
RUNNING BACKS
WIDE RECEIVERS

Rank

Name
School

Rank

Name
School

Rank

Name
School

1

Derek Carr
FRES

1

Ka'Deem Carey
ARIZ

1

Davante Adams
FRES

2

Braxton Miller
OHST

2

Andre Williams
BC

2

Austin Franklin
NMST

3

Marcus Mariota
ORE

3

Bishop Sankey
WASH

3

Chandler Jones
SJOS

4

Shane Carden
ECAR

4

Antonio Andrews
WKU

4

Antwan Goodley
BAY

5

B.J. Denker
ARIZ

5

Carlos Hyde
OHST

5

Brandin Cooks
ORST

6

Johnny Manziel
TXAM

6

Joey Iosefa
HAW

6

Josh Harper
FRES

7

Rakeem Cato
MARS

7

Jay Ajayi
BOIS

7

Deontay Greenberry
HOU

8

Bryce Petty
BAY

8

Jeremy Langford
MCST

8

Justin Hardy
ECAR

9

Tajh Boyd
CLEM

9

Jahwan Edwards
BALL

9

Paul Richardson
COLO

10

Blake Bortles
UCF

10

James White
WISC

10

Tyler Lockett
KANS

11

Keith Wenning
BALL

11

De'Anthony Thomas
ORE

11

Mike Evans
TXAM

12

Taysom Hill
BYU

12

Storm Johnson
UCF

12

Jarvis Landry
LSU

13

Taylor Kelly
AZST

13

Kareem Hunt
TOLE

13

Bernard Reedy
TOLE

14

Jaquez Johnson
FAU

14

Stephen Houston
IND

14

Steve Hull
ILLI

15

Cody Fajardo
NEV

15

Tim Cornett
UNLV

15

Titus Davis
CMIC

16

Brett Smith
WYOM

16

Charles Sims
WVU

16

Jordan Matthews
VAND

17

James Franklin
MIZZ

17

Tyler Gaffney
STAN

17

Jeremy Johnson
SMU

18

Marquise Williams
UNC

18

T.J. Yeldon
ALAB

18

Willie Snead
BALL

19

Sean Schroeder
HAW

19

Todd Gurley
GEOR

19

Tommy Shuler
MARS

20

David Fales
SJOS

20

Javorius Allen
USC

20

Sammy Watkins
CLEM

21

Terrance Broadway
LALA

21

Adam Muema
SDST

21

Albert Wilson
GEOS

22

Ross Metheny
SALB

22

Jamaal Williams
BYU

22

Jared Abbrederis
WISC

23

Jameis Winston
FSU

23

Jeremy Hill
LSU

23

Dorial Green-Beckham
MIZZ

24

Brett Hundley
UCLA

24

Henry Josey
MIZZ

24

Jamison Crowder
DUKE

25

Zach Mettenberger
LSU

25

Elijah McGuire
LALA

25

Brandon Wimberly
NEV

26

Sean Mannion
ORST

26

Rashodrick Linwood
BAY

26

Quinshad Davis
UNC

27

Adam Schulz
UTAH

27

Rajion Neal
TENN

27

Allen Robinson
PSU

28

Jake Waters
KANS

28

Branden Oliver
BUFF

28

Cody Latimer
IND

29

Caleb Herring
UNLV

29

Darrin Reaves
UAB

29

Alonzo Russell
TOLE

30

Joe Southwick
BOIS

30

Travis Greene
BG

30

Nelson Agholor
USC

31

P.J. Walker
TEMP

31

Terrence Magee
LSU

31

Eric Thomas
TROY

32

Brandon Mitchell
NCST

32

Tevin King
LTEC

32

Ty Montgomery
STAN

33

Logan Thomas
VTEC

33

Trey Watts
TULS

33

Tyler Winston
SJOS

34

Kolton Browning
LAMO

34

Josh Quezada
FRES

34

Eric Ward
TTCH

35

Darell Garretson
UTST

35

Joey DeMartino
UTST

35

Darius Joseph
SMU

36

Bo Wallace
MISS

36

Ameer Abdullah
NEB

36

Cody Hoffman
BYU

37

John O'Korn
HOU

37

Mike Davis
SCAR

37

Odell Beckham Jr
LSU

38

A.J. McCarron
ALAB

38

Kevin Parks
VIRG

38

Allen Hurns
MIAF

39

Devin Gardner
MICH

39

Akeem Hunt
PURD

39

Ezell Ruffin
SDST

40

Connor Halliday
WAZZ

40

Melvin Gordon
WISC

40

Travis Labhart
TXAM

41

Kevin Hogan
STAN

41

Zurlon Tipton
CMIC

41

Jaelen Strong
AZST

42

Corey Robinson
TROY

42

Thomas Tyner
ORE

42

Devante Davis
UNLV

43

Nathan Scheelhaase
ILLI

43

Devonta Freeman
FSU

43

Levi Norwood
BAY

44

Terrance Owens
TOLE

44

Terry Baggett
ARMY

44

Chris Gant
HAW

45

Keith Price
WASH

45

Lache Seastrunk
BAY

45

Isaiah Burse
FRES

46

Kain Colter
NW

46

James Sims
KAN

46

Tyler Boyd
PITT

47

Neal Burcham
SMU

47

T.J. Logan
UNC

47

Travis Reynolds
UTST

48

Matt Johnson
BG

48

Mark Weisman
IOWA

48

Dres Anderson
UTAH

49

Nick Marshall
AUB

49

Treyvon Green
NW

49

Mark Roberts
HOU

50

Jalen Whitlow
KNTK

50

Jerron Seymour
VAND

50

Corey Brown
OHST
TIGHT ENDS
KICKERS
DEFENSES

Rank

Name
School

Rank

Name
School

Rank

Team

1

Jace Amaro
TTCH

1

Roberto Aguayo
FSU

1

Alabama Crimson Tide

2

Gator Hoskins
MARS

2

Drew Basil
OHST

2

Michigan State Spartans

3

Eric Ebron
UNC

3

Colby Delahoussay
LSU

3

Florida State Seminoles

4

Devin Funchess
MICH

4

Andrew Baggett
MIZZ

4

LSU Tigers

5

Jake Murphy
UTAH

5

Chandler Catanzaro
CLEM

5

UCF Knights

6

Ted Bolser
IND

6

Jeremiah Detmer
TOLE

6

Boise State Broncos

7

Austin Seferian-Jenkins
WASH

7

Colin McGuire
FRES

7

Stanford Cardinal

8

Tyreese Russell
EMIC

8

Justin Haig
MARS

8

Ohio State Buckeyes

9

Nexon Dorvilus
FAU

9

Zane Gonzalez
AZST

9

UCLA Bruins

10

Troy Niklas
ND

10

Michael Geiger
MCST

10

Oregon Ducks

11

Maxx Willams
MINN

11

Richie Leone
HOU

11

Virginia Tech Hokies

12

Jacob Pedersen
WISC

12

Anthony Fera
TEX

12

Florida Atlantic Owls

13

Clive Walford
MIAF

13

Ross Martin
DUKE

13

Wisconsin Badgers

14

Connor Hamlett
ORST

14

Ryan Bustin
TTCH

14

Kansas State Wildcats

15

Kivon Cartwright
CSU

15

Dan Goodale
BOIS

15

Nebraska Cornhuskers

16

Rob Blanchflower
MASS

16

Aaron Jones
BAY

16

Duke Blue Devils

17

Nick O'Leary
FSU

17

Chris Boswell
RICE

17

Vanderbilt Commodores

18

Wes Saxton
SALB

18

Brad Craddock
MARY

18

USC Trojans

19

Tyler Kroft
RUTG

19

Warren Harvey
ECAR

19

Ball State Cardinals

20

Clark Evans
HAW

20

Nate Freese
BC

20

Missouri Tigers
For complete up-to-date college fantasy football player rankings and statistical projections, visit CollegeFootballGeek.comScoring System Used for CFG Rankings:
4 points per passing touchdown
6 points per rushing/receiving touchdown
25 passing yards = 1 point
10 rushing/receiving yards = 1 point
1 interception = -2 points
1 reception = 0.5 points
Follow Phil Steele anywhere!

•

•

•
•

•

•

•

•
Phil Steele is a college football analyst who has been publishing his annual College Football Preview since 1995. His magazine is regarded as one of the best in the business.
Google+