| | |
| --- | --- |
| Daily Blog • November 4th | |
As far as my game grades go after the 2008 season was completed, I devised a power ratings system, which lets me analyze at what level each team played during an individual game. This "game grade" takes into account the yards rushing, yards passing, points scored, rushing yards allowed, passing yards allowed and points allowed and factors them in against the opponent played and even factors in the site the game was played at.

With all these factors taken into consideration you will see teams that lost the game having a better individual game grade than teams that beat them simply because the team they played was superior and much less was expected of them.
Here are the Top 25 Game Grades (Team Performances from Week 10)
| | | | | | | | | | | | | |
| --- | --- | --- | --- | --- | --- | --- | --- | --- | --- | --- | --- | --- |
| | | | | OFF | OFF | OFF | DEF | DEF | DEF | | Total | Game |
| Rank | | | FOE | RUSH | PASS | PTS | RUSH | PASS | PTS | TO's | Yards | Grade |
| 1 | Ohio St | at | Purdue | 345 | 295 | 56 | 27 | 89 | 0 | 1 | 524 | 119.5 |
| 2 | Florida St | | Miami, Fl | 192 | 325 | 41 | 83 | 192 | 14 | 0 | 242 | 111.9 |
| 3 | Clemson | at | Virginia | 175 | 435 | 59 | 114 | 163 | 10 | 2 | 333 | 110.9 |
| 4 | Arizona St | at | Washington St | 282 | 275 | 55 | 2 | 300 | 21 | 0 | 255 | 109.2 |
| 5 | USC | at | Oregon St | 242 | 247 | 31 | 92 | 277 | 14 | 2 | 120 | 105.2 |
| 6 | Michigan St | | Michigan | 142 | 252 | 29 | -48 | 216 | 6 | 0 | 226 | 104.4 |
| 7 | Missouri | | Tennessee | 339 | 163 | 31 | 94 | 240 | 3 | 3 | 168 | 101.1 |
| 8 | Texas A&M | | UTEP | 234 | 330 | 57 | 127 | 71 | 7 | 3 | 366 | 99.4 |
| 9 | Oklahoma St | at | Texas Tech | 281 | 211 | 52 | 124 | 425 | 34 | 1 | -57 | 97.7 |
| 10 | Wisconsin | at | Iowa | 218 | 144 | 28 | 115 | 179 | 9 | 1 | 68 | 95.6 |
| 11 | Utah St | | Hawaii | 163 | 370 | 47 | 59 | 260 | 10 | 2 | 214 | 93.1 |
| 12 | Kansas St | | Iowa St | 227 | 221 | 41 | 123 | 126 | 7 | 2 | 199 | 92.7 |
| 13 | N Illinois | at | Massachusetts | 354 | 258 | 63 | 155 | 169 | 19 | 1 | 288 | 91.2 |
| 14 | Cincinnati | at | Memphis | 108 | 329 | 34 | 92 | 140 | 21 | 1 | 205 | 91.2 |
| 15 | Toledo | | E Michigan | 334 | 395 | 55 | 82 | 227 | 16 | 0 | 420 | 90.9 |
| 16 | Georgia | † | Florida | 156 | 258 | 23 | 145 | 174 | 20 | -1 | 95 | 90.9 |
| 17 | Miss St | at | South Carolina | 150 | 235 | 16 | 160 | 147 | 34 | -5 | 78 | 90.6 |
| 18 | Georgia Tech | | Pittsburgh | 276 | 84 | 21 | -5 | 233 | 10 | -1 | 132 | 90.1 |
| 19 | Marshall | | Southern Miss | 304 | 332 | 61 | 74 | 323 | 13 | 0 | 239 | 87.5 |
| 20 | Auburn | at | Arkansas | 233 | 133 | 35 | 222 | 124 | 17 | 3 | 20 | 87.0 |
| 21 | Minnesota | at | Indiana | 248 | 325 | 42 | 227 | 269 | 39 | 0 | 77 | 86.8 |
| 22 | Colorado St | | Boise St | 229 | 397 | 30 | 132 | 305 | 42 | 0 | 189 | 86.6 |
| 23 | Fresno St | | Nevada | 160 | 487 | 41 | 218 | 206 | 23 | 0 | 223 | 86.6 |
| 24 | Nebraska | | Northwestern | 195 | 277 | 27 | 245 | 81 | 24 | -3 | 146 | 86.4 |
| 25 | Florida | † | Georgia | 134 | 161 | 20 | 145 | 174 | 20 | 0 | -24 | 86.2 |
By Phil Steele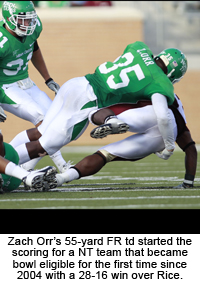 Rice had a 20-13 FD edge vs North Texas, a 355-253 yard edge but 2 return td's were key here as well as Rice not having success in the redzone. Dan McCarney, NT's HC, points out while that they just became bowl eligible for the first time since 2004, that they had not landed a bowl spot yet. The 1Q had 9 pts and none scored by the offense. The first 4 possessions of the game were punts and NT was back at their own 17. On 4&3 from the 24, the snap went over the P's head and he was tackled in the EZ for a safety. Rice, after the free kick, got a 20 yard pass to the NT44 but on the next play, fumbled and NT's outstanding LB Zach Orr returned it 55 yards for a td, 7-2 with :41 left in the quarter. The Owls did go 75/5 then 88/6pl for td's on their next 2 possessions and seemed in control, 16-7 with 9:06 left in the 2Q. NT went 74/8pl and Antoinne Jimmerson's 42 yard td run on 3&2 made it 16-14 then 4pl later Brelan Chancellor returned a punt 65 yards for a td, 21-16 and within 1:35 NT had 2 td's and the lead. Rice was SOD at the NT37 with :39 left in the 1H trailing 21-16 but did have a 254-130 yard edge. Rice was intercepted on its second 3Q possession at the NT17 and NT went 76/3pl for a td, 28-16. There were 3 punts then NT was intercepted at the R49. Rice got 3 FD's. Rice got a 23 yard pass down to the 1 yard line of NT. On 4&2 defensive holding gave them a FD but on 4&2 they were tackled for an 11 yard loss and were SOD with 8:26 left. Eight plays inside the 6 but no points. NT got 1 FD and punted with 5:28 left and Rice took over at the NT48. On 4&1 they got a 3 yard run, added another FD to the NT24, but were intercepted at the 4 with 1:54 left and NT ran out the clock. NT QB Derek Thompson hit just 7-13-104 and Tyler McHargue hit 18-28-222.
Mike White of USF made his first career start and had an impressive game. He hit 26-41 for 311 yards sparking a Bulls offense that had not scored an offensive td the previous 3 games. Houston appeared like they would win easily. On the first play of the game they had a 49 yard pass to Deontay Greenberry and 2pl later got a 6 yard td pass for a quick 7-0 lead. USF did get a 41 yard PR to the UH32 and would get a 39 yard FG but UH went 93/14pl for a td to go up 14-3 and with USF's offense struggling, it appeared this would be a route. USF on 3&7 got a 31 yard pass and would continue on a 77/9pl drive for a td to get back to 14-10. UH struck quickly again as they often do bringing in backup QB Greg Ward who hit a 30 yard pass on his first play and they went 55/4pl for another quick td, 21-10. UH was SOD at the USF36 on 4&1 with 2:35 left in the half so they only led 21-10 and actually only had 276-200 yard edge. UH got 2 big plays to open the 3Q: a 20 yard pass got them to midfield then a Ryan Jackson 36 yard run. As he was heading to the EZ he was brought down at the 4, and the ball squirted loose into the EZ. UH, which would have gone up 28-10, was now on defense. USF went 49/9pl and nailed a 50 yard FG and I was very impressed with Marvin Kloss who effortlessly hit 50 and 49 yard FG in this game. UH recovered an onside kick and on 2&10 got a 48 yard td pass to Greenberry, 28-13. USF went 44/8pl and got a 49 yard FG, 28-16. UH went 3&out and USF went 75/14pl. On 4&2 they got a 2 yard td pass and shockingly it was 28-23. UH got 1 FD and punted and USF got 2 FD's to the UH27. On the key play of the game on 3&10 they threw a pass at the right pylon of the EZ for a td but the ref never signalled td as he was reaching for his flag for offensive PI as the WR had pushed off. On the next play, on 3&25, White was sacked and fumbled at midfield. UH went 50/7pl for a td with 1:40 left to ice it. USF was intercepted 4pl later on 4&4 from its own 32 and UH, at the USF46, took a knee.
Memphis did drop a lot of passes vs Cincinnati but the Bearcats dominated statistically with 25-15 FD and 437-232 yard edges. UC took its opening drive 61/9pl but on 4&1 was SOD at the UM14. After an exchange of punts, UM got a 32 yard PR and PF to start at the UC28. On 4&1 UM tossed an 11 yard pass to the 8 and a td 3pl later on 3&7 made it 7-0. UC went 75/9pl for a td. 2 punts. UM4 got 1 FD and fumbled and UC would go 19/1pl for a td, 14-7. After a 35 yard PR and PF UC started at the UM13 but missed a 44 yard FG with :49 left in the half on 4&24. At the half UC only led 14-7 with a 218-58 yard edge. UC opened the 3Q with a 69/11pl drive for a td, 21-7. The Tigers went for it on 4&1 on their own side of the field and converted and later on 4&1 at the UC10 for another FD. They got a 7 yard td pass on the next play to make it 21-14 (4:23). UC went 61/12pl but on 3&gl from the 4, was intercepted in the EZ. After each team punted, UM was intercepted at its own 25 and UC went 25/3pl for a td, 27-14. UM got 1 FD converted on 4&4 for a FD then on 3&6, a 31 yard td run by Brandon Hayes capped the 78/9pl drive with 5:08 left and UM was back within 6. UC's goal was to run the clock and they took over at their own 29. Pass interference gave them a FD. On 3&4 another FD on a 16 yard pass. On 3&6 they gained 6 yards plus a roughing call got them down to the 6 and they actually punched in a 3 yard td run capping a 61/9pl drive with 1:26 left. UM fired incomplete on 4&4 at its own 41 and UC took a knee. Brendon Kay hit 27-35-321 while UM's Paxton Lynch hit 17-33-140 but did suffer some drops.
Kolton Browning was in his 2nd game back after having been thought to be lost for the year. Browning has really sparked the ULM offense as he hit 21-31-354 yards. Corey Robinson hit 31-52-362 yards. Surprisingly, on the first 9 possessions, there were 8 punts with only a 3&10, 60 yard td pass from Browning to Ajalen Holley mid-1Q making it 7-0. Troy had a bad snap on a punt and ULM drove 9/2pl for a td and a 14-0 lead after 1Q. Troy fumbled at the ULM4 but got a 32 yard PR and drove 33/3pl including a 21 yard td pass with 10:00 left in the 2Q, 14-7. ULM went 75/9pl for a td, 21-7. Troy then blocked a punt with 1:59 left in the half and returned it 11 yards for a td, 21-14. They forced a punt with :49 left and got a 21 yard pass setting up a 43 yard FG with :03 left in the half to get back in it, 21-17. At the half Troy had a 252-177 yard edge. ULM opened the 3Q with a 75/7pl drive for a td then got a 55 yard td pass to go up 35-17 with 8:38 left. Troy got a 42 yard run on a fake punt to the ULM25 but after a pair of personal fouls, faced a 2&40. Robinson hit a 55 yard td pass to Bryan Holmes to make it 35-23. Each team went on a long td drive, 42-30. Troy went 53/8pl and got a 4&gl 3 yard td run by Robinson to get back to 42-37 with 6:00 left. ULM not only ran the clock, but went 68/6pl and on 3&7, got a 29 yard td pass to ice it, 49-37 with 3:01 left. Troy was SOD at its own 44 and ULM got a FD to the 39 taking a knee.
Washington St's Connor Halliday had 89 pass attempts the previous week vs Oregon and this week hit 29-54-300. Arizona St's Taylor Kelly did a great job running the spread option hitting 22-31-275 yards while rushing for an additional 66. Coach Graham said, "Taylor is like having an offensive coordinator on the field." ASU went 67/10pl on its first possession, 36/8pl for a td on its 3rd, then, after recovering a fumble, ASU extended it to 21-0 after a 39/4pl drive for a td with 3:20 left in the 1Q. WSU went 75/13pl. They had gone 3&out on each of their first 3 possessions and fumbled on the 4th, but this time got 3 FD's and a 34 yard td pass got them back to 21-7. They recovered a fumble at their own 36 but punted and ASU went 62/9, 51/1, and 65/4pl all for td's to lead 42-7. WSU went 75/7pl for a td with :20 left in the half to make it 42-14 with ASU having a 370-207 yard edge. ASU punted to open the 3Q but then each team went on a long td drive, 49-21. ASU went 49/13pl for a 37 yard FG to open the 4Q and then 58/11pl for a 36 yard FG with 5:49 left to close the scoring at 55-21. ASU had 557-302 yard and 33-14 FD edges as Kelly accounted for 7 total td's and helped ASU to its first win on the road this year.
Silas Redd ran for 140 yards for USC and Javorius Allen for another 133 yards. Cody Kessler hit 17-21-247 but had 1 IR td. Oregon St's Sean Mannion hit 26-45-277 after coming in leading the nation at 408 ypg. He also came in with a ratio of 30-3 so his 3 interceptions matched his total from the first 8 games of the year. The game did feature 2 of the nation's elite WR's in Brandin Cooks who had 88 yards on 6 catches as well as 40 yards on reverses and Marqise Lee who had 105 on 5. USC was down to 48 scholarship players for this game. OSU took its opening drive 45/5pl but had a 46 yard FG blocked. USC's very first play was a 71 yard td pass to Lee. USC punted on its next drive, but then went 72/9pl and got a 9 yard td run to lead 14-0. OSU went 67/9pl but on FD from the USC16 Mannion was intercepted in the EZ. OSU though got 2 td's in a :14 span. A 27 yard td pass capped a 45/2pl td drive. They then got a 41 yard IR td on the next play to tie it at 14. USC went 75/10pl for a td with 4:45 left in the 1H to lead 21-14 and had a 243-175 yard edge. USC did on the first play of the 2H got a 62 yard pass to Nelson Agholor who was caught from behind and dragged down at the 13. They lost 13 yards and on 4&13 settled for a 34 yard FG, 24-14. OSU went 64/6pl but missed a 26 yard FG. 2 punts. USC went 90/6pl capped by Allen's 52 yard td run which iced it with :20 left in the 3Q, 31-14. OSU went 69/7pl getting a FD at the USC5 but was intercepted at the 3 then went 35/6 getting a FD at the USC30 but was intercepted at the 16. OSU did gain 44 yards on their final 6 plays getting to the USC45.
On the 2nd play of the game, Ohio St got a 34 yard IR td and as you can tell by the final of 56-0, they pretty much dominated every phase of the game with 640-116 yard and 30-10 FD edges as they extended the nation's longest winning streak to 21. Danny Etling, Purdue's frosh QB who's already been sacked 19 times in 4 games, hit 13-29-89. Braxton Miller played just the 1H (did play WR on a Kenny Guiton td pass in that stanza) hitting 19-23-233. On OSU's 3rd possession they were intercepted at the 15 and on their 7th possession with 4:21 left in the half, punted for the first time. OSU led 42-0 at the half with 350-87 yard and 15-6 FD edges. Guiton led an 81/7pl drive for a td and then on the next drive OSU went 67/10pl but was SOD at the PU26. The Buckeyes went 87/13pl for a td and it was the most points ever scored by OSU vs PU, 56-0 with 10:37 left. OSU ended the game taking a knee at the PU46 with 3rd string Cardale Jones QB'ing the final 2 series.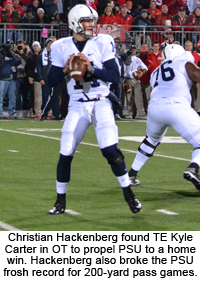 While Penn St/Illinois combined for just 41 points, it was an offensive show with 52 FD's. To give you an idea of how that stacked up vs some other games: Northern Illinois/Massachusetts combined for 82 points and 42 FD's; Virginia Tech/BC for 61 points and just 31 FD's; WKU/Georgia St had 72 pts but just 43 FD's and Old Dominion/Rhode Island had 80 points and just 44 FD's. So, 52 is a lot of FD's and there was 901 yards of offense. PSU ended up winning, their 2nd straight home game in OT. IL took its opening drive 45/6 to the PSU26 but was intercepted at the 5. PSU took their first 2 possessions 84/7pl and 82/17 for td's. IL actually had a 39 yard td pass in between but it was called back for an illegal block and on 4&18 they punted 28 yards before PSU's 2nd td drive. PSU went on an 11 play drive but missed a 37 yard FG. Before the half, IL had poor clock management at the end of the half and settled for a 21 yard FG only after a PF/roughing the passer came with no time left on the clock, 14-3. The 2 teams combined for 460 yards at the half with PSU having a 247-213 yard edge. IL opened the 3Q with an 88/13pl drive for a td. PSU went on an 8pl drive and was SOD on 4&1 at the IL39. IL went 57/12pl but on 4&1, was SOD at the PSU4. IL went 77/13pl for a td with 5:30 left to lead. PSU was poised to take the lead and had a 1&gl at the 5 after a 39 yard pass to Robinson but on 3&gl from the 2 Bill Belton fumbled with 3:23 left. PSU did get a 35 yard FG with :41 left to send it to OT. PSU on 3&11 hit a 15 yard td pass and on the 1st play IL's Nathan Scheelhaase was intercepted in the EZ off a deflection. Scheelhaase hit 33-52-321 while Christian Hackenberg was 20-32-240
Air Force's Anthony LaCoste rushed for 263 yards and 3 td's. AF did finish with a 454-417 yard edge vs Army. Nate Romine got the start for AF and hit 7-8-111 and rushed for 31. Angel Santiago hit 8-14-109 for Army and rushed for 61. The first 3 possessions were all td's and Army led 14-7. Army was lining up to take a 17-7 lead on its 3rd possession when the turning point happened as its 48 yard FG was blocked and returned 24 yards. AF went 46/8pl and on 4&2 got a 14 yard td run to tie. Each team went on a long td run with AF getting a 1 yard td with :11 left in the half to tie it at 21. Army had a 276-217 yard edge at the half. Army went 50/8pl to open the 3Q and missed a 39 yard FG and on the next play, LaCoste ripped off a 78 yard td run, 28-21. There were 3 punts. AF went 70/10pl and LaCoste's 1 yard td run put them up 35-21 with 14:45 left. Army was SOD on 4&6 at the AF29 but AF fumbled a punt at its own 25 and Terry Baggett got a 10 yard run for a td with 5:58 left, 35-28 but they kicked off deep and AF went 75/8pl and got a 3 yard td run with 3:41 left for the 42-28 final margin. After Army was SOD at its own 32, AF ended the game at the Army21 taking a knee.
Rutgers actually trailed the majority of the game vs Temple but thanks to a late td drive RU finished with 440-322 yard, and 23-18 FD edges and 3 pt win. Gary Nova hit 27-38-371 and after throwing numerous interceptions the past 2 weeks, had zero. PJ Walker for Temple hit 21-31 for 203 but had 2 interceptions. TU was intercepted on the 2nd play of the game and RU went 38/6pl but was SOD at the 17. TU took its 3rd possession 92/8pl with a 26 yard td pass but missed an xp, 6-0. RU went 68/12pl and had a 1&gl at the 1 but settled for a 30 yard FG after 2 false starts and a substitution infraction, 6-3. TU went 36/9pl (after a 26 yard punt) capped by a 4 yard td pass, 13-3 and RU missed a 40 yard FG on the 1H's final play. At the half, RU had a 196-152 yard edge. The 3Q opened with 2 punts and RU went 53/3pl for a td to get back to 13-9. The next 4 possessions were punts then TU, on 2&6, was intercepted. On the next play, RU got a 34 yard td pass to Leonte Carroo to take their first lead with 14:03 left. That didn't last long as TU went 62/9pl for a 25 yard td run with 10:57 left. RU fumbled at the TU15 with 8:54 to go and the Owls went 52/14pl but on 4&1 they were SOD at the RU28 with just 1:53 left. RU went 72/8pl and on 4&10 got a 33 yard td pass with :35 left to escape with the win.
Massachusetts was without its top QB, AJ Doyle. Mike Wegzyn who began the year as the starter but lost his job, hit 10-25-169 yards. Lorenzo Woodley did rush for 163 yards on 38 carries for UM. Jordan Lynch hit 10-13-160 and rushed for 119. The gm was a little closer than you would expect from a game with a 63-19 final. Each team scored on their first 2 possessions but UM settled for 42 and 46 yard FG's and trailed 14-6. Northern Illinois went 49/5pl for a td, 21-6 then after an interception was returned 14 yards to the 6, got a td run on the next play to make it 28-6. UM went 83/4pl for a td, 28-13. NIU got a 66 yard td pass on their next play, 35-13. There were 3 punts and NIU took over with 1:45 left in the half and went 79/6pl getting a 15 yard td run with :31 left. At the half NIU only had a 322-206 yard edge. NIU opened the 3Q going 32/9pl for a 44 yard FG which was blocked but UM, on the return of the blocked FG, fumbled. NIU got a FD at the UM25 on a strange play. They went 25/4pl for a td. UM went 55/8pl for a 44 yard FG, 36/6pl for a 40 yard FG and it was 49-19 after 3Q's. NIU fumbled at the UM29 and UM went 33/8pl but was intercepted at the NI16 with 9:45 left. NIU got an 81 yard td pass on the next play and went 75/5pl with a 47 yard td run with 5:31 left, 63-19.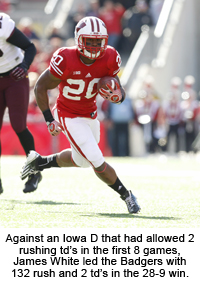 Wisconsin only had 362-294 yard and 15-14 FD edges. Melvin Gordon was held to 62 yards on 17 carries, under 4.0 ypc which greatly hurt his season rushing avg. James White had 132 yards on 19 carries. Iowa's Jake Rudock was injured in the 3Q and CJ Beathard hit 4-16-70. The game was 14-9 after 3Q's and UW got two 4Q td's. At one point, UW's Jack Russell hit a 54 yard FG with the wind at his back but Iowa had called 3 consecutive time-outs and Russell would actually miss short on the attempt that counted. UW opened with an interception at the UI43. After an exchange of punts, UI got a 23 yard PR to the UW39. On 4&1 they go a FD to the 14 and on 4&7, a 28 yard FG to lead 3-0. There were 5 straight punts then Iowa went 66/13pl. On 4&1 they got a 1&gl at the 6 but on 4&gl from the 4, a 22 yard FG, 6-0. UW went 72/6pl for a 44 yard td pass, 7-6. UW missed that 54 yard FG at the end of the half and had a 146-131 yard edge. The 3Q opened with 2 punts and Iowa was SOD on 4&1 at the UW36. UI was pinned at its 1 when Rudock was intercepted at the 20. UW got a 20 yard td pass to Jared Abbrederis on the next play, 14-6. After an exchange of punts, UI went 48/4pl and got a 29 yard FG, 14-9. UI, with Beathard at QB, took over at its 5 with 9:50 left and after 1 FD was intercepted at its own 25. UW went 25/5pl for a td, 21-9 then took over with 5:14 left at its own 24 and went 76/8pl including a 4&4 conv with a run to the 1. White's 2 yard td run made it 28-9. UI went 64/10pl but on 4&10 from the UW11, Beathard fired incomplete.
Connor Shaw missed 2 days of practice with a virus but still started and hit 10-20-147 but had a career high 4 td's. Mike Davis became the team's first 1,000 yard rusher since Marcus Lattimore did it 3 years ago and South Carolina tied the record for consecutive victories at Williams-Brice Stadium at 15 straight (tying 1979 and '80). Miss St finished with 385-307 yard and a 23-12 FD edges but some key turnovers did them in. MSU took their opening drive 60/9pl for a td. SC went 71/5pl for a td. MSU had a pass that was tipped and intercepted and SC would drive 54/3pl for a td. Another tipped pass was intercepted and returned 12 yards. SC "drove" -2 yards for a 44 yard FG. MSU went 32/4pl for a 38 yard FG, 17-10. At the half, MSU messed up their clock management and didn't get a play off and had a 196-147 yard edge at the half but trailed 17-10. MSU fumbled and SC returned it 24 yards. SC went 23/4pl for a td, 24-10 and SC went 86/5 for a td, 31-10. After another interception SC went 20/8pl for a 37 yard FG. SC had a 5-0 TO edge. After a pair of punts, MSU went 75/15 and on 3&10 got an 11 yard td run but missed the 2 pt conv, 34-16. MSU fumbled at the SC29 and ended the game at the SC45. Dak Prescott hit 28-43-245 and was the team's leading rusher with 78 yards on 15 carries.
Virginia Tech had 444-289 yard and 18-13 FD edges but could not overcome a 4-0 turnover deficit. The first 3 possessions were punts. Boston College went 69/10 for a td. After an exchange of punts, VT went 76/9pl for a td, then went 43/10pl and Cody Journell hit a 56 yard FG with :01 left 1H, 10-7. VT had a 199-141 yard edge at half. VT was intercepted at the BC36 and returned 49 yards to open the 3Q. BC started at the VT18 and would get a 25 yard FG, 10-10. VT went 82/8pl and on 4&1 a 1 yard td pass, 17-10. VT fumbled at their own 17 and BC went 17/6pl for a td to tie. VT went 46/7pl for a 47 yard FG but BC went 54/8pl for a 43 yard FG to tie again. Then on the key play of the game VT was not only intercepted but returned 33 yards for a td and BC led 27-20. VT went 37/6pl and on 3&6 they called PI but then picked up the flag. On 4&6 they fired incomplete and BC would get a 62 yard td run 34-20 with just 4:35 left. VT went 52/8pl for a td with 2:54 left, 34-27 and forced a punt with 1:49 left but VT20 on 3&10 fumbled at their own 34 with 1:24 left.
Syracuse got its first league shutout since 1996 when they beat Rutgers 42-0. A key to the game was when Wake Forest lost their best offensive player, WR/RM Michael Campanaro. Campanaro entered the game 3rd all-time in the ACC in rec's but injured his collarbone. SU did have a situational edge catching WF off a draining effort vs Miami, Fl where they led almost start to finish but ended up losing late while SU was off a bye. The Orangemen did finish with 352-213 yard and 17-12 FD edges. Tanner Price hit 22-54 but for just 173 yards. Terrel Hunt hit 18-30-144. In the 1Q there were 3 FD's and the teams were a combined 0-9 on 3rd down. They honored Donovan McNabb prior to the game by retiring his #5 jersey. Campanaro was lost mid-1Q. WF did put together a 10pl drive getting to the SU31 but punted early 2Q and SU got a 43 yard pass to the WF30 but after an illegal substitution and a hold, they punted with 1:29 left. At the half WF had a 147-121 yard edge and it was scoreless. SU opened the 3Q with a 75/14pl drive and got a 6 yard td run by Hunt. WF was intercepted at their own 25 and that would set up SU for a 25 yard td run by Brisly Estime to make it 13-0. SU got a 67 yard pass to Prince-Tyson Gulley but was SOD at the 1 with 12:03 left and there were 4 punts and then WF was SOD at its own 13. SU dominated the 2H.
North Carolina won in Carter-Finley Stadium for the first time since 2005. UNC had a 427-388 yard edge. QB Brandon Mitchell was back in the lineup for his 2nd game for NC State and led the team in rushing with 105 yards, however he hit just 10-22-130. Surprisingly Bryn Renner hit just 15-22-124 and he alternated series at times with Marquise Williams who hit 8-15-92 and also rushed for 51. After the game was over, several UNC players ran to the midfield logo to celebrate. I'm sure NCSt will be bringing that up next year. UNC has now won 2 in a row stopping a streak of 5 straight wins by NCSt in this series. NCSt got an interception on the 2nd play and went 24/4 for a td then 59/10pl for a 20 yard FG and the Wolfpack led 10-0. UNC went 74/8 for a td then NCSt faked a punt from its own 30 and UNC took advantage. They went 29/4 for a td to take the lead, 14-10. NCSt went 48/8 for a 38 yard FG then 37/8pl for a 44 yard FG and led 16-14. UNC got a 59 yard td pass from Renner to Davis with 8:42 left in the 2Q to take a lead they would never relinquish, 21-16. After all of that scoring the final 6 possessions of the half ended in punts. UNC did have a 216-192 yard edge. NCSt took their 2nd possession of the 3Q 76/10pl again settling for a 28 yard FG. After 2 punts, UNC went 30/8pl but missed a 42 yard FG and UNC got a 16 yard PR and went 67/8pl getting a 14 yard td run with 11:19 left to go up by 8. NCSt was then intercepted at their own 44 and on their next drive they brought Thomas in at QB. NCSt got 3 FD to midfield but on 4&11 fired incomplete with 2:42 to go. UNC on 3&9 got a 10 yard run by Blue then with :13 left gained 1 yard on 4&5 at the NCSt32. NCSt gained 44 yards on the final 2pl getting down to the NC24 with Thomas in the game.
UAB led almost the entire game vs Middle Tenn but their poor season continued as they fell to 2-6 allowing a FG with :03 left. MT did finish with a 429-356 yard edge. UAB took their 2nd possession 84/6pl for a td. MT's 3rd possession ended on an interception at the UAB30 and they then went 61/11pl and were SOD on 4&1 at the UAB27 with 6:22 left in the half. At the half UAB had a 186-167 yard edge and had just 1 pass attempt in the 1H but led 7-0. UAB went 60/11 for a 37 yard FG to open up the 3Q and take a 10-0 lead but MT went 75/8pl for a 3 yard td pass, 10-7. UAB went 43/10 including a 4&1 conv at their own 34. They would get a 50 yard FG to go up 13-7. After an exchange of punts, MT got a 93 yard td pass from Kilgore to Henry to make it 14-13. After an exchange of punts, UAB took over at their 26 with 6:38 left and threw an interception that was returned 40 yards for a td with 6:26 left. The Blazers then went 70/9 and converted on 4&5 with a 7 yard run by Perry and on the next play Perry hit Nelson with a 21 yard td pass with 1:50 left and it looked like it would be headed to OT after they got the 2 pt conv to tie. MT converted on 3&7, added another FD, this time a 33 yard pass to Henry to the 1 with :07 left. Clark's 18 yard FG gave them the win.
Bobby Petrino returned to the Georgia Dome this past week but there was a crowd of just 5,377 on hand, unlike the 60,000 on hand for his last game in the Dome. It was not surprising that WKU had 444 yards but it was surprising Georgia St had 410. Ronnie Bell hit 26-41-325 while Brandon Doughty hit just 15-24-206. Antonio Andrews was held to 110 yards rushing and 36 yards receiving. WKU went 40/12pl for a td on their first possession converting on 4&1. Then went 57/9 for a 40 yard FG and it appeared the route was on. GSt on 3&2 got a 67 yard td pass. The next 4 possessions were punts. WKU went 53/6pl and got a td with 4:02 left in the half, 17-7 and then went 75/6 to get a 16 yard td pass with :16 left and led 24-7 with a 263-145 yard edge. WKU was intercepted to open the 3Q at the GSt31 but GSt was intercepted right back at the WKU34. WKU went 66/7pl for a td and a commanding 31-7 lead. GSt would then go 73/10, 57/9 for a pair of td's, the latter with :54 left in the 3Q to get back in it, 31-21. WKU went 58/10 for a 3 yard td and GSt on 4&9 was intercepted and returned 24 yards to the WKU44 with 6:32 left in the game. WKU on 4&1 got a FD then a 5 yard td pass with 3:40 left to make it 45-21 but GSt went 75/6pl and got a 19 yard td pass with 1:21 left to only lose by 16. GSt recovered the onside kick but on 4&7 gained 6 yards.
Old Dominion finally got a breather as they rolled over Rhode Island. At the half they led 31-7 and had a 365-139 yard edge and would score td's on their first 4 possessions of the 2H to go up 59-14 with 14:25 left. They added another td by Colby Goodwyn with 6:31 left to make it 66-14. ODU had only been playing football for a little bit so it's not surprisingly that they got a new "all-time" career leading rusher in Goodwyn who had 76 yards to put him at 1,490 for his career topping the great Thomas DeMarco's all-time mark. ODU had a 633-268 yard edge.
Akron only had a 19-17 FD and 304-300 yard edges. Kent St had both their RB's back as Trayion Durham rushed for 82 yards and Dri Archer 7-52 although Archer had just 1 rec for zero yards. Kyle Pohl only hit 8-19-98 for Akron. The Zips on 3&10 got a 45 yard pass that was followed by a 33 yard td pass from WR D'Orazio to make it 7-0. Archer fumbled at the UA37 but UA was SOD on 4&1 at the KSt30 with 3:43 left in the 1Q. Durham fumbled at the KSt46 but Pohl was sacked and fumbled back at the 42 and KSt went 42/11pl for a td to tie it with 8:34 left in the 2Q. UA went 57/15pl and got a 28 yard FG, 10-7. At the half, UA had a 184-174 yard edge. KSt took their 2nd 3Q possession 10 plays getting to the UA37 but punted 20 yards. UA went 73/13pl. After a 1&gl at the 12, they settled for a 27 yard FG, 13-7. KSU30 got 3 FD's to the UA32 but on 4&10 was intercepted at the 4. UA went 60/12pl getting a 29 yard FG with 4:25 left, the key a 3&11, 11 yard run to the 16. The FG put them up by 2 scores. KSt was intercepted at the UA49 then went 50/8pl on their last drive getting intercepted at the UA17 with 1:00 left.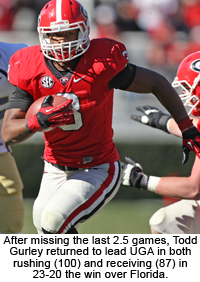 Todd Gurley's return sparked the Georgia offense as he had 100 yards rushing. Aaron Murray hit 16-25-258 and Florida's Tyler Murphy hit 13-29-174. Gurley also had a key td reception and had 87 yards on 3 catches. This was a game UGA appeared to have put away. Will Muschamp fell to 0-7 in this series as he was 0-4 as a UGA player and now 0-3 as a UF HC and things got a bit chippy at the end of the game. UGA went 75/7pl for a td and UF went 70/5pl but missed a 40 yard FG. On 3&6 UGA hit a 73 yard pass to Gurley on a short one over the middle which he took the distance. UGA then went 53/10pl for a 49 yard FG, 49/6 for a 27 yard FG and were in complete control, 20-0. UF went 45/12pl for a 31 yard FG with 9:54 left in the 2Q then 49/13pl but on 4&10 were SOD at the UGA43 with 1:07 left. UGA would go 42/7 for a 32 yard FG and led 23-3 with a 335-209 yard edge. UF opened the 3Q with a 34/13pl drive. They converted on 4&5 but then missed a 47 yard FG. The key play that put UF back in it was what TE Lynch thought was a screen pass that was actually a backwards pass and while Lynch bent over and put his head in his hands, because he dropped it, a UF player scooped it up and returned it 10 yards to the 14. Two plays later they got a 5 yard td run to get back in it. After an exchange of punts, UGA was pinned at their 3 and Murray was tackled for a safety, 23-12. UF went 50/5pl after the free kick for a td and 2 pt conv, 23-20. UGA20 got 1 FD and then Gurley was SOD on 4&1 at their own 39. A PF moved UF back to their own 46. They got 1 FD and punted. UGA took over with 8:17 left and did a great job running out the clock. They went 67/15pl and had 5 FD's and on 3&5 Gurley was stopped at the 25 but a PF hands to the face by the D-line gave them the FD and they took a knee. UGA had 414-319 yard and 21-18 FD edges.
Kansas St was so dominant vs Iowa St that the only time ISU even ran a play in the Wildcats EZ, came at the end of the game when KSt fumbled at its own 10 and ISt would get a garbage td with 3:38 left. KSt had 448-249 yard and 19-15 FD edges. It would have been KSt's first shutout of a Big 12 foe since they beat Iowa St 45-0 in 2003. ISU has not beaten KSt since 2004. ISU was without RB Aaron Wimberly (hamstring). Sam Richardson hit just 6-12-38 and Grant Rohach played the majority of the game hitting 11-24-88. As usual, KSU alternates QB's with Jake Waters hitting 9-15-157 and Daniel Sams 4-5-64 with Sams also having 13 carries for 57 yards and Waters 7-32. ISU took their opening drive 44/7pl but on 4&4 were SOD at the KSU28. KSU went 72/7pl and got a 9 yard td run. KSU went 48/5pl for a 44 yard FG, then went 39/4pl but missed a 51 yard FG with 1:34 left in the 1Q. Richardson, 2 possessions later, was intercepted at the KSU39 and Rohach QB'd the rest. ISU went 43/10pl and missed a 47 yard FG with 5:18 left and KSU went 71/12pl and got a 12 yard td run by Sams to make it 17-0. At the half KSU had a 240-149 yard edge. KSU went 49/9pl to open the 3Q for a 42 yard FG, 20-0. 3 punts. KSU went 83/11l for a 3 yard td run with 10:57 left, 27-0. ISU got desperate. On 4&12, Rohach ran for no gain to their own 39 and 3pl later KSU got a 28 yard td pass, 34-0. ISU was intercepted and returned 41 yards to their 19, KSU tacked on another td 2pl later on a Rose 9 yard run, 41-0. KSU's fumble came on 2&5 at their own 10 with 3:30 left and Rohach handed off to Nealy for a 10 yard run to avoid the shutout, 41-7. KSU got a 39 yard PR to the ISU1 with 1:24 left and Bill Snyder instructed them to take a knee 3 times.
I was very surprised by Notre Dame's defensive effort vs Navy. They had just played the option the previous week and were facing it a 2nd straight week at home. I expected ND to score, as they did, putting up 506 yards but shockingly they couldn't get Navy off the field. ND went a quick 67/7 for a td and Navy went 56/9 for a td. In fact, in the first half, the only time they stopped Navy was forcing a punt on the 2nd possession and on the final possession of the half Navy got to the ND45 where their Hail Mary fell incomplete. At the half ND had a 269-233 yard edge and the Irish were intercepted at the Navy 11 and intercepted at the Navy 27 and trailed 20-17. ND did force a punt to open the 3Q going 84/11pl for the lead but Navy came right back including a 4&4, simple dive play that went for a FD. The drive was 75/13pl for a td. ND answered with a 76/6pl drive and retook the lead, 31-27. Navy went 70/7pl for a 30 yard td pass, 34-31 with 8:44 left. ND went 76/11 for a 1 yard td run, 38-34 with 3:48 left. Navy returned the KO to the 50 and got 1 FD and on 4&4 ND actually got a stop with 1:08 left and hung on for the win. Tommy Rees hit 12-20-242 and Navy had a 331-264 rush edge.
Northwestern actually lost their 5th straight game and after jumping out to a 21-7 lead, the next 11 possessions they punted 10x's and were intercepted on another. Nebraska got a miracle finish to pull out the win. It was similar to last year as NW led throughout and NU had a dominant stat edges with 28-16 FD and 472-326 yards. In '11 the Huskers had a 543-301 yard edge and lost and in '12 NU had a 543-301 yard edge and trailed 28-16 but got 2 late td's to pull out the 1 pt win. NU opened with a 76/8pl drive for a td but NW went 75/12 and 75/6 for a pair of td's to lead 14-7. NU went on a 10pl drive and missed a 48 yard FG then were intercepted and returned 14 yards. NW went 38/2 for a td to make it 21-7. NU went 77/11pl and Armstrong's 3 yard td pass made it 21-14 with 6:37 left in the half and the team's punted the final 5 poss. The Huskers had a 226-222 yard edge at half and trailed by a td. The 3Q opened with 4 punts then NU got a key play with a 25 yard interception by DL Moss who took it the distance, 21-21. Armstrong was intercepted at the NW37 with 4:02 left 3Q and NU then went 42/9 and Armstrong was intercepted at the 21 with 14:18 left. They punted 5x and Armstrong was intercepted again and returned 29 yards to their 7. NU's D did a great job. All had appeared lost as 2:25 were left but NU used their time-outs and NW got a 21 yard FG with 1:20 left, 24-21. Kellogg came in at QB and on 4&15, Kellogg hit Abdullah with a shot pass that he took and barely got the FD to the 40. They added 1 more FD and on 2&10, Kellogg threw a Hail Mary pass, a group of players were bunched in the front of the EZ, it was tipped, went over the top and Westerkamp hauled in the Hail Mary with no time left. NU did not attempt the xp.
Utah St had a 533-319 yard edge. Darell Garretson hit 28-41-370 yards for the Aggies. Sean Schroeder hit 13-26-213 and Taylor Graham 8-16-45. Ikaika Woolsey hit 1-1-2 as all 3 QB's played. Garretson became the first frosh to pass for more than 300 yards for USt since 1985. USt opened with an 80/12pl drive then both went on long drives for FG's, 10-3. USt went 88/10 for a 4 yard td run on their 3rd poss, 17-3. Hawaii was intercepted at the USt6 with 13:23 left in the 2Q then were SOD on 4&3 at the UH44 with 6:41 left. USt went 29/10pl for a 32 yard FG and after getting a punt with 1:30 left went 21 yards for a 52 yard FG with :50 left to make it 23-3. UH got down to the USt49 but was intercepted at the 10 on the final play. USt had a 314-198 yard edge. UH opened the 3Q with a 75/6pl drive and got a 33 yard td pass to pull to within 23-10. USt went 51/9pl for a 32 yard FG, 71/5pl for 30 yard td pass, 33-10. USt was intercepted and returned 27 yards to their 4 yard line with 2:58 left 3Q then a key play happened. Schroeder was intercepted at the 1 and returned 99 yards for a td and instead of 33-17, the 14 pt swing made it 40-10. There were 3 punts then USt took over with 13:59 left and went 73/7pl getting a 44 yard td pass, 47-10. UH punted but got 2 FD's to the USt36. After a sk on 4&26, Woolsey threw a pass that bounced off an OL and he caught it himself for a 2 yard gain.
Follow Phil Steele anywhere!

•

•

•
•

•

•

•

•
Phil Steele is a college football analyst who has been publishing his annual College Football Preview since 1995. His magazine is regarded as one of the best in the business.
Google+