| | |
| --- | --- |
| Daily Blog • November 7th | |
By Phil Steele
My QB's of the Week
Garrett Grayson, Colorado St • Cody Kessler, USC • BJ Denker, Arizona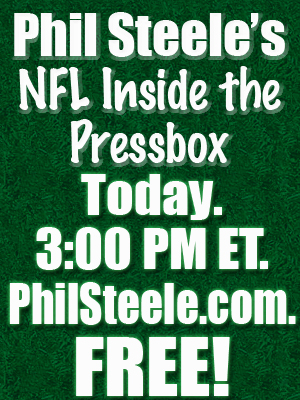 QB Garrett Grayson (Colorado St) – After a 397 yd passing game a week ago Garrett Grayson has to get a look in most leagues as Colorado St's offense has been vastly improved averaging more than 100 ypg than in '12 and a massive 549 ypg in their home matchups in 2013. This week's opponent Nevada is allowing 602 ypg away from home this year so there should be plenty of chances for Grayson and the rest of the Rams offense.
QB Cody Kessler (USC) – Since the dismissal of Lane Kiffin following their blowout loss to Arizona St it appears that the USC offensive coaches have been a bit more aggressive with their play-calling and it's resulted in a 3-1 record and Cody Kessler putting together some of his better outings including a 17-21 pass performance in the Trojans upset win over Oregon St a week ago. Next up, a Cal defense that has held just one of their 9 opponents this year under 400 yards of total offense. Kessler should deliver his first 300 yard passing game of the season here.
QB BJ Denker (Arizona) – Very important game in the P12 South between a pair of 6-2 squads and we like the dual-threat ability of BJ Denker to deliver some more fantasy gold after he had 300 ttl yards of offense last weekend vs Cal with 4 ttl TD's. On the season Denker has 9 TD passes and 11 TD runs making him a threat to rack up points anywhere on the field. Riding a 3-game winning streak, a pickup of Denker could prove to be very wise this Saturday.
My RB's of the Week
Tevin Coleman, Indiana • Storm Johnson, UCF • David Cobb, Minnesota
RB Tevin Coleman (Indiana) – With Penn St RB Bill Belton gashing the Illini defense for 201 yards on the ground, there should be no reason why Tevin Coleman shouldn't have just as solid of a performance. In fact, Coleman is one of just two remaining FBS players (Bishop Sankey-Washington) who have rushed for at least 1 TD in each game this season. Coleman already has three 100+ rush games in '13 and we believe #4 is within reach this weekend.
RB Storm Johnson (UCF) – Nearly matching Tevin Coleman and Bishop Sankey's feat this season is Storm Johnson who has recorded a rushing TD in 6 of his 7 contests while hitting the 100 yard plateau on 2 occasions. In a must-win contest this weekend against Houston to stay in the running for the AAC Title and a BCS Bowl berth, the Knights will likely lean heavily on Johnson to keep the ever-dangerous Cougar offense off the field.
RB David Cobb (Minnesota) – With 3 consecutive 100 yard rushing outings in a row David Cobb gets the nod as one of our fantasy choices this weekend against a Penn St defense that has been susceptible to the run allowing 210 yards on the ground in road games this year. Another stat to consider for Cobb and the Gophers in this one is the fact that Minnesota is 4-0 on the season when he eclipses the 100 yard mark. Expect him to get a boatload of touches early on this weekend.
My WR's of the Week
Eric Ebron, North Carolina • Tyler Lockett, Kansas St • Josh Harper, Fresno St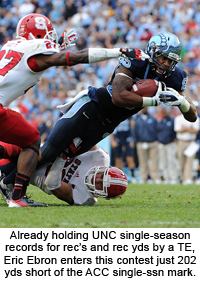 WR Eric Ebron (North Carolina) – Despite the loss of their starting QB for this weekend, the Tar Heels do have a favorable matchup against a Virginia squad that has avg 513 ypg over the past 5 gms. With 27 rec over the L/4 games Eric Ebron has been a reception machine for UNC and there should be no reason why he doesn't continue his solid run here.
WR Tyler Lockett (Kansas St) – The Wildcat offense appears to be getting on track over their last 3 games with 445+ yards in each contest. Tyler Lockett has surpassed the century mark in receiving 4 times this season including an 8 catch, 111 yard, 3 TD performance against WV two weeks ago. Therefore we feel very comfortable with the selection of this all-purpose threat this weekend against Texas Tech.
WR Josh Harper (Fresno St) – Sometimes when looking around for a fantasy option you tend to just look at the leader on the team and move on if he's taken. The Fresno St WR unit is one you may need to take a 2nd look at as the Bulldogs actually have 3 different players that have pulled in 56+ catches on the year. Our selection this week however is Josh Harper who had the hot hand for FSU last week as he put together a monstrous outing against Nevada with 17 rec, 253 yds and 2 TD's. On the year, Harper has hit paydirt twice in a game on 4 occasions and matches up well against Wyoming this Saturday.
My DEFENSES of the Week
Iowa • Oklahoma St • Florida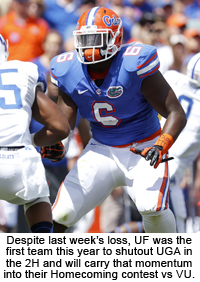 Iowa Defense – In a league known for tough defense, Iowa's unit has shown that they belong as they have held their opponents to 325 ypg this season while allowing just 26 combined points in their L/2 contests. This week's opponent, Purdue has been held to 10 points or fewer on 5 occasions in '13 including being shutout in each of their past 2 contests against Mich St and Ohio St. With that being said, it appears that the Boilermaker offense is in store for yet another long weekend.
Oklahoma St Defense – Solid defenses bounce back from bad outings and that's what we expect this week as the Cowboys take on a Kansas offense that is averaging just 15 ppg and 258 ypg on the road this year. Prior to allowing 549 yds last week vs Texas Tech, OSU had allowed just 328 ypg over the previous 5 against mostly B12 opposition. Judging by those numbers, the Cowboys' defense should shoot down the Jayhawks here.
Florida Defense – After allowing 275 or fewer yards over their first 5 games the Gators have been a bit more susceptible on the defensive side of the ball allowing 382 ypg. A favorable matchup against a Vanderbilt squad that will once again be without their starting QB is what Florida has on the docket this week in "The Swamp". A solid outing from the Gator defense should be in the offing.
---
CollegeFootballGeek.com's Sneaky Plays – Week 11
By Kevin Mount, CollegeFootballGeek.com
A very interesting Week Ten is in the books and it is now time to look ahead to the seventh week of the college football season and the "sneaky" plays it has in store for fantasy owners. Here is a look at some guys who might fill in nicely for owners in need of a potential diamond in the rough.

QUARTERBACKS
QB Brendon Kay, Cincinnati (vs. SMU):
Kay has topped the 300-yard mark in the last two games and could post a huge stat line this week versus SMU. The Mustangs have the eight worst pass defense in all of college football, allowing over 290 passing yards per game. Look for a ton of points in this game, with Kay passing the ball up and down the field. It would not be a big surprise to see Kay drop 350 yards and three or four scores on SMU in Week Eleven. He could be a great plug in for owners in need at the QB position.
QB Blake Bortles, Central Florida (vs. Houston):
Bortles has tossed six touchdowns in the past two games and could add a few more this week against Houston. The Cougars pass defense ranks 115th in the country and routinely gives up plenty of big plays to opposing quarterbacks. This could be a high scoring contest with Bortles having a hand in plenty of points and yards. Bortles looks to be a very nice option this week, especially in BCS only leagues. Expect Bortles to drop 300 total yards and a few scores on Saturday night.
RUNNING BACKS
RB Joey DeMartino, Utah State (vs. UNLV):
DeMartino has rushed for over 100 yards in each of the past two games and has scored 5 rushing touchdowns over the last 3 games. He could feast on an UNLV rush defense that is allowing 244 yards per game and is ranked 118th in the country. DeMartino could easily pile up 100 total yards and a score or two against the Rebels this week. This Aggie appears to be a very attractive option in most league formats this week.

RB Silas Redd & Javorius Allen, USC (vs. Cal):
Both Redd and Allen topped the 100-yard mark last week against Oregon State and could do so again in Week 11. The duo will likely see plenty of carries against a Cal defense that offers about as much resistance as a wet paper bag. There seems to be a good chance for both of these guys to find the end zone this week and either one could be a nice option in BCS only leagues this week.
RB Fitzgerald Toussaint, Michigan (vs. Nebraska):
Toussaint struggled last week against a stingy Michigan State defense, but could bounce back in a big way this week versus Nebraska. The Cornhuskers rush defense is simply not very good and could yield some big plays to Fitz in Week Eleven. The Wolverines could use Fitz as a battering ram to pound Nebraska into submission in the Big House. Look for this Wolverine to compile at least 100 yards on the ground and add a couple of scores against Nebraska this Saturday.
RB Malcolm Brown, Texas (vs. West Virginia):
Brown has scored six rushing touchdowns in last two games and also topped 100 yards rushing in two of his last three contests. He has never really lived up to the hype surrounding him out of high school, but appears to be on a hot streak currently. The West Virginia defense may be hard pressed to keep Brown out of the end zone this week. While there is risk with Brown, the six touchdowns in the last two games are just too hard to ignore. Look for Brown to continue his scoring ways this week and be a nice play in BCS only leagues.
WIDE RECEIVERS
WR Jamal Robinson, La Lafayette (vs. Troy):
Robinson has been fairly consistent this season, but has not scored a touchdown in the last three games. His scoreless streak could come to an end this week against Troy. The Trojans pass defense is putrid (122nd ranked) and may have trouble containing Robinson this week. Look for this Ragin Cajun to go over the century mark this week and likely add a score or two. Robinson could be a nice #3 WR in most league formats in Week Eleven.
WR Keenan Holman, SMU (vs. Cincinnati):
Holman is averaging 167 yards receiving and two scores over the past two games and has become an integral part of the pass heavy SMU offense. With defenses focusing on Jeremy Johnson and Darius Joseph, Holman has found plenty of open spaces to work in. Even though the Bearcats pass defense is ranked 7th in the nation, they have not faced a passing attack with the firepower that SMU brings to the table. Look for Holman to continue racking up the yards and scores this week. He could be an excellent option in all league formats in Week Eleven.
WR Shaq Washington, Cincinnati (vs. SMU):
Washington has recorded 11 receptions in three games this year and has become a favorite target of Brendon Kay. He could catch plenty of passes this week against an SMU pass defense that ranks 116th in the country this season. There could be a ton of yards and points in this game and Washington could have his hand in plenty of both. Washington holds particular value in PPR leagues and could be a nice option for owners in need of some catches and yards.
SNEAKY D'S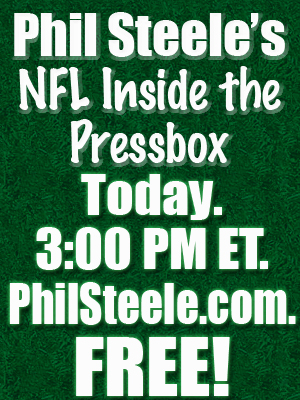 Bowling Green vs. Miami Ohio
Missouri vs. Kentucky
Iowa vs. Purdue
Georgia vs. Appalachian State
USC vs. Cal
Boston College vs. New Mexico State
Navy vs. Hawaii
Oklahoma State vs. Kansas
Memphis vs. UT Martin

There you have it everyone, enjoy this week's action and always remember to have fun playing college fantasy football. Good luck this week!

More…
For more college fantasy football information, visit CollegeFootballGeek.com:
• Start 'Em, Sit 'Em
• Injury Reports
• Player Rankings
• Player News
• Sneaky Plays of the Week
• Waiver Wire Reports

CollegeFootballGeek.com is your home for 2013 college fantasy football content! Draft kit, injury reports, player news, player projections, player rankings, mock drafts, community forums, and much more!
---
CollegeFootballGeek.COM's 2013 College Fantasy Football Player Rankings - Week 11
Todd DeVries, CollegeFootballGeek.com
QUARTERBACKS
RUNNING BACKS
WIDE RECEIVERS

Rank

Name
School

Rank

Name
School

Rank

Name
School

1

Johnny Manziel
TXAM

1

Antonio Andrews
WKU

1

Davante Adams
FRES

2

Cody Fajardo
NEV

2

Bishop Sankey
WASH

2

Willie Snead
BALL

3

Derek Carr
FRES

3

Andre Williams
BC

3

Chandler Jones
SJOS

4

Jameis Winston
FSU

4

Kapri Bibbs
CSU

4

Allen Robinson
PSU

5

Marcus Mariota
ORE

5

Tre Mason
AUB

5

Mike Evans
TXAM

6

Bryce Petty
BAY

6

Adam Muema
SDST

6

Antwan Goodley
BAY

7

Terrance Broadway
LALA

7

Ka'Deem Carey
ARIZ

7

Jared Abbrederis
WISC

8

Taylor Kelly
AZST

8

Lache Seastrunk
BAY

8

Justin Hardy
ECAR

9

Kolton Browning
LAMO

9

Kasey Carrier
NMEX

9

Tevin Reese
BAY

10

Brett Smith
WYOM

10

Storm Johnson
UCF

10

Jordan Williams
BALL

11

David Fales
SJOS

11

Todd Gurley
GEOR

11

Brandon Wimberly
NEV

12

Shane Carden
ECAR

12

Branden Oliver
BUFF

12

Devante Davis
UNLV

13

Brendon Kay
CIN

13

Desmond Roland
OKST

13

Tommy Shuler
MARS

14

Brett Hundley
UCLA

14

Melvin Gordon
WISC

14

Paul Richardson
COLO

15

Davis Webb
TTCH

15

Marion Grice
AZST

15

Rashad Greene
FSU

16

Rakeem Cato
MARS

16

Tevin Coleman
IND

16

Jamal Robinson
LALA

17

Keith Wenning
BALL

17

Byron Marshall
ORE

17

Eric Ward
TTCH

18

Devin Gardner
MICH

18

Kenneth Dixon
LTEC

18

Dominic Rufran
WYOM

19

B.J. Denker
ARIZ

19

Bill Belton
PSU

19

Austin Franklin
NMST

20

Garrett Gilbert
SMU

20

James White
WISC

20

Jeremy Johnson
SMU

21

Teddy Bridgewater
LOUI

21

Ameer Abdullah
NEB

21

Bralon Addison
ORE

22

Clint Chelf
OKST

22

Tyler Gaffney
STAN

22

Deontay Greenberry
HOU

23

Nick Marshall
AUB

23

Devonta Freeman
FSU

23

Tyler Winston
SJOS

24

Dak Prescott
MSST

24

Travis Greene
BG

24

Jamison Crowder
DUKE

25

Keenan Reynolds
NAVY

25

T.J. Yeldon
ALAB

25

Marqise Lee
USC

26

Aaron Murray
GEOR

26

Fitzgerald Toussaint
MICH

26

Sammie Coates
AUB

27

James Franklin
MIZZ

27

Trey Watts
TULS

27

Corey Davis
WMIC

28

Blake Bortles
UCF

28

Silas Redd
USC

28

Alex Neutz
BUFF

29

John O'Korn
HOU

29

Dallas Crawford
MIAF

29

Jordan Matthews
VAND

30

Bo Wallace
MISS

30

Alonzo Harris
LALA

30

Nelson Agholor
USC

31

Blake Bell
OKLA

31

Jahwan Edwards
BALL

31

Josh Harper
FRES

32

Keith Price
WASH

32

Joey DeMartino
UTST

32

Jaelen Strong
AZST

33

Christian Hackenberg
PSU

33

Josh Quezada
FRES

33

Ty Montgomery
STAN

34

Tyler Tettleton
OHIO

34

Kendall Brock
NEV

34

Donte Foster
OHIO

35

Corey Robinson
TROY

35

David Oku
ARKS

35

Rashard Higgins
CSU

36

Travis Wilson
UTAH

36

Bronson Hill
EMIC

36

Brelan Chancellor
NTEX

37

Nathan Scheelhaase
ILLI

37

Donnel Pumphrey
SDST

37

Jarvis Landry
LSU

38

Zach Terrell
WMIC

38

Shaun Wick
WYOM

38

Darius Joseph
SMU

39

Taysom Hill
BYU

39

Vintavious Cooper
ECAR

39

Odell Beckham Jr
LSU

40

Nate Sudfeld
IND

40

De'Anthony Thomas
ORE

40

Alex Amidon
BC

41

Anthony Boone
DUKE

41

Saylor Lavallii
CMIC

41

Eric Thomas
TROY

42

Cody Kessler
USC

42

Glasco Martin
BAY

42

Cody Latimer
IND

43

Tommy Armstrong
NEB

43

Kevin Parks
VIRG

43

Titus Davis
CMIC

44

Brandon Mitchell
NCST

44

Kenneth Farrow
HOU

44

Jaydon Mickens
WASH

45

Casey Pachall
TCU

45

Alex Collins
ARK

45

Jordan Leslie
UTEP

46

Cole Gautsche
NMEX

46

Jordon James
UCLA

46

L'Damian Washington
MIZZ

47

Caleb Herring
UNLV

47

Kelvin Taylor
FLOR

47

Josh Huff
ORE

48

Kevin Hogan
STAN

48

Ryan Jackson
HOU

48

Tyler Boyd
PITT

49

Zach Mettenberger
LSU

49

Marteze Waller
FRES

49

Chris Harper
CAL

50

Jared Goff
CAL

50

Imani Cross
NEB

50

Cody Hoffman
BYU
TIGHT ENDS
KICKERS
DEFENSES

Rank

Name
School

Rank

Name
School

Rank

Team

1

Jace Amaro
TTCH

1

Roberto Aguayo
FSU

1

Florida State Seminoles

2

Austin Seferian-Jenkins
WASH

2

Zane Gonzalez
AZST

2

Georgia Bulldogs

3

Devin Funchess
MICH

3

Josh Lambo
TXAM

3

Florida Gators

4

Troy Niklas
ND

4

John Wallace
LOUI

4

Alabama Crimson Tide

5

Eric Ebron
UNC

5

Ben Grogan
OKST

5

TCU Horned Frogs

6

Tyreese Russell
EMIC

6

Ryan Bustin
TTCH

6

Missouri Tigers

7

Gator Hoskins
MARS

7

Ka'imi Fairbairn
UCLA

7

Louisville Cardinals

8

Nick O'Leary
FSU

8

Justin Haig
MARS

8

Texas Longhorns

9

Kivon Cartwright
CSU

9

Andre Heidari
USC

9

Notre Dame Fighting Irish

10

Gerald Christian
LOUI

10

Marshall Morgan
GEOR

10

Auburn Tigers

11

Richard Rodgers
CAL

11

Mike Meyer
IOWA

11

Iowa Hawkeyes

12

Jacob Pedersen
WISC

12

Jaden Oberkrom
TCU

12

UCF Knights

13

Ted Bolser
IND

13

Tony Miliano
CIN

13

Washington Huskies

14

John Mundt
ORE

14

Aaron Jones
BAY

14

Miami Hurricanes

15

Jimmay Mundine
KAN

15

Cody Parkey
AUB

15

LSU Tigers

16

Billy Freeman
SJOS

16

Nate Freese
BC

16

Oregon Ducks

17

Isaac Blakeney
DUKE

17

Sam Ficken
PSU

17

Virginia Tech Hokies

18

E.J. Bibbs
IWST

18

Michael Hunnicutt
OKLA

18

Penn State Nittany Lions

19

Christopher Coyle
AZST

19

Kyle Brindza
ND

19

Arizona State Sun Devils

20

Arthur Lynch
GEOR

20

Colin McGuire
FRES

20

UCLA Bruins
For complete up-to-date college fantasy football player rankings and statistical projections, visit CollegeFootballGeek.com
Scoring System Used for CFG Rankings:
4 points per passing touchdown
6 points per rushing/receiving touchdown
25 passing yards = 1 point
10 rushing/receiving yards = 1 point
1 interception = -2 points
1 reception = 0.5 points
Follow Phil Steele anywhere!

•

•

•
•

•

•

•

•
Phil Steele is a college football analyst who has been publishing his annual College Football Preview since 1995. His magazine is regarded as one of the best in the business.
Google+