By Phil Steele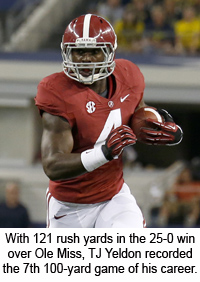 All week long we heard about how Alabama's defense was susceptible to a mobile QB and Ole Miss' Bo Wallace talked about how he was confident they would score points vs Bama. Alabama finished with 434-205 yard and 21-11 FD edges becoming the first #1 ranked team to shutout a ranked team since 2001. Bama's offense did struggle in the 1H as they settled for 3 FG's and led 9-0 with a 171-118 yard edge. They did get a 68 yard td run by TJ Yeldon on the second play of the 3Q. Three times the Rebels went for it on 4th down and were SOD. The first came on their opening drive at the UA28, the 2nd on 4&2 at the UA8 with 3:30 left in the 3Q, and the 3rd (after an interception, started at the UA31) when they were SOD at the 18 with 12:30 left in the game. Bama added a safety with 5:43 left and a 50 yard Kenyan Drake td run one play after the free kick for the 25-0 lead. Bama was SOD at the UM9 with 2:48 left and took a knee at the UM28 to end. AJ McCarron hit 25-32 but for just 180 yards while Bo Wallace hit 17-31-159 and rushed 12 times for a net of 5 yards.
Tough loss for Florida Atlantic as they led Rice for the majority of the game and FAU was up late in the 4Q. FAU finished with a 366-273 yard edge. The FAU td in the 1H came on a pass to William Dukes who fumbled but picked it back up and continued on a 42 yard jaunt for the 7-3 lead and it was 7-6 at the half. FAU had a 172-160 yard edge at half. FAU missed a 42 yard FG on its opening 3Q drive. There were 5 punts. FAU was SOD at the R13 with 11:42 left but drove 80/5pl with a 54 yard run by Jonathan Wallace the key. A 15 yard td pass with 6:07 left put FAU up by 8. FAU had the ball but Greg Hankerson was sacked and fumbled and it was returned 7 yards for a td. FAU stopped the 2 point attempt and still led 14-12 with 4:17 left but then Hankerson was intercepted on the next play and Rice went 41/4pl capped by a 20 yard td run by Darik Dillard to take the lead 18-14 with 3:35 left. Hankerson's 4&9 pass was intercepted.
Tulane upset ULM 31-14 with 17-15 FD and 318-293 yard edges. It was their 2nd road upset already this year after having knocked off Louisiana Tech in a Thursday night game. ULM was SOD at the TU18 and missed a 32 yard FG and TU led 10-0 at the half with ULM having a 145-139 yard edge. Orleans Darkwa continues to round into form and had a 54 yard run to open the 3Q and his 1 yard td run made it 17-0. Darkwa had 17 rushes for 118 yards. Nick Montana struggled hitting just 7-20-65 but TU's D held the explosive Kolton Browning (later hurt in game and now out for the year) to 12-27-134 passing and 9 carries for 1 yard rush. Browning was sacked and fumbled and TU returned it 33 yards for a td and a 24-0 lead. ULM fumbled the punt at its own 26 and TU got a 26 yard td pass 2pl later to lead 31-7 after 3Q's. ULM went 88/9pl for a td with 7:45 left to "only" lose by 17.
Ohio St's Braxton Miller looked great on his return, throwing darts for most of the night. He hit 17-25-198 and ran for 22-83, not showing any rust. Wisconsin's Joel Stave was a solid 20-35-295 and Jared Abbrederis looked like one of the best receivers in the country with 207 yards on 10 receptions. Ohio St is always tough at home at night. The Buckeyes led 17-7 when UW got a td with 1:30 left in the half to make it 17-14. OSU got 2 FD's then Miller was almost intercepted on 3&7 with :16 left. He had time for 1 more play and fired a dart 40 yards into the endzone for a td to Philly Brown, a beautiful catch with :01 left to give them a 24-14 lead. As I mentioned in a tweet, the last 3 times UW had travelled to OSU, the Buckeyes' D had held them to 73 yards rushing. This time had just 104 yards rushing. Melvin Gordon was a respectable 15-74. OSU led 31-14 when the Badgers got a td with 13:47 left. UW punted with 6:42 left and OSU came up a yard short and punted with 4:38 left. UW went 60/11pl getting a 42 yard FG to pull within 31-24. OSU punted again with 1:29 left but UW, on 4&4 from its own 16, fired incomplete. OSU took a knee.
Kent St got Dri Archer back in the lineup and while he had just 6 carries for 73 yards and 4 receptions for 48 yards, Trayion Durham rushed for 154 yards on 26 carries. Kent St would finish with a 26-13 FD edge on the road vs winless Western Mich and a 452-310 yard edge. The game was tied 7-7 when Kent St got a 31 yard td pass with 4:54 left in the half to go up 15-7. They had a 205-111 yard edge at the half. They were intercepted from the 43 at the WM2 with 1:06 left in the half. WMU opened the 3Q with an 88/6pl drive and on 3&gl got a 12 yard td pass to pull within 15-14. Kent St went 51/12pl for a td and 2 possessions later, went 76/11pl for a 7 yard td pass, 29-14. WMU was intercepted late in the 3Q at the KS7, then intercepted at the KS8 with 2:12 left and Kent St got a 65 yard run by Durham setting up a 40 yard FG with 1:29 left to complete their 18 point win.
Vanderbilt's Austyn Carta-Samuels hit 23-29-334 yards while UAB QB's Austin Brown hit 10-20-51 and Jonathan Perry hit 9-16-155. Jonathan Krause continues to emerge as the #2 receiver for VU after Chris Boyd was booted off the team. He had 108 yards on 4 receptions. Trailing 10-3, UAB had a 1&gl at the 5 but would settle for a FG to make it 10-6. On its next offensive play VU got a 58 yard td run by Jerron Seymour with 9:04 left in the 2Q then after UAB was intercepted with 2:18 left, VU went 68/9pl for a td on a 1 yard run with :05 left in the half. VU only had a 280-205 yard edge at the half but led 24-6. UAB settled for a 37 yard FG then VU went 83/12pl, and 69/3pl for td's to go up 38-9. UAB drove 75/5pl to pull within 21 then recovered an onside kick but was SOD on 4&10 at the VU37. VU went 63/5pl then 29/5pl (after int) for td's in their 52-24 win.
Air Force QB Jaleel Awini was dismissed from the team and they had already lost Kale Pearson to injury prior to the year. That meant 3rd string QB Karson Roberts came in and while he hit just 5-10-55, he rushed for 161 yards on 26 carries and nearly guided an upset. Nevada's QB Cody Fajardo returned to the lineup and hit 38-54 for a career high 389 yards. AF appeared to have the game won. The Falcons, trailing 7-0, went 80/5pl, 22/4pl (after an interception) and 75/4pl for td's to lead 21-10 and it was 21-17 at the half although UN did have a 335-198 yard edge. The first 6 possessions of the 2H all resulted in scores and AF's td with 7:44 left put them up 42-30. UN got a td with just 5:56 left then forced a punt with 3:50 left and would drive 50/9pl and got a 2 yard td run to take the lead with 1:45 left. AF got to the UN33 but was intercepted at the 26 with :48 left on 3&3.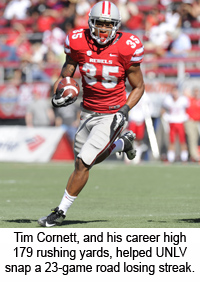 UNLV had lost 23 straight games on the road but managed to get a win despite falling behind 14-0 after New Mexico's first 2 drives. At the half the game was tied at 35 with NM having a 441-308 yard edge. Tied at 42, NM punted with 12:35 left and UNLV went 80/15pl getting a td with 4:46 left for the lead. After forcing another punt they got a 75 yard td run by Tim Cornett for their largest lead of the game, 56-42 and NM was SOD at its own 26 on its last drive. NM had a 581-568 yard edge.
Missouri's 41-19 win over Arkansas St was not as easy as the final score. ASt did drive 46/9pl and 76/10pl but settled for 46 and 21 yard FG's. MU missed a 24 yard FG in between those 2 drives and trailed 6-0. MU then went 75/5pl and 80/3 for td's to take control 14-6 but the Red Wolves started at their 44 with 10:53 left in the 1H and converted on 3&12 then on 3&15 got a 17 yard td pass to cap a 56/11pl drive to pull within 14-13. At the half ASt had a 285-231 yard edge. The Wolves opened the 3Q with a 48/9pl drive for a 44 yard FG and a stunning 16-14 lead. MU punted on its next drive but then went 94/9pl and 87/9pl for td's, 27-16. ASt went 59/14pl but settled for a 33 yard FG, 27-19 with 7:31 left. MU went 67/6pl for a td with 5:06 left then got an interception at the AS21 and went 21/3pl for a 5 yard td pass with 2:56 left to win by over 3 td's. After ASt was sacked on 4&6 at its own 22, MU ended the game at the AS8 taking a knee.
Texas St was a large dog as Wyoming came in #8 in the country on offense averaging over 556 ypg and their QB Brett Smith alone averaging 403 ypg. The game was tied at 7 when it went into a 3 hour weather delay in the 2Q. UW did go 54/3pl one drive after they returned and led 14-7 with 3:47 left in the half. After each team punted, TXSt took over with 1:23 left in the half at its 49 and got a 25 yard pass and a 26 yard td pass, 14-14 to take momentum into a shortened halftime (just 8:00). UW was intercepted on the first drive of the 3Q and TXSt went 49/8pl and 80/7pl for td's and a 28-14 lead. UW was SOD on 4&2 at the TS35 and TXSt went 65/4pl for a td with the first play being a 49 yard pass to the 16, 35-14. UW went 75/8pl for a td with 11:07 left but then was SOD on 4&10 at its own 18. TXSt missed a 27 yard FG. UW was SOD on 4&16 at its own 28 and TXSt got a 4&1, 19 yard td run with :03 left.
I thought Fresno St would suffer a letdown after its big win over Boise St and to be honest, I didn't stay up and watch the game at 3:00 am, instead opting to go to bed at 1:00 am (I wake up at 5:00 am). I saw the final score but not until going through the play-by-play did I realize how this game played out. Fresno actually dominated Hawaii. At the half the Bulldogs led 21-3 with a 211-115 yard edge then went 75/9pl and 68/10pl for td's and added a 56 yard IR td to make it 42-3 with 6:15 left in the 3Q. Hawaii QB Ikaika Woolsey hit just 7-19-56 and they replaced him with Sean Schroeder. Schroeder in the final 1.5Q's of the game would hit 17-27-321. Schroeder's first play was a 60 yard pass as UH went 63/2pl for a td. Fresno was intercepted and UH drove 43/2pl for a td. The Bulldogs fumbled and UH drove 58/4pl for a td, 42-24 (14:16). Fresno was intercepted and fumbled on its next 2 drives. After punting, UH went 43/2pl for a td to pull within 42-30 with 11:59 left. The Bulldogs punted and the Rainbow Warriors went 80/9pl for a td with 7:51 left. Fresno punted with 3:41 left and UH opted to punt with 3:01 left on 4&4 from its own 13. Fresno punted back with 1:57 left and UH got to the FS40 when on 2&10 with :06 left, Schroeder's Hail Mary was intercepted at the 3.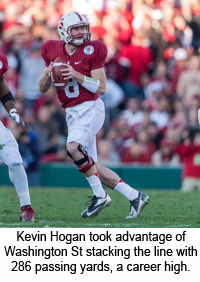 Washington St stacked the line so Kevin Hogan took advantage hitting 16-25-286. Stanford also had 2 IR td's in a game played in rain. SU had a 560-373 yard edge and WSt a 22-20 FD edge. WSt QB Connor Halliday was injured in the 3Q and Austin Apodaca hit 15-29-138 in his place. After each team had opened with a long drive for a FG, SU hit a 3&9, 57 yard pass to take a 10-3 lead. SU went 48/4pl for a td, 17-3 then went 74/17pl but on 2&9 from the 15 was intercepted in the endzone. Washington St went 52/5pl and missed a 45 yard FG. At the half SU had a 311-165 yard edge. In the 2H the Cougars went for it on 4&3 at their own 39 and were SOD, and gave up two 30 yard IR td's to trail 38-3. Trailing 55-10 with 4:29 left, Washington St and drove 77/11pl for a garbage td with :27 left.
Donnel Pumphrey rushed for 167 yards and 3 td's for San Diego St as they rallied back vs winless New Mexico St. The Aztecs had also entered the game winless. NMSt took its opening drive 68/10pl for a td and its 2nd drive 69/9pl but settled for a 28 yard FG and led 10-0. NMSt, after recovering a fumble, went 30/2pl for a td but instead of going up 17-0, the xp was blocked and returned for 2 to make it 16-2. SDSt finally got its offense going. They had gone 3&out on their first three possessions and fumbled on the fourth but now went 68/12pl settling for a 25 yard FG. They then went 71/11pl but on 4&gl from the 3 gained 2 yards. SDSt had a 40 yard FG blocked and trailed 16-5 at the half with NMSt having a 184-173 yard edge. NMSt tried a fake punt to open the 3Q and SDSt stuffed it and went 69/14pl for a td to get back to 16-11 (2 point no good). They went 60/8pl for a 2 yard td and the lead, 19-16 then went 73/9pl but on 4&5 were SOD at the 6 with 8:59 left. NMSt punted on its next 2 possessions and the Aztecs went 55/4pl getting a Pumphrey 43 yard td run with 2:51 left to finally gain some breathing room and won 26-16 with a 441-268 yard edge on the road.
Texas A&M and Arkansas both played in the SWC but it was the Aggies' first trip to Fayetteville since 1990. A&M only had a 26-23 FD edge and 523-483 yard edge as Brandon Allen returned to the lineup for UA and hit 17-36-282. A&M only led 24-20 at the half with only a 316-271 yard edge. A&M got a 34 yard IR td to open the 3Q but UA drove 75/4pl for a td to get back within 4. They exchanged td's at the end of the 3Q to make it 38-33. A&M punted on its next possession but then went 57/7pl for a 1 yard td run with 10:08 left, 45-33. UA went 67/10pl but was SOD on 4&10 at the A&M16. UA's last drive ended on an interception at its 45 and A&M got 1 FD to the 29 and took a knee.
Southern Miss dropped its 16th straight game as Boise St was off a loss and just 2-2 on the season. The Golden Eagles made a game of it early as on their first drive they lined up for a 47 yard FG but it was blocked.. They got a 5 yard td pass with 12:25 left in the 2Q and only trailed 10-7. Down 17-7, a 38 yard FG was blocked and Boise St returned it 40 yards. The Broncos went 27/4pl for a td then forced a punt and went 80/6pl for a td to blow it open 30-7. They had a 318-216 yard edge at the half. Boise went 71/9pl for a td, 48/11pl for a 26 yard FG, 32/4pl for a td (after a 39 yard PR), and 40/8pl for a td on its first 4 possessions of the 2H to make it 54-7. SM fumbled a punt at its own 37 and the Broncos went 37/5pl for a td and it ended up 60-7. Boise finished with a commanding 545-266 yard edge.
California/Oregon was played in heavy rain and it was surprising that Oregon was held to just 381 yards of offense. The big news was De'Anthony Thomas getting injured so Byron Marshall rushed 19-130 and Thomas Tyner 13-94. While UO had just a 21-20 FD edge and 381-325 yard edge, the game was all Ducks. Cal kept turning it over in its own territory giving UO short fields so they didn't have to gain a lot of yards. They went 58/6pl for a td, were SOD at the Cal23, after a fumble went 32/5pl for a td, and after a fumble 22/4pl for a 4&2 td pass, 20-0 (7:16 1Q). After a personal foul on the PR, they started at the Cal38 and 4pl later had another td, 27-0. The Bears went 67/8pl but on 2&6 from the 15 was intercepted in the endzone and then were SOD at the UO30 on the next drive. UO went 70/8pl for a td and 2 possessions later got a 75 yard PR td by Bralon Addison to blow it open 41-0. At the half they led 41-3 with a 291-175 yard edge. They opened the 3Q with an Addison 67 yard PR td and led 55-10 when Cal took over with 7:08 left and backup QB Zach Kline who came in with 2:01 left in the 1Q and played the rest of the game. They got a 7 yard garbage td pass with 3:02 left for the 55-16 final and to make the yards closer.
Six hours after the USC/Arizona St game was over the Trojans fired HC Lane Kiffin and Ed Orgeron will take over as the head man. He, of course, has HC experience with Ole Miss. Things did not look bad for USC. They took their opening drive of the 3Q 75/3pl and got a 24 yard td run to make it 21-20. The Sun Devils got a 74 yard td pass to retake the lead then a 46 yard IR td. After a USC punt, Arizona St went 55/6pl for a td and led 41-21. Making matters worse late in the game, Marqise Lee was injured on a PR with the Trojans down big. It was 48-34 when ASt went 65/5pl for a td then after USC went 3&out, ASt went 62/4pl for a 62-34 lead. USC got a 58 yard td run by Justin Davis with 2:24 left but ASt got 1 FD and ran the clock. Arizona St only had a 25-22 FD edge and a 612-542 yard edge but a 4-1 TO edge.
Follow Phil Steele anywhere!

•

•

•
•

•

•

•

•
Phil Steele is a college football analyst who has been publishing his annual College Football Preview since 1995. His magazine is regarded as one of the best in the business.
Google+