| | |
| --- | --- |
| Daily Blog • October 10th | |
By Phil Steele
My QB's of the Week
Bo Wallace, Ole Miss • Derek Thompson, North Texas • Adam Kennedy, Arkansas St
QB Bo Wallace (Ole Miss) – After consecutive losses the Rebels need to get back on their feet this week vs Texas A&M. Their best opportunity for a win here would be by riding their dual-threat QB Bo Wallace who is off a 336 yd passing game last week against Auburn. Wallace can also be a ground threat with 3 rushing td's on the year with double-digit carries in 4 of Ole Miss' 5 games. The Aggies have a suspect defense to say the least allowing 483 ypg on the road this season so we like Wallace's chances.
QB Derek Thompson (North Texas) – The Middle Tenn secondary has been vulnerable to the pass so far this season allowing 300+ yds in 3 contests this season. Toss in a QB in Derek Thompson who just passed for his 2nd 300 yd game of the season last week vs Tulane and you have an excellent Surprise Fantasy QB this week. Over the past 3 games Thompson has attempted 42 passes per game and we expect more of the same.
QB Adam Kennedy (Arkansas St) – While Adam Kennedy has just a 3-2 ratio on the season, we like his chances here against an Idaho defense that has allowed 537 ypg this season including an amazing 734 yds in their 61-14 loss to Fresno St. Kennedy meanwhile has completed at least 20 passes in each of his L/4 games (37-46-318 in their last game vs Mizzou) while also showing his dual-threat ability with double-digit carries in 3 of the L/4. Look for Kennedy to surpass the 300-yard pass mark here and quite possibly throw for as many td's vs the Vandals as he has thrown for the full season.
My RB's of the Week
Cameron Stingily, northern illinois • Jahwan Edwards, ball St • Johnathan gray, texas
RB Cameron Stingily (Northern Illinois) – The Huskies have won 16 consecutive regular season games and while QB Jordan Lynch gets a good amount of the offensive credit, Cameron Stingily deserves some recognition this season as he has rushed for 576 yds on just 98 carries. Last weekend was his breakout performance however as he carried the ball 37 times for 266 yds and 2 td's in their win over Kent St. NIU now hosts an Akron squad who come in losers of 27 straight games vs FBS opponents including last week's 43-3 loss at the hands of Ohio. While Stingily likely won't match last week's numbers, we do feel that he is a solid choice this weekend.
RB Jahwan Edwards (Ball St) – A nation-best 10 rushing td's in just 4 games is what Jahwan Edwards has been able to do for the Cardinals including rushing for 3 scores in the L/3 games since returning from injury. Ball St now hosts a Kent St squad that we could run against as they have been gashed for 242 ypg on the round this year including a massive 454 yds last week in their loss to Northern Illinois. With 3 other players just 1 td behind Edwards nationally, we expect him to stay on top of the leader board here and get a good amount of redzone touches against the Flashes.
RB Johnathan Gray (Texas) – With continued health concerns at the Longhorn QB position, Johnathan Gray may continue to see significant touches. Texas will need to establish an early run game against their rival Oklahoma here and assuming Gray gets his share of carries (avg 21 L/3 gms), he should deliver a solid fantasy showing here.
My WR's of the Week
Jaelen Strong, Arizona St • Eric Thomas, Troy • Tyler Lockett, Kansas St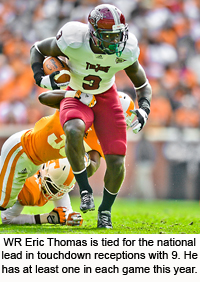 WR Jaelen Strong (Arizona St) – Nobody really knew the name of JUCO transfer Jaelen Strong entering the season but after pulling in more than 100 yards in each of his L/4 games, he's beginning to be noticed. Strong is in the Top 15 nationally in receptions and now gets to face off against one of the weaker pass defenses in the P12 in Colorado who has allowed 826 pass yds this season against their 2 conference foes. We look for Strong to have another big outing in the desert against a struggling Buffaloes defense.
WR Eric Thomas (Troy) – Despite just 31 receptions on the season, Eric Thomas is actually tied for the overall national lead for td catches with 9. In fact, he has caught at least one in all 6 games this season including a 129 yard, 2 td performance a week ago against South Alabama. The Troy Trojans now play a Georgia St squad that has been victimized for 322 ypg passing over their past 3 contests. We like Thomas' chances of pulling in a td for the 7th straight week.
WR Tyler Lockett (Kansas St) – We decided to go with all-purpose threat Tyler Lockett who has 475 yds receiving and is as dangerous as any return-man in the entire country with 4 career KR td's. With the Wildcats facing the high-scoring Baylor Bears this week, Lockett should get plenty of return chances to go along with numerous chances on the offensive side of the ball.
My DEFENSES of the Week
Maryland • Ohio • UMass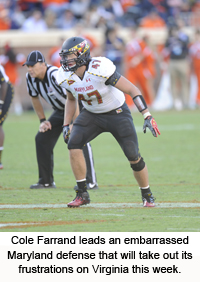 Maryland Defense – In last weekend's embarrassing 63-0 loss to Florida St the Terps allowed 614 yds. That was 348 more ypg than they were allowing heading in! A matchup with a Virginia squad who is fresh off a home loss to Ball St could be just what the doctor ordered for Maryland here. The Cavaliers are averaging a miniscule 11 ppg and 236 ypg vs BCS opponents which doesn't bode well against an angry bunch of Terps.
Ohio Defense – Ohio has allowed less than 300 yds in 3 of their L/4 contests while holding their L/2 opponents to a total of just 3 points! Next on the docket is a Central Mich squad that is averaging just 285 ypg on the road this year. The Chips are also on the road for a 3rd consecutive game, making us feel very comfortable with this selection.
UMass Defense – The UMass defense isn't exactly a defense that you would think of here but we've had so much success going against Miami's offense during 2013 in this blog so we figured why not. While the Minutemen have allowed 460 ypg at home this year, the Redhawks are averaging just 9 ppg and 198 ypg. A happy medium here would be fine with us and deliver yet another winning defensive unit for all of you!
---
A very interesting Week Six is in the books and it is now time to look ahead to the seventh week of the college football season and the "sneaky" plays it has in store for fantasy owners. Here is a look at some guys who might fill in nicely for owners in need of a potential diamond in the rough.
QUARTERBACKS
QB Daniel Sams, Kansas State (vs. Baylor): Sams played most of the games last week against Oklahoma State and appears to have assumed control of the starting job with his performance. He accounted for 299 total yards and three scores and showed the play making ability that he possesses. He is an outstanding athlete with great rushing ability and could be a nice play this week against Baylor. Kansas State will likely need a bunch of big plays from Sams to keep the game close with the potent Baylor offense. A day of over 300 total yards and three total scores appears to be well within reach for Sams in Week Seven.
QB Jaquez Johnson, Florida Atlantic (vs. Marshall): Johnson has been putting up solid numbers recently and should be considered as an option this week against Marshall. This kid is a true dual-threat quarterback and could cause some problems for the Marshall defense in Week Seven. If FAU can keep the game close, Johnson could post a nice stat line. It would not be a huge surprise to see Johnson pile up over 300 total yards and few scores against the Thundering Herd on Saturday.
QB Brayle Brown, La Monroe (vs. Texas State): Brown has not set the fantasy world on fire since taking over for injured starter Kolton Browning two weeks ago, but this week could change that trend. He will be facing the worst pass defense in all of college football in Texas State. The Bobcats are allowing a whopping 329 passing yards per game and could be just what Brown needs to jump start his season. There is a risk with starting Brown this week, but the reward could be very high. It would not come as a shock to see Brown throw for over 300 yards and toss a couple of scores this week.

RUNNING BACKS
RB Venric Mark, Northwestern (vs. Wisconsin): Mark has battled injuries all year long and finally looked healthy last week against Ohio State. He put up 103 total yards and led the Wildcats with 17 carries. It appears he is ready to lead the Northwestern backfield once again and just in time for a BIG 10 showdown with Wisconsin. Mark could be called on early and often this week and could reward fantasy owners who stuck with him through his early season struggles. It would be reasonable to expect something in the neighborhood of 100 total yards and a score from Mark in Week Seven.
RB Cameron Stingily, Northern Illinois (vs. Akron): Stingily exploded for 266 yards rushing and two scores last week against Kent State. He will be facing an Akron defense that is simply not very good and could easily get pushed around by the Northern Illinois rushing attack. Stingily seems like a good bet for at least 100 yards rushing and one or two trips to the end zone against the Zips. This Huskie could be an excellent #2 RB option for owners in most league formats.
NOTE: Stingily was arrested on Sunday for failing to appear in court for a traffic ticket. He is expected to play on Saturday.
RB Paul Perkins, UCLA (vs. Cal): Perkins stepped in last week after Jordan James went down to an injury and acquitted himself very well. He tallied 141 total yards and showed good potential. This week he faces a Cal defense that has been horrific against the run in 2013, allowing almost 220 yard per game. There could be plenty of offensive fireworks in this contest and Perkins could be a big part of the action. Perkins has a ton of upside this week and could be the hidden gem that some fantasy owners may be looking to find.

WIDE RECEIVERS
WR Jordan Williams, Ball State (vs. Kent State): While teammate Willie Snead gets all the fantasy love, Williams is quietly putting together quite a season. He is averaging 118 yards per game and a score over his past three contests. The Kent State defense may really struggle to stop the Ball State offense this week and Williams could find plenty of open spaces to do damage. Look for another solid effort from Williams in Week Seven.
WR Chris Conley, Georgia (vs. Missouri): The Georgia wide receiver position is a mash unit with Michael Bennett and Justin-Scott Wesley lost to injury last week against Tennessee. Conley was already the Bulldogs leading wide out and should see even more targets with all of the injuries. He will be facing a Missouri pass defense that ranks 113th in the country, allowing 299 yards per game. Look for Conley to have a busy afternoon and reward fantasy owners for doing their research. Conley could easily top the 100-yard mark this week.
WR Bralon Addison, Oregon (vs. Washington): This dynamic playmaker has become a favorite target of Marcus Mariota and is coming off a 158 yard and two score performance against Colorado. He has also scored two punt return touchdowns on the year, which only adds to his value. The Ducks passing game has not been held in check by any opposing defense in 2013 and this week should be no different. Look for Addison to see plenty of passes coming his way against Washington. Addison could make for a nice #2 WR option in BCS only leagues this week.
WR Jameon Lewis, Mississippi State (vs. Bowling Green): Lewis is a big play waiting to happen and has become the Bulldogs best offensive weapon. He is averaging 90 yards receiving over the last three games and has scored four touchdowns over the period (two rushing). Lewis will likely be called on often this week against a sneaky good Bowling Green squad. This game could be close throughout and Lewis could be used all over the field. This Bulldog has a high ceiling this week, especially in BCS only leagues.

SNEAKY D'S

Nebraska vs. Purdue
TCU vs. Kansas
Auburn vs. Western Carolina
Ohio vs. Central Michigan
Troy vs. Georgia State
Northern Illinois vs. Akron
Arizona State vs. Colorado
There you have it everyone, enjoy this week's action and always remember to have fun playing college fantasy football. Good luck this week!

More…
For more college fantasy football information, visit CollegeFootballGeek.com:
• Start 'Em, Sit 'Em
• Injury Reports
• Player Rankings
• Player News
• Sneaky Plays of the Week
• Waiver Wire Reports

CollegeFootballGeek.com is your home for 2013 college fantasy football content! Draft kit, injury reports, player news, player projections, player rankings, mock drafts, community forums, and much more!
CollegeFootballGeek.com's 2013 College Fantasy Player Rankings - Week 7
Todd DeVries, CollegeFootballGeek.com
QUARTERBACKS
RUNNING BACKS
WIDE RECEIVERS
Rank
Name
School
Rank
Name
School
Rank
Name
School
1
Jordan Lynch
NIU
1
Lache Seastrunk
BAY
1
Brandin Cooks
ORST
2
Johnny Manziel
TXAM
2
Marion Grice
AZST
2
Mike Evans
TXAM
3
Tajh Boyd
CLEM
3
Branden Oliver
BUFF
3
Deontay Greenberry
HOU
4
Marcus Mariota
ORE
4
Jahwan Edwards
BALL
4
Titus Davis
CMIC
5
Teddy Bridgewater
LOUI
5
Kasey Carrier
NMEX
5
Sammy Watkins
CLEM
6
Bryce Petty
BAY
6
Ka'Deem Carey
ARIZ
6
Paul Richardson
COLO
7
Taylor Kelly
AZST
7
Melvin Gordon
WISC
7
Antwan Goodley
BAY
8
Brett Hundley
UCLA
8
Mike Davis
SCAR
8
Willie Snead
BALL
9
Brett Smith
WYOM
9
Adam Muema
SDST
9
Justin Hardy
ECAR
10
Keenan Reynolds
NAVY
10
Ameer Abdullah
NEB
10
Jared Abbrederis
WISC
11
James Franklin
MIZZ
11
Bishop Sankey
WASH
11
Tevin Reese
BAY
12
Shane Carden
ECAR
12
De'Anthony Thomas
ORE
12
Chandler Jones
SJOS
13
Aaron Murray
GEOR
13
Trey Watts
TULS
13
Allen Robinson
PSU
14
Sean Mannion
ORST
14
David Oku
ARKS
14
Jaelen Strong
AZST
15
Taysom Hill
BYU
15
Darrin Reaves
UAB
15
Tommy Shuler
MARS
16
Logan Thomas
VTEC
16
Cameron Stingily
NIU
16
Alex Neutz
BUFF
17
Devin Gardner
MICH
17
T.J. Yeldon
ALAB
17
Jamison Crowder
DUKE
18
Keith Wenning
BALL
18
Tre Mason
AUB
18
Jordan Williams
BALL
19
Rakeem Cato
MARS
19
Tre Madden
USC
19
DeVante Parker
LOUI
20
David Fales
SJOS
20
Tyler Gaffney
STAN
20
Chris Harper
CAL
21
Bo Wallace
MISS
21
Trayion Durham
KENS
21
Devante Davis
UNLV
22
Brandon Connette
DUKE
22
Fitzgerald Toussaint
MICH
22
Alex Amidon
BC
23
John O'Korn
HOU
23
Jonathan Williams
ARK
23
Jarvis Landry
LSU
24
Blake Bell
OKLA
24
Andre Williams
BC
24
Eric Ward
TTCH
25
Connor Wood
COLO
25
James White
WISC
25
Jeremy Gallon
MICH
26
Connor Halliday
WAZZ
26
Jeremy Hill
LSU
26
Odell Beckham Jr
LSU
27
Jared Goff
CAL
27
Travis Greene
BG
27
Dorial Green-Beckham
MIZZ
28
Jameill Showers
UTEP
28
Charles Ross
RICE
28
Dres Anderson
UTAH
29
Cole Gautsche
NMEX
29
Alex Collins
ARK
29
Stefon Diggs
MARY
30
Travis Wilson
UTAH
30
Tim Cornett
UNLV
30
Tyler Boyd
PITT
31
Gary Nova
RUTG
31
Jay Ajayi
BOIS
31
Donte Moncrief
MISS
32
Dak Prescott
MSST
32
Jeff Scott
MISS
32
Jordan Leslie
UTEP
33
Keith Price
WASH
33
Dri Archer
KENS
33
Ty Montgomery
STAN
34
Kevin Hogan
STAN
34
Ryan Jackson
HOU
34
Damian Copeland
LOUI
35
Caleb Herring
UNLV
35
J.J. Green
GEOR
35
Dominic Rufran
WYOM
36
Nick Marshall
AUB
36
Paul Perkins
UCLA
36
Bryce Treggs
CAL
37
Daniel Sams
KANS
37
Zach Zwinak
PSU
37
Ryan Grant
TULN
38
Joe Southwick
BOIS
38
Trey Edmunds
VTEC
38
Bryan Underwood
NCST
39
Chad Chalich
IDAH
39
Jamaal Williams
BYU
39
Jamill Smith
BALL
40
Christian Hackenberg
PSU
40
Matt Jones
FLOR
40
Albert Wilson
GEOS
41
Tommy Armstrong
NEB
41
Larry Dixon
ARMY
41
Robert Herron
WYOM
42
B.J. Denker
ARIZ
42
Venric Mark
NW
42
Darnell Smith
NTEX
43
Tyler Murphy
FLOR
43
Donnel Pumphrey
SDST
43
Brelan Chancellor
NTEX
44
Tyler Tettleton
OHIO
44
Saylor Lavallii
CMIC
44
Chris Conley
GEOR
45
Eric Soza
UTSA
45
Glasco Martin
BAY
45
Gabriel Marks
WAZZ
46
Terrel Hunt
SYRA
46
Chris Hairston
ECAR
46
Shaquelle Evans
UCLA
47
Connor Shaw
SCAR
47
Johnathan Gray
TEX
47
Josh Huff
ORE
48
Zach Mettenberger
LSU
48
Byron Marshall
ORE
48
Corey Davis
WMIC
49
Vad Lee
GTEC
49
Aaron Jones
UTEP
49
Sterling Shepard
OKLA
50
A.J. McCarron
BAMA
50
Jeremy Langford
MCST
50
Rashard Higgins
CSU
TIGHT ENDS
KICKERS
DEFENSES
Rank
Name
School
Rank
Name
School
Rank
Team
1
Jace Amaro
TTCH
1
Chandler Catanzaro
CLEM
1
Alabama Crimson Tide
2
Evan Engram
MISS
2
Mathew Sims
NIU
2
Auburn Tigers
3
Austin Seferian-Jenkins
WASH
3
Trevor Romaine
ORST
3
TCU Horned Frogs
4
Christopher Coyle
AZST
4
Aaron Jones
BAY
4
LSU Tigers
5
Gator Hoskins
MARS
5
Colby Delahoussay
LSU
5
Michigan St. Spartans
6
Hunter Henry
ARK
6
Cody Parkey
AUB
6
Virginia Tech Hokies
7
Devin Funchess
MICH
7
Brendan Gibbons
MICH
7
Boise State Broncos
8
Nexon Dorvilus
FAU
8
Ryan Bustin
TTCH
8
Nebraska Cornhuskers
9
Tyreese Russell
EMIC
9
Michael Hunnicutt
OKLA
9
Clemson Tigers
10
John Mundt
ORE
10
Ross Martin
DUKE
10
Stanford Cardinal
11
Jordan Leggett
CLEM
11
Richie Leone
HOU
11
Oregon Ducks
12
Gerald Christian
LOUI
12
Cody Journell
VTEC
12
Florida Gators
13
Braxton Deaver
DUKE
13
John Wallace
LOUI
13
N. Illinois Huskies
14
Connor Hamlett
ORST
14
Jordan Williamson
STAN
14
Oklahoma Sooners
15
Arthur Lynch
GEOR
15
Jaden Oberkrom
TCU
15
Louisville Cardinals
16
Michael LaGrone
IDAH
16
Justin Haig
MARS
16
Texas Tech Red Raiders
17
Zene Fakes
BALL
17
Will Scott
TROY
17
UCLA Bruins
18
Dan Vitale
NW
18
Ka'imi Fairbairn
UCLA
18
Texas Longhorns
19
Ted Bolser
IND
19
Vincenzo D'Amato
CAL
19
Wisconsin Badgers
20
Beckett Wales
SYRA
20
Scott Secor
BALL
20
USC Trojans
For complete up-to-date college fantasy football player rankings and statistical projections, visit CollegeFootballGeek.com
Scoring System Used for CFG Rankings:
4 points per passing touchdown
6 points per rushing/receiving touchdown
25 passing yards = 1 point
10 rushing/receiving yards = 1 point
1 interception = -2 points
1 reception = 0.5 points
Follow Phil Steele anywhere!

•

•

•
•

•

•

•

•
Phil Steele is a college football analyst who has been publishing his annual College Football Preview since 1995. His magazine is regarded as one of the best in the business.
Google+