| | |
| --- | --- |
| Daily Blog • October 14th | |
As far as my game grades go after the 2008 season was completed, I devised a power ratings system, which lets me analyze at what level each team played during an individual game. This "game grade" takes into account the yards rushing, yards passing, points scored, rushing yards allowed, passing yards allowed and points allowed and factors them in against the opponent played and even factors in the site the game was played at.

With all these factors taken into consideration you will see teams that lost the game having a better individual game grade than teams that beat them simply because the team they played was superior and much less was expected of them.
Here are the Top 25 Game Grades (Team Performances from Week 7)
| | | | | | | | | | | | | |
| --- | --- | --- | --- | --- | --- | --- | --- | --- | --- | --- | --- | --- |
| | | | | OFF | OFF | OFF | DEF | DEF | DEF | | Total | Game |
| Rank | Team | | Foe | RUSH | PASS | PTS | RUSH | PASS | PTS | TO's | Yards | Grade |
| 1 | Oregon | at | Washington | 265 | 366 | 45 | 194 | 182 | 24 | 2 | 255 | 119.3 |
| 2 | Alabama | at | Kentucky | 299 | 369 | 48 | 94 | 76 | 7 | -2 | 498 | 116.61 |
| 3 | South Carolina | at | Arkansas | 277 | 260 | 52 | 218 | 30 | 7 | 2 | 289 | 113.3 |
| 4 | Texas | | Oklahoma | 255 | 190 | 36 | 130 | 133 | 20 | 0 | 182 | 105.77 |
| 5 | Wisconsin | | Northwestern | 286 | 241 | 35 | 44 | 197 | 6 | -2 | 286 | 105 |
| 6 | Texas A&M | at | Mississippi | 241 | 346 | 41 | 133 | 329 | 38 | -1 | 125 | 102.03 |
| 7 | Oregon St | at | Washington St | 102 | 496 | 52 | 113 | 270 | 24 | 4 | 215 | 101.06 |
| 8 | Arizona St | | Colorado | 276 | 256 | 54 | 99 | 169 | 13 | 4 | 264 | 100.21 |
| 9 | LSU | | Florida | 175 | 152 | 17 | 111 | 129 | 6 | -1 | 87 | 99.77 |
| 10 | Utah | | Stanford | 181 | 234 | 27 | 143 | 246 | 21 | 1 | 26 | 96.89 |
| 11 | Missouri | at | Georgia | 142 | 233 | 41 | 164 | 290 | 26 | 4 | -79 | 96.58 |
| 12 | Nebraska | at | Purdue | 251 | 184 | 44 | 32 | 184 | 7 | -1 | 219 | 96.36 |
| 13 | Kansas St | | Baylor | 327 | 118 | 25 | 109 | 342 | 35 | 0 | -6 | 95.43 |
| 14 | Texas Tech | | Iowa St | 251 | 415 | 42 | 143 | 168 | 35 | -3 | 355 | 94.88 |
| 15 | Auburn | | W Carolina | 511 | 201 | 62 | 66 | 107 | 3 | 0 | 539 | 94.62 |
| 16 | Boise St | at | Utah St | 112 | 335 | 34 | 127 | 221 | 23 | 0 | 99 | 94.35 |
| 17 | BYU | | Georgia Tech | 189 | 244 | 38 | 242 | 158 | 20 | 2 | 33 | 93.94 |
| 18 | USC | | Arizona | 249 | 297 | 38 | 145 | 363 | 31 | 0 | 38 | 93.82 |
| 19 | Michigan St | | Indiana | 238 | 235 | 42 | 92 | 259 | 28 | -1 | 122 | 92.73 |
| 20 | Baylor | at | Kansas St | 109 | 342 | 35 | 327 | 118 | 25 | 0 | 6 | 92.62 |
| 21 | UCLA | | California | 78 | 410 | 37 | 105 | 215 | 10 | 2 | 168 | 91.93 |
| 22 | Louisville | | Rutgers | 151 | 310 | 24 | 12 | 228 | 10 | 1 | 221 | 91.41 |
| 23 | Virginia Tech | | Pittsburgh | 76 | 239 | 19 | 23 | 187 | 9 | 0 | 105 | 90.81 |
| 24 | San Jose St | at | Colorado St | 177 | 431 | 34 | 137 | 310 | 27 | 0 | 161 | 89.95 |
| 25 | Florida | at | LSU | 111 | 129 | 6 | 175 | 152 | 17 | 1 | -87 | 89.93 |
News and Notes Week 7 Part 1
By Phil Steele
San Diego St had 22-14 FD and 463-219 yard edges but had some trouble with their FG kickers, then opted to pass up FG's and go for it on 4th down. A couple of missed xp's actually had them trailing late until they got a td with 1:39 left to win it. Donnel Pumphrey rushed for 117 yards for the Aztecs as Adam Muema continues to get closer to 100% and had 86 yards on 18 carries. Air Force lost its 3rd starting QB of the year to injury when Karson Roberts went down with a concussion. Nate Romine, their 4th string QB, hit 5-11-111 and rushed for 15 yards on 8 carries. AF did not have the FG problems and even got a 48 yarder in the 2Q from Will Conant, then a 52 yarder that bounced off the left goal post and through. SDSt missed a 37 yard FG on its first drive then went for it on 4&4 and gained 3 yards to the 1 on its 2nd drive. After getting a 44 yard td pass to take the lead, they missed the xp. SDSt, 2 possessions later, on 4&6 from the AF38 went for it and was intercepted. At the half, AF led 10-6 but SDSt had a 195-122 yard edge. AF got a 71 yard td pass early in the 3Q to lead 20-6. SDSt on 4&13 went for it from the AF24 and was SOD, but then went 80/6pl for a td with 11:25 left and got a 62 yard td pass with 8:39 left to make it 20-19 but the xp was blocked. SDSt took over with 7:06 left and went 77/13pl. On 3&gl from the 10, Pumphrey's 10 yard td run and 2 point conversion made it 27-20. AF was SOD on 4&4 from the SDS39.
Louisville had a big chance in the national spotlight to make an impact not only in their chase for playing in the National Title game this year but also for Teddy Bridgewater's Heisman hopes in their game against Rutgers. I didn't come away from the game impressed, although UL did finish with 461-240 yard and 25-15 FD edges. Bridgewater hit 21-31-310 but they needed RU's Gary Nova to toss 4 interceptions. Remember, last year Nova got off to a great start at the beginning of the year with a 15-3 ratio in the first 7 games, but finished with just a 7-13 ratio over the final 6. This year Nova came into the game with a 13-4 ratio and hopefully this does not signal another 2H downturn for him. This game featured teams that were both in the Big East for awhile, meeting for the first time in AAC play, and leaving after this season (UL to ACC, RU to Big Ten). UL opened strong going 65/11pl on its first possession for a FG. After an interception, they drove 35/2pl for a td to lead 10-0. They went 80/7pl and got a 1 yard td run and appeared on their way to a rout, 17-0. RU had a tipped pass off a receiver caught for a 19 yard gain on 3&8 and then faked a FG for a 26 yard pass down to the 1 to engineer a 70/11pl td drive to get back to 17-7. Bridgewater, on FD from the RU31, was intercepted in the endzone with :31 left. The Cardinals had a 238-133 yard edge. UL opened the 3Q with a 68/14pl drive but had a 24 yard FG blocked. UL's next drive ended on a fumble at its own 36 and RU got a 36 yard FG. Leading 17-10, UL went 48/8pl but Bridgewater was sacked and fumbled. RU's DL could have scooped it up possibly for a 79 yard FR td, but fell on the ball instead. Nova was intercepted but UL missed a 45 yard FG. Nova was intercepted 3pl later with 5:29 left and UL went 60/5pl getting a td for some breathing room with 2:27 left, 24-10. RU went 51/13pl including a 4&11 and 4&1 conversion but on 4&14 fired incomplete with :32 left. Charlie Strong said afterwords, "We miss #9" as DeVante Parker, the team's top WR, missed the game with a shoulder injury.
It's time for a new attitude for USC and the team came out fired up for Ed Orgeron. It's no longer a business-type approach but more emotional and USC, at times, appeared on its way to a rout vs Arizona. Marqise Lee missed the game with injury for USC but Nelson Agholor had 161 yards on 7 receptions. On the Trojans' 2nd possession, Cody Kessler hit a 62 yard td pass to Agholor. UA missed a 38 yard FG and 5pl later Kessler threw a pass over the middle to RB Tre Madden who bowled through 3 defenders on his way to a 63 yard td pass to lead 14-0. USC got a td with 2:08 left in the half for a commanding 28-3 lead but UA gained some momentum with a 57 yard td pass with :56 left to pull within 28-10 at the half. USC would extend the lead. They got a 4 yard td with 14:46 left in the game for a comfortable 38-17 lead and forced a punt on UA's next possession. The Wildcats went 96/17pl getting a td with 6:48 left then a 21 yard PR set them up for a 42/8pl drive and they got a td with 4:18 left to shockingly pull within 7. USC took over at its 4 and would get 3 FD's including a bullish 10 yard run by Silas Redd on 3&8 and took a knee.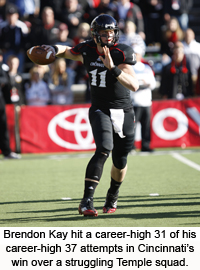 Temple used its 3rd starting QB of the year in PJ Walker and he actually did well hitting 12-22-200 yards and Temple rolled up 376 yards vs Cincinnati's defense and surprisingly had two 1Q td's and 20 points at the half. TU rolled up a 271-249 yard edge at the half but in the 2H UC would have a 226-105 yard edge and shutout the Owls. UC led 7-0 when TU went 80/4pl for a td then recovered a fumble on the KO and went 24/5pl for a td for a surprising 13-7 lead (xp off crossbar). Trailing 21-13 TU went 81/5pl for a td with 5:04 left in the half to get back within 21-20. UC went 71/11pl getting a td with 1:00 left in the half to retake the lead, 28-20 and TU got to the UC28 yard line but ran out of time on their final drive. In the 2H UC opened with a 58/11pl td drive. There were 3 punts then UC went 27/9pl for a 44 yard FG, 38-20. TU went 60/9pl and fumbled at the UC14. On their next drive they punted with 3:35 left and UC went 58/7pl taking a knee at the TU25 at the end. Brendon Kay hit 31-37-270.
Virginia Tech was playing with legitimate revenge having lost 4 straight games to Pitt including a 35-17 upset loss on the road the previous year. VT dominated with 17-11 FD and 315-210 yard edges but a couple of key plays kept Pitt within a reasonable 10 points at the end. As I expected, with Pitt coming in last in the ACC in sacks allowed and VT having a great defense, the Hokies would record 7 sacks and it could have been more as the usually immobile Tom Savage actually made some solid plays to escape. VT took its opening drive 71/8pl for a td then would add a 48 yard FG on their 2nd drive. The Panthers punted on their first 5 possessions but VT punted with 1:22 left in the half and Pitt converted on 3&10 with a 48 yard pass when they beat a blitz and floated it down the sidelines. That would set up a 46 yard FG on the final play of the half, allowing them to pull within 10-3. VT opened the 3Q with a 69/11pl drive but settled for a 37 yard FG, went 45/16pl but settled for a 42 yard FG then went on another drive and missed a 33 yard FG. Pitt punted on its first 3 possessions of the 2H and was SOD at its own 35 with 6:44 left. VT settled for another 23 yard FG with 3:27 left to lead 19-3. Just like last week vs North Carolina when they led by 17 and allowed a late td drive to only win by 10, this time they allowed Pitt to go 75/7pl for a td with 2:01 left to make it 19-9. VT recovered the onside kick and ran out the clock.
Army has been playing football for a long time (beginning in 1890) and had some great rush attacks (Glenn Davis, Doc Blanchard, Pete Dawkins) but Terry Baggett set a school record with 304 yards rushing vs Eastern Michigan. He also scored 4 td's. The old record was held by Michael Wallace who had 269 in 1999. EMU took its opening drive 76/10pl and got a 17 yard td pass and 2 point conversion to lead 8-0. They took their 2nd drive 65/3pl for a td to lead 15-7 but Army got a 67 yard td run by Baggett on the next play and the 2 point conversion to tie. EM, trailing 22-15, took over with 6:22 left in the half and went 73/17 and got a 31 yard FG. At half Army only had a 22-18 lead and a 244-217 yard edge. Army opened the 3Q with a 71/8pl drive for a td. EMU got a 53 yard run by Bronson Hill who rushed for 143 yards but fumbled 3 plays later at the A4 yard line which was the key play of the game. On 2&10 Baggett ripped off a 96 yard td run, 36-18. EMU was SOD at the A20 on the next drive and Army went 80/9pl for a td to lead 43-18 and cruised to the 50-25 win with only 24-21 FD and 551-417 yard edges.
Last year Indiana jumped out to a big lead and led at the half vs Michigan St and MSU needed a late comeback to pull out the win. This year the Hoosiers got a 64 yard td run by Tevin Coleman on the 4th play of the game to go up 7-0. The game was tied at 14 with 4:36 left in the half when MSU went 75/14pl for a td, 21-14. MSU had allowed 176 yards at the half and unlike last year, when they held Indy to 32 yards in the 2H, this time they gave up 174 in the 2H but some did come late. The first 3 possessions of the 3Q were all td's with MSU getting 78/9pl and 65/8pl drives to open up a 35-21 lead. The next 3 possessions were punts then MSU went 73/3pl and got a 34 yard td run by RJ Shelton to lead 42-21. Indy got to the MSU44 but on 4&17 was intercepted. MSU was intercepted right back with 3:39 left. Indy went 37/6pl for a garbage td with 2:17 left, 42-28 and MSU recovered the onside kick, got 1 FD, and took a knee. MSU had a 474-350 yard and a 24-18 FD edge.
Memphis settled for 5 FG's. Houston led 10-6 when the Tigers got a 24 yard FG with :58 left in half to pull within 10-9. Memphis opened the 3Q with 10pl and 5pl drives for a pair of FG's to lead 15-10. Houston got a td and 2 point to lead 18-15 with 1:59 left in the 3Q. After punting on their next drive, Houston went 62/6pl and got a 6 yard td run with 10:21 left. Memphis fumbled at the UH37 and the next 3 possessions were punts. Memphis took over at its own 3 with 4:08 left and would get 4 FD's to midfield but was SOD on 4&10 and Houston took a knee.
Connecticut's new head coach TJ Weist inserted frosh Tim Boyle as the starting QB. He hit his first pass but then missed the next 7 including two that would have been td's but went off the arms of the receivers. It was Boyle's first college action and he hit just 15-43-149. Steven Bench, the starting QB for USF, was out with injury and Bobby Eveld (started opener) hit just 8-28-106. UC would have 356-228 yard and 21-13 FD edges but ended up losing - their 5 straight loss for the first time since 1977 - despite Lyle McCombs rushing for 164 yards. UC made a 32 yard FG on its 2nd possession and missed a 49 yard FG on the next. On their 4th possession Boyle was sacked and fumbled and USF returned it 44 yards for a td, perhaps the key play of the game. It was 10-10 at the half with UC having a 213-140 yard edge. There were 5 punts to open the 2H then UC had a 47 yard FG blocked again. After a pair of punts, USF went 65/13pl and got a 44 yard FG to take the lead with 4:03 left. The Huskies punted with 3:31 left and USF with 1:55 left and UC's last drive only got out to the USF49 where they ran out of time.
Jadeveon Clowney returned for South Carolina and things didn't look good at the start as Arkansas drove 64/7pl for a td and a 7-0 lead. The rest of the game belonged to SC. The Gamecocks led 24-7 at the half with a 254-95 yard edge and in the 2H had 4 possessions. Those four possessions went 75/6pl, 79/15pl, 44/9pl and 80/12pl all for td's, the last with 1:07 left. SC finished with a 32-7 FD edge and 537-248 yard edge in their rout on the road.
Texas opened up 1-2 with 2 upset losses and Mack Brown was the coach on the hottest seat in the country. It sounded like hollow words when he said they still had a shot at winning the Big 12 Title as they were undefeated in Big 12 play. Three games and 3 wins later, they've knocked off #12 Oklahoma, defending Big 12 champ Kansas St (that took Baylor to the wire) and Iowa St on the road. It was a dominating win over OU this year, a team that had their number. They had a 24-13 FD edge and 445-263 yard edge. There was talk that Daje Johnson was their most explosive player and he missed 3 games with injury. He returned here and had an 85 yard PR td. The Longhorns settled for a 31 yard FG on their first possession, fumbled at the OU20, then got a 31 yard IR td by Chris Whaley on a zone blitz to lead 10-3. They were SOD at the OU23 but got a 59 yard td pass and it was 23-10 at half with a 303-108 yard edge. UT extended it to 36-13 after 3Q's. When Case McCoy was intercepted on 3&7 and returned 54 yards for a td with 10:07 left, the Sooners were back within 2 scores. OU got it back with 7:18 left but on 4&13 was SOD at the UT26 and the Horns got 3 FD's running the clock. Blake Bell hit just 12-26-133. Texas' 255 yards rushing vs OU was their most since 1970 in the Red River Rivalry.
Nebraska's Taylor Martinez sat out and Tommy Armstrong was not great statistically. He hit 6-18-43 with 3 interceptions and had 5 yards rushing on 4 carries against Purdue. NU had 21-11 FD and 435-216 yard edges and Ron Kellogg III came off the bench to hit 10-13-141. NU dominated the 1Q with a 117-14 yard edge holding Purdue without a FD the entire stanza. NU got a td on the last play of the quarter to make it 14-0 and led 21-0 at the half with a 205-89 yard edge. The Huskers made it 28-0 on a 46/10pl drive on their 2nd drive of the 3Q but then were intercepted at the PU16. They got a td with 12:47 left to lead 37-0 and drove 53/8pl with Armstrong back in to get a td with :50 left to make it 44-0. PU got a 55 yard td pass :11 later to avoid the shutout.
While Texas Tech starter Baker Mayfield was injured, Davis Webb QB'd a good portion of the previous 4 games and hit 35-56-415. TT moved to 6-0 and became bowl eligible with a win over Iowa St. TT also finished with a season-high 251 yards rushing. The 1H was a bit misleading as TT managed to leave Iowa St in the game. In fact, TT had a 353-139 yard edge. They gave up a 95 yard KR td, missed a 34 yard FG and got a td with 5:30 left to make it 42-28 but ISU went 80/13pl and got a td with 1:54 left to only lose by 7. TT recovered the onside kick and got 2 FD's to the IS25 where they ended the game. TT finished with a 666-311 yard edge and 36-18 FD edge but only won by 7 points.
As it turns out, Georgia's injuries were too much to overcome but despite missing their top 2 RB's and 3 of their top 4 receivers, the actually culprit of the game was 4 TO's for UGA. They had 454-375 yard and 26-23 FD edges but lost to an undefeated Missouri team 41-26. A lot of the media said that last year UGA whipped Missouri but that was anything but the case. MU was at home and controlled the first 3Q's until they too became a banged up team losing numerous OL and a couple of big plays later turned a close game into a 41-20 UGA win. UGA S Tray Matthews hurt his hamstring in practice and also did not play. UGA took its 2nd drive 86/12pl for a td but MU went 74/9pl, 52/6pl and 75/9pl on their next 3 possessions to lead 21-10. The Tigers got a 21 yard FR td after they sacked Aaron Murray to lead 28-10 at the half. MU QB James Franklin separated his shoulder in the 4Q (out rest of regular season), which probably ends their chances at the SEC East Title, something they had a legitimate shot at because they get South Carolina at home in a few weeks. At the half UGA had a 230-221 yard edge. UGA opened the 3Q settling for a 28 yard FG after a 1&gl. After a punt, the Bulldogs went 80/11pl for a td then 58/9pl for a td but missed on the 2 point conversion and trailed 28-26. MU got a 40 yard td pass to go back up by 8 but missed the xp. UGA was intercepted and returned to its 33 with 4:15 left and MU went 33/4pl for the 41-26 final.
Duke got back QB Anthony Boone who was injured in the opener (out 3, broken collarbone) and he made a big difference against Navy. He hit 31-38-295 although he did have just -3 yards rushing. The 1H was very competitive. Duke was SOD at the N22. Navy went on a 76/15pl drive but missed a 29 yard FG and the 1Q was scoreless. Each team went on a long drive for a td, 7-7 then Duke went 62/11pl for a td. Navy went 65/14pl, but on 2&gl from the 6 fumbled with :18 left in the half. At half Navy had a 246-224 yard edge but trailed by 7. Duke went 72/5pl, 72/9pl, then, after an int, 33/7pl all for td's to open the 3Q. The third drive was aided by a fake FG for a FD to the 11 and that put the game away. Navy punted with 11:04 left and fumbled at its own 27 with 5:30 left. Duke had a 435-319 yard edge.
TCU finished with a 17-7 FD edge and 380-190 yard edge but never really put away Kansas and KU's D forced 5 TO's and just blew some opportunities to make a real game of this. KU got an early interception at the TCU25 and drove for a 37 yard FG for a 3-0 lead. Trailing 10-3, KU was intercepted at the TCU10 but 3pl later, got a 32 yard IR td by JaCorey Shepherd to tie it at 10 at the half and TCU only had a 156-150 yard edge. TCU got a 75 yard td pass to open the 3Q then, after a KU fumble, went 53/7pl for a td to go up 24-10 with 9:31 left in the 3Q. After TCU fumbled the punt, KU took over at the TCU27 and on 2&10 got a 27 yard td pass to make it 24-17. KU missed a 51 yard FG which could have trimmed it to 4 with 2:40 left in the 3Q. TCU took over with 7:01 left and went 45/10pl for a 39 yard FG to go back up by 10. KU was SOD at its own 22 on its last drive.
Auburn starting QB Nick Marshall was rested due to a knee injury so frosh Jeremy Johnson got his first start vs FCS member Western Carolina. Johnson hit 17-21-201 and rushed for 26. Jonathan Wallace who at one point was one of the frontrunners for the starting QB job, but dropped to a distant 3rd, saw action. Cameron Artis-Payne rushed for 133. Auburn had 30-6 FD and 712-173 yard edges, breaking a school record of 695 which they set in '85 vs SW Louisiana. Keep in mind WCU came in just 1-5 on the season. In the 1H Auburn had a 427-89 yard edge and led 42-3. They went 71/8pl, 86/4pl, 71/8pl and 56/10pl on their first 4 possessions of the 2H. The last was SOD on 4&gl at the 10 when they ran for 2 yards up 62-3.
Buffalo finished with a 422-202 yard edge and got a huge shutout win 33-0 on the road against Western Mich. The 1H was actually fairly close with Buffalo leading 6-0. UB got a 1 yard td run on a 63/12pl drive on its first possession. WMU blew some opportunities. They had a FD at the UB20 but after a couple of holding calls and a delay they punted. The next 5 possessions were punts and WMU got to the UB28 but was intercepted at the 17. UB however, was intercepted right back at the WM31 with 1:54 left in the half but WMU missed a 33 yard FG 10pl later. At the half UB had a slim 192-157 yard edge. WMU was intercepted to open the 3Q and UB settled for a 51 yard FG. WMU fumbled on its 2nd drive and UB went 39/6pl for a td. UB then went 53/5pl and 60/14pl and 39/9pl (after fumble) all for td's to blow it open 33-0, the last td coming with 6:29 left. Joe Licata hit 11-21-124 while WMU's Zach Terrell, starting in place of an ailing Tyler Van Tubbergen, hit 16-34-162.
Ball St has had a lot of impressive wins this year but the way their first 2 drives of the game against Kent St went, you had to figure they would struggle. BS recovered a fumble at the KS41 but on 1&gl from the 6, QB Keith Wenning was intercepted in the EZ for a TB. KS went 80/9pl for a td to lead 7-0. BS's 2nd possession went 60/6pl. On 2&gl at the 12, BS got an 11 yard pass to Williams but he fumbled into the EZ for a TB. BS did get a 39 yard td pass with 1:46 left to tie it at 7. At the half KS had a 212-201 yard edge. Each team went on a long drive for a td to open the 3Q then, after 3 punts, Kent was intercepted and BS went 39/3pl for a td but missed the crucial xp, 20-14. Kent St punted on its next possession but then went 87/7pl for a td. After an 18 yard IR to the BS1, the Golden Flashes settled for a 21 yard FG, 24-20. The Cardinals, on 4&6 at the KS10, fired incomplete but then went 57/5pl and got a 7 yard td pass with 1:29 left to take the lead. Kent would only get to the BS49 where they were SOD. Kent St had a 423-407 yard edge and the FD's were even at 23.
I thought Wisconsin had a great situation vs Northwestern. The Wildcats were coming off one of, if not the, largest home games in school history and one they gave every ounce of effort on. Now they had to travel on the road to face a UW team with a big offensive line that was fresh off a bye. As I expected, UW dominated with a 527-241 yard edge and 24-10 FD edge. I'll give it to NU though, as for most of the 1H they hung tough giving a gritty effort. Each team turned the ball over in their first possession. NU took over at the UW39 and got a 27 yard FG, 3-0. After 4 punts, UW got a 63 yard td pass to Jared Abbrederis but he was injured and out for the rest of the game. UW was intercepted at the NU18 with 1:13 left in the 1Q but drove 75/11pl for a td. At the half UW led 21-6 with a 308-170 yard edge and NU gained 58 of their yards after an interception where they got a 43 yard FG with :12 left in the half. UW went 75/10pl on its opening drive of the 3Q and on its 4th drive of the half went 65/9pl for a td, 35-6. The Badgers were even SOD at the NU30 on their last drive.
LSU's unstoppable offense took on Florida's unbreakable defense and the Gators defense did well holding LSU to 327 yards and 21 FD's. It was Tyler Murphy's first trip to Death Valley and he hit 15-27-115 but surprisingly Zach Mettenberger was just 9-17-152. UF took its opening drive 60/14pl for a 44 yard FG. The Tigers went 70/9pl for a td, fumbled at the UF28 on their next possession, then went 62/8pl for a td and led 14-3. At the half LSU had a 200-94 yard edge. The 2H opened with 4 punts. UF went 41/11pl but after a 1&gl at the 7, settled for a 27 yard FG, 14-6. LSU went 61/9pl for a 31 yard FG to get ahead by 2 scores with 7:58 left. UF faked a punt on 4&5 from its own 30 and converted. Later the Gators had a 4&9 FD pass but on 4&27 took a sack at the LSU47 with 3:51 left. LSU got 3 FD's to the UF13 running the clock.
Central Mich was already playing without its starting QB who was lost in the opener to injury and its top rusher was also lost in the opener. Their top receiver who HC Dan Enos called their best player, Titus Davis, missed the game vs Ohio (injury). CMU's Saylor Lavallii, who has filled in nicely at RB, had 184 yards vs a solid OU team and Cooper Rush, after weeks of seeing his stats deteriorate, hit 20-28-224. OU was hurt by 4 TO's. The first 3 possessions were all long drives as CMU missed a 36 yard FG, but after getting a td, led 7-3 then added a 27 yard FG to go up 10-3. OU fumbled at the CM28, was intercepted at the CM30 and intercepted in the EZ with :57 left in the half. At the half CMU had a 209-194 yard edge. CMU went 86/11pl and missed a 33 yard FG, then went 56/7pl for a 36 yard FG to lead 13-3. OU battled back going 69/5pl for a td, then got a 69 yard td pass to lead 17-13 but CMU went 75/9pl for a td, 19-17. OU went 78/12pl for a 1 yard td run, 23-19. The Bobcats, with a 4 point lead, forced a punt with 2:47 left and appeared to have the win in grasp but they fumbled a punt at their own 39 and CMU went 39/8pl and got a td with :22 left. OU on 4&10 gained 14 yards on a lateral only getting to the CM45. Tyler Tettleton hit 24-33-319.
Miami had a interim HC after letting go Don Treadwell and their OC. UMass had a 376-290 yard edge and 23-19 FD edge. AJ Doyle got his first start for UMass and hit 6-12-95 but Austin Boucher hit 5-8-71 for Miami. In a battle of winless teams, it was somewhat sloppy - as you would expect. In the 1H Miami was intercepted at the 1, missed a 54 yard FG, and was intercepted in the EZ. UMass got off 26 and 34 yard punts and was intercepted at the 2 with :29 left in the half. It was tied at 7 with UMass having a 248-159 yard edge. Miami went 54/12pl for a 46 yard FG for the 10-7 lead and UMass answered with an 81/9pl drive for a td, 14-10. Miami was intercepted and returned 25 yards to the 26 setting up a UMass 25 yard FG, 17-10. Miami was SOD on 4&7 at the UM23, intercepted at the UM45 and UMass missed a 44 yard FG with 1:41 left, but Miami was SOD at its own 39 on 4&10.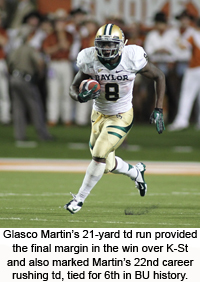 Baylor's offense had been unstoppable in the first 4 games but they ran into Bill Snyder who is one of the best underdog coaches in the country. Amazingly, Kansas St had a 23-15 FD edge and BU had a slim 451-445 yard edge. K-St led 25-21 after 3Q's, narrowly missing out on pulling the huge upset. Leading 14-10 BU got a 72 yard td pass with 1:51 left in the 1H, 21-10. In the 2H K-St drove 60/13pl for a 32 yard FG, blocked a punt and drove 19 yards for a td but missed the 2 point conversion, 21-19. They then recovered a fumble and went 44/10pl for a td and that 25-21 lead with :45 left in the 3Q. BU got a 54 yard td pass on the 2nd play of the 4Q to retake the lead. K-St missed a 41 yard FG after a 43 yard drive then was intercepted at its own 39 with 3:48 left. BU finally got some breathing room with a 39/5pl drive and a Glasco Martin 21 yard td run, 35-25. Bryce Petty hit 13-22-342 which is 26.3 yards per completion. Jake Waters hit 6-15-79 and Daniel Sams rushed for 199 yards hitting 4-7-41 as the two split the QB duties.
Wyoming HC Christensen always has known how to shut down the option and New Mexico came in averaging 368 ypg rush and was held to 257. UW had a 532-436 yard edge and 26-22 FD edge. Brett Smith hit 19-33-247. NM was trailing 7-0 and took its opening drive 47/11pl, but on FD from the UW12, fumbled. NM's next drive ended on a fumble at the UW44. UW went 56/13pl for a td, 79/5pl for another td and led 21-3 at half with a 284-178 yard edge. NM went 75/6pl for a td to open the 3Q then, after recovering a fumble, got an 8 yard td drive to pull within 21-17. After UW went 67/13pl for a 25 yard FG, NM went 75/11pl for a td to tie it with 13:19 left. UW went 75/9pl for a td then, after an interception, got a 1pl, 48 yard td run by QB Smith, 38-24 with 8:53 left. NM punted with 7:43 left, took over with 6:57 left and went 72/12pl getting a 23 yard td pass with 1:06 left to only lose by 7.
While NC State had a 22-15 FD edge, Syracuse had a 436-355 yard edge. Cuse QB Terrel Hunt hit just 10-20-74. There was talk that NCSt would be getting back its projected starting QB Brandon Mitchell but Pete Thomas played the entire game and hit 17-35-151. The game was tied at 10 mid-4Q. A key play happened in the 1H when NCSt went for it on 4&2 and was SOD at the SU8. SU had 2 interceptions and NCSt had 1 on the next 3 drives. NCSt went 36/5pl for a td with 1:15 left to tie it at 7. NCSt missed a 51 yard FG on its opening 3Q drive and SU settled for a 19 yard FG, 10-7. NCSt faked a 48 yard FG on 4&4 and it fell incomplete. After 3 punts, NCSt drove 58/8pl for a 27 yard FG to tie it. After an exchange of punts, SU went 80/3pl the key a 57 yard run by Jerome Smith followed by a Prince-Tyson Gulley 18 yard td run on the next play, 16-10. SU forced a punt with 4:41 left and went 53/3pl for a td with 2:35 left and the 14 point lead. NCSt converted on 4&21 and 4&4 on the next drive but on 4&10 fired incomplete with :07 left at the SU19.
For the 2nd straight week Cairo Santos hit the game winner for Tulane, this one came in 3OT's. East Carolina did have a 31-15 FD edge and 543-310 yard edge for the game but TU actually led the majority of it. Tulane led 6-3 and had a 7-3 FD edge when ECU took over with 2:14 left in the half and went 62/10pl for a 30 yard FG with :15 left to tie it. TU opened the 3Q with 3 more FD's but was intercepted in the EZ. After ECU missed a 46 yard FG, TU drove for a 42 yard FG and a 9-6 lead then a key play of the game. ECU was down at the TU3 threatening to take the lead when they were intercepted by Derrick Strozier and returned 99 yards for a td, 16-6. ECU went 70/13pl for a 22 yard FG, 16-9. TU got a 43 yard FG with 9:10 left to lead by 10. ECU would get a 26 yard FG with 5:38 left then a td with 1:48 left to tie. TU punted with 1:21 left and ECU got 2 more FD's and missed a 42 yard FG on the final play so it went to OT. Each team got a 25 yard td pass in the 1OT. TU used 5pl and ECU 6 for td's in the 2OT. ECU missed a 34 yard FG and TU didn't mess around. On FD they brought out the Groza winner, Santos, who had 5 FG's and he booted the 42 yarder through the uprights for the win. TU moves to 5-2 on the year and 3-0 in CUSA play.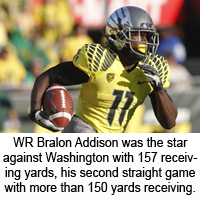 Oregon had won the last 9 in the series against Washington by an avg of 49-18 per game. The question was series domination or situation play as UW was at home and fired up to take on the Ducks and had just had a good game vs Stanford last week. Also, UO's De'Anthony Thomas was banged up and as it turns out, did not play. WR Bralon Addison was a star with 157 receiving yards. UO finished with a 30-20 FD edge and vs a UW D giving up under 300 ypg they piled up 631! It still was close in the 4Q. In fact, at the half UO got a td with 4:55 left to go up 21-7 and had a 181-159 yard edge. UW battled back and at the end of 3Q's, after a 25 yard td run by Bishop Sankey, it was 31-24. UO went 66/5pl for a td, forced a punt, went 75/8pl for a td (7:37), forced another punt, and went 60/11pl and took a knee at the UW9 at the end. Marcus Mariota had not played a play in the 4Q this year but in his first three 4Q drives, he produced 201 yards offense.
Follow Phil Steele anywhere!

•

•

•
•

•

•

•

•
Phil Steele is a college football analyst who has been publishing his annual College Football Preview since 1995. His magazine is regarded as one of the best in the business.
Google+