| | |
| --- | --- |
| Daily Blog • October 15th | |
By Phil Steele
Stanford is an academic institution and this is the week of their midterm exams which is usually a tough week for them (correction - it is not, in fact, their midterm week). It was the first time a top 5 team had lost all season long. SU was off a big effort the previous week vs Washington and traveling, so the situation favored Utah. It was the first time in school history that Utah would knock off a top 5 program at Rice-Eccles Stadium. They had beaten #4 Alabama in the Sugar Bowl in '08. Ty Montgomery did it again, this time with a 100 yard KR td for the Cardinal, but Utah had 22-13 FD and 415-389 yard edges. Montgomery joins Bob Bryan (1950 vs San Francisco) and Damon Dunn (1994 vs Arizona St) as the only Stanford players with 100-yard KR's in their history. Travis Wilson hit 23-34-234 for Utah. Things started well for the Cardinal as their first drive went 75/7pl for a td. They allowed a 75/8pl td drive, but then Montgomery's 100-yard KR td made it 14-7 mid-1Q. Utah tied it with :10 left in the quarter at the end of a 79/10pl drive, then 2 possessions later went 99/11pl capped by a 3 yard td run to make it 21-14. Utah had a 301-199 yard edge at the half. Each team turned it over to open the 3Q. Utah went 47/10pl for a 23 yard FG, then, after Kevin Hogan was sacked and fumbled, Utah drove 2 yards for a 48 yard FG and a 27-14 lead. SU had a chance to avoid the upset. They went 52/5pl for a td with 9:22 left, forced a punt with 7:53 left, and went on their apparent game winning drive. They started at their 12 and went 82/13pl, but on 4&2 from the 6 fired incomplete.
There were times while I was watching the Troy/Georgia St game it appeared GSt was on their way to an upset. As it turned out, Troy finished with 634-422 yard and 29-23 FD edges and was able to escape with the road win over a winless Panthers' team. It was 7-7 after 1Q. Troy, leading 14-7, had a 4&2 at the 4 but was intercepted in the EZ with 5:25 left in the half. On their last drive of the half, they got to the GS38 but fired incomplete with :03 left on 4&6. Troy turned it over on its first 2 possessions of the 3Q and GSt went 43/7pl for a td to tie it at 14-14. Troy's 3rd possession ended in a blocked punt and GSt got a 31 yard td pass following that for a shocking 21-14 lead. Troy would go 62/6pl for a td to tie, but then GSt went 48/5pl for a td and the lead at the start of the 4Q, 28-21. Troy needed to go 75/13pl for a td with 9:14 left to tie. They punted on their next possession with 6:13 left and GSt got to the T45, but on 2&12 was intercepted and returned 20 yards. Troy went 63/2pl and got a 54 yard td pass to Williams with 3:17 left to escape with the win. GSt punted with 1:57 left on 4&15 and Troy got 1 FD and took a knee.
The two teams have met every season since 1957 but Maryland will be leaving for the Big Ten. The Terps were without CJ Brown at QB and Caleb Rowe threw for 332 yards hitting 18-34. David Watford hit 27-44-263 for Virginia. It was a tough loss for UVA as they had a 505-465 yard edge and 29-19 FD edge. MD fumbled a punt at its own 13 but UVA settled for a 28 yard FG. UVA went 79/12pl and settled for an 18 yard FG and only led 6-0. MD's Brandon Ross took a screen pass 77 yards to the 2 and Ross' 1 yard td run put the Terps ahead 7-6. Two possessions later, MD went 76/6pl for a td. UVA went 81/6pl for a td to pull within 14-13, then got a 27 yard FG with :19 left in the half for the lead, 16-14. MD opened the 3Q with a 58 yard drive for a 36 yard FG to lead 17-16. After punting, MD went 73/9pl for a 32 yard FG, 20-16 but the Cavs went 74/11pl for a td and the lead with 13:15 left, 23-20. The Terps fumbled the second punt, this time at their own 17, but UVA settled for a 26 yard FG and only led 26-20. MD converted on 3&22 with a 47 yard pass to the 13 and got a 12 yard td pass with 5:14 left for the lead. After both punted, UVA took over with 2:34 left and went 58/10pl but missed the game-winning 42 yard FG.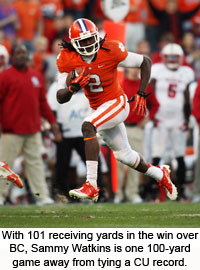 Clemson has actually held its opponents to 14 points or less for 5 straight games. Last week they were a big favorite vs Boston College but needed a 4Q rally to pull out the win, despite the fact that they had 23-12 FD and 496-286 yard edges. The big news for BC was Andre Williams getting injured and his status is ? for this week. CU's opening drive went 67/12pl and they missed a 25 yard FG. BC's second drive went 93/10pl capped by a 38 yard td run by Myles Willis. CU went 58/9pl but had a 45 yard FG blocked with 8:53 left in the 1H. CU went 51/7pl but on 4&6 was SOD at the BC48. CU took over with 1:09 left in the half and went 48/9pl and got a 35 yard FG to trail 7-3 but had a 281-168 yard edge at the half. Sammy Watkins hauled in a 48 yard td pass on CU's second 3Q possession to go up 10-7 but Chase Rettig hit Alex Amidon with a 69 yard td and BC led 14-10 and forced CU to punt. CU drove 48/8pl getting a td with 13:44 left in the game. The drive began with a 4&1 conversion at the BC39. The td gave them the lead, 17-14 and then 3pl later Rettig was sacked and fumbled and Vic Beasley returned it 13 yards for a td to give CU some breathing room, 24-14. The next 4 possessions were punts and BC was SOD at its own 48 with 2:38 left. CU did end the game at the BC14 taking a knee.
Taysom Hill completed his first 8 passes of the game and was 16-20-226 at the half finishing 19-27-244. Last year BYU's D shut down the Georgia Tech option on the road. This year they did allow 400 yards but BYU had a 433-400 yard edge and 26-18 FD edge. The game opened up with a pair of punts but then the next 3 possessions were all td drives and BYU led 14-7 after 1Q. GT drove 16pl for a 37 yard FG and BYU 14pl for a 43 yard FG, 17-10. BYU went 55/8pl for a td to go up 24-10 and it was 24-13 at the half when BYU missed a 52 yard FG. At the half BYU had a 332-171 yard edge. The 2H was a defensive slugfest. GT was SOD at the BYU46 on its second possession and seven of the first eight 3Q possessions ended in punts. GT blocked a punt but would miss a 42 yard FG. BYU got a 51 yard IR td with 11:01 left, 31-13. GT fumbled at the BYU31 with 6:46 left and BYU went 68/6pl getting a td with just 3:11 left, 38-13. GT, on 3&1, got a 55 yard run and then a 5 yard td pass with just :53 left to make the final 38-20. Vad Lee hit 7-20-133 and Justin Thomas 3-3-25.
Adam Kennedy hit 22-32-375 and Arkansas St beat Idaho 48-24. Perhaps the key story of the game was that IU QB Chad Chalich, who hit 1-2-13, suffered a shoulder injury and would not play the rest of the game. Taylor Davis hit just 14-39-199. ASt got an 80 yard td pass on its first offensive play and then drove 65/7pl for a td on its 2nd possession to lead 14-0. At the half, they led 24-7 with a 353-176 yard edge. A gritty Idaho team battled back. ASt went 54/4pl for a td on its second 3Q possession to go up 31-7. UI drove 60/10pl for a 28 yard FG, got a 37 yard IR, drove 39/6pl for a td, then drove 79/9 for a td with 14:10 left to pull within 7. ASt turned the momentum with a 98 yard KR td then went 61/15pl getting a 21 yard FG with 6:19 left to go up by 17. The Red Wolves took over with 5:29 left and went 73/7pl for another td with 2:39 left for the 24 point win. Idaho's final drive got to the AS44 where they were intercepted at the 16.
Florida Atlantic continues to impress me. Last week they took on a strong Marshall team, one I consider the favorite to win CUSA this year. FAU had 385-355 and 24-18 FD edges. MU got a 77 yard PR td by Devon Smith to make it 7-0 to start the 2Q, but FAU's D played well vs a potent MU offense allowing less yards than Virginia Tech did. FAU was intercepted at midfield but MU was SOD at the FAU26 with 6:26 left in the 1H. FAU got a 26 yard FG with :11 left and as my buddy Gil Brandt always says, late scores at the end of the half can give a team momentum. FAU did have a 165-98 yard edge at the half. FAU went 75/4pl for a td to open the 3Q. MU answered with a 78/10pl drive to retake the lead, 14-10. After an exchange of punts, FAU went 74/10pl and got a 5 yard td pass, 16-14 then shockingly, after a MU punt, went 64/7pl and got a 1 yard td run by Jaquez Johnson and had a 2 score lead, 23-14 with 10:01 left. MU went 88/12pl. On perhaps a last gasp, they faced a 4&5 and would get a 41 yard td pass to Gator Hoskins to pull within 2, 23-21. FAU got 3 FD's to the MU37 but punted on 4&9 with 1:57 left. MU went 67/9pl. They got a 35 yard pass to the FAU26 with over 1:00 left. Surprisingly with their potent offense, they opted to set up for the FG running it twice into the middle of the line and spiking the ball putting the onus on K Justin Haig. He delivered with a 41 yard game-winning FG and MU escaped with the 24-23 win on the road.
The story of the ULM/Texas St game was ULM's Isaiah Newsome, who could be the Jim Thorpe Player of the Week. Newsome had IR's of 71 and 75 yards, basically both 14 point swings. ULM was outgained 358-192 and outFD'd 19-13 but escaped with a 21-14 win thanks to a late score. The first 3 possessions were punts and TXSt was at the ULM34 when Newsome struck with a 71 yard IR td with 6:09 left in the 1Q. The next 7 possessions were punts but ULM went 63/17pl and missed a 47 yard FG on the final play of the half. ULM led 7-0 but TXSt had a 145-108 yard edge. TXSt opened the 3Q with a 46/8pl drive and was at the ULM29 when Newsome got a 75 yard IR td to go up 14-0. ULM was intercepted and returned to its 8 but TXSt settled for a 22 yard FG, 14-3. TXSt went 64/9pl for a 43 yard FG, 14-6. The teams punted 5 times but a 36 yard PR by TXSt set up the Bobcats for a 21/2pl drive and the td and 2 point conversion tied it with just 6:01 left. ULM returned the KO to the TS48 but on 3&10 was intercepted at the 13 with 4:59 left. TXSt got 1 FD and punted with 2:56 left. ULM finally did something offensively, going 75/10pl. Handing off on 2&8, Centarius Donald took it 10 yards for the td and the 21-14 win.
Alabama had dropped passes, they had fumbles at the 1, and in the 1H looked sloppy. Showing how strong the Tide is, they finished the game beating an overmatched Kentucky 48-7 with a 35-13 FD edge. While everyone talks about Oregon's high flying offense, the Tide would roll up 668 yards while holding UK to 170. Bama fumbled at the UK13 on its 2nd possession, fumbled at the UK1 on its 3 possession, then settled for a 25 yard FG after a 12pl drive on its 4th possession. They would go 43/2pl, 88/12pl and 70/6pl for td's on their final three 2Q possessions to lead 24-0 at the half and they had a commanding 402-62 yard edge. Bama went 79/4pl to lead 31-0 but then gave up a 75/9pl drive. UK went for it on 4&2 and got a 3 yard run to the UA30, then got a 30 yard td pass on the next play to avoid the shutout. Bama went 70/12pl, 80/4pl, and 52/12pl for td's on their final 3 possessions for the rout. AJ McCarron hit 21-35-359 while Maxwell Smith and Jaylen Whitlow combined for 7-18-76.
Mississippi St alternated QB's Tyler Russell (12-14-102) and Dak Prescott (7-11-75) during the game. Prescott did rush for 139 yards. Things were working well for the Bulldogs. They went 75/9pl for a td on their first possession and after Prescott threw an interception on the 2nd, he atoned for it with a 75 yard td run. Bowling Green had a -4 yard drive for a 35 yard FG after Prescott's interception and only trailed 14-3. MSU went on a 15pl drive but punted after a tfl, false start and a sack forced a 4&25. BG got back in it going 96/6pl with a 7 yard td with 4:15 left in the half. MSU came right back down the field going 75/10pl for a td with 1:04 left to lead 21-10 with a 298-193 yard edge. BG opened the 3Q with a missed 45 yard FG. BG then went 76/7pl. There's an axiom that says don't chase extra points before the 4Q and BG HC Dave Clawson stuck to that. They went for 1 and trailed 21-20. MSU went on an 11pl drive and missed a 44 yard FG, then each team was SOD - BG, at the MSU40, MSU at the BG6 (4:21). BG got 3 FD's to the 46, trailing by 1, but on 4&11 fired incomplete with 1:15 left. MSU only finished with a 422-384 yard edge and for the 2nd straight year BG played tough in SEC country after giving UF a battle last year.
Northern Illinois extended the nation's longest home win streak to 23 games and set a MAC record while doing so. Akron lost its 30th straight on the road. NIU was a large favorite but UA gave them a game. In fact, NIU only had a 399-372 yard edge and UA a 19-18 FD edge. Leading 17-14, NIU had a 46 yard FG blocked mid-2Q and only led by 3 at the half with a 270-175 yard edge. NIU went 80/6pl for a td on its opening 3Q drive, 24-14. UA was SOD at the NI40 with 2:30 left in the 3Q and was intercepted at its own 28. That set up NIU for a 21 yard FG, 27-14 with 11:19 left. UA went 75/18pl and on 3&gl an 11 yard td pass pulled them within 7 with 5:27 left. NIU punted with 3:52 left but UA was SOD at its own 30 with 3:00 left. NIU had its second FG of the game blocked and UA took over with 1:14 left at its own 23. They got out to the 45 yard line, but on 4&5 fired incomplete. Jordan Lynch hit 16-35-220 while Kyle Pohl hit 24-56-262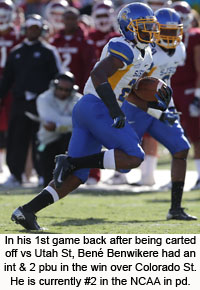 San Jose St did finish with a 608-447 yard edge as David Fales hit 28-35-431 and Garrett Grayson for Colorado St hit 19-34-310. It was an offensive shootout. CSU got a 75/4pl drive capped by a 35 yard td pass with 1:02 left in the half to lead 24-17. SJSt went 75/13pl for a td to tie, but on perhaps the key play of the game, CSU got a 55 yard pass down to the SJS18. On the next play, Grayson's pass over the middle bounced off the receivers hands and was intercepted by Jimmy Pruitt in the EZ for a TB. SJSt went 79/16pl for an 18 yard FG. CSU went 45/7pl for a 47 yard FG to tie it with 10:40 left. CSU had the ball but was intercepted by Bené Benwikere, who missed some time earlier in the year with injury, at the 28 and a PF moved it back to the 14 with 8:00 to go. SJSt got 2 FD then a 62 yard td pass with 5:36 left. CSU punted on 4&9 with 3:30 left and SJSt got 2 FD's and was able to run out the clock.
Penn St had a sellout crowd and it appeared every seat was filled. It was a white-out and the crowd was loud and intense throughout. The Lions needed every ounce of the home crowd energy to pull the upset over Michigan as there were a couple times where it appeared they were on their way to a loss. PSU did finish with a 390-389 yard edge and a 24-21 FD edge winning in 4OT. PSU's 1st score was a 14/3pl drive after an interception. For the second week, PSU went for it on 4&1 at about their own 33 and again was SOD, but this time forced a UM punt. After an interception early in the 2Q, they got a 20 yard td pass to lead 14-10, then went 61/10pl and got a 24 yard td pass to lead 21-10 at the half. The TO Gods went UM's way at the start of the 3Q when Zach Zwinak fumbled and the Wolverines returned it 24 yards for a td, 21-17. Christian Hackenberg was intercepted at his own 26 and UM turned it into a 23 yard FG, 21-20. PSU went on a 56/10pl drive for a 45 yard FG, 24-20 with 4:21 left in the 3Q but UM went 73/9pl and a td with :28 left in the 3Q put them up 27-24. PSU went on a 10pl drive and missed a 47 yard FG and then Devin Gardner hit Devin Funchess with a 37 yard td pass capping a 70/5pl drive and UM appeared to have pulled away, 34-24 with 10:28 left. PSU went 49/12pl and got a 43 yard FG with 6:34 left to get back within one score. UM got 3 FD's to the PSU28, but on 4&17, after a delay penalty and -3 yard run, punted 35 yards for a TB with just :50 left. Hackenberg hit Brandon Felder with a 29 yard pass and then Allen Robinson, who is one of the best receivers in the Big Ten, if not the country, leaped 9 feet into the air for a remarkable 36 yard grab at the goal line. Hackenberg's 1 yard sneak tied it. UM missed a 52 yard FG on the final play of regulation. PSU missed a FG in the first OT and UM had a 40 yard FG blocked. Each team got a FG in the 2OT but PSU fumbled and Brendan Gibbons' 33 yard game-winning FG for UM pushed wide left. Gibbons did hit a 40 yard FG in the 4OT, but PSU went for it on 4&1 and got it at the UM13 and would get a 2 yard td run 4pl later.
North Texas had a 416-205 yard edge vs Middle Tenn and 25-13 FD edge. NT led 7-0 when they blocked a 32 yard FG but they were intercepted 4pl later and MT went 57/7pl for a td to tie it at 7. NT then went 75/12pl for a td and on the next play got a 20 yard IR td to lead 21-7. They got a 55 yard PR by Brelan Chancellor down to the 13 but settled for a 21 yard FG, 24-7. At the half NT had a 197-132 yard edge. NT went 54/15pl but missed a 48 yard FG then fumbled at the MT21. They did get a 20 yard PR to the MT25 but after a 1&gl at the 2, settled for a 22 yard FG and it was 27-7. NT went 47/7pl adding a td with 2:56 left for the 27 point win.
Rice got RB Charles Ross back (injured 9/21) and he led the team in rushing with 11-59. Taylor McHargue hit 9-21 but for 183 yards. Eric Soza for UTSA hit 17-31-170. Rice moved well in the 1H with 237 yards but missed a 52 yard FG on their first possession, settled for 49 yard FG on their 2nd and only led 3-0. UTSA missed a 48 yard FG at the end of the 1Q. Rice went 58/8pl for a 28 yard FG to lead 6-0 but UTSA went 86/5pl for a td, 7-6. UTSA fumbled a punt at its own 19 and Rice would get a td for a 13-7 lead. Rice then went 71/8pl getting a td with :24 left to take control, 20-7. Rice opened the 3Q with a 66/9pl drive for a td on its opening drive of the 3Q, 27-7. UTSA was SOD on 4&8 at the R34 but then drove 78/12 for a td, 27-14. UTSA had a 4&1 and was SOD at the R34. UTSA took over with 4:35 left and went 76/13pl getting a 1 yard td run with 1:24 left to only trail 27-21. Rice recovered the onside kick and took a knee. UTSA, thanks to those late drives, had a 434-340 yard edge and 24-15 FD edge.
UAB frosh RB Jordan Howard rushed for 159 yards on 20 carries. Austin Brown hit 19-30-188 but was outpassed by FIU's Jake Medlock who appears close to 100% healthy hitting 17-34-302 yards. FIU struck first with an 88/12pl drive for a td and UAB answered with a 90/9pl drive for a td, 7-7. UAB went 60/8pl for a td to lead 14-7 and FIU went 72/9pl, but on 3&gl from the 3, was intercepted in the EZ. UAB went 80/12pl for a td with 6:00 left in the half to lead 21-7 and appeared in control but FIU went 65/7pl getting a 27 yard FG then 75/10pl. On 4&10 FIU got a 40 yard pass to the 1 yard line with :04 left in the half and a gutsy 1 yard td run on the next play pulled them within 21-17. Thanks to 140 yards on the last 2 drives they had a 304-206 yard edge. UAB missed a 49 yard FG on its second 3Q possession, then drove 39/6pl on its 3rd for a FG, 24-17. FIU punted on its first 5 possessions of the 2H with just 2 FD's, but UAB couldn't put them away. FIU took over with 7:25 left and went 75/9pl getting a 13 yard td pass with 2:41 left, 24-24. UAB would convert on 3&10 with a pass interference FD, then added 3 more FD's to the FIU14 and got a 28 yard FG with :10 left for the win.
If you were wondering what effect missing their star QB would have on Utah St, you saw it in the fact that Boise St came in and dominated with a 26-16 FD edge, although the yards were just 447-348. USt did not even have the full-fledged starter as JUCO Craig Harrison relieved Chuckie Keeton in the last game, but new HC Matt Wells talked about using frosh Darell Garretson. Harrison hit 7-17-105 and Garretson 9-14-116. Boise took its 2nd drive 61/10pl for a td and its 3rd drive 44/5pl for a 35 yard FG to lead 10-0 after 1Q. USt went 50/3pl for a td to pull within 10-7 but Boise went 91/13pl for a td with 9:09 left in the half and 89/9pl for a td with 3:04 left, 24-7. USt got a 33 yard FG with :55 left in the half then blocked a punt, but had a 29 yard FG blocked. At the half BSU had a 274-172 yard edge. BSU opened the 3Q with a 69/11pl drive for a td. After an exchange of interceptions, Boise went 63/10pl for a 39 yard FG and led 34-10. The Aggies would get a 65 yard IR td with 13:28 left but was intercepted at the BS9, and fumbled at the BS40 on their next 2 possessions. USt took over with just 5:01 left and Garretson led them 91/14pl for a garbage td with :20 left to make the final 34-23.
Arizona St may have had a big game on deck vs Washington, but was coming off a loss and they took it out on Colorado. CU replaced a struggling Connor Wood at QB after he hit 0-4 attempts with 1 interception. Wood came in having hit under 30% the previous 2 weeks. Mike MacIntyre took the RS off Sefo Liufau and he hit 18-26-169. ASU went 84/5pl, 37/5pl (after 18 yard PR), 57/8pl and 15/3pl (after int) for 3 td's and a FG and led 25-0 with 4:38 left in the 1Q. CU actually drove 80/11pl for a td to pull within 25-6 but the 2 point failed. ASU went 75/5pl and continued the onslaught leading 47-6 at the half with a 407-76 yard edge. CU's opening drive of the 3Q ended on an interception in the EZ from the 27 and ASU went 80/14pl for another td and a 54-6 lead. After CU got a td with 11:03 left, ASU took over a its 19 and went on a 75/17pl drive that ate up the rest of the clock taking a knee at the 2 yard line or the final score could have been even worse.
UNLV won its 4th consecutive regular season game for the first time since 1984. It was somewhat of a strange game against Hawaii with some big momentum changes. UNLV was SOD on 4&2 at the end of a 66/12pl drive and then on 4&1 at the end of a 43/7pl drive and the 1Q was scoreless. After an exchange of FG's, UH got an 86 yard KR to the LV10, but after a false start and a sack lined up for a 38 yard FG and the snap was high. UNLV led 17-13 at the half with a 348-217 yard edge. It was 20-17 when UNLV got a 41 yard FG with 8:13 left in the 3Q. The Rebels went 65/9pl for a td and punted on their next possession but recovered a fumble at the UH8 and got a td for a 36-17 lead. UH punted on its next possession but then went 72/10pl for a td with 8:11 left, 36-23. They then got a 48 yard td pass to pull within 36-30 with 5:54 left. UH punted with 4:35 left but got the ball back at its 45 and appeared to pull out the win. On FD from the LV44 Sean Schroeder hit Chris Gant with a 44 yard td pass. Schroeder hit 24-47-325 and the td put them up 37-36 with 1:44 left. UNLV then went 51/12pl and got a 44 yard FG on the final play by Nolan Kohorst to pull out the win. UNLV had a 579-454 yard edge.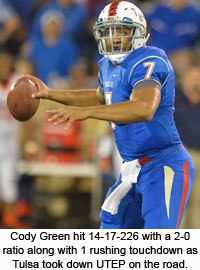 Tulsa has had a disappointing season but opened the game strong vs UTEP going 76/8pl for a td, 75/9pl capped by a 24 yard td pass, then 87/4pl capped by a 35 yard td pass. Cody Green hit an outstanding 14-17-226 while UTEP's Jameill Showers was 12-30-166. UTEP went 58/14pl for a 34 yard FG, 21-6 but then TU fumbled a punt at its 13. Showers, however, was intercepted at the 4 on 3&10. UTEP also had a 27 yard FG blocked with :26 left in the half. At the half Tulsa had a 256-159 yard edge. UTEP got a 100 yard KR to open the 3Q to pull within 21-13. Tulsa went 54/8pl for a td and UTEP was SOD at the TU42. TU went 48/10pl for a 27 yard FG and opened it up to a 27-13 lead. UTEP then got another big play, a 71 yard td pass from Showers to Jordan Leslie on 3&6 to pull them within 7. TU went 68/11pl for a td. Two possessions later UTEP was SOD on 4&5 at the TU28. UTEP took over with 1:35 left at its own 16 and went 69/12pl getting to the TU15 but was intercepted at the 3 with :06 left.
UCLA's Brett Hundley hit 31-41-410 vs a banged up Cal D. During the week Cal was working RB's at LB and WR's at DB due to injuries. UCLA was also playing with revenge for the previous year's loss and while they won by 27, it wasn't as easy as the final score would indicate. They did have a 24-10 lead at the half with a 325-138 yard edge. UCLA would settle for 22 and 27 yard FG's in the 3Q to lead 30-10. Cal then went 81/21pl and had a 1&gl at the 3. On 4&gl at the 3, they were SOD with 9:08 left. UCLA then went 97/8pl getting a 22 yard td pass which made some of their backers very happy with 4:41 left, 37-10. Cal got 3 FD's to the UCLA13 yard line but on 4&19 fired incomplete. UCLA got 1 FD and ran out the clock. UCLA had 488-320 yard and 28-21 FD edges.
Oregon St's Sean Mannion hit 34-51-493 yards. Washington St's Connor Halliday hit 26-49-248 but after a few interceptions they replaced him with Austin Apodaca (3-6-22, 1 int). If you look at the final score you see a 52-24 blowout. The game was tied at 24 at the end of 3Q's when WSU had a bad snap on a punt and OSU went 27/2pl for a td. After a Halliday interception on the next play, OSU went 45/3pl for a td, 38-24. Halliday was intercepted 3pl later and OSU went 39/5pl capped by an 8 yard td pass, 45-24. Halliday again was intercepted on the next play and OSU went 70/7pl for a 30 yard td pass with 6:43 left, their 4th td in a span of 8:17 to blow it open, 52-24. WSU fumbled and was intercepted on their final 2 possessions and OSU had a 598-383 yard and 29-22 FD edges.
For the 2nd straight year Texas A&M travelled to Mississippi and was happy to escape with the win. The two combined for 41 points in the 4Q. Early on Johnny Manziel injured his leg. A&M led 14-10 at the half with just a 235-213 yard edge. A&M went 63/9pl for a td with 10:11 left in the 3Q to lead 21-10 but Ole Miss drove 75/14pl for a td. After an exchange of int's, A&M would get a 37 yard FG to make it 24-17 but UM went 51/7pl, 41/2pl, and 78/6pl for td's on their next 3 poss to go up 38-31 with 6:05 left. A&M went 75/8pl and got a 6 yard td run to tie, 38-38. UM28 went 3&out and punted with 2:33 left but Manziel led A&M 56/7 for a 33 yard FG on the final play to escape with the win.
Make sure you check out today's Arkansas St/WKU matchup from Inside the Pressbox - FREE! And if you like what you see - just $39 for the rest of the season!
Follow Phil Steele anywhere!

•

•

•
•

•

•

•

•
Phil Steele is a college football analyst who has been publishing his annual College Football Preview since 1995. His magazine is regarded as one of the best in the business.
Google+