| | |
| --- | --- |
| Daily Blog • October 17th | |
By Phil Steele
My QB's of the Week
Joe SOuthwick, Boise St • Tom Savage, Pitt • Garrett Grayson, Colorado St
QB Joe Southwick (Boise St) – The 4th most accurate passer in the FBS gets the nod as one of our 3 fantasy QB's this week. On the year Southwick has completed 72.3% of his passes while surpassing the 300 yd mark in 2 of his last 3 contests. Up next for the Broncos is a date with rival Nevada who is allowing 602 ypg on the road this year. We look for Southwick to reach that 300+ pass mark again as the leader of the Boise offense.
QB Tom Savage (Pittsburgh) – After bouncing around the country via the transfer (Rutgers to Arizona to Rutgers to Pitt), Savage has finally found a home with the Panthers and has done relatively well including a massive 424 yd, 6 td outing a few weeks ago vs Duke. Pitt now gets a matchup with FBS transitional squad Old Dominion who has allowed 534 ypg vs FBS foes including 361 ypg through the air. Savage should get his share of passing opportunities as Pitt steps away from conf play for a weekend.
QB Garrett Grayson (Colorado St) – Consecutive 300 yard passing performances and a date with a Wyoming squad that is allowing 429 ypg on the season has us liking Grayson's opportunities to deliver another consistent outing. Another promising stat to look at is the fact that over the past 5 contests, he has been able to pass for at least 2 td passes in 4 of those games.
My RB's of the Week
Jeremy Langford, MIchigan St • Saylor Lavallii, Central Mich • Charles Ross, Rice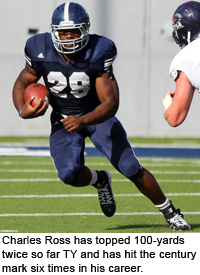 RB Jeremy Langford (Michigan St) – The Spartans are well known for their rich history of RB's and judging by his performance of a week ago (109 rush yds, 4 total td's), Jeremy Langford could be the next in line for greatness. Purdue has allowed 486 ypg on the road this year including 388 and 251 yd rushing performances against Wisconsin and Nebraska. We look for the Spartans and Langford to pound the ball early and often.
RB Saylor Lavallii (Central Michigan) – Despite a hiccup against NCSt a few weeks back when he rushed for 16 yds on 14 carries, Saylor Lavallii has been a pleasant surprise for the Chips this year, especially in conference play where he has rushed for 144, 151 and 184 respectively vs Toledo, Miami and Ohio. While Northern Illinois is one of the more elite MAC schools in 2013, they have been susceptible to the run allowing 174 ypg in road contests this year. We like Lavallii to have continued success once again.
RB Charles Ross (Rice) – After a smashing start to his '13 campaign against Texas A&M (107 rush, 3 total td) and Kansas (157 rush, 1 td), Ross was bitten by the injury bug over the next 3 games. Last week he returned to full health and after being gradually slid in vs UTSA with just 11 carries, we expect him to be the primary ball carrier this weekend vs a porous New Mexico St defense that has been gashed for 579 ypg (341 rush) on the season. With 5 CUSA games following this non-conf tilt, we expect the Owls offense to tune-up for the 2nd half of the season here.
My WR's of the Week
Ty Mongtomery, Stanford • Josh Huff, Oregon • Dres Anderson, Utah
WR Ty Montgomery (Stanford) – It doesn't get much more dangerous in the open field than when you matchup against Ty Montgomery who is an all-purpose nightmare for the opposition. On the year Montgomery already has 2 KR td's. After an 8 catch, 131 yd performance last week against Utah, Montgomery is fully vested into the passing game and should continue to flourish in a Top 25 tilt against the Bruins.
WR Josh Huff (Oregon) – After battling some injuries and upperclassmen in previous seasons Josh Huff has been a big part of the blur offense. Last season no Oregon WR had more than 500 receiving yards but Huff has already surpassed that mark through just 6 contests with 552 and 5 td's. This week's opponent Washington St has allowed 322, 521 and 496 yards in the air the L/3 weeks vs P12 opponents so it wouldn't surprise us much to see Huff and company again take to the air with great success.
WR Dres Anderson (Utah) – With excellent bloodlines (Father Willie "Flipper" Anderson still holds the NFL single-game receiving record with 336 yds in 1989), Dres Anderson has established himself as the primary target of the Utah pass offense this season with 592 receiving yards including 4 games of 100+ on the year. Their opponent this week is an Arizona squad that was torched for 546 yds a week ago against a USC program that came in averaging just 380 ypg! We like Utah's chances to put together a solid offensive outing once again this weekend.
My D's of the Week
Michigan St • Buffalo • Cincinnati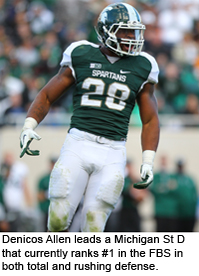 Michigan St Defense – While the Michigan St offense has been the big story the last few weekends with back-to-back 400-yard performances, the defense remains as consistent as ever allowing just 16 pts and 221 ypg in East Lansing this year. This week the Spartans entertain an inept Purdue offense that is averaging just 12 ppg and 229 ypg vs BCS defenses on the year. We feel extremely comfortable naming the Michigan St defense as one of our selections this weekend.
Buffalo Defense – After being gashed for 560 ypg over their first 3 contests of the season, the Buffalo defense has settled down and become very consistent over their past 3 games allowing just 9 ppg and 250 ypg. Next on the docket for the Bulls is a UMass offense that has yet to find solid success on the year averaging just 9 ppg and 282 ypg. Even worse is the Minutemen's road offense in 2013 (5 ppg, 267 ypg) making the Bulls a nice pick.
Cincinnati Defense – If you would throw out their 522 yds that they allowed to Illinois in week 2, the Bearcat defense would be allowing just 222 ypg on the year. That sets them up well against a Conn offense that has failed to get on track thus far as they have yet to win a game and have averaged just 220 ypg away from home on the year. We feel confident that the Cincy defense will flourish again!
---
A very interesting Week Seven is in the books and it is now time to look ahead to the seventh week of the college football season and the "sneaky" plays it has in store for fantasy owners. Here is a look at some guys who might fill in nicely for owners in need of a potential diamond in the rough.
QUARTERBACKS
QB Tom Savage, Pittsburgh (vs. Old Dominion):
Savage has had a roller coaster of a college career and has never lived up to his stud recruit billing coming out of high school. He appears to finally be comfortable at Pitt and could have a very big week against Old Dominion in Week Eight. The Pitt passing game could be in high gear against an ODU defense that could have a difficult time stopping Tyler Boyd and Devin Street. The Monarchs possess a potent passing attack and could keep this game close, meaning Savage will likely need to throw all game long. Savage could be a solid option in BCS only leagues this week.
QB Caleb Herring, UNLV (vs. Fresno State):
Herring has posted 678 yards passing and six touchdowns over the past two games and should be considered as an option this week against Fresno State. The Fresno State pass defense is putrid and could yield a bunch of yards and scores to Herring and his wide outs. It would not be a huge surprise to see Herring pile up over 300 yards and few scores against the Bulldogs on Saturday night. Herring could be the perfect option for owners in need of a high potential QB this week. (Note: in some leagues, Herring still qualifies as a WR)
QB BJ Denker, Arizona (vs. Utah):
Denker had a career game last week against USC with 363 yards passing and four touchdown passes. He proved that he can make the necessary throws and could find more success this week against Utah. The Utes pass defense has been getting torched this year and comes in ranked 105th in the nation. Look for Denker to do some damage with his arm and his feet on Saturday night in what could be a high scoring PAC 12 shootout.
RUNNING BACKS
RB Kevin Parks, Virginia (vs. Duke):
Parks is really starting to turn it on and has gone over 100 yards rushing in three of his past four games and has scored five touchdowns over that period. He is an excellent pass catcher out of the backfield, averaging 3.5 receptions per game on the season. Parks could be in line for a huge game against a weak Duke defense that could have a tough time containing him. A game that includes 150 total yards and multiple scores could be in store for Parks this week. He could make for an excellent option in BCS only league formats in Week Eight.
RB Glasco Martin, Baylor (vs. Iowa State):
Don't look now, but the TD vulture is back and ready to drive Lache Seastrunk owners bonkers. Martin vultured 15 rushing touchdowns last season and appears to be up to his old tricks with 3 scores in the past two contests. He has become the back who gets the carries inside the 10-yard line and was used to run out the clock last week against Kansas State. There is no reason to think that Martin won't score a couple of touchdowns this week against Iowa State. Martin is more than a handcuff to Seastrunk; he is a viable option in BCS only leagues.
RB Jeremy Langford, Michigan State (vs. Purdue):
Langford exploded for 120 total yards and four scores last week against Indiana. He will be facing a Purdue defense that is simply not very good and could easily get pushed around by the Michigan State rushing attack. Langford seems like a good bet for at least 100 yards rushing and one or two trips to the end zone against the Boilermakers. This Spartan could be an excellent #2 RB option for owners in most league formats this week.
RB Marteze Waller, Fresno State (vs. UNLV):
Waller has scored 4 touchdowns in the past two games and is averaging 126 yards on the ground during that span. He appears to have assumed control over the backfield and could post big numbers against UNLV in Week Eight. The Rebels rush defense has been abysmal this year and comes in ranked 119th in the country. Look for Waller to find plenty of huge holes to run through and easily top the 100-yard mark with a couple of scores thrown in. Waller looks to be a nice option in most types of leagues this week.
RB Shaun Wick, Wyoming (vs. Colorado State):
Wick has scored two rushing touchdowns in three of his last four games and appears poised to continue that success against Colorado State. The Rams defense is adequate at best and may be concentrated on containing QB Brett Smith, which could allow Wick to find plenty of open space. Look for Wick to find the end zone again this week and likely approach the 100-yard mark on the ground. He could be a solid #2 RB in most league formats in Week Eight.

WIDE RECEIVERS
WR Shane Williams-Rhodes, Boise State (vs. Nevada):
Williams-Rhodes is leading Boise State in receptions and receiving touchdowns and has also scored a rushing touchdown on the season. He could see plenty of opportunity in a potential shootout with Nevada this week. Look for this Bronco to be a nice option for owners in need of a gem this week.
WR Damian Copeland, Louisville (vs. Central Florida):
Copeland got his opportunity to shine last week with DeVante Parker out and he responded with 8 catches for 115 yards. He could star again this week as Parker's playing status is very much in question again. Look for Copeland to have a busy Friday night and reward fantasy owners for doing their research. Copeland could easily top the 100-yard mark this week and could be a nice #2 wide out in BCS only leagues.
WR Bruce Ellington, South Carolina (vs. Tennessee):
Ellington has come on strong lately and is fresh off a two touchdown performance against Arkansas. He is the main target in the South Carolina passing game and could be very busy this week against Tennessee. The Volunteers have had difficulty defending the pass this season and may not have an answer for Ellington. Look for Ellington to find pay dirt this week and catch a couple of long passes.
SNEAKY D'S

East Carolina vs. Southern Miss
Ball State vs. Western Michigan
Buffalo vs. UMASS
Oklahoma vs. Kansas
Rice vs. New Mexico State
There you have it everyone, enjoy this week's action and always remember to have fun playing college fantasy football. Good luck this week!

More…
For more college fantasy football information, visit CollegeFootballGeek.com:
• Start 'Em, Sit 'Em
• Injury Reports
• Player Rankings
• Player News
• Sneaky Plays of the Week
• Waiver Wire Reports

CollegeFootballGeek.com is your home for 2013 college fantasy football content! Draft kit, injury reports, player news, player projections, player rankings, mock drafts, community forums, and much more!
CollegeFootballGeek.com's 2013 College Fantasy Player Rankings - Week 8
Todd DeVries, CollegeFootballGeek.com
QUARTERBACKS
RUNNING BACKS
WIDE RECEIVERS

Rank

Name
School

Rank

Name
School

Rank

Name
School

1

Marcus Mariota
ORE

1

Bishop Sankey
WASH

1

Brandin Cooks
ORST

2

Brett Smith
WYOM

2

Ka'Deem Carey
ARIZ

2

Davante Adams
FRES

3

Sean Mannion
ORST

3

David Fluellen
TOLE

3

Devante Davis
UNLV

4

Johnny Manziel
TXAM

4

Jahwan Edwards
BALL

4

Jordan Matthews
VAND

5

Jordan Lynch
NIU

5

Mike Davis
SCAR

5

Tevin Reese
BAY

6

Derek Carr
FRES

6

Melvin Gordon
WISC

6

Michael Campanaro
WAKE

7

Bryce Petty
BAY

7

Antonio Andrews
WKU

7

Antwan Goodley
BAY

8

Brett Hundley
UCLA

8

Marion Grice
AZST

8

Justin Hardy
ECAR

9

Shane Carden
ECAR

9

Lache Seastrunk
BAY

9

Willie Snead
BALL

10

Jameis Winston
FSU

10

Branden Oliver
BUFF

10

Mike Evans
TXAM

11

Keith Wenning
BALL

11

Jeremy Hill
LSU

11

Jarvis Landry
LSU

12

Devin Gardner
MICH

12

T.J. Yeldon
ALAB

12

Jared Abbrederis
WISC

13

Caleb Herring
UNLV

13

Duke Johnson
MIAF

13

Tyler Boyd
PITT

14

Keith Price
WASH

14

Tim Cornett
UNLV

14

Jaelen Strong
AZST

15

Tajh Boyd
CLEM

15

Robert Lowe
TEXS

15

Sammy Watkins
CLEM

16

Aaron Murray
GEOR

16

Todd Gurley
GEOR

16

Dres Anderson
UTAH

17

Braxton Miller
OHST

17

Kasey Carrier
NMEX

17

Jeremy Johnson
SMU

18

Teddy Bridgewater
LOUI

18

Carlos Hyde
OHST

18

Devin Street
PITT

19

Cody Fajardo
NEV

19

James White
WISC

19

Albert Wilson
GEOS

20

John O'Korn
HOU

20

Jeremy Langford
MCST

20

Bralon Addison
ORE

21

Garrett Gilbert
SMU

21

Saylor Lavallii
CMIC

21

Odell Beckham Jr
LSU

22

Austyn Carta-Samuels
VAND

22

De'Anthony Thomas
ORE

22

Deontay Greenberry
HOU

23

B.J. Denker
ARIZ

23

Bronson Hill
EMIC

23

Chris Harper
CAL

24

Blake Bell
OKLA

24

Marteze Waller
FRES

24

Darius Joseph
SMU

25

Taysom Hill
BYU

25

Jay Ajayi
BOIS

25

Ty Montgomery
STAN

26

Cole Gautsche
NMEX

26

Byron Marshall
ORE

26

Stefon Diggs
MARY

27

Taylor Kelly
AZST

27

Rajion Neal
TENN

27

Dominic Rufran
WYOM

28

Sam Richardson
IWST

28

Vintavious Cooper
ECAR

28

Jamison Crowder
DUKE

29

A.J. McCarron
ALAB

29

Glasco Martin
BAY

29

Corey Brown
OHST

30

C.J. Brown
MARY

30

Trayion Durham
KENS

30

Alex Neutz
BUFF

31

Tom Savage
PITT

31

Terry Baggett
ARMY

31

Bernard Reedy
TOLE

32

Nate Sudfeld
IND

32

Tyler Gaffney
STAN

32

Eric Ward
TTCH

33

Jared Goff
CAL

33

Charles Ross
RICE

33

Josh Harper
FRES

34

Keenan Reynolds
NAVY

34

Brandin Byrd
NTEX

34

Jeremy Gallon
MICH

35

Zach Mettenberger
LSU

35

Storm Woods
ORST

35

Shane Williams-Rhodes
BOIS

36

Tyler Tettleton
OHIO

36

Dri Archer
KENS

36

Deon Long
MARY

37

Davis Webb
TTCH

37

Shaun Wick
WYOM

37

Rantavious Wooten
GEOR

38

Travis Wilson
UTAH

38

Tre Mason
AUB

38

Titus Davis
CMIC

39

Stephen Morris
MIAF

39

Tevin Coleman
IND

39

Cody Hoffman
BYU

40

Nick Marshall
AUB

40

Ryan Jackson
HOU

40

Cody Latimer
IND

41

Connor Shaw
SCAR

41

James Conner
PITT

41

Brandon Wimberly
NEV

42

J.W. Walsh
OKST

42

Jordon James
UCLA

42

Richard Mullaney
ORST

43

Vad Lee
GTEC

43

Senorise Perry
LOUI

43

Josh Huff
ORE

44

Nathan Scheelhaase
ILLI

44

James Poole
UTAH

44

Chris Conley
GEOR

45

Terrance Broadway
LALA

45

Charles Sims
WVU

45

Bruce Ellington
SCAR

46

Caleb Rowe
MARY

46

Aaron Wimberly
IWST

46

Donte Foster
OHIO

47

Baker Mayfield
TTCH

47

Kendall Brock
NEV

47

Devin Smith
OHST

48

Connor Halliday
WAZZ

48

Brandon Ross
MARY

48

Marqise Lee
USC

49

Bo Wallace
MISS

49

Fitzgerald Toussaint
MICH

49

DeVante Parker
LOUI

50

Terrel Hunt
SYRA

50

Alex Collins
ARK

50

Damian Copeland
LOUI
TIGHT ENDS
KICKERS
DEFENSES

Rank

Name
School

Rank

Name
School

Rank

Team

1

Jace Amaro
TTCH

1

Mathew Sims
NIU

1

Alabama Crimson Tide

2

Devin Funchess
MICH

2

Roberto Aguayo
FSU

2

Florida Gators

3

Austin Seferian-Jenkins
WASH

3

Michael Hunnicutt
OKLA

3

Oregon Ducks

4

Kivon Cartwright
CSU

4

Andy Phillips
UTAH

4

LSU Tigers

5

Richard Rodgers
CAL

5

Ryan Bustin
TTCH

5

Michigan St. Spartans

6

Troy Niklas
ND

6

Trevor Romaine
ORST

6

Miami Hurricanes

7

Ted Bolser
IND

7

Aaron Jones
BAY

7

Oklahoma Sooners

8

Nick O'Leary
FSU

8

Drew Basil
OHST

8

Louisville Cardinals

9

Connor Hamlett
ORST

9

Warren Harvey
ECAR

9

S. Carolina Gamecocks

10

Eric Ebron
UNC

10

Colin McGuire
FRES

10

N. Illinois Huskies

11

Mitchell Henry
WKU

11

Michael Geiger
MCST

11

Boise State Broncos

12

Jake McGee
VIRG

12

Scott Secor
BALL

12

Wisconsin Badgers

13

Christopher Coyle
AZST

13

Chandler Catanzaro
CLEM

13

Ohio State Buckeyes

14

Tyreese Russell
EMIC

14

Brendan Gibbons
MICH

14

TCU Horned Frogs

15

Evan Engram
MISS

15

Colby Delahoussay
LSU

15

Florida St. Seminoles

16

Gerald Christian
LOUI

16

Jeremiah Detmer
TOLE

16

Notre Dame

17

Wes Saxton
SALB

17

Jeff Budzien
NW

17

USC Trojans

18

Arthur Lynch
GEOR

18

Kyle Brindza
ND

18

Washington Huskies

19

Dan Vitale
NW

19

Marshall Morgan
GEOR

19

Missouri Tigers

20

Steve Marck
MIAO

20

John Wallace
LOUI

20

Texas Tech Red Raiders
For complete up-to-date college fantasy football player rankings and statistical projections, visit CollegeFootballGeek.com
Scoring System Used for CFG Rankings:
4 points per passing touchdown
6 points per rushing/receiving touchdown
25 passing yards = 1 point
10 rushing/receiving yards = 1 point
1 interception = -2 points
1 reception = 0.5 points
Follow Phil Steele anywhere!

•

•

•
•

•

•

•

•
Phil Steele is a college football analyst who has been publishing his annual College Football Preview since 1995. His magazine is regarded as one of the best in the business.
Google+