| | |
| --- | --- |
| Daily Blog • October 21st | |
As far as my game grades go after the 2008 season was completed, I devised a power ratings system, which lets me analyze at what level each team played during an individual game. This "game grade" takes into account the yards rushing, yards passing, points scored, rushing yards allowed, passing yards allowed and points allowed and factors them in against the opponent played and even factors in the site the game was played at.

With all these factors taken into consideration you will see teams that lost the game having a better individual game grade than teams that beat them simply because the team they played was superior and much less was expected of them.
Here are the Top 25 Game Grades (Team Performances from Week 8)
| | | | | | | | | | | | | |
| --- | --- | --- | --- | --- | --- | --- | --- | --- | --- | --- | --- | --- |
| | | | | OFF | OFF | OFF | DEF | DEF | DEF | | TOTAL | Game |
| RANK | TEAM | | FOE | RUSH | PASS | PTS | RUSH | PASS | PTS | TO's | YARDS | Grade |
| 1 | Florida St | at | Clemson | 121 | 444 | 51 | 123 | 203 | 14 | 3 | 239 | 126.9 |
| 2 | Arizona St | | Washington | 314 | 271 | 53 | -5 | 217 | 24 | -1 | 373 | 119.2 |
| 3 | Georgia Tech | | Syracuse | 394 | 88 | 56 | 75 | 133 | 0 | 2 | 274 | 113.4 |
| 4 | Missouri | | Florida | 205 | 295 | 36 | 59 | 92 | 17 | 1 | 349 | 112.1 |
| 5 | Baylor | | Iowa St | 291 | 423 | 71 | 291 | 133 | 7 | 3 | 290 | 111.7 |
| 6 | Alabama | | Arkansas | 352 | 180 | 52 | 165 | 91 | 0 | 3 | 276 | 108.8 |
| 7 | Oregon St | at | California | 74 | 496 | 49 | 75 | 291 | 17 | 2 | 204 | 103.1 |
| 8 | Auburn | at | Texas A&M | 379 | 236 | 45 | 133 | 469 | 41 | 1 | 13 | 100.3 |
| 9 | Oregon | | Washington St | 383 | 336 | 62 | 2 | 502 | 31 | 2 | 215 | 100.3 |
| 10 | Stanford | | UCLA | 192 | 227 | 24 | 74 | 192 | 10 | 1 | 153 | 99.6 |
| 11 | Mississippi | | LSU | 176 | 349 | 27 | 114 | 274 | 24 | 1 | 137 | 98.5 |
| 12 | UCF | at | Louisville | 196 | 250 | 38 | 104 | 341 | 35 | 0 | 1 | 98.0 |
| 13 | Vanderbilt | | Georgia | 119 | 218 | 31 | 107 | 114 | 27 | 1 | 116 | 97.7 |
| 14 | Arizona | | Utah | 300 | 168 | 35 | 172 | 157 | 24 | 0 | 139 | 95.9 |
| 15 | Utah St | at | New Mexico | 337 | 155 | 45 | 160 | 140 | 10 | 1 | 192 | 95.5 |
| 16 | Ohio St | | Iowa | 273 | 222 | 34 | 130 | 245 | 24 | 1 | 120 | 94.5 |
| 17 | Iowa | at | Ohio St | 130 | 245 | 24 | 273 | 222 | 34 | -1 | -120 | 94.4 |
| 18 | BYU | at | Houston | 264 | 417 | 47 | 48 | 435 | 46 | 0 | 198 | 94.3 |
| 19 | Louisiana | at | Arkansas St | 265 | 205 | 23 | 79 | 89 | 7 | 0 | 302 | 93.7 |
| 20 | Fresno St | | UNLV | 206 | 435 | 38 | 133 | 161 | 14 | -1 | 347 | 93.5 |
| 21 | Notre Dame | | USC | 129 | 166 | 14 | 129 | 201 | 10 | 0 | -35 | 93.0 |
| 22 | Michigan | | Indiana | 248 | 503 | 63 | 162 | 410 | 47 | 0 | 179 | 92.9 |
| 23 | Wisconsin | at | Illinois | 289 | 189 | 56 | 72 | 319 | 32 | 2 | 87 | 92.5 |
| 24 | SMU | at | Memphis | 139 | 321 | 34 | 111 | 129 | 22 | -1 | 220 | 91.4 |
| 25 | Oklahoma | at | Kansas | 235 | 180 | 34 | 185 | 16 | 19 | -2 | 214 | 91.4 |
By Phil Steele
WKU had a dominating 1H vs Louisiana with a 249-81 yard edge but the game was tied at 13. The key play of the game happened with WKU up 10-0 and having a 4&gl at the 1 yard line. They opted to go for it and the QB, under pressure, forced the ball into the EZ and was not only intercepted, but returned 99 yards for a td and instead of taking a 17-0 lead, WKU only led 10-7. WKU's next drive ended on a 4&9 fumble at the UL29 and it was returned 45 yards to the 35 setting up a UL td. In the 2H UL turned it over to the run game. They ran 15 times on their opening drive of 3Q but settled for a 23 yard FG. On their next possession, they did pass twice on an 80/9pl drive for a td which put them up 23-13. WKU was SOD on 4&2 at the UL24 with 13:33 left, fumbled at its own 24 and on the next play UL got a 24 yard td pass, 30-13. Each team went on a long td drive to make it 37-20 with 2:37 left and WKU was SOD at its own 35 with 1:17 left. Terrance Broadway hit just 5-10-90 but UL piled up a 254-133 rush edge. Brandon Doughty was injured in the game and Nelson Fishback replaced him and hit 5-6-78 but Doughty did return and finished 18-23-260.
Miami, Fl came into North Carolina undefeated. Miami did put up 556 yards offense while UNC piled up 500 yards offense. In fact, at the half the two teams had 579 yards of offense but had combined for only 30 points. UM suffered 2 big injuries. RB Duke Johnson had 83 yards on 8 carries but then went out (for the game) with injury. Leading receiver, Phillip Dorsett, had 2 catches for 68 yards but then he too was lost (likely out at least a month). Both teams blew numerous opportunities in the redzone. Miami trailed almost the entire game including being down by 10 in the 4Q. UNC was intercepted in the EZ on its 2nd possession. UM went on a 76/10pl drive but settled for a 22 yard FG. Trailing 7-3, the Canes went 72/7pl and again settled for a 20 yard FG after a 1&gl. Two possessions later UNC had a 47 yard FG blocked and UM returned it 67 yards for a td to lead 13-7. UNC drove 71/7pl for a td and UM got down to the UNC32 but was intercepted at the 1. That would set up UNC for a 60/12pl drive but at the 8 they settled for a 25 yard FG to lead 17-13 at the half. UM opened the 3Q with a 54/6pl drive and missed a 43 yard FG. The Tar Heels went 56/10pl and had a FD at the 11 but a clip forced them into a 35 yard FG, 20-13. UM was intercepted at the UNC20 and the Heels drove 76/12pl, but after a 1&gl at the 9, settled for a 21 yard FG to lead 23-13 leaving UM in the game. UM went 75/7pl for a td with 11:29 left and was intercepted at midfield but UNC was then intercepted at the UM11 with 7:51 left. After an exchange of punts, UM took over at its 10 with 4:11 left and went 90/13pl getting a 3 yard td run with :16 left. UNC got to the UM28 and a pass into the EZ was in both hands of Quinshad Davis, but he couldn't come down with it. When I released my Midseason All-American team prior to the game, I was the first source to list Eric Ebron as a 1st Tm All-American TE and had did not disappoint with 199 yards on 8 catches. Dallas Crawford, filling for in the injured Johnson, was not quite as explosive but did have 137 yards on 33 carries (4.1).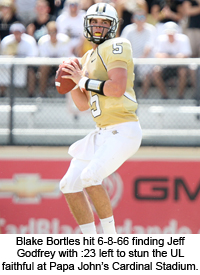 Another week, another upset of a top 10 team. Louisville appeared to have the schedule to go unbeaten this year and was a 2 td favorite over UCF who, on my radio shows last week, I called the Cardinals' toughest opponent for the entire season. UCF finished with a slight 446-445 yard edge and the FD's were even at 22. UCF's opening drive went 60/8pl but UL's DB Calvin Pryor made a spectacular 1-handed grab in the EZ for an interception and the Cardinals appeared in control. They went 80/11pl for a td, then 67/3pl and fumbled. The ball was originally ruled out of bounds and spotted at the 3 but replays showed it hit the pylon and was a TB. At the half, UL led 14-7 with a 235-172 yard edge, thanks to a 10 yard td pass with :58 left in the half. They used that late score of the 1H to gain momentum and went 75/9pl for a td on their opening drive of the 2H. Then UCF's P fumbled the snap and they scooped it up and returned it 30 yards for a td and it looked like it was over, 28-7 with 7:52 left in the 3Q. UCF would then score on their next 4 possessions going 74/6pl for a td, 15/1 (after fumble) for a td, 56/3pl for a td to tie and then 52/10pl for a 34 yard FG with 7:36 left to take a 31-28 lead. Teddy Bridgewater appeared to pull UL out of the fire. They converted on 4&5 with a pass interference call on an incomplete pass to get to the UCF35 and would get a td with 3:00 left to get back in the lead. UCF then went 75/11pl. On 3&10 they had a 14 yard pass to the 5, and on 3&gl from the 2, Blake Bortles hit Jeff Godfrey in the back in the EZ for a td. Bridgewater had a shot for a Doug Flutie-type Heisman moment when, from the UCF49 with :05 left, he fired a Hail Mary to the EZ but it didn't come close. Bridgewater hit 29-38-341 and the slim National Title hopes that UL had are out the window and, most likely, so are Bridgewater's Heisman hopes.
Michigan St did not make it past the Purdue 32 yard line until the 4Q and their offense, which had been improving the previous 2 weeks, struggled vs lowly PU with just 294 yards. Their only td in the first 3Q's came when they sacked true frosh Danny Etling causing a fumble and it was scooped up by Denicos Allen and returned for a td. Connor Cook hit 13-25-107 yards but early in the game he had 8 completions for a grand total of 17 yards passing in a conservative game plan. Jeremy Langford did rush for 131 yards. Etling hit 14-25-160. The only offensive scoring threat in the 1Q came when PU was at the MSU37 after converting on 4&1 but on the next play Etling was intercepted in the EZ. At the end of the half, thanks to a 40 yard PR to the MSU44 with :45 left, PU would miss a 51 yard FG 1 play after pass interference gave them a FD on 4&9. At the half PU had a 113-97 yard edge. PU opened the 3Q with a 43 yard pass to the MSU33 but missed a 41 yard FG. The next 6 possessions were punts. MSU took over with 13:02 left and would go 73/9pl for a td with 8:55 left, 14-0. Their last drive went 55/11pl but they took a knee at the PU22.
Minnesota HC Jerry Kill was on hand for the Northwestern game, watching from a private box. NU, which opened up 4-0 and ranked, has now lost 3 in a row and NU did have 328-299 yard and 20-16 FD edges and was playing without RB Venric Mark and without QB Kain Colter due to injuries. Trevor Siemian hit 25-46-234. Philip Nelson hit 8-11-112 for Minnesota and Mitch Leidner 1-3-11. The first 5 possessions of the game were punts and NU went 72/7pl for a td and 53/11pl but punted. UM went 82/8pl for a td with 6:48 left to tie. NU got to the UM48 but was intercepted with 4:49 left in the 1H. After an exchange of punts, UM took over at the NU49 with 1:43 left but missed a 44 yard FG. At the half NU had a 160-144 yard edge. The 3Q opened with 4 punts. UM got a 24 yard IR td with 1:22 left in the 3Q then recovered a fumble at the 23 and would get a 34 yard FG, 17-7. Each team went on a long drive for a short FG with UM's coming with 5:25 left at the end of 11 plays to make it 20-10. NU went 75/14pl for a td with 2:07 left but UM recovered the onside kick, got 1 FD, then on 3&6, took off on an 8 yard run to the NU21 with 1:12 left and took a knee.
Connecticut HC TJ Weist was an assistant coach at Cincinnati the last 3 years, so he was very familiar with the personnel. Conn put up 377 yards, their best outing of the season but Cincy had 525. True frosh Tim Boyle hit 22-39-310 while Cincy's Brendon Kay tallied 17-24-300. Cincy's Jordan Luallen, who has been used as a Wildcat QB the past couple of years, got his first td pass here. It was fairly close with 2:25 left in the 1Q Conn only trailed 14-3 and had the ball but was intercepted and returned 47 yards to their 2 yard line. Cincy would get a td 2pl later with 1:31 left then forced a punt with :44 left and went 55/3pl with a 33 yard td pass with :17 left to blow it open, 27-3. It was 34-3 and at this point in the game Conn had just 169 yards of offense. It was 41-10 when Conn was intercepted in the EZ with 7:36 left but they got a 40 yard FR td with 6:19 left. Cincy went for it on 4&8 at the Conn 12 with 1:04 left and was SOD in the dominating 41-16 win.
While Oklahoma St finished with a 415-325 yard edge vs TCU, both teams replaced their starting QB's due to ineffectiveness. Trevone Boykin for TCU hit 17-35-188 but had 3 interceptions and J.W. Walsh had 2 key interceptions in the 1H (9-18-115) and was replaced by Clint Chelf. Chelf began the year as the starter and hit 10-25-178. He actually had his first pass of the game intercepted but Mike Gundy stuck with him and there will be a QB battle this week. Tyler Matthews replaced Boykin and fumbled his first snap under center and failed to complete the only pass he attempted. OSU got the scoring started with a 95 yard PR td by Josh Stewart to make it 7-0. On their next drive, the Cowboys had a 1& gl at the 2 but were intercepted in the EZ. On their next drive a deep pass was intercepted at the TCU9. Leading 10-0, after an interception, Chelf guided OSU 37/3pl for a td with 6:03 left in the 2Q, 17-0. OSU was SOD at the TCU19 with 3:33 left in the half, missed a 31 yard FG with 2:12 left in the half and then went 60/8pl and missed a 32 yard FG on the 1H's last play. OSU had a commanding 268-62 yard edge yet only led 17-0 and it almost came back to bite them. TCU opened the 3Q going 69/11pl but on 4&1 was SOD at the OSU12. OSU fumbled at the TCU15 2 possessions later with 3:58 left in the quarter. TCU got a 69 yard pass down to the 16 then a 35 yard FG with 1:54 left in the 3Q to pull within 17-3. TCU went 77/12pl. On 4&5 they got a FD at the OSU 17 and then on 3&7 a 14 yard td run, 17-10 but OSU got a 50 yard KR to the TCU47 and 4pl later had the clinching td with 6:04 left on a 7 yard run by Rennie Childs. TCU was SOD at the OSU49 and ended the game at its own 49 running out of time.
Talk about a misleading final. A check of the scoreboard at the end shows that SMU only beat Memphis 34-29 and it sounded like a nail-biter. The game was anything but. SMU thoroughly dominated the 1H leading 31-3 with a 282-116 yard edge. UM would score 3 td's in the 2H trailing 34-3: the first on a 15 yard FR td, the 2nd a 19 yard fumbled PR td, and the 3rd when SMU's Garrett Gilbert was intercepted and returned 93 yards after he had a 2&8 at the UM9. That set up UM for a short "offensive" td to pull within 34-23. UM took over with 1:12 left and had just 240 yards at the time but gained 80 yards and on 4&3, on the last play with no time left, got an 8 yard garbage td pass. Even with that 80 yard drive SMU finished with a 460-320 yard edge. Gilbert hit 27-43-321.
East Carolina was off a 3-game road trip and a loss and was happy to be back at home. They took on a winless Southern Miss team and dominated with 476-233 yard and 30-12 FD edges. SM converted on 4-of-16 third downs with QB's Allan Bridgford and Nick Mullens combining to hit 11-28. ECU went 73/12pl and 80/12pl on their first 2 possessions for td's then 49/6 but fumbled at the SM18. They went 50/10pl and 81/9pl for 2 more td's and led 31-0 at the half with a 351-94 yard edge. They extended it to 55-0 after 3Q's with SM gaining 71 yards in 4 plays and 64 in 10 plays for a pair of garbage td's, the latter with 2:18 left.
I mentioned many times this year that South Carolina had a daunting and rare 3-game SEC road trip–all vs teams which I projected to get to bowls this year. They did pass their first test with flying colors vs Arkansas but came up short vs Tennessee. UT had an 18-17 FD edge and SC had a 384-325 yard edge. SC QB Connor Shaw (? this week) was injured with about 5:00 left in the game and did not return. Mike Davis did rush for 137 yards. UT had not beaten a ranked foe since 2009. About 250 former UT players ran through the T on to the field prior to the game. The Vols took their 2nd drive 33/7pl for a 37 yard FG to lead 3-0. SC didn't get a FD until their 3rd possession but then fumbled on the next play. SC punted on its next possession but then got a huge play with a 76 yard td pass to Damiere Byrd to actually take the lead, 7-3. UT went 75/10pl for a td and then went 61/7pl for a td and led 17-7 with 6:11 left in the half. SC missed a 45 yard FG with :54 left. In the 2H SC was intercepted but then drove 66/11pl for a td to make it 17-14. It was an odd call by Spurrier as on 4&8 at the UT45 he opted to go for it and they got a QB run by Shaw for the FD to the 36 to keep the drive alive. Had he been stopped, UT would have had the ball midfield up by 10. UT appeared to have a crucial miss. After a 46/9pl drive, they missed a 46 yard FG and SC went 70/6pl for a td and the lead, 21-17. UT drove 67/9pl but settled for a 33 yard FG with 10:11 left to pull within 1. The next 5 possessions were punts. UT took over with 2:48 left and went 63/9pl and had a 1&gl at the 2 and lined up for the 19 yard FG and banged it home for the upset.
There was a lot of talk earlier in the year from the national media about how Tyler Murphy was an upgrade at QB for Florida but their offense has been struggling as of late. Murphy hit 15-28 for just 92 yards in their loss to Missouri. Meanwhile, a rFr QB, Maty Mauk, making his first start taking on the nation's #1 defense, was an impressive 18-36-295. Henry Josey appears to be as close to 100% as he rushed for 136 yards on just 18 carries in his first start. MO outgained UF 500-151 and it would have been a bigger blowout than 36-17, but they settled for 5 FG's. MO knocked off its second consecutive ranked foe for the first time since 1972. I've mentioned many times recently on Twitter about how MO has had 4 SEC DL of the Week in the past 5 weeks and they recorded 6 sacks and had Murphy under constant pressure throughout. MO had a 200-61 yard edge at the half with UF's only score of the half being set up by a fumbled punt which they recovered at the MO24 but they settled for a 23 yard FG. MO went on a 68/12pl drive and settled for a 19 yard FG and also had a 43 yard FG plus was intercepted at the UF25 but only led 13-3. UF got a 100 yard KR td to open the 3Q but MO went 75/5pl and 59/7pl for a td and a FG to lead 23-10. UF got as close as 23-17 after 3Q's with a 70/6pl td drive but MO went 59/9pl for a 33 yard FG, 54/11pl for a 28 yard FG and then after recovering a fumble, got a 17 yard td run by Mauk with 6:30 left for the 36-17 final.
Davis Webb made his first road start for Texas Tech and hit 36-50-462. Clint Trickett hit 27-43-254 for West Virginia. This was a game of swings as TT appeared in control early, then WV was in control of the game and led 27-16 but at the end TT got a td with 1:01 left to win the game by 10. Each team punted to open and TT went 47/4pl for a td, then WV fumbled and TT went 64/11pl for a 21 yard FG to go up 10-0. WV went 63/12pl but on 4&14 fired incomplete. TT went 55/9pl for a 36 yard FG to lead 13-0 with 12:30 left in the 2Q but WV battled back going 73/11pl for a 33 yard FG. TT, after a 69/10pl drive, fumbled at the 1. WV went 99/9pl getting a 38 yard td run with 1:55 left in the half then recovered a fumble on the KO and added a 30 yard FG with :23 left to get back to 13-13. WV had a 288-261 yard edge at the half. The first 4 possessions of the 2H all went for scores with WV leading 27-16 with 4:36 left and TT going 80/8pl for a td to pull within 27-23 with 2:26 left in the 3Q. After 3 punts, TT went 84/7pl for a td with 9:30 left. The teams punted 3 times. TT took over with just 4:30 left at its own 31 needing just a couple of FD's to run the clock. They not only ran the clock, on 3&6 they got a 27 yard pass to the 5 and on 3&gl from the 10 hit a td pass.
Navy had 514-426 yard and 35-21 FD edges. Toledo's Terrance Owens struggled again for most of the game hitting just 11-20-105 but UT led by 10 late with Navy forcing OT in the final minute. Each team went on a long drive on their opening possession with Navy getting a td and UT settling for a FG. Navy was SOD at the UT35 on 4&7 and UT was SOD on 4&2 at the N34. UT got a 68 yard FR td and Navy went 69/13pl and missed a 38 yard FG but then went 55/9pl for a td with :56 left in the half to lead 14-10. At the half Navy did have a 271-121 yard edge. The first three possessions of the 3Q were td drives with UT going 79/6pl and 79/7pl for theirs to go up 24-21. Then after forcing a Navy punt, UT went 68/8pl for another td and a 31-21 lead with 12:10 left. Navy punted with 10:09 left and got it back with 8:35 left. They went for it on 4&1 at their own 13 yard line, a huge play, and got it, then, on 3&8, a 32 yard run and went 96/10pl getting a td with 4:37 left. UT got 1 FD and punted with 4:05 left and Navy went 42/14pl getting a 40 yard FG on the final play to send it to OT. The teams each scored td's in both OT's and each converted on 4&1 once, but Navy missed an xp in the 2nd OT and UT's xp won it.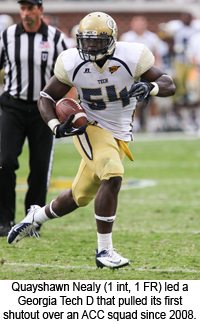 I thought Georgia Tech's offense would get back on track. The previous 4 games they had: faced a UNC team that had a bye the week before playing (2nd year in a row), taken on VT's outstanding D (knows how to stop the option), faced a Miami D with an athletic front 7 (also has been doing well shutting down the option), and then took on Bronco Mendenhall, one of the nation's best at shutting down the option. Last week they took on a Syracuse team getting its first crack at the option. GT was back home, off 3 straight losses and desperate for a win and got it big time with a 56-0 shutout of Cuse, a team that was coming off another ACC road trip. GT had a 482-208 yard edge in the game. At the half GT led 28-0 and then would score on their first 3 possessions of the 2H going 66/4pl, 44/4p and 89/6pl for td's and as you can tell by the final score and the stats, it was a dominating win. GT did not face a single third down in the 1Q.
Army has played at Lincoln Financial Field 11 times dating back to 2004. Of course, most of their other matchups were vs Navy and they've yet to win there. The losing streak continued vs Temple. TU did only have a 361-338 yard edge and in fact, Army had a 22-17 FD edge but TU controlled throughout. Army lost starting QB Angel Santiago in the 2Q. Kelvin White hit 7-16-79. TU went 93/6pl with a 45 yard pass getting them to the 1 then 99/10pl with a 37 yard td pass to lead 14-0 after their first 2 possessions. They would add a 39 yard td pass with 3:43 left in the half and then a 20 yard FR td :17 later made it 26-0. TU did have a 291-93 yard edge. TU recovered a fumble in the 3Q and went 21/2pl for a td to go up 33-0. Army went 78/13pl and 67/9pl for td's to pull within 33-14 after 3Q's but was intercepted at the TU19, intercepted at the TU31 and SOD at its own 43 on the final 3 drives.
Vanderbilt got its first victory over Georgia in Nashville since 1991. UGA came in banged up, still missing its top 2 RB's and 3 of its top 4 receivers but had opportunities. The Commodores lost QB Austyn Carta-Samuels (the 2nd QB UGA has KO'd in 2 weeks) in the 2Q and Patton Robinette took over. UGA got a td with :27 left in the half on 4&1 to lead 24-14 and had a 187-141 yard edge. UGA extended it with a 51/12pl drive but after a 1&gl at the 7, settled for a 23 yard FG leaving VU in the game, 27-14. The key play of the game happened when UGA fumbled the punt at its own 36 at the end of the 3Q and then the 2nd key play happened 4pl later. VU fired incomplete on 4&4 as LB Ramik Wilson lowered his shoulder into the body of the VU WR and knocked the ball loose. Amazingly, they called a targeting penalty. Naturally, they overturned the ejection but could not overturn the penalty and VU got a FD. They would convert on 4&1 and go on a 36/9pl drive for a td with 10:38 left to get back in it. VU went 60/11pl for a 40 yard FG to pull within 27-24 and then UGA's P fumbled the snap and VU took over at the 13. On the next play the Commodores got a 13 yard td run by Jerron Seymour to lead 31-27 with 2:46 left. UGA fumbled at the end of an 8 yard gain at their own 33 with 1:59 left. VU did finish with a 337-221 yard edge.
Miami stayed within 7 points of Akron but had to feel fortunate to do so. UA blocked a punt on the first drive and would go 13/4pl for a td. MU drove 44/9pl for a td to make it 7-7. UA fumbled at the MU17 at the end of an 8pl drive then went 65/11pl and missed a 39 yard FG with 7:40 left in the half. They then went 71/13pl but on 3&12 had an 11 yard pass but they fumbled into the EZ for a TB with :21 left. It was tied 7-7 with UA having a 206-109 yard edge. UA went 66/8pl for a td then went 67/8pl for another td, 21-7. MU missed a 39 yard FG on a 53/11pl drive then went 26/7pl and was intercepted at the UA45. MU fumbled at its own 5 and UA added a 19 yard FG to make it 24-7 with 8:19 left. MU went 83/9pl including a 4&5 conversion and got a 44 yard td pass on the next play, 24-14. MU recovered the onside kick then went 22/9pl for a 52 yard FG with 1:27 left. This time UA recovered the onside kick and on 4&2 got a FD and took a knee.
Eastern Michigan was playing with a heavy heart as Demarius Reed was tragically lost on Friday night after an apparent robbery and shooting. Reed had started all 6 games and was viewed as a leader of the team. They held a moment of silence before the Ohio game for him and wore helmet decals and jersey patches with his number on it. Reed had returned a punt for a score in 2011 and when EMU returned the opening KO 89 yards for a td, it was the first return td since Reed's, a fine way to honor their fallen teammate. Bronson Hill rushed for 257 yards on 23 carries for EMU. EMU gave a valiant effort but came up short being outFD'd 24-22 and outgained 547-477. After that KR td, OU drove 63/4pl for a td, recovered a fumble and went 30/6pl for a td then got a 79 yard PR to the 8 setting up a short td drive to lead 21-7 but only led 21-14 at the half with a 217-161 yard edge. EMU went 99/7pl for a 62 yard td pass with 8:19 left 3Q to tie it at 21. EMU had the ball and a 2&gl at the OU4 when the key play of the game happened–they were intercepted in the EZ. On the very next play OU got an 80 yard td pass and instead of EMU leading 28-21, the Bobcats were up 28-21. Then, after a 37 yard PR, OU went 42/5pl for a td, then after an interception, went 63/2pl for another td to make it 42-21. EMU got a td at the start of the 4Q to pull within 14 but OU went 60/8pl for a td with 10:40 left. EMU was stopped on 4&4 at its own 47 and OU went 47/10pl for a td with 1:54 left to close the scoring with a 28 pt win.
Colorado's opponent, Charleston Southern, came in a perfect 7-0 on the year but had taken on a very light schedule and had not dominated. Sefo Liufau got his first career start for the Buffs and hit 14-20-198. CU finished with a 416-196 yard edge vs the Buccaneers in a game that Colorado had to schedule after their Fresno St game was cancelled. CSU lost its QB Daniel Croghan III (concussion) the previous week and he'd been, by far, the team's offensive leader. Frosh Kyle Copeland was making his first start. He hit 7-13-48 yards. CU led 22-3 when CSU took over with 9:16 left in the half and went 87/15pl getting a 7 yard td pass on the last play of the half to make it 22-10. CU only had a 165-150 yard edge. The Buffs went 64/13pl to open the 3Q for a td but then punted on their next 2 possessions. They went 54/4pl for a td with 11:15 left, 82/5pl for a 34 yard td run by Michael Adkins II with 6:09 left. Adkins finished with 137 yards rushing on 13 carries in their 43-10 win.
Kapri Bibbs rushed for 29-201 for Colorado St and CSU won the Border War over Wyoming in dominating fashion. They had a 509-416 yard edge and led 24-7 at the half, 38-15 after 3Q's and 52-22 for the game. UW came in with the #10 offense in the NCAA. At one point in the 2Q CSU had a 220-34 yard edge and if not for being intercepted in the EZ would have been led by more than 21-0. It was 24-7 at the half with a 289-127 yard edge. They opened the 3Q with an interception and drove 26/2pl for a td then 75/12pl for a td to go up 38-15. Trailing 52-15, UW got a 67 yard td run with 3:58 left.
Ball St had 483-368 yard and 25-15 FD edges in their 38-17 win over Western Michigan. WMU took the lead going 68/8pl for a 41 yard FG to go up 3-0 but BS went 54/12pl for a 37 yard FG, 57/9pl but was SOD at the 16, 65/7pl for a td, 68/4pl for a td and led 17-3 with 5:47 left in the half. BS did punt on its next 2 possessions and WMU's Hail Mary from the BS36 was intercepted in the EZ. BS had a 301-168 yard edge at the half. BS opened the 3Q with a 45/4pl drive for a td and WMU went 89/10pl but was SOD on 4&gl from at the BS4. WMU went 80/11pl and got a 4&4, 8 yard td pass to pull within 24-10. BS went 65/8pl for a td and 76/9pl for a td with 5:07 left to go up by 28. WMU did close the scoring with a 26 yard FR for a td with :35 left.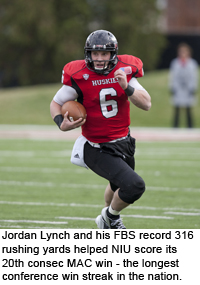 Northern Illinois' Jordan Lynch rushed for an FBS record 316 yards vs Central Michigan and oh, by the way, also hit 20-30 passes although for just 155 yards through the air. The previous record for a QB rushing came in 1990 when NIU's Stacey Robinson rushed for 308 yards vs Fresno St. This one was not as big of a blowout as the 38-17 final would indicate although NIU did have a 592-346 yard edge. The game was tied 14-14 when CMU fumbled at the NI13 with 4:58 left in the half. At the half NIU had a slim 265-249 yard edge in the tie game. NIU was clinging to a 24-17 lead when they forced a punt with 7:40 left. NIU went 77/6pl for a td with 6:11 left, forced a punt and took over at its own 11 with 5:16 left. Needing a couple FD's to run the clock, they went 89/7pl and got a 19 yard td run on 2&7 with 1:32 left for their largest lead of the game.
Kent St was coming off a great season last year, but I projected them to have a losing record this year. They are 1-loss away from that. They fell to 2-6 and need to win their final 4 regular season games to avoid it. They were a banged up team coming off some grueling MAC games and had QB Colin Reardon, DL Roosevelt Nix and P/K Anthony Melchiori all sitting out and Trayion Durham was doubtful coming in and had just 5 carries for 8 yards. They were taking on a South Alabama team fresh off a bye and it was almost an unfair situation for them. USA only had a 483-428 yard edge despite the large advantages. David Fisher, who got the start for KS, hit 14-26-181 and Ross Metheny 16-23-224 for USA. KS's opening drive went 51/8pl but they had a 41 yard FG blocked and USA went 75/6pl for a td. KS was SOD at the SA35 but USA was SOD at the KS45. USA then went 54/9pl for a 45 yard FG and Dri Archer ripped off a 74 yard td run to pull within 10-7. USA went 79/10pl for a td and at the half led 17-7 with a 234-174 yard edge. USA took its second 3Q possession 60/7pl for a td. KS went on a 57/10pl drive but missed a 31 yard FG. USA went 80/11pl for a td to ice it, 31-7. Archer got a 73 yard td run with 14:01 left, 31-14 but USA got a 67 yard KR to set up a 30/4pl drive for a td, 38-14. Each team was SOD, USA with 1:38 left and KS went 85/9pl getting a garbage td with :04 left to make the yardage close.
North Texas had 26 consecutive losses following a win but won a second straight for the first time since 2004 going on the road and beating Louisiana Tech, 28-13. LT had a 404-386 yard edge and the FD's were even at 20. After an interception, LT drove 25/5pl for a td to lead 7-0. NT was SOD on 4&3 at the LT28. LT went 47/9pl for a 40 yard FG 2 possessions later for a 10-0 lead but NT went 86/5pl capped by a 61 yard td pass then got a 56 yard IR td with 2:05 left in the 1H to make it 14-10. LT went 67/11pl but missed a 25 yard FG. LT had a 200-173 yard edge at the half but trailed by 4. NT took its second 3Q drive 43/4pl for a 3 yard td run, 21-10, then went 66/11pl for a 1 yard td run, 28-10 (:40 3Q). LT went 57/10pl for a td with 12:27 left but was SOD at the NT37 with 9:07 left. Their last drive went 65/9pl but was intercepted at the 10 with 2:00 left.
Oklahoma won for the 15th straight time the week after playing Texas but things didn't look good early as there was clearly somewhat of a hangover. For the 2nd time in 3 weeks Kansas jumped out to a double-digit lead over their foe. They blew a 10-0 lead over Texas Tech two weeks ago. OU finished with a 415-201 yard edge and 22-12 FD edge. KU lost its 24th straight Big 12 game. KU took its opening drive 70/10pl for a td then after an OU fumble drove 68/4pl for a td to lead 13-0 with 14:49 left 2Q. They forced an OU punt on the next possession. The Sooners, down 13-0, took over with 10:14 left in the half and drove 55/8pl for a td with 7:05 left. They then blocked a punt for a safety and Sterling Shepard returned the free kick 49 yards for a td and stunningly they took a 15-13 lead. After a 25 yard punt, they added a 37 yard FG with :11 left in the half. They had a 204-173 yard edge at half. OU went 58/6pl for a td to open the 3Q, was intercepted at the 25 on its 2nd possession and punted on its next 2. KU blocked a punt and recovered at the OU6 and got a td to apparently pull within 25-19, but the Sooners blocked the xp and returned it for 2 to open up an 8 pt lead with 10:15 left. OU went 75/11pl getting a td with 5:56 left to go up by 15 and KU was SOD at its own 24 with OU running the clock at the 13. Jake Heaps for KU hit just 5-13-16 but KU did rush for 185 yards on 30 carries. Blake Bell hit only 15-25-131 for OU.
Follow Phil Steele anywhere!

•

•

•
•

•

•

•

•
Phil Steele is a college football analyst who has been publishing his annual College Football Preview since 1995. His magazine is regarded as one of the best in the business.
Google+