| | |
| --- | --- |
| Daily Blog • October 22nd | |
By Phil Steele
Stanford came in off a loss taking on an undefeated UCLA team and I thought they would rebound, and they did. They had a 419-266 yard edge and 23-16 FD edge. SU's Kevin Hogan hit 18-25-227 while UCLA's Brett Hundley, who was entering Heisman discussions, hit just 24-39-192 passing while rushing for 27 yards on 11 carries vs a staunch Stanford D. This was the teams' 3rd meeting in less than a year including last year's Pac-12 Championship game. SU punted on its first drive and on its 3rd went 74/11pl for a 31 yard FG, 3-0. The next 5 possessions were punts. The Cardinal went 62/10pl and had a FD at the LA23 but then Hogan was intercepted at the 6 with :40 left in the half. The interception came when the receiver made a diving grab for the ball, rolled over, and the ball popped into the air and into the hands of the DB. SU had a 207-84 yard edge at the half. The Cardinal went 76/7pl and 40/6pl for td's on their first two 3Q possessions, 17-3. The Bruins went 75/11pl for a td with 14:56 left to get within 7 and SU, 2 possessions later, missed a 46 yard FG with 6:24 left. UCLA punted with 5:15 left but was intercepted a their own 32 with 2:40 left. SU went 32/5pl for a td with 1:42 left to win by 14.
Ohio St had better hope that all of the other unbeatens lose because they continue to be unimpressive vs a schedule that is far from overwhelming. Last week they took on Iowa and while they had a 495-375 yard edge, they actually were tied 24-24 into the 4Q. CB Bradley Robey is an All-American and was ejected in the 1Q for targeting, but Iowa's offense was unstoppable. Jake Rudock hit 19-34-245. The first 5 possessions of the game were all scores with Iowa leading 17-10. OSU went 46/9pl but on 4&10 fired incomplete in the EZ. Iowa punted with :32 left in the half but had a 222-189 yard edge. OSU went 75/13pl and 84/11pl and appeared poised to pull away in the 2H leading 24-17 but Iowa, after a holding call, faced a 1&20 back at its own 15 and Rudock hit Jake Duzey with an 85 yard td pass. The TE got behind the defense, caught it at midfield and ran it into the EZ untouched. The Buckeyes went 75/10pl for a td and 64/11pl for a 25 yard FG to go up 34-24 then got an interception at their own 49 and ended the game taking a knee at the UI29 yard line.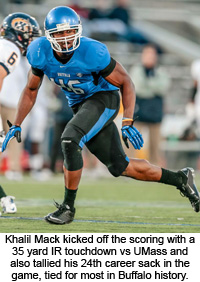 Buffalo won its 5th straight game–once again in impressive fashion. Branden Oliver rushed for 216 yards on 43 carries. UB had a 382-247 yard edge over Massachusetts. They were coming off a shutout win vs Western Mich and almost got the shutout here again, winning 32-3. The first 4 possessions were all punts. UB went 21/5pl for a 44 yard FG and punted on its next possession, then got a 35 yard IR td by LB Khalil Mack, 10-0 with 10:13 left in the 1H. UB went 63/13pl for a 36 yard FG to lead 13-0 with :39 left in the half. UM took over at its 39, got a 27 yard pass then a 42 yard FG with :06 left to avoid the shutout, 13-3. In the 2H UB went 45/7pl for a 27 yard FG. UM had a FD at the UB15 but on 3&23 fumbled. UB missed a 43 yard FG, punted, but then pinned UM at the 1 and tackled them for a safety on the next play. After the free kick they went 56/5pl for a td with 13:22 left and after UM was SOD on 4&6, UB went 67/10pl for a td with 5:09 left for the final.
Wake Forest's Jim Grobe does great following a bye week. Maryland got CJ Brown back, but after he hit 15-24-137 they brought Caleb Rowe in (12-27-207). Nikita Whitlock had a big game harassing the MD QB's and WF moved to 4-3 with its 2nd straight home upset after knocking off NC State in the last game. In the 1H the Demon Deacons scored on 4 of their 6 possessions to take command. Their star player, WR Michael Campanaro is actually a native of Maryland and caught 11 passes for 217 yards breaking Desmond Clark's school record of 216 yards receiving. The Terps fell to 1-9 in ACC road games under Randy Edsall and lost both of their top 2 receivers to injury during the game in Deon Long and Stefon Diggs (both out for year). WF got a 23 yard PR by Campanaro to set up a 36/3pl td drive to lead 7-0. MD missed a 35 yard FG. WF got a 51 yard FG to go up 10-0. They got an interception with 6:33 left in the half and returned it 49 yards to the MD18 setting up another td, 17-3 then got another interception and returned that one 9 yards. They drove 40/4pl for a td to go up 24-3 at the half although MD had a 182-132 yard edge. There were 3 punts to open the 3Q then MD brought Rowe off the bench. Rowe hit a 17 yard pass on his first play followed by a 56 yard td pass on his second to make it 24-10. Wake answered with an 88/9pl drive for a td and MD was SOD at the WF15. MD was SOD at the WF42 and WF drove 37/10pl for a 38 yard FG. MD fumbled at the WF22 and was SOD at the WF8 on its final 2 drives.
This is my first year to put out my Inside the Pressbox newsletter. It gives you all kinds of great stats and angles and a complete statical look at the game. After being on Erik Kuselias' radio show each week, where he asks me for a few of these plays, I decided to include some Best Bets (on a 26-9 run the last 6 weeks!). Every week Inside the Pressbox also includes a High Scoring Game of the Week. This past week – Indiana/Michigan. Final Score? Michigan 63-47! 110 points. Check out the Inside the Pressbox matchup sheet for this game. UM had 751 yards to IU's 572 for 1,323 yards of offense and the teams combined for 63 FD's in what was a shootout until UM pulled away late. Jeremy Gallon had 369 yards receiving which was 2nd most in NCAA history for a single game. The record for most yards receiving in a game is 405 by La Tech's Troy Edwards in 1998 and Gallon had 343 after 3Q's. Tre Roberson came off the bench to hit 16-23-288. UM has now won 19 straight games at home, the longest streak of any BCS team. It was 28-17 at the half with UM having a 348-200 yard edge but IU appeared to have a shot at an upset. They got a 67 yard td pass late in the 3Q to make it 42-40 but the 2 pt conversion failed. After they traded td's, UM fumbled at the IU2 and the Hoosiers, down 2, had the ball. They were intercepted on the next play and UM would drive 5/3pl for a td. After another interception, the Wolverines went 83/6pl for a td with 1:12 left to open up a 16 point lead, their largest of the game.
As expected, Texas A&M and Auburn was a shootout with AU having a 615-602 yard edge and A&M a 29-27 FD edge. Johnny Manziel hit 29-38-454, despite missing a series in the 4Q with an apparent injury, but also had 2 interceptions. Mike Evans set a school record with 287 yards receiving and 4 td's. As expected, Auburn was able to run the ball on an A&M D that came in yielding 5.7 ypc with Tre Mason rushing for 178 and Nick Marshall 100. Tied at 17, Auburn punted from its own 4 and A&M, with :36 left, got a 42 yard td pass to Evans to go up 24-17. A&M had a 330-282 yard edge at the half. After each team punted to open the 3Q, each scored a td. After an AU punt, A&M went 76/12pl. Manziel was hurt and Matt Joeckel came off the bench, fired incomplete, and they settled for a FG to go up 34-24. AU went 75/7pl for a td and A&M, with Joeckel at QB, went 3&out. AU went 69/5pl for a td to lead 38-34. Manziel came back and guided a 75/13pl drive for a td with 5:05 left but AU answered with a 75/13pl drive getting a td with 1:19 left. A&M got to the AU18 but after a sack on 4&13, Manziel was sacked for a 22 yard loss with :11 left.
Virginia led Duke 22-7 at the half with a 287-176 yard edge. Their opening drive was kept alive by a fake punt on 4&6 from midfield and they went 76/11pl for a td. They got a 56/4pl drive for a td with :32 left in the 1Q to go up 14-0 and 2 possessions later, went 77/7pl for a td and 2 pt conversion, 22-0. Gil Brandt always tells me scores late in the half give a team momentum and Duke got a td on a 62/8pl drive capped by a 6 yard td pass with :46 left in the half to pull within 22-7. Duke dominated the 3Q and in fact, UVA had just 7 yards in the 3Q. Duke was intercepted at the UVA28 after an 8pl drive, went 62/13pl for a 25 yard FG (25-10), then went 53/3pl for a td to get within 22-17. They went 82/9pl and got a 47 yard td pass on 4&1 to go up 25-22. UVA finally got its offense moving again going 52/11pl but missed a 44 yard FG and Duke went 73/9pl for a 24 yard td pass with 4:17 left. After UVA was SOD on 4&7 at its own 19, the Blue Devils added a 32 yard FG with 2:42 left for the 13 point win. Duke finished with a 472-363 yard edge. Anthony Boone hit 21-39-245 and while Brandon Connette was brought in to run after having started some previous games, his one attempt was that 47 yard td pass.
BYU had the most plays in college football so far this year running 115 vs Houston with the UH having 76. As you can tell by the final score, 47-46, this was also a shootout. BYU got an interception on the game's first play, drove 41/3pl for a td, then went 68/8pl for a 41 yard FG and led 10-0. UH got a 95 yard KR td, a 69 yard td pass and a 29 yard IR td and stormed to a 21-17 lead. UH, from 5:57 left in the 1Q until 12:50 left in the game, did not trail. They had leads of 31-24 and 38-31 getting a td with 1:30 left in the 1H but BYU drove for a 20 yard FG on the final play of the half to pull within 4. At the half BYU had a 461-361 yard edge. Surprisingly in the 2H, BYU was stopped on 4&1 at the UH34 and UH lined up for a 45 yard FG but missed it. The next 3 possessions were punts. BYU, pinned at its own 9, was tackled for a safety, 40-34. UH went 3&out after the free kick and BYU went 97/9pl and took the lead with 12:50 left, 41-40. UH missed another FG, this one from 40 yards out. Two possessions later UH went 84/7pl and got a 10 yard td pass to retake the lead, 46-41 (2 point no good). BYU punted with 3:26 left but UH punted it back with 1:50 left. BYU went 58/3pl getting a td with 1:08 left go up by one. UH was intercepted at midfield and BYU ran the clock.
Arizona St was in a great situation vs Washington–they had a bye on deck and had Colorado last week. UW, meanwhile, was off huge efforts vs both Stanford and Oregon. ASU had struggled vs the run and Bishop Sankey came in as the nation's leading rusher averaging 156 ypg. I think Coach Graham's pregame focus was to take away the run and UW was held to -5 yards rushing on 25 carries. Keep in mind sacks are included in the rushing total and they were sacked 7 times. However, Sankey had 13 rushes for 22 yards. ASU finished with commanding 583-212 yard and 31-12 FD edges. UW actually took its opening drive 60/11pl for a td to lead 7-0 and ASU punted on its first 2 possessions. On their 3rd possession they went 76/10pl for a 26 yard FG to get to 7-3. ASU was intercepted on its next possession, but then drove 57/4pl for a td to go up 9-7 (xpng) with 13:20 left in the 2Q. ASU went 57/10pl settling for a 22 yard FG, 12-7. UW fumbled a punt at its own 26 and ASU added a 36 yard FG then went 50/7pl for a td to lead 22-7. The Sun Devils went 60/4pl and got a 14 yard td pass, 29-7. At the half ASU had a commanding 315-74 yard edge. UW got a 70 yard td pass on the 3rd play of the 3Q on 3&16, 29-14. The next 3 possessions were scores with ASU getting a td and a 21 yard FG and UW a 27 yard FG, 39-17. After a personal foul on a PR, ASU went 43/5pl for a td to lead 46-17. ASU fumbled a punt at its own 46 and UW got a 26 yard td pass 3pl later to get within 22. However, 2 possessions later ASU went 73/10pl getting a td with 4:09 left for the 53-24 final.
There were a lot of upsets in college football this past Saturday but Alabama was not one of them. They dominated Arkansas with a 533-256 yard edge including 352-165 on the ground vs a good Hogs' rushing team. It was the first time Bama had shutout an SEC foe 2 years in a row since 1973-'74 and they are probably still kicking themselves over the td they allowed vs Kentucky last week, which broke a streak of 15 straight quarters without allowing a score. A surprising stat was that Amari Cooper caught his first td pass of the season as he starts to gain health. He had 65 yards on 3 catches. Ha Ha Clinton-Dix returned from a 2 game suspension but they did lose Vinnie Sunseri to a leg injury (out for year). The Crimson Tide went 68/12pl and 38/5pl for td's to lead 14-0. They punted on their 3rd possession, then went 84/5pl for a td. Ark put together a 67/12pl drive but had a 41 yard FG blocked with 2:54 left in the half and Bama went 72/5pl for a 30 yard td pass to Cooper with 1:07 left, 28-0. At the half they had a 270-137 yard edge. Ark fumbled the opening KO of the 2H and Bama went 30/3pl for a td, then went 72/8pl for another td, 42-0. After an interception, they went 3&out, but a roughing the K penalty gave them a FD and they would get a 48 yard FG, 45-0. Ark was SOD on 4&5 at the Bama15 after a 52/11pl drive with 1:58 left and then Derrick Henry, on 2&5, ripped off an 80 yard td run with :59 left for the 52-0 final.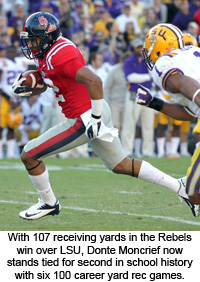 Ole Miss came in with a banged up D missing 5 defensive starters but Bo Wallace hit 30-39-346. Zach Mettenberger had 3 crucial interceptions, but UM finished with a 525-388 yard edge and led 24-14 when LSU battled back to tie. Mettenberger came in with a 15-2 ratio and all 3 interceptions were thrown into at least double coverage. UM had almost upset LSU on the road last year and now had a crowd of 61,160–their 9th largest in school history–and it was loud throughout. LSU got a 21 yard PR to the UM38 mid-1Q but Mettenberger was intercepted in the EZ. Ole Miss went 69/17pl but settled for a 28 yard FG after a 1&gl at the 5. UM went 83/6pl and got a 3 yard td pass from Barry Brunetti to Nick Parker, 10-0. LSU appeared to answer going 69/11pl but, from the 20, Mettenberger was intercepted in the EZ. On the next possession, LSU got to the UM35 but Mettenberger was again intercepted, this time at the 11. At the half, UM had a 234-178 yard edge and led 10-0. UM opened the 3Q, after a 27 yard punt at the LSU49, with 46/8pl drive getting a 2 yard td run for a 17-0 lead. LSU began to chip away. They went 61/8pl for a td with 6:16 left in the 3Q and, after recovering a fumble, went 51/8pl for another td, 17-14 (3:09). UM went 76/7pl getting a 26 yard td run by Jaylen Walton to retake command 24-14, then forced an LSU punt. UM fumbled a punt at its own 13 but LSU would settle for a 41 yard FG after Mettenberger took a 16 yard sack on 3&4 from the 7. UM went 63/10pl but LSU blocked a FG with 6:29 left keeping them in it and appeared to get back going 80/11pl. They converted on 4&10 at the UM16 for a FD and on 2&gl Mettenberger hit a 4 yard td pass with 3:19 left. UM got 1 FD and on 3&10 a 13 yard pass for a FD. They would get 2 more FD's and nailed a 41 yard FG with :02 left to pull out the victory.
Iowa St replaced QB Sam B. Richardson in the 2Q as ISU was struggling to move the ball vs Baylor. The Cyclones totaled just 9 FD's and 174 yards of offense. Of those 174 yards, 57 came on a final drive where they got a 27 yard td pass with :34 left. BU, as usual, was efficient. Bryce Petty, whose been avg about 20 ypc "only" avg 14.9 per completion hitting 23-31-343 yards. Each team punted on its first possessions and BU's first big play came when Petty threw a backward pass to Levi Norwood, who threw a 41 yard pass to Jay Lee, which keyed an 80/8pl drive for a td. BU followed that drive with: a 29/2pl td drive after a fumble, a 72/10pl drive for a 22 yard FG, and a 90/12pl drive that, once again, ended in a 22 yard FG and only led 20-0 with 8:59 left in the half. BU went 94/8pl and 55/6pl for td's, the latter with 1:37 left, then added a 51 yard FG in the final play of the half for good measure. They had a 37-0 lead at the half with a 461-74 yard edge. BU opened the 3Q with an 84/10pl td drive, 44-0. ISU did bring Richardson back in for some series in the 2H. BU actually punted on its next possession and was SOD at the ISU2 on its next, but got a 52 yard PR for a td for a 51-0 lead after 3Q's. BU went 79/14pl getting a td with 3:48 left to go up 64-0. ISU took over at its 43, converted on 4&1 for a FD at the BU27, then Grant Rohach hit DeVondrick Nealy with a 27 yard td pass with :47 left. BU then OVERwelmed fans with a 97 yard KR td with :34 left in the game.
Old Dominion gave Pittsburgh a game with a 25-18 FD edge and 405-370 yard edge. In fact, ODU, at the half, had a 211-182 yard edge and Pitt had to feel fortunate to be up 21-10. ODU took its opening drive 64/10pl for a td and took its 3rd drive 29/8pl for a 54 yard FG and a 10-0 lead. Pitt got a 74/9pl drive for a td to pull within 3, then got a 56 yard PR to the 12 setting up a td to go up 14-10. ODU missed a 54 yard FG with 2:53 left in the 1H and Pitt went 63/6pl for a td to make it 21-10. ODU missed another 54 yarder on the final play of the half. Pitt opened the 3Q with a 77/9pl drive for a 21 yard td pass, 28-10. ODU went 76/7pl for a td. Like he's done all season, Coach Bobby Wilder called an onside kick and it worked. ODU went 69/5pl for a td to get within 28-24. Pitt punted with 2:21 left in the 3Q, but then went 47/5pl for a td to make it 35-21. ODU was SOD on 4&8 at the Pitt45 with 10:53 left, punted with 6:44 left, and was intercepted at the Pitt35 with 2:35 left. Their final drive got to the Pitt36 where they were SOD.
Texas St's Robert Lowe rushed for a career high 177 yards. Georgia St actually finished with a 368-343 yard edge and 20-15 FD edge as Ronnie Bell hit 20-36-208. GSt took its opening drive 75/9pl capped by a 1 yard td run. The next 4 possessions were punts and TXSt went 49/4pl with Chris Nutall running 34 yards for a td. TXSt went 60/5pl but settled for a 20 yard FG, 10-7. TXSt got to the GS23 but was intercepted in the EZ. At the half TXSt had a 171-162 yard edge. TXSt opened the 3Q getting SOD at the GS30. After an exchange of punts, GSt went 81/19pl and had a 4&1 at the 2 and settled for a 19 yard FG to tie it. TXSt went 77/8pl for a td with 8:01 left in the game for the lead. GSt punted with 6:55 left and was intercepted at its own 45 with 3:56 left. TXSt returned it 27 yards to the 18 and would go 5pl for a td to get to 24-10. GSt went 85/8pl getting a 5 yard td pass with :01 left to give them the yardage edge in the 24-17 loss.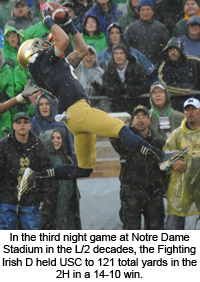 Notre Dame had lost 5 straight home games to USC, but finally snapped that streak. While USC dropped its 3rd on the year, they could actually be 6-1 if they had a FG kicker. USC had a 330-295 yard edge. The game was just the 3rd night game in Notre Dame Stadium in the last 2 decades. Tommy Rees was injured for ND in the 3Q and Andrew Hendrix attempted just 4 passes, hitting none of them. The Irish's opening drive of the game went 71/12pl, but on 4&1 they were stuffed for a 3 yard loss and USC went 96/13pl for a td. ND answered right back with a 77/10pl drive gaining 145 yards on the first 2 possessions, but just 150 in the rest of the game. USC would go 45/6pl but missed a 40 yard FG. USC got a 48 yard PR by Nelson Agholor and settled or a 22 yard FG after a 1&gl at the 9, 10-7. ND went 91/6pl getting a td with 1:13 left to go up 14-10. Cam McDaniel was the star of the drive with 24 and 36 yard runs keying it. ND had a 248-209 yard edge at the half. USC was intercepted at the ND41 to open the 3Q. The next 9 possessions were punts. USC was at the ND47, got 1 FD, and missed a 46 yard FG. After missing 2 FG's, and now being 4 points down, USC faced a 4&15 at the ND26 and passed up a 43 yard FG and was sacked for a 7 yard loss. Vs Washington St earlier this year, USC had opened the 2H with 2 long drives for 2 FG's and missed both then went for it on 4th down and was SOD in their 3 point loss. ND punted with 1:35 left and USC got a 32 yard pass to Agholor to the ND43. On 4&3 Agholor appeared to catch a FD pass but was hit hard and dropped it and the Irish escaped.
I mentioned a few weeks ago that New Mexico St got back its top WR Austin Franklin and he did have an 85 yard td reception vs Rice which made it 21-12 with 7:46 left in the half. Two possessions later Rice went 59/8pl for a 17 yard td pass to lead 28-12 at the half. At the half Rice had a 323-214 yard edge. Rice punted to open the 3Q, but then went 63/9pl for a td, 35-12. NMSt went 75/11pl and got a 1 yard td run, 35-19. Rice went 43/7pl and got a 50 yard FG, 38-19. NMSt was intercepted at the R33, punted with 8:37 left, and Rice went 56/8pl getting a 4 yard td run with 3:46 left to extend the margin to the largest of the game (26 points). NMSt was intercepted at its own 38 and Rice ended the game taking a knee at the NMS13. Rice finished with a 515-328 yard edge and an outstanding 26-10 FD edge.
Boise St RB Jay Ajayi ran for 222 yards vs Nevada. Joe Southwick was injured on the first play vs Nevada (ankle surgery, out at least 5 weeks) and backup QB Grant Hedrick hit an outstanding 18-21-150 and also rushed for 115 yards on 8 carries. He was the first Broncos' QB to top 100 yards rushing since Jared Zabransky did it back in 2004. UN jumped out to a 17-7 lead and, in fact, led at half vs Boise for the first time since 1997. At the half UN had a 246-197 yard edge. Boise opened the 3Q going 66/8pl for a td, then got an Ajayi 71 yard td run to go up 20-17. After the teams combined for 3 punts, Boise went 74/11pl for a td, 27-17 then went 77/11pl for another td, 34-17 with 8:28 left. UN did get to the BS10 where they were sacked for a 14 yard loss on 4&10 with 2:28 left and Boise ended the game at the UN34 taking a knee. Boise finished with a 557-373 yard edge although UN had a 27-26 FD edge.
Wisconsin did lose their top defensive player Chris Borland to injury early and actually allowed Illinois 391 yards. Melvin Gordon had another outstanding effort with 142 yards rushing on 17 carries and Jared Abbrederis, who was questionable coming in, had 8 catches for 106 yards. UW led 21-0 after 1Q, but IU got a 31 yard FG, forced a punt, then drove 57/4pl with a 51 yard pass on the first play down to the 6. The td made it 21-10 and when they got a 1 yard td rec with :45 left, pulled within 28-17 with UW only having a 219-175 yard edge. The Badgers opened the 3Q with 75/9pl and 56/5pl drives for td's to go up 42-17. UI was SOD on 4&gl at the 1 but after a punt, drove 47/4pl for a td and 2 point conversion to get back within 17. UW got a 54 yard KR and went 46/6pl for a td, 49-25. UI fumbled and UW went 39/9 with backup RB Corey Clement in. His 5 yard td made it 56-25. Illinois would go 78/7pl getting a garbage td with :44 left.

Clemson had one of its biggest home games ever and was extremely fired up as a home dog despite being #3 in the country and Florida St #5. The Las Vegas linesmakers evidently knew what they were talking about as FSU not only won the game, but dominated with a 565-326 yard edge. Jameis Winston stepped to the forefront of the Heisman Trophy race hitting 22-34-444 and showed unusual poise for a rFr in such a hostile environment. Tajh Boyd, who came in a Heisman frontrunner, hit just 17-37-156 and probably won't be visiting New York at year's end. FSU is undefeated after 6 games for the first time since 1999, which happens to be the last time FSU won the National Championship. Lamarcus Joyner is a prime Jim Thorpe candidate this week causing 2 fumbles and snagging an interception. Joyner forced a turnover on the first play of the game and FSU went 34/3pl for a td. They led 27-7 at the half with a commanding 312-141 yard edge even settling for a 24 yard FG with :03 left in the half. In the 3Q they rolled it open to 51-7 then, just like last year, allowed CU a late td to make the final closer than it was. The late score came with :13 left and capped a 71/16pl drive, so FSU "only" won 51-14.
Arizona finished with a 468-329 yard edge. The situation favored Arizona as they were coming off a loss to USC on national tv and needed a win at home. Utah, meanwhile, was off its big upset win over Stanford, the first time they had knocked off a top 5 foe in the regular season and had to travel. UA was SOD at the UU9 with the game tied at 7 but 3pl later got a 14 yard IR td to go up 14-7. Two possessions later Utah was intercepted on a deep pass from its own 12 at the UA28. UA went 72/13pl for a td and appeared in control, 20-7 and that was the score at the half with Utah's K Andy Phillips, who was a perfect 11-11 on FG's this year, missing a 42 yarder. UA had a 244-162 yard edge at the half. UA fumbled a punt to start the 3Q and Utah went 17/3pl for a td. UA was SOD on 4&2 at the UU45 and Utah got a 55 yard td pass on the next play to stunningly take the lead, 21-20. UA punted, then went 60/12pl but on 4&9 was SOD at the UU35. UA got it back and went 63/7pl for a td with 13:32 left to make it 28-21. The td came on 3&gl from the 7. Each team punted and Utah went 30/10pl and got a 44 yard FG by Phillips. UA fumbled at its own 39 with 6:29 left only ahead by 4 but Phillips missed a 40 yard FG on 4&4 with 3:49 left. UA got 2 FD, then on 3&5 a 44 yard td run by Ka'Deem Carey gave them an 11 point margin, 35-24. Utah did get to the UA41, gaining 34 yards on their final 9 plays.
Joey DeMartino had a big game for Utah St rushing for 144 yards on 12 carries as the Aggies continued on without their QB Chuckie Keeton. USt had a QB battle and went to true frosh Darell Garretson who hit 15-23-144 and USt led 31-3 at the half. New Mexico QB Cole Gautsche, who had been avg 103 ypg rushing, had just 7 yards and Kasey Carrier, who was leading the MW in rushing, had just 67 on the ground. USt recovered a fumble at the NM8 on the 3rd play of the game and got a DeMartino 8 yard td run on the next play. NM fumbled a punt and USt went 68/10pl for a td, then 58/13pl for a 24 yard FG. NM went 75/13pl but settled for a 24 yard FG. After each team punted, USt went 74/2pl with a DeMartino 32 yard td run and then got a 65 yard PR for a td by Bruce Natson with 1:47 left in the half. Despite their commanding 31-3 lead, USt only had a 230-149 yard edge. DeMartino got a 38 yard td run on the 4th play of the 3Q, 38-3. With Tay Glover-Wright at QB on their third 3Q drive, the Aggies went 75/17 but had a 24 yard FG blocked. USt then got a strange play when P Jaron Bentrude, on 4&6, raced 72 yards down the sideline for a td with 8:00 left on a fake punt, 45-3. NM would go 75/4pl for a td with 6:21 left and after USt was SOD, NM took over at the USt46 and got to the 8 where they fired incomplete with :13 left on 4&2.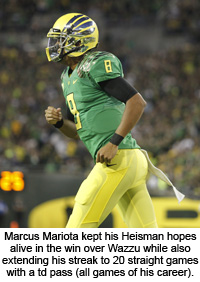 Oregon was without De'Anthony Thomas for a 4th straight game. However, Byron Marshall rushed for 192 yards on 21 carries, Thomas Tyner 7-99 and Marcus Mariota, keeping his Heisman hopes alive, 8-67 and hitting 23-32-327 passing. Mariota lost 2 fumbles early. UO had a 719-559 yard edge and Washington St finished with a 35-32 FD edge but got a couple of late td's when tailing 62-24 in the 4Q. WSU QB Connor Halliday hit 58 of a remarkable 89 passes for a school-record 557 yards, setting a Pac-12 record for attempts (tied FBS record) and completions (broke FBS record–83 by Purdue's Drew Brees in '98), topping Matt Scott from Arizona from last year. However, he also had 4 interceptions. He now leads the nation with 17 interceptions. UO had pink helmets and pink on their uniforms. The Ducks jumped out to a quick 27-7 lead but Mariota fumbled at his own 33 with 7:51 left in the half and on 4&5 Halliday hit a 12 yard td pass. Mariota was sacked and fumbled again and WSU scooped it up and returned it 29 yards for a td and shockingly their 2 td's in :35 made it 27-21. Tyner got a 66 yard td run with 4:40 left in the half and Halliday, on 2&8 from the 20, was intercepted in the EZ. UO got a 35 yard pass to Byron Marshall but he fumbled at the WSU12 with 1:16 left in the half and the Cougars went 56/8pl for a 49 yard FG to make it 34-24 at the half. At the half UO had a 483-314 yard edge. UO went 80/7pl and 61/4pl for td's to open the 3Q, 48-24. After a rare punt, the Ducks went 50/6pl for a td and got a 51 yard IR td and appeared on their way to a big win at 62-24 with 13:01 left. WSU punted with 9:43 left but forced UO to punt it back with 7:05 left. The Cougars would go 78/12pl for a td while UO went 3&out. WSU went 55/6pl for another garbage td, this one with :11 left to only lose by 24. As you may have heard, Oregon's DC Nick Aliotti was not too pleased with Mike Leach after the game.
Sean Mannion hit 35-45-481 vs a banged up Cal defense. Jared Goff hit 21-31-220 but was actually pulled for Zach Kline who hit 11-16-71. Cal settled for a 22 yard FG to pull within 7-3, then was intercepted at its own 34. Oregon St missed a 31 yard FG with 1:54 left in the 1Q. After a fumble, OSU went 15/3pl for a td. Cal went 38/9pl but missed a 45 yard FG. OSU went 72/7pl and on 4&2 got a 15 yard td run by Brandin Cooks on a reverse, 21-3. Cal was SOD at the OSU29 with 6:09 left and the Beavers went 71/5pl for a td. The Beavers went 78/4pl but after a 22 yard pass, fumbled at the 1 with :24 left 1H so they only led 28-3 with a 368-207 yard edge. It was 42-10 when Cal was SOD at the OSU19 with 13:33 left and the Beavers went 81/10pl for a td, 49-10. After an exchange of TO's, the Bears took over with 7:15 left and went 65/10pl and on 4&1 got a td with 3:44 left to pull within 32. OSU ran the clock.
Derek Carr topped 10,000 career yards passing as he hit 33-48-412 yards vs UNLV. Davante Adams hauled in 221 receiving yards in. Fresno St had 641-294 yard and 33-17 FD edges over UNLV. As usual, FSU got off to its quick start, getting a 75 yard td pass to Adams on the first play then a 28 yard td pass to Adams on the 2nd drive, capping a 79/14pl drive. They went 72/14pl and got a 2 yard td run to go up 21-0 with 12:44 left in the half. Each team missed a 2Q FG and UNLV went 60/9pl getting a 13 yard td pass with 1:07 left to pull within 28-14. FSU got to the LV12, but went for it on 2&12 on the final play and fired incomplete. At half they had a 399-240 yard edge. FSU went 84/11pl for a td on its first 3Q drive and UNLV was SOD at the FSU38. FSU went 48/9pl. A key play of the game happened when, on 2&6 from the 7, they got a td pass but it was called back for offensive pass interference and they settled for a 31 yard FG on 4&18, 38-14. UNLV went 51/14pl but was SOD at the FSU30. FSU, 2 possessions later, went 54/12 but was SOD at the LV29. After forcing a UNLV punt with 3:59 left, the Bulldogs got to the 12 where they took a knee with backup QB Brian Burrell in.
Follow Phil Steele anywhere!

•

•

•
•

•

•

•

•
Phil Steele is a college football analyst who has been publishing his annual College Football Preview since 1995. His magazine is regarded as one of the best in the business.
Google+