| | |
| --- | --- |
| Daily Blog • October 24th | |
By Phil Steele
My QB's of the Week
Stephen Morris, Miami • Brayle Brown, ULM • Maty Mauk, Missouri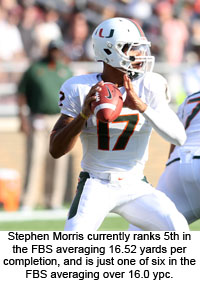 QB Stephen Morris (Miami, FL) – While Stephen Morris threw 4 interceptions in last week's matchup against UNC, he did surpass the 300 yard mark for a 2nd consecutive week. As far as the 4 interceptions go, he had just a total of 4 coming in so this was a bit of an aberration in our opinion. Next up is a meeting with a WF defense that has surrendered an avg of 336 ypg in the air over their past 3 contests. Look for Morris to reach that 300 yard plateau once again minus the abundance of turnovers.
QB Brayle Brown (ULM) – With defending SBC Player of the year Colton Browing expected to miss this weekend, Brayle Brown is the epitome of a Surprise Fantasy selection against Georgia St despite his 1-6 ratio on the year. The Panthers have surrendered 515 ypg against their FBS opponents so another dismal performance should be expected with Brown leading the way for ULM.
QB Maty Mauk (Missouri) – No James Franklin? No problem for MO as frosh Maty Mauk has proven to be a solid asset during his short term under center. After a 295 yd, 2 total td outing last week against Florida, Mauk and company now take on a South Carolina squad off an upset loss to Tennessee and playing their 3rd straight SEC game away from home. The Gamecocks are allowing 384 ypg on the road in 2013 and we believe that Mizzou's offense will once again flourish this weekend.
My RB's of the Week
Ryan Jackson, Houston • Jamal Wilson, UMass • Mark Weisman, Iowa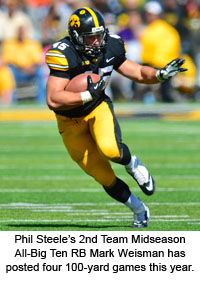 RB Ryan Jackson (Houston) – With 631 total yards rushing and receiving Ryan Jackson has proven that the Cougars aren't just a passing team in 2013 as he has surpassed the 100 yard rushing mark twice on the year while reaching the endzone at least once in 4 of UH's 6 contests. The Rutgers defense has been victimized their last 2 games to the tune of 558 yds vs SMU and 461 yds vs Louisville. With the Knights also allowing 151 yds on the ground last week, we like Jackson's chances in this matchup.
RB Jamal Wilson (UMass) – Oh yes we did! We took a player from UMass among our Surprise Fantasy candidates this weekend. The reasoning? How about a matchup against a Western Michigan run defense that has allowed 283 ypg on the ground in 2013. After missing the first 2 games of the season and playing sparingly in the next 2, Wilson has seen 20+ carries in 2 of the last 3 games and should find himself over the 100 yard mark for the 2nd time this season against the Broncos.
RB Mark Weisman (Iowa) – After struggles the past 2 games, we expect Mark Weisman to get back on track here against a Northwestern rush defense that has allowed 188 ypg on the road this year including 286 a few weeks back against Wisconsin. Weisman has four 100 yard rushing outings already in 2013 and as the temps get cooler, Iowa will lean on their main man more and more as the season progresses.
My WR's of the Week
Shaun Joplin, Bowling Green • William Dukes, FAU • Chandler Jones, San Jose St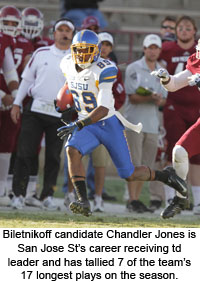 WR Shaun Joplin (Bowling Green) – Star players generally show up against their rivals so an expected solid performance for Shaun Joplin against Toledo should be in the offing. The Rockets have allowed 460+ yards in 2 of their last 3 contests and over 400 ypg on the road this year. Big things have been expected out of BG all year and we project that to come to fruition here with Joplin leading the way.
WR William Dukes (FAU) – Despite just a 2-5 record on the season, we like the chances of FAU keeping this week's contest against Auburn a bit closer than expected as the Tigers have surrendered 471 ypg vs FBS opponents this year. Dukes is 1st on the team in both rec yards and rec td's so judging by the numbers, we feel that he will have plenty of chances this weekend as the Owls look to keep this one tight.
WR Chandler Jones (San Jose St) – While San Jose St's 3-3 record is a bit of a disappointment, Chandler Jones' performance has not been as he has more than doubled the Spartans' #2 receivers in receptions, yards and rec td's. Next on the docket for SJSt is a date with Wyoming who continues to struggle on the defensive side of the ball allowing 485 ypg on the road this year. Jones should shine once again so grab him if he's available.
My D's of the Week
Ohio • Ole Miss • ULM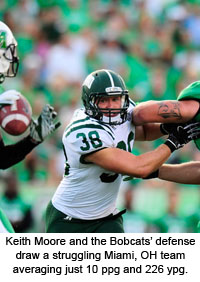 Ohio Defense – We continue to go against the Miami, OH offense nearly each and every week on this blog and for good reason as the RedHawks are averaging just 10 ppg and 226 ypg on the year and things don't appear to be getting any better. The Bobcats are the lucky opponent this weekend and while they have surrendered 23 ppg and 394 ypg on the year, we look for a cut in those numbers against Miami.
Ole Miss Defense – Teams have been known to struggle when venturing out of conference play this late in the season but a matchup against Idaho is a breath of fresh air for an Ole Miss defense that has played Texas, Alabama, Auburn, A&M and LSU in their past 5 contests. The Vandals are in the midst of another horrendous season averaging just 100 ppg and 338 ypg on the road in 2013. The Rebels are nearly a lock for a big defensive outing this weekend.
ULM Defense – Much like the previous 2 defenses in this week's blog, ULM was also selected due to their opponent's offense being a liability. Georgia St is averaging just 9 ppg and 254 ypg away from home this year as they continue their march to a winless season. ULM on the other hand is allowing a decent 362 ypg at home in '13 and we expect them to cut that average down a bit here.
---
A very interesting Week Eight is in the books and it is now time to look ahead to the ninth week of the college football season and the "sneaky" plays it has in store for fantasy owners. Here is a look at some guys who might fill in nicely for owners in need of a potential diamond in the rough.
QUARTERBACKS
QB Maty Mauk, Missouri (vs. South Carolina):
This freshman looked like anything but last week against a stout Florida defense. He totaled 310 yards and two scores and looked very comfortable running the Missouri offense. Mauk faces another solid defense in South Carolina this week, but could still find success at home. In a week where there are not many sneaky QB options, Mauk appears to be one of the best. Look for at least 250 total yards and a couple of scores from Mauk in Week Nine.
QB Grant Hedrick, Boise State (vs. BYU):
Hedrick came on in relief of Joe Southwick who left due to a foot injury and ran for 115 yards and two rushing scores against Nevada. He could post big numbers in a match up with BYU that could see both teams moving the ball up and down the field. A game of 300 total yards and a couple of scores does not appear out of the question for Hedrick on Friday night.
RUNNING BACKS
RB Traylon Shead, SMU (vs. Temple):
He's back! Shead posted 83 yards and two scores in his second game back from injury. He displayed the form that many fantasy owners were expecting to see entering this season. There is no reason to think that Shead won't score a couple of touchdowns this week against a bad Temple rush defense that ranks 101st in the country this year. Look for this bruising back to see a steady dose of carries this week. Shead could be an attractive option for owners in need of spark during the late season playoff push.
RB Jerron Seymour, Vanderbilt (vs. Texas A&M):
Seymour carried the load last week and scored two rushing touchdowns in the Commodores upset of Georgia. He has scored a touchdown in every game this year except for one and has eight rushing scores in total. He could have a big day against a terrible Texas A&M defense that ranks 112th in the nation and gives up plenty of big plays. Seymour could see a ton of carries this week as Vanderbilt tries to play ball control and keep the potent Aggies offense on the sidelines. This sophomore could post big numbers if the Commodores can keep the game close.
RB Kareem Hunt, Toledo (vs. Bowling Green):
This pick is entirely contingent on David Fluellen's playing status this week against Bowling Green. Hunt filled in last week for an injured Fluellen and piled up 127 rushing yards and two scores against Navy. Hunt could put up excellent numbers this week against Bowling Green if Fluellen is unable to go. A 100-yard day with a couple of scores seem well within reach for Hunt if he is called upon to carry the load for the Rockets in Week Nine.
RB Kapri Bibbs, Colorado State (vs. Hawaii):
Bibbs has scored three rushing touchdowns in two of the last three games and added 201 rushing yards last week against Wyoming. He is tearing it up in conference play and could continue that trend this week versus Hawaii. The Warriors defense could have a very difficult time stopping Bibbs and the Rams offense. Look for Bibbs to continue his hot streak and score a couple of touchdowns on the big island. Pick up Bibbs immediately if he is still available in your league.
RB Michael Adkins II, Colorado (vs. Arizona):
As far as fantasy rules go, not playing a Colorado running back is right up there with the best of them. Adkins may be putting that rule to the test with his most recent performance. He ran for 137 yards and four scores last week against Charleston Southern and looks to be an impact player for the Buffs. Fantasy owners should not expect those lofty numbers again this week, but 100 yards and a score seem within reach against Arizona. Start this freshman in what could be a closer game than the experts think this week.
WIDE RECEIVERS
WR Allen Hurns, Miami (vs. Wake Forest):
Hurns is the Hurricanes leading receiver and is averaging almost 97 receiving yards per game over his last four games. That yardage figures to go up with Phillip Dorsett out for up to 6 weeks with a knee injury. He could do some real damage this week against a Wake Forest defense that may have a hard time stopping the Miami offense. Look for Hurns to clear the 100-yard mark this week and possibly find his way into the end zone against the Demon Deacons. Hurns could be a nice #3 WR play in BCS only leagues this week.
WR Nelson Agholor, USC (vs. Utah):
This talented sophomore is averaging 125 yards receiving over the past two games and appears to be a favorite target of Cody Kessler. The playing status of Marqis Lee is questionable again this week and Kessler could lean on Agholor early and often in this contest. Agholor could find plenty of open space against a Utah pass defense that ranks 95th in the country. This Trojan could be a solid #2 wide out in BCS only formats this week.
SNEAKY D'S

Nebraska vs. Minnesota
Baylor vs. Kansas
Louisville vs. South Florida
UCF vs. UCONN
Ball State vs. Akron
Ohio vs. Miami Ohio
Clemson vs. Maryland
Northern Illinois vs. Eastern Michigan
Notre Dame vs. Air Force
Ole Miss vs. Idaho
There you have it everyone, enjoy this week's action and always remember to have fun playing college fantasy football. Good luck this week!

More…
For more college fantasy football information, visit CollegeFootballGeek.com:
• Start 'Em, Sit 'Em
• Injury Reports
• Player Rankings
• Player News
• Sneaky Plays of the Week
• Waiver Wire Reports

CollegeFootballGeek.com is your home for 2013 college fantasy football content! Draft kit, injury reports, player news, player projections, player rankings, mock drafts, community forums, and much more!
CollegeFootballGeek.com's 2013 College Fantasy Player Rankings - Week 9
Todd DeVries, CollegeFootballGeek.com
QUARTERBACKS
RUNNING BACKS
WIDE RECEIVERS
Rank
Name
School
Rank
Name
School
Rank
Name
School
1
Jordan Lynch
NIU
1
Bishop Sankey
WASH
1
Davante Adams
FRES
2
Johnny Manziel
TXAM
2
Ka'Deem Carey
ARIZ
2
Brandin Cooks
ORST
3
Derek Carr
FRES
3
Carlos Hyde
OHST
3
Mike Evans
TXAM
4
Marcus Mariota
ORE
4
Andre Williams
BC
4
Antwan Goodley
BAY
5
Brett Smith
WYOM
5
Antonio Andrews
WKU
5
Jordan Matthews
VAND
6
Jameis Winston
FSU
6
Lache Seastrunk
BAY
6
Deontay Greenberry
HOU
7
Cody Fajardo
NEV
7
Kenneth Dixon
LTEC
7
Tevin Reese
BAY
8
Bryce Petty
BAY
8
Bronson Hill
EMIC
8
Jeremy Johnson
SMU
9
Tajh Boyd
CLEM
9
Mike Davis
SCAR
9
Willie Snead
BALL
10
Braxton Miller
OHST
10
Ameer Abdullah
NEB
10
Chandler Jones
SJOS
11
Sean Mannion
ORST
11
Jahwan Edwards
BALL
11
Sammy Watkins
CLEM
12
Garrett Gilbert
SMU
12
Jeremy Hill
LSU
12
Allen Robinson
PSU
13
B.J. Denker
ARIZ
13
Tre Mason
AUB
13
Alex Amidon
BC
14
Keith Wenning
BALL
14
Trey Watts
TULS
14
Darius Joseph
SMU
15
Teddy Bridgewater
LOUI
15
Dri Archer
KENS
15
Josh Harper
FRES
16
Taysom Hill
BYU
16
T.J. Yeldon
ALAB
16
Jordan Williams
BALL
17
John O'Korn
HOU
17
Byron Marshall
ORE
17
Jarvis Landry
LSU
18
Brett Hundley
UCLA
18
Branden Oliver
BUFF
18
Devante Davis
UNLV
19
Travis Wilson
UTAH
19
Robert Lowe
TEXS
19
Bralon Addison
ORE
20
Nick Marshall
AUB
20
Jay Ajayi
BOIS
20
Chris Harper
CAL
21
Blake Bortles
UCF
21
Travis Greene
BG
21
Josh Huff
ORE
22
David Fales
SJOS
22
Darrin Reaves
UAB
22
Odell Beckham Jr
LSU
23
Daniel Sams
KANS
23
Kapri Bibbs
CSU
23
Brandon Wimberly
NEV
24
Keith Price
WASH
24
Jerron Seymour
VAND
24
Dominic Rufran
WYOM
25
Grant Hedrick
BOIS
25
David Fluellen
TOLE
25
Quinshad Davis
UNC
26
Zach Mettenberger
LSU
26
Marteze Waller
FRES
26
Michael Campanaro
WAKE
27
Davis Webb
TTCH
27
Traylon Shead
SMU
27
Ty Montgomery
STAN
28
Logan Thomas
VTEC
28
Duke Johnson
MIAF
28
Josh Stewart
OKST
29
Maty Mauk
MIZZ
29
Storm Johnson
UCF
29
Shane Williams-Rhodes
BOIS
30
Keenan Reynolds
NAVY
30
Tyler Gaffney
STAN
30
Albert Wilson
GEOS
31
Jameill Showers
UTEP
31
Shaun Wick
WYOM
31
Paul Richardson
COLO
32
Tyler Tettleton
OHIO
32
Mark Weisman
IOWA
32
DeVante Parker
LOUI
33
Eric Soza
UTSA
33
Kenyan Drake
ALAB
33
Cody Hoffman
BYU
34
Bo Wallace
MISS
34
Jeremy Langford
MCST
34
Tyler Winston
SJOS
35
Dak Prescott
MSST
35
De'Anthony Thomas
ORE
35
Jordan Leslie
UTEP
36
Christian Hackenberg
PSU
36
Charles Sims
WVU
36
Corey Brown
OHST
37
Taylor McHargue
RICE
37
Imani Cross
NEB
37
DaVaris Daniels
ND
38
P.J. Walker
TEMP
38
Kevin Parks
VIRG
38
Jamison Crowder
DUKE
39
A.J. McCarron
ALAB
39
Glasco Martin
BAY
39
Isaiah Burse
FRES
40
Stephen Morris
MIAF
40
Cameron Stingily
NIU
40
Eric Thomas
TROY
41
Vad Lee
GTEC
41
Kareem Hunt
TOLE
41
Tyler Boyd
PITT
42
Ronnie Bell
GEOS
42
Adam Muema
SDST
42
Laquon Treadwell
MISS
43
Kevin Hogan
STAN
43
Dallas Crawford
MIAF
43
Bernard Reedy
TOLE
44
Rakeem Cato
MARS
44
Kendall Brock
NEV
44
Tommy Shuler
MARS
45
Blake Bell
OKLA
45
Isaac Bennett
PITT
45
Corey Davis
WMIC
46
Caleb Herring
UNLV
46
Jamaal Williams
BYU
46
T.J. Jones
ND
47
Anthony Boone
DUKE
47
Thomas Tyner
ORE
47
Nelson Agholor
USC
48
J.W. Walsh
OKST
48
James Sims
KAN
48
Marqise Lee
USC
49
Sam Richardson
IWST
49
Trayion Durham
KENS
49
Damian Copeland
LOUI
50
Jared Goff
CAL
50
Jeremy Smith
OKST
50
Dres Anderson
UTAH
TIGHT ENDS
KICKERS
DEFENSES
Rank
Name
School
Rank
Name
School
Rank
Team
1
Jace Amaro
TTCH
1
Roberto Aguayo
FSU
1
LSU Tigers
2
Eric Ebron
UNC
2
Chandler Catanzaro
CLEM
2
Florida St. Seminoles
3
Kivon Cartwright
CSU
3
Michael Hunnicutt
OKLA
3
Virginia Tech Hokies
4
Nick O'Leary
FSU
4
Aaron Jones
BAY
4
Alabama Crimson Tide
5
Tyreese Russell
EMIC
5
Cody Journell
VTEC
5
Auburn Tigers
6
Troy Niklas
ND
6
Cody Parkey
AUB
6
Missouri Tigers
7
Austin Seferian-Jenkins
WASH
7
Drew Basil
OHST
7
Miami Hurricanes
8
Braxton Deaver
DUKE
8
Richie Leone
HOU
8
Notre Dame
9
E.J. Bibbs
IWST
9
Chase Hover
SMU
9
Louisville Cardinals
10
Tyler Kroft
RUTG
10
John Wallace
LOUI
10
Michigan St. Spartans
11
Steve Marck
MIAO
11
Colby Delahoussay
LSU
11
N. Illinois Huskies
12
Jordan Leggett
CLEM
12
Jordan Williamson
STAN
12
UCF Knights
13
Clive Walford
MIAF
13
Andrew Ritter
MISS
13
Mississippi Rebels
14
Gator Hoskins
MARS
14
Mike Meyer
IOWA
14
Clemson Tigers
15
Jake McGee
VIRG
15
Scott Secor
BALL
15
Nebraska Cornhuskers
16
Jimmay Mundine
KAN
16
Andy Phillips
UTAH
16
TCU Horned Frogs
17
Crockett Gillmore
CSU
17
Colin McGuire
FRES
17
Texas Longhorns
18
Jesse James
PSU
18
Kyle Brindza
ND
18
Baylor Bears
19
Richard Rodgers
CAL
19
Justin Haig
MARS
19
BYU Cougars
20
John Mundt
ORE
20
Chris Boswell
RICE
20
Stanford Cardinal
For complete up-to-date college fantasy football player rankings and statistical projections, visit CollegeFootballGeek.com
Scoring System Used for CFG Rankings:
4 points per passing touchdown
6 points per rushing/receiving touchdown
25 passing yards = 1 point
10 rushing/receiving yards = 1 point
1 interception = -2 points
1 reception = 0.5 points
Follow Phil Steele anywhere!

•

•

•
•

•

•

•

•
Phil Steele is a college football analyst who has been publishing his annual College Football Preview since 1995. His magazine is regarded as one of the best in the business.
Google+