| | |
| --- | --- |
| Daily Blog • October 28th | |
As far as my game grades go after the 2008 season was completed, I devised a power ratings system, which lets me analyze at what level each team played during an individual game. This "game grade" takes into account the yards rushing, yards passing, points scored, rushing yards allowed, passing yards allowed and points allowed and factors them in against the opponent played and even factors in the site the game was played at.

With all these factors taken into consideration you will see teams that lost the game having a better individual game grade than teams that beat them simply because the team they played was superior and much less was expected of them.
Here are the Top 25 Game Grades (Team Performances from Week 9)
| | | | | | | | | | | | | |
| --- | --- | --- | --- | --- | --- | --- | --- | --- | --- | --- | --- | --- |
| | | | | OFF | OFF | OFF | DEF | DEF | DEF | | TOTAL | Game |
| RANK | TEAM | | FOE | RUSH | PASS | PTS | RUSH | PASS | PTS | TO's | YARDS | Grades |
| 1 | Michigan St | at | Illinois | 269 | 208 | 42 | 25 | 103 | 3 | 1 | 349 | 112.5 |
| 2 | Ohio St | | Penn St | 408 | 278 | 63 | 120 | 237 | 14 | 3 | 329 | 112.2 |
| 3 | Baylor | at | Kansas | 306 | 437 | 59 | 154 | 154 | 14 | -1 | 435 | 111.9 |
| 4 | Auburn | | FAU | 422 | 206 | 45 | 97 | 150 | 10 | 0 | 381 | 109.1 |
| 5 | Alabama | | Tennessee | 204 | 275 | 45 | 127 | 195 | 10 | 1 | 157 | 106.3 |
| 6 | Oregon | | UCLA | 325 | 230 | 42 | 219 | 64 | 14 | 0 | 272 | 105.9 |
| 7 | Houston | at | Rutgers | 211 | 400 | 49 | 184 | 161 | 14 | 6 | 266 | 104.6 |
| 8 | Louisville | at | USF | 132 | 353 | 34 | 38 | 95 | 3 | 2 | 352 | 104.3 |
| 9 | Texas A&M | | Vanderbilt | 182 | 376 | 56 | 95 | 234 | 24 | -2 | 229 | 103.8 |
| 10 | Texas | at | TCU | 187 | 228 | 30 | 45 | 201 | 7 | 1 | 169 | 102.9 |
| 11 | South Carolina | at | Missouri | 69 | 389 | 17 | 111 | 249 | 17 | -2 | 98 | 102.4 |
| 12 | Arizona | at | Colorado | 405 | 265 | 44 | 137 | 212 | 20 | -1 | 321 | 101.1 |
| 13 | Florida St | | NC State | 224 | 342 | 49 | 188 | 128 | 17 | 1 | 250 | 101.0 |
| 14 | Minnesota | | Nebraska | 271 | 159 | 34 | 189 | 139 | 23 | 2 | 102 | 96.5 |
| 15 | UCF | | Connecticut | 176 | 351 | 62 | 91 | 142 | 17 | 2 | 294 | 95.7 |
| 16 | BYU | | Boise St | 229 | 339 | 37 | 214 | 285 | 20 | 4 | 69 | 93.5 |
| 17 | USC | | Utah | 30 | 230 | 19 | 71 | 130 | 3 | 4 | 59 | 93.0 |
| 18 | Oklahoma | | Texas Tech | 277 | 249 | 38 | 72 | 388 | 30 | 2 | 66 | 92.8 |
| 19 | North Carolina | | Boston College | 110 | 282 | 34 | 202 | 59 | 10 | 1 | 131 | 92.8 |
| 20 | Clemson | at | Maryland | 247 | 304 | 40 | 82 | 282 | 27 | 1 | 187 | 92.8 |
| 21 | Stanford | at | Oregon St | 185 | 88 | 20 | 17 | 271 | 12 | -1 | -15 | 92.7 |
| 22 | San Diego St | | Fresno St | 166 | 335 | 28 | 40 | 261 | 28 | -2 | 200 | 92.6 |
| 23 | Washington | | California | 262 | 380 | 41 | 131 | 352 | 17 | 1 | 159 | 92.5 |
| 24 | North Texas | at | Southern Miss | 229 | 300 | 55 | 39 | 210 | 14 | 1 | 280 | 91.0 |
| 25 | Oregon St | | Stanford | 17 | 271 | 12 | 185 | 88 | 20 | 1 | 15 | 90.5 |
By Phil Steele
Louisiana was very impressive for the second week in a row, even though they were on the road. They had a 26-10 FD edge and 470-168 yard edge. Arkansas St's Adam Kennedy was held to 11-20 passing for 89 yards while Louisiana's Terrance Broadway, a week after they mostly ran the ball, hit 18-28-205. ASU was intercepted on its first drive and UL went 31/8pl for a 36 yard FG then went 77/12pl and 86/6pl for a td's, 17-0 (10:44 2Q). UL was intercepted at the 39 on its next poss and ASU went 39/6pl for a td to get back in it, 17-7. UL got off a 9 yard punt and ASU took over at its 40 but on 4&2 with 1:04 left in the half fired incomplete and UL went 57/8pl and got a 38 yard FG, 20-7 at the half and had a 271-99 yard edge. UL went 73/14pl but missed a 28 yard FG then showing their domination went 73/12pl but settled for a 30 yard FG to lead 23-7. Each team punted 3x's and UL took over with 8:54 left and put together an 80/17pl drive taking a knee at the ASU16 at the end. UL's Elijah McGuire rushed for 110 yards and Alonzo Harris for 105.
Marshall/Middle Tennessee had one of the year's more exciting games. As you would expect, the teams' 51-49 final meant they traded scores often. MT did get a blocked punt for a td to take a 14-7 lead with 5:13 left in the 2Q. With 1:29 left in the half, MT got a 13 yard PR and drove 66/7pl for a td to tie at 21. MU got to midfield but was intercepted in the EZ on a Hail Mary. The first 3 poss of the 3Q were all td's but then Marshall, on 4&5, went for it and was tackled for a 14 yard loss. They allowed a 37 yard FG but got an 81 yard KR and drove 17/4pl for a td, 38-35. Both went on long td drives, 45-42. A 37 yard PR set up MU for a 44/8pl drive for a td with 2:29 left and they led 49-45. MU dropped 2 int's on the final drive. MT converted on 3&12 with a 24 yard pass then on 4&5 with an 18 yard pass. With :03 left from the 9, Kilgore hit Jefferson in the EZ for the td and they didn't even attempt the xp. MT did finish with a 585-448 yard edge as MT's D held Rakeem Cato to 19-35-235
Mississippi St came into the Kentucky game with the gameplan of using both QB's but Tyler Russell sprained his ankle on the first series and did not return. Dak Prescott hit 23-34-268 yards while rushing 16 times for 33 yards and also catching a td pass of 17 yards. MSU S Nickoe Whitley was ejected in the 2Q after his 2nd PF call in a 4pl span. MSU finished with a 447-325 yard edge but failed to put Kentucky away. After a UK punt to open the teams would drive for td's on the next 3 poss. MSU led 14-7. UK missed a 47 yard FG and MSU appeared on their way to a route with a 63/10pl drive for a td with 10:14 left in the half, 21-7. MSU punted with 2:50 left in the half and UK went 52/9pl getting a 45 yard FG with :31 left. MSU missed a 47 yard FG on the final play of the half. They had a 296-202 yard edge and led 21-10. The first 3 poss of the 3Q opened with punts but MSU's P mishandled the snap for a safety and after the free kick UK went 52/5pl for a td and shockingly it was back to 21-19. MSU went 74/7pl and handed off on a jet sweep to Lewis who threw a pass to QB Prescott for the td up 17 yards, 28-19. After an exchange of punts, UK took over at the MSU44, converting on 4&2 and would get a 44 yard FG with 8:15 left. MSU went on a 32/13pl drive with 3 FD's but on 4&9 opted to go for it and threw inc with 2:08 left. UK had a shot at the win getting 2 FD's to the MSU32 but on 4&7 from the 29, fired incomplete. Maxwell Smith hit 18-34-160 and Jalen Whitlow was questionable coming in.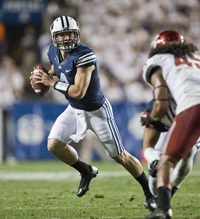 Boise St gave Grant Hedrick his first start at QB as Joe Southwick was injured on the opening drive of the previous game and he was on the road vs the BYU D in his first start. BS still did well putting up 499 yards although a lot of that came in the 2H. BYU's fast paced offense ran 91 plays, while BS ran 90 and BYU finished with a 568-499 yard edge. Hedrick hit 25-42-232 while Taysom Hill 27-41-339 and ran for 69 yards. BS was SOD on 4&3 at the BYU35 on their opening drive and BYU went 48/12pl but missed a 35 yard FG. BYU went 84/8pl for a td then 56/14pl for a 28 yard FG, 10-0. BS moved again going 63/10pl but was SOD on 4&1 at the 12. BS went 76/14pl settling for a 33 yard FG with 4:50 left 2Q, 10-3. BYU went 77/4pl getting a 37 yard td pass with 3:45 left then recovered a fumble and went 47/6pl getting a 4 yard td pass with :44 left, 24-3. At the half BYU had a 376-202 yard edge. After 3Q's it was 31-13 with BYU recovering a fumble at the 29 and getting a 34 yard FG to lead 34-13. BS was intercepted on the next poss at their 43 and fumbled at the BYU42 on the next but then went 85/8pl for a td with 10:23 left, 34-20. BYU30 went 47/8pl for a 41 yard FG to lead 37-20. BS was SOD on 4&1 at the BYU44 and their last drive got to midfield where they ran out of time.
Jake Rudock hit just 19-27-169 but Iowa seemed in control at the half leading 10-0. Northwestern had Kain Colter return to the lineup after missing the previous game and he hit 11-14 but for just 104 but he did rush for 60 yards. While UI won by 7, they did not need OT to do so. UI took the opening drive of the game right down the field, 74/14pl incl a 4&1 conv at the NW31 and got a td for a 7-0 lead. The next 3 poss were punts and UI went 42/11pl and got a 38 yard FG and were in control, 10-0. NW fumbled at the UI30 and the game went to the half with UI having a 155-121 yard edge. The 3Q opened with 2 punts then NW went 81/8pl. A 10 yard td pass made it 10-7 then NW went 69/16pl getting a 29 yard FG to tie it at 10 with 9:09 left in the game. UI25 went 51/9 but missed a 42 yard FG. NW got to the UI30 but an illegal block pushed them back to a 1&25 and they fumbled at midfield with 3:14 left and UI had a chance for the win in regulation. They got a FD to the 44 but passed up a 52 yard FG and on 4&11 were intercepted at the 15 with :07 left. In OT UI needed 4pl for an 8 yard td pass and NW on 4&8, was sacked for a 1 yard loss.
Deontay Greenberry had 168 yards on 8 rec's as John O'Korn hit 24-30-264 and Greg Ward was also impressive off the bench running the ball 11-91 and hitting 4-5-36 giving them 2 impressive QB's. Houston went on the road to Rutgers and simply dominated in the 49-14 win finishing with a 611-420 yard edge. UH came in leading the nation in takeaways with 21 and they were +14 in TO's. UH took their opening drive 51/11pl and had a FD on 4&1 but a hold brought it back and they had a 41 yard FG blocked. RU on their 2nd poss went 45/5pl for a td to lead 7-0 but the rest of the game belonged to UH. The Cougars went 52/4pl and 87/6pl for td's to make it 14-7. RU went 75/12pl for a 14 yard td run to tie at 14. UH got an 83 yard td pass then RU fumbled 2pl later and UH 2pl later got a 26 yard td pass, 28-14. UH got to the RU14 but 2 sacks and anintentional grounding and a false start had them lose 35 yards and they didn't score before the half. At the half they did have a 358-188 yard edge. UH went 84/11, 80/7, and 65/6pl on their first three 3Q poss to lead 39-14 and RU gained 89 of their yards on the game's final 12 plays trailing 49-14.
UL piled up a 485-133 yard edge, 26-8 FD edge but a 70 yard IR helped them win this game by 31 pts. Teddy Bridgewater hit 25-29-344 with no int's. USF QB's came in struggling and continued to do so vs the excellent Louisville D hitting just 8-19-95 as they failed to score an offensive td for the 3rd straight game but unlike the previous 2, they lost. In the 1H UL had an amazing 240-25 yard edge. UL took their opening drive 90/9 and got a 20 yard td pass, 7-0. USF, after UL punted from their 2 and got K/C interference started at the UL45. They put together a "long" 13/5 drive and got a 50 yard FG, 7-3. UL then went 75/12pl and had 1&gl at the 3 but settled for a 19 yard FG, got a 69 yard td pass with 7:16 left in the half and only led 17-3. UL opened the 3Q with an 82/14pl drive and again settled for a short FG, this one 19 yards with 2:55 left 3Q. USF got to the UL18 on their best drive of the game going 48/3 but fumbled at the 19. UL then went 81/14pl for a 5 yard td pass to get up by 24 and then with USF going 41/10pl they were intercepted on 3&20 and ret'd 70 yards for a td by Gaines to make it 34-3 with 7:50 left.
Nebraska looked like they were on their way to a route vs Minnesota going 69/6pl on their first poss then getting a 45 yard FG on their 2nd poss to lead 10-0. They then had trouble getting UM's run game off the field and UM rushed for 271 yards on 54 carries. QB Phillip Nelson hit 7-15-152 and NU's Taylor Martinez 16-30-139. UM finished with a 430-328 yard edge. Trailing 10-0 UM went 75/13pl for a td. The next 3 poss were punts and UM went 88/7pl with Nelson at QB, 14-10. NU broke off a 20 yard run by Abdullah but he fumbled and UM went 38/6pl for a 26 yard FG, 17-10. NU went 48/6 to their 27 and failed to call time out for :10 letting the clock run off and settled for a 42 yard FG with :03 left in the half to pull within 17-13. At the half UM did have a 221-169 yard edge. After each team punted to open the 3Q, UM after a facemask on the PR went 38/5pl for a td, 24-13. They then went 60/11pl for a 45 yard FG, 27-13. NU chipped away and got to 27-20 and had the ball at the 16 but settled for a 37 yard FG, 27-23. They forced a punt with 5:50 left and had a shot at the win but punted on 4&12 and the punt went just 27 yards to their own 34. UM converted on 3&2, 2&12 then on 3&gl from the 2 UM bobbled the snap and it would have set them up to force a FG. However, NU was offsides and on their next play, Nelson ran 1 yard for the td to clinch it and gave UM the upset.
Desmond Roland ran for a career high 219 yards for Oklahoma St. The Cowboys did have a 420-346 yard edge but the FD's were even at 20 and the game was actually 28-20 mid-3Q before OSU scored on 2 straight poss and added a 58 yard FR td. Clint Chelf started and hit just 10-26-78 but OSU rushed for 342. OSU did go 88/9 for a td, got a 31 yard IR td to go up 14-0 with less than 5:00 left. Two poss later they went 43/6pl for a td, 21-0. Each team would drive for a td, 28-7 then Iowa St went 88/5pl getting a td, 28-14 with 12:23 left in the 2Q. After the teams punted 3 times, ISU went 54/11pl and got a 20 yard td pass with 2:59 left to pull within 8. At the half ISU had a 247-171 yard edge. Chelf was intercepted at the ISU9 on the first poss but they went 47/8pl for a 22 yard FG. They then got a 58 yard td run on the first play of their next drive then got a 58 yard FR td to open it up to 45-20. The teams punted 4 times then ISU fumbled at their own 21 and OSU 4pl later got a td to go up 52-20 with 10:28 left. ISU went on a 75/10pl td drive to make it 52-27 and then OSU returned the onside kick 30 yards and got a 1 yard td run to make it 58-27 with 5:53 left.
UCF was off their big win over Louisville but back at home at Bright House with a bye on deck vs lowly UConn, they showed how strong they are. UCF scored on their first 9 poss of the game and are the clear frontrunner for the automatic BCS berth in the AAC. They had a 527-233 yard edge in this game. At the half they had a 17-5 FD edge and 338-90 yard edge. Blake Bortles hit 20-24-286 and backup Justin Holman got plenty of action hitting 6-11-65. UCF led 21-3 after 1Q but UConn, after UCF fumbled a punt, drove 24/6 for a td. UCF scored on their next 4 poss and led 45-10 at the half then on their first 2 poss of the 2H for a 55-10 lead. UConn was SOD on 4&gl at the 7 and UCF got to the UConn 19 but was intercepted. UConn got a 46 yard td pass with 10:11 left but UCF would tack on a td with 2:50 left and were SOD at the Conn 18 with :27 left on 4&8.
While Wake Forest fell to 1-53 all-time vs top 10 teams and their lone win coming 67 years ago to the date, they led Miami, Fl the majority of the game and firmly deserved to win this. UM, which was off their big game vs N Carolina and had a huge game vs Florida St on deck, managed to remain unbeaten but only had a 391-360 yard edge for the game. Tanner Price hit 25-45-302 yards for WF and UM was fortunate to score late in the 1H and late at the end to pull out the win. WF took its opening drive 69/16pl for a td then went 45/10pl but missed a 47 yard FG into the wind. UM drove 53/10pl for a FG to get within 7-3 but WF went 75/7pl for a td for the 14-3 lead. With 2:38 left in the half, WF punted. UM went 62/4pl getting a 35 yard td pass on FD to pull within 14-10. At the half WF had a commanding 226-126 yard edge which was actually 226-64 prior to that last drive. UM opened the 3Q with a 70/10pl drive but missed a 40 yard FG. UM got a 25 yard PR and went 43/9 but on 4&1 were SOD at the 9. The next 5 poss were punts. UM went 51/8pl for a td with 5:36 to take the lead but WF answered. They went 75/7pl and on 4&5 got a 44 yard td to Gibson on a wheel route for a 21-17 lead. UM27 went 72/10pl and got a td with :52 left to escape and WF was intercepted on their 2nd play at the 40 and ret'd 14 yards.
Virginia had an amazing 32-18 FD edge and forced 5 Georgia Tech TO's but somehow lost the game due to a couple of big plays. GT finished with a 507-444 yard edge thanks to those plays. It was the first time in UVA history that 2 players caught at least 10 passes in the same game and Darius Jennings caught 13-119 and Tim Smith 10-151. UVA held the ball for 34:34 but blew some golden opportunities in the RZ. David Watford hit 43-61-376 yards while GT's 2 QB's, Vad Lee and Justin Thomas combined to hit 5-9-113 with 2 int's. GT got a 35 yard run on the 2nd play and a 36 yard td run by Sims on the next to lead 7-0. UVA missed a 37 yard FG, after they recovered a fumble at the GT37. However, on 4&6 they lined up for a FG. GT jumped offsides so on 4&1 they went for it and fired incomplete. Two poss later UVA drove 87/13 but settled for a 28 yard FG, 7-3. GT got a 59 yard KR and went 41/7 for a td, 14-3. UVA answered with a 73/10pl drive and got a td with 4:24 left in the 2Q, 14-10. GT fumbled at the UVA39 but the Cavs punted. With :45 left 1H UVA went 50/7. On 3&gl from the 1 they passed up a FG on the last play of the half and were stuffed, ending up with zero pts. GT took their 2nd drive of the 3Q 62/5 for a td, 21-10. UVA went on a time consuming 88/12pl drive and got a td 2pl into the 4Q, 21-17. GT on 3&9 got a 13 yard pass and on the next play a 65 yard td run to Godhigh to get back up 28-17. After an exchange of punts, UVA went for it on 4&3 at its own 38 and converted and went 69/12. On 4&9 a 17 yard pass got them to the 12 and a 12 yard td pass pulled them within 3 with 3:23 left. GT25 got a 38 yard pass to the 37 and then on 3&2 got a 29 yard td run with 1:55 left to win by 10 which was an important number to some. UVA on 2&10 was intercepted and ret'd 12 yards to the 30 and GT took a knee.
Johnny Manziel was questionable vs Vanderbilt but he helped deliver an Inside the Pressbox Best Bet High Scoring Game of the Week winner as A&M beat VU 56-24 with a total of 80 pts! Manziel hit 25-35-305 and Matt Joeckel 3-6-28. Manziel did not practice until Friday and was still a little sore on Saturday. VU was without starting QB Austin Carta-Samuels and Patton Robinette filled in making his first road start and hit 15-28-216. Josh Grady hit 2-4-18 and he and Robinette comb'd for 2 int's. The situation greatly favored A&M as they were a top 10 team, off a home loss vs an unranked team that had knocked off a ranked team at home the previous week in an emotional setting and had to travel. A&M appeared on its way to a blowout scoring td's on the first 4 poss going 75/13, 66/6, 80/7, and 39/5pl (after 17 yard punt) to lead 28-0. VU actually battled back putting together a 69/10pl drive for a 23 yard FG then recovered an onside kick and went 44/4 for a td. Each team was SOD and then after a Manziel int, VU went 27/4pl for a td to get to 28-17 at the half. Texas A&M fumbled at the VU 27 with :02 left. A&M had a 344-203 yard edge. A&M got a 26 yard IR td on the first play of the 3Q and VU was SOD at their own 37 but A&M got a FD pass to the 1 and fumbled into the EZ for a TB costing them some points. They fumbled at their own 40 but on the next drive went 50/10pl for a 14 yard td pass, 42-17. VU was intercepted and A&M went 28/5pl for a td. After 2 punts, VU went 80/13pl getting a td with 9:32 left, 49-24 but with Hill at QB, A&M went 75/10pl getting a td with 5:08 left.
Old Dominion had 27-20 FD and 465-315 yard edges vs a decent Norfolk St team and actually due to some missed opportunities needed a FG on the final play of the game to pull out the 3 pt win. Taylor Heinicke hit 26-44-325 with a 3-1 ratio and Norfolk St used 3 different QB's and RB Finch had 18-97. NSU opened with a 68/13pl drive and settled for a 24 yard FG, 3-0. ODU went 64/8pl for a td but their next drive went for it on 4&5 at the NSU41 and were SOD. ODU went 50/7pl but settled for a 30 yard FG then went 55/8pl for a td to take control, 17-3. NSU brought Stokes in at QB and went 54/6pl for a 24 yard td pass, 17-10. ODU missed a 51 yard FG with :24 let in the half and only led by 7 with a 233-165 yard edge. NSU got a 62 yard PR to open the 3Q and went 21/2pl for a td to tie. ODU went 50/10pl but had a 27 yard FG blk'd. NSU went 80/19pl converting on 3&11, 4&4, 3&10, 3&21 and 4&1 with a td run, 24-17. ODU was intercepted at the NSU14 then drove 72/10pl to get a 2 yard td pass with 7:02 left to tie it. Surprisingly NSU went 45/10pl and with 3:01 left, had a 41 yard FG blk'd. ODU went 71/12pl and got a 24 yard FG on 4&gl with no time left and it was Jarod Brown's first career game winner.
Akron and Ball St was closer than the final score. UA actually finished with a 437-343 yard edge although BS had a 27-22 FD edge. Keith Wenning hit 25-35-240 while Kyle Pohl for UA hit 17-34-211. UA's Jawon Chisholm rushed 166 yards and BS's Jahwan Edwards rushed 25-120. BS looked good early going 75/8, and 62/7pl on their first 2 poss for a 14-3 lead but the next 5 poss were punts. BS fumbled at their own 31 but UA missed a 32 yard FG. Chisholm ripped off a 65 yard td run with 5:42 left in the half to pull within 14-10. BS went 57/5, and 75/9 for a pair of td's to go back up 28-10. At the half BS had a 300-206 yard edge. UA was SOD on 4&1 at the BS24 on their opening 3Q drive then went 58/4pl with a 15 yard td run by Pohl, 28-17. BS punted but then went 55/10pl for a 20 yard td pass, 35-17. After an exchange of punts the teams exchanged long td drives. UA then went 44/8 but fumbled at the 31, down 42-24 with 4:14 left. UA drove again, 39/6 but was intercepted at the BS 4 with :13 left and BS took a knee.
Good for Nick Sloan who last week missed an xp in the 2OT and Navy lost to Toledo. This week, Sloan hit a 30 yard game winning FG with :01 left and Navy escaped Pitt. Pitt only had a 338-325 yard edge and Navy a 20-18 FD edge. Keenan Reynolds hit 8-18 passing for 105 and was Navy's leading rusher with 93 yards on 21 carries. Tom Savage hit 20-27 for 203, with Devin Street having a pedestrian 96 yards on 9 rec's vs a Navy D not used to practicing vs the pass. Pitt's had some great receivers and Street now has 186 career rec's passing Latef Grim (1998-'00). Pitt did control the 1H with a 22:07 to 7:53 TOP edge running 44 plays to 22. They took their opening drive 68/16pl but settled for a 25 yard FG. Two poss later Pitt fumbled at the Navy 42 and Navy got a 58 yard td pass on the next play to lead 7-3 and Navy did not have a FD before the play. Pitt went 57/4pl for a 44 yard FG, then 74/9pl for a 12 yard td pass on 3&gl from the 12, 13-7. Navy went 50/11 but was intercepted at the 1 from the 23 with :34 left. Pitt had a 252-135 yard edge at the half. The 3Q opened with 4 punts. Navy went 91/16pl and got a 9 yard td run, 14-13 and the lead. Pitt went 75/11pl and got a td and 2 pt conv, 21-14. Navy went 71/10pl and got a 2 yard td run by Reynolds to tie with 2:52 left. Pitt took over at their 25 but on 4&6 punted 20 yards. Navy took over at the Pitt 49 and went 36/12pl and got a 30 yard FG with no time left on 3&8 for the win.
Tyler Tettleton threw for 306 yards and as expected the battle between 5-2 Ohio and 0-7 Miami, Oh was a mismatch with OU having a 535-240 yard edge. Beau Blankenship rushed 172 yards on 20 carries while MU's leading rusher QB Austin Boucher had 22 yards on 13 carries while hitting just 12-25-120. MU did put up a battle at times. OU went 82/6pl and 70/5pl for td's on their first 2 poss and it appeared a laugher at 14-0, but MU drove 47/11pl for a 45 yard FG, forced 2 punts and after a 25 yard punt went 40/7pl for a 22 yard td pass on 3&10, 14-10. MU was intercepted at their own 38 and OU went 31/3pl for a td to lead 21-10 and took over with 1:45 left and went 73/10pl for a 24 yard FG to go up 24-10. At the half OU had a 301-137 yard edge. OU took its 2nd 3Q poss 52/6pl for a 33 yard FG. After 3 punts OU went 79/8pl for a td, 34-10. OU brought in backup QB Vick with 12:09 left in the game and he fumbled the 2nd snap. MU on 4&gl got a 3 yard td run to cap the 16 yard drive to make it 34-16. Vick engineered a 56/12pl drive for a td, 41-16 with 3:36 left. MU took over at their 34 and went 46/10pl but was sacked at the OU20 with :11 left on 4&9.
Toledo and Bowling Green was interesting. BG's opening drive went 52/13. From the 23, they passed up a 41 yard FG and went for it on 4&10 and fired incomplete. UT went 77/7pl for a td then went 89/18 and got a 5 yard td pass on a drive which was kept alive on a 4&5 PI at the BG9 and on 3&gl from the 13, a late hit that gave them a FD that made it 14-0. UT went 60/8pl, 21-0. BG went 81/12pl and got a 1 yard td run, 21-7 at half. UT had a 212-156 yard edge. UT was sacked and fumbled to open the 3Q and BG recovered at the 29. They converted on 4&15 once again passing up the FG with a 17 yard pass but after 2 more FD's on 4&gl from the 1 a false start had them kick a 23 yard FG from the 6, 21-10. BG went 77/9 and got a 7 yard td run with 14:28 left. BG went 84/10pl and got a 7 yard td run with 5:54 left to apparently pull out the win, 25-21. UT30 got 3 FD's. On 3&26, they gained 17 yards and then Owens' 11 yard td pass on 4th down gave them the 28-25 lead with 1:22 left. BG25 got 1 FD but on 4&13 fired incomplete. UT had a 372-343 yard edge and 21-19 FD edge. Terrance Owens hit just 15-23-130 and Matt Johnson 17-26-208. David Fluellen was questionable coming and had just 3 carries for 61 yards and Kareem Hunt had 114 yards on a 21 carries for UT.
Western Michigan came in 0-8 and Massachusetts was 1-6. As you would expect, both teams took a lot of chances. WM finished with a 393-332 yard edge and won 31-30. UMass got a 90 yard KR to open and WM went 57/18pl going for it on 4&1, 4&1 and 4&2 and converting all 3 but on 4&8 got a 36 yard FG. UMass missed a 41 yard FG but went 64/7pl for a td to lead 14-3. The next 3 drives were all td's, 21-17 (2:13 2Q). At the half UM had a 238-172 yard edge. WM opened the 3Q with a 57/6pl drive for a 14 yard td, 24-21 and UM went 56/14pl incl a 4&2, 4 yard run to the 22 and they would get a 37 yard FG to tie. WM on 4&1 was SOD at the UM37. UM ran a fake punt and lost 4 yards at their own 40 but WM 9pl later missed a 22 yard FG after having a 1&gl at the 9. A 22 yard PR set up UM at the WM38 and on 4&4 they went for it and were SOD at the 30. After an exchange of punts, WM took over at the 47 and on 3&11, got a 54 yard td pass for the lead, 31-24. UM took over with 4:55 left and went 68/13pl for a td but opted to go for 2 pts an the win and it failed.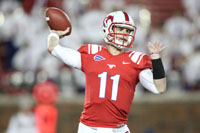 Garrett Gilbert had a great game for SMU hitting 37-53-538 yards. Gilbert's 635 yards ttl offense for SMU were the 7th most by any player in NCAA history. SMU had 34-20 FD and 728-593 yard edges but only won by 10 points and needed a big comeback to do so. SMU WR Keenan Holman had 209 yards receiving on 10 catches and Der'rikk Thompson had 158 on 9 rec. Temple QB PJ Walker hit 26-37-293 and their receiver, Robbie Anderson had 239 yards on just 9 catches. Walker had a stretch of 16 straight completions. SMU jumped out to a 7-0 lead but TU went 72/6, got a 83/1pl td pass to Anderson then went 76/6pl and 58/9pl for td's and a commanding 28-7 lead with 9:07 left. SMU got a 19 yard td pass with :46 left 1H to pull within 28-14 and SMU actually had a 338-327 yard edge as they'd fumbled at the TU29, fumbled at the 42 and fumbled at their own 38 in the 1H. SMU battled back and tied it at 35 with td's on their first 3 3Q poss going 78/8, 87/7 and 89/5pl to make it 35-35. TU tried a fake punt on 4&2 and SMU rec'd at their 28 and 4pl later they had a td for the lead, 42-35. TU went 75/5pl and got a 4 yard td pass to tie again, 42-42. SMU got an 87 yard KR to the 8 but in a key series, settled for a 21 yard FG. They forced a punt and went 67/6 for a td. TU went for it on 4&5 at the SMU47 and were SOD. SMU got a 43 yard pass to the 10 and then on 3&gl a 5 yard td run by Gilbert put them up by 17 pts with just 2:36 left and SMU backers were happy. TU25 got a 29 yard pass to the SMU46, a 37 yard QB run by Walker to the 9 and after a PI put them at the 2 with a FD the td made it 59-49. The onside kick went OOB.
Virginia Tech had a 387-198 yard edge and 19-13 FD edge but Duke still beat a ranked team for the first time since 1994 when they knocked off #13 Virginia and beat one on the road for the first time since 1971 when they knocked off Stanford. VT held the ball 39:27 to the Blue Devils 20:33 but Logan Thomas had 4 int's although so did Duke's Anthony Boone who hit just 7-25-107. VT went for it on their 2nd poss on 4&11 at the Duke31 and was SOD. VT was intercepted at their 46 but Duke was intercepted at the VT10. There were 4 punts. Duke nailed a 51 yard FG with 12:27 left in the 2Q and FG kicking turned out to be the key. VT went 68/16pl and had a 2&gl at the 1 but after a pen on 3&gl at the 7 were intercepted in the EZ. After an int, VT drove 55/7pl but missed a 45 yard FG with :42 left in the half while Duke nailed a 53 yard FG 7pl later for a 6-0 lead. VT had a 179-153 yard edge. VT was SOD on 4&1 at the Duke37 and Duke went 63/6pl for a 13-0 lead. VT20 was intercepted at their own 41 but then went 99/6 and Thomas' 5 yard td run made it 13-7. They went 31/9 but settled for a 42 yard FG, 13-10. After an int, VT took over at the Duke43 poised to take the lead but after 1 FD on 4&2 they opted for the 40 yard tying FG and Journell missed his 2nd FG of the game. VT was intercepted on their next poss with 4:22 left and Duke on 4&1 went for it and got a 3 yard run to the VT41 then got an 11 yard run by their QB to the 30 and took a knee.
Bobby Bowden planted the spear at midfield prior to the game and nearly 400 former players were on hand. Florida St was even more impressive than the 49-17 final score and 566-316 yard edge. FSU was playing with legitimate revenge after NC State had knocked them off the previous year. NCSt had Brandon Mitchell back in the lineup and he hit 17-33-128 yards in his first action since Wk 1. FSU went 65/4, 39/11, 62/7 after a fumble, 14/2 and 89/5pl for td's on their first 5 poss to lead 35-0 and the game was still in the 1Q with 2:02 left! FSU punted on their next 2 poss then went 54/6 for a td to lead 42-0 at the half with a 371-85 yard edge. FSU fumbled at the 6 yard line and NCSt went 75/11pl for a 36 yard FG. NCSt got a 72 yard td run by Thornton with :59 left in the 3Q to pull within 42-10 then 62/11pl for a td with 3:50 left to pull within 42-17. That drive included a 4&6 conversion. FSU went 79/9pl for a td with 2:19 left. Jameis Winston hit 16-26-292.
Alabama's win over Tennessee was their biggest MOV in this series since 1906. The Tide had 479-322 yard and 26-14 FD edges. AJ McCarron hit 19-27-275. Justin Worley 8-15-20 but was injured early 3Q and Joshua Dobbs hit 5-12-75 in his place. Bama did give up their 2nd offensive td in the last 6 games. Bama went 51/2, 66/7, 65/12, and 81/9pl for td's on their first 4 poss then fumbled at the UT2 on their next. UT was at the Bama24 threatening to make it a 21 pt game when Bama got an 89 IR td with :12 left in the half, a 14 pt swing, 35-0. At the half Bama had a 292-150 yard edge. UT opened the 3Q with a 48/5pl drive for a 37 yard FG. Bama took its 2nd poss 99/9pl for a td but UT went 55/9 incl a 4&3 conversion and the td made it 42-10. Bama went 68/12 and settled for a 20 yard FG to lead 45-10 and brought in backup QB Sims and they punted and ran the clock on the final 2 poss.
Eastern Michigan started Brogan Roback at QB and he hit 7-17-109 yards then Tyler Benz came in and hit 6-15-64. Bronson Hill who was avg 94 ypg was held to 65 yards on 10 carries. NI's 8-0 start is the best since it reached major college status back in 1965 when they started 9-0 and their best start is 10-0 (1963) but that was as Div II members. Jordan Lynch hit 16-20-223. They went 82/13, 80/3, and 50/4pl for td's and led 21-0. It was 38-3 at the half with a 384-183 yard edge. Surprisingly the 4Q opened with 4 straight scoring drives with EM getting a 32 yard FG and a 9 yard td pass and it was 52-13. After an EM punt, each team went on a long td drive, 59-20. NI on 4&4 took a knee at the EM8 with :58 left.
Clemson finished with a 551-364 yard edge. The situation favored Maryland in the fact that CU was off their big game vs Florida St and traveling but the injury situation clearly favored Clemson with MD missing their top 2 rec's who are both OFY, their QB, and numerous players on the rest of the offense and the D. The Terps played a great game and despite the fact they got a td in the final seconds to lose by 13, the game was much closer than that throughout. MD got a 71 yard td pass on its 2nd poss to lead 7-3. CU got a 29 yard FG and MD had a 3&gl from the 7 early 2Q but was intercepted in the EZ. CU would drive for a 25 yard FG to lead 9-7 then with just :09 left in the half got a 5 yard td pass to make it 16-7. CU had a 283-175 yard edge. CU fumbled at their own 23 but MD settled for a 21 yard FG early 3Q. CU fumbled on their next play and MD once again settled for a 41 yard FG, 16-13. CU got a 24 yard FG with 6:24 left in the 3Q, 19-13. After 4 punts, MD fumbled at their own 22 and CU went 22/4pl for a td with 13:04 left and some breathing room, 26-13. MD was SOD at the CU42 and CU went 58/6pl for a td with 7:57 left, 33-13. Each team drove for a td including CU getting a 45 yard td run with 5:03 left to go up 40-20. MD was sacked at and fumbled at their own 48 but CU was SOD on 4&2 at the MD39 with 2:34 left and the Terps went 61/8pl and got a 14 yard td pass with :06 left.
Andre Williams, who leads the ACC in rushing, had 172 yards on 26 carries for Boston College but N Carolina had 392-261 yard and 21-12 FD edges for the game. Chase Rettig hit just 10-20-57 and was sacked 4 times. Until the final 5:00 of the game, BC took a grand total of 5 snaps in NC territory. NC's much maligned D played with a passion. At the half they led 20-7. The 3Q actually opened with 6 punts then NC went 67/3 and 46/6pl for a pair of td's to ice it, 34-7. BC took over with 4:52 left and would get a 38 yard FG with 2:08 left to pull within 34-10.
Last week I called for Texas Tech to fall from the ranks of the unbeaten and #17 Oklahoma beat #10 Texas Tech by 8. Davis Webb started for Tech and hit 33-53-383. Blake Bell did hit 14-22-249 and OU finished with a 526-460 yard edge. OU had a 3-1 TO edge with TT turning the ball over 3 times in the 4Q. OU was easily TT's toughest foe of the season to date. OU had a 52 yard FG blk'd on their first poss then each team turned it over on their 2nd. TT went 51/9pl for a td to lead 7-0 after 1Q. OU went 97/16pl for a td with 5:55 left in the 2Q to tie then after a fumble, got a 76 yard td run by Saunders to go up 14-7. TT was SOD on 4&4 at the OU29 with 1:16 left. At the half OU had a 246-206 yard edge. OU14 went 86/11pl for a td, 21-7 but TT got a 75/4pl drive and a 23 yard pass to Ward made it 21-14. After a 33 yard PR, Tech drove 25/6pl for a 34 yard FG to pull within 21-17 then rec'd a surprise onside kick and went 46/3pl for a td and took the lead 24-21. OU went 75/5pl for a td then got an int and drove 58/7pl for a td to go up 35-24 with 11:04 left. TT went 76/11pl getting a td with 7:10 left but the 2 pt conv failed, 35-30. OU28 went 53/12 for a 37 yard FG with 1:11 left and TT on 4&23 was sacked at their own 12.
Branden Oliver rushed for 185 yards and Buffalo had a 491-363 yard edge. Joe Licata hit 20-31-285. For Kent St, Colin Reardon did return and hit 20-32-260. Dri Archer still not 100% had 5 carries for 35 yards and 3 rec's for 35 yards. Trayion Durham who also missed practice during the week, had 57 yards rushing on 12 carries. KSt took a 7-6 lead with a 70/9pl drive that got a 5 yard td run with 14:23 left in the 2Q. Buffalo answered right back with a 66/4pl for a td, 13-7. The teams punted 4 times and KSt was the BU14 and they were intercepted and ret'd 45 yards out to the KSt46 with :36 left in the half. On 3&10 Oliver's 17 yard td run capped the 4 play drive and BUF led 20-7 at the half with a 237-174 yard edge. BUF took their 2nd 3Q poss 65/3pl capped off by Oliver's 38 yard td run. Then after a 22 yard IR got them to the KSt12, Oliver's 4 yard td run made it 34-7. KSt went 52/4pl and 80/9pl for a pair of td's to get back in it 34-21 while BUF missed a 33 yard FG on their poss in between. However, BUF got a 38 yard KR to the KSt39 and on 2&1 a 30 yard td pass, 41-21. BUF even got down to the KSt24 but was SOD on 4&4 with 5:00 left and ended the game at the KSt38 taking a knee. The Bulls got their sixth win and became bowl eligible and were my #4 Most Improved Team this year in my magazine.
Follow Phil Steele anywhere!

•

•

•
•

•

•

•

•
Phil Steele is a college football analyst who has been publishing his annual College Football Preview since 1995. His magazine is regarded as one of the best in the business.
Google+