| | |
| --- | --- |
| Daily Blog • October 29th | |
By Phil Steele
Kansas St continued to alternate QB's and with a great deal of efficiency. Jake Waters hit 10-13-198 yards and Daniel Sams 8-8-93. Waters rushed for 53 yards and surprisingly Sams for just 16 but the 2 combined to hit 18-21 passes. They greatly outdid West Virginia's alternating QB's of Clint Trickett and Paul Millard. Trickett hit 15-28-227 and Millard 4-14-37 as the 2 combined for less than 50% completions. This was actually closer for most of the game than the final score. KSt took their 3rd drive 47/5pl for a td to lead 7-0 but 2 poss later WV went 47/7pl and got a 6 yard td run to make it 7-6 (xp blocked). WV drove 79/7pl but after 1&gl at the 6, settled for a 21 yard FG and led 9-7 with 5:24 left in the half. WV's next drive went 40/8 but they went for it on 4&7 at the KSt5 passing up a FG, even tough Holgorsen had some regret the previous week for passing up a FG opportunity. They ran for 4 yards to the 5 yard line. At the half WV had a 221-142 yard edge but only led 9-7. WV fumbled at their own 18 but KSt fumbled into the EZ for a TB. WV went 47/5pl and with 10:33 left in the 3Q, WV led 12-7. KSt went 78/14pl with Sams at QB and got a 9 yard td pass. WV punted. With Waters at QB, KSt went 78/7pl and got a 30 yard td pass, 21-12. WV fumbled at the KSt46 and KSt went 54/5pl for a 24 yard td pass with 7:25 left, 28-12. Miller came in at QB for WV24 and they went 40/11pl but on 4&10 were SOD at the KSt36 with 2:35 left. KSt went 64/8pl tacking on a 4 yard td run with just :15 left in the game to make it look like a blowout and they only had 448-367 yard and 19-18 FD edges.
USC came in a banged up team vs Utah and down to just 48 scholarship players were available for the game. They left with just 46 scholarship players but still put on a dominating performance. Their D held Utah to 201 yards giving up a 42 yard FG on the first drive and not allowing another score. Despite not having their top 4 TE's, despite not having Marqise Lee, despite having a banged up offensive line, despite missing numerous starters on defense the Trojans pretty much controlled the game. The one healthy TE, walk-on Chris Wilson who was a pitcher at Wake Forest caught a pass at TE in the game for USC. Dating back to the Notre Dame game, USC actually had a streak of 17 failed 3rd down attempts but finally broke through. Trailing 3-0, on their 3rd series, USC went 43/6pl and had a 30 yard td pass to Agholor, 7-3 They recovered a fumble at the Utah 19 and got a 35 yard FG. Utah went 64/13pl but was SOD on 4&1 at the USC11 with 7:43 left in the half. USC got a 38 yard FG with :23 left in the half to lead 13-3 and then tried an onside/squib kick but Utah recovered at the 20. Utah brought in Adam Schulz at QB because he has a big arm but he was intercepted and returned 54 yard to the 9 with :04 left in the half. USC was able to add a 28 yard FG for a 16-3 lead with a 135-122 yard edge. USC went 50/9pl for a 40 yard FG, 19-3. USC K Andre Heidari who if he made his FG's vs Washington St and Notre Dame, USC would have just 1 loss this year, hit his first 4 FG's before finally missing a 37 yarder with 4:54 left 3Q. Utah got a 40 yard PR to the USC33 but would miss a 32 yard FG with 11:25 left. The next 5 poss were punts. Utah did get to the USC21 on 4&1 they were SOD with :20 left and that 49 yard drive put them over 200 yards for the game. Cody Kessler hit 21-32-230 and Tre Madden was the team's top rusher with 60 yards on 12 carries while Silas Redd surprisingly had no yards on 10 carries.
Woe is Michigan St's offense. That's all they heard all week long after putting up just 14 points vs Purdue. The Spartans were half a team. MSU would get it rolling this week. Connor Cook actually set a MSU record for pass eff in a game hitting 15-16-208 yards. MSU would roll up 477-128 yard and 29-8 FD edges. They were struggling a bit early as on their 2nd poss they fumbled into the EZ for a TB costing them points but recovered a fumble and went 23/4pl for a td to lead 7-3. On a key play of the game, Illinois went for it on 4&gl at the 1 with 8:17 left in the half and were stopped. MSU went 99/15pl and faced a 3&25 with :09 left in the half and Cook hit Foster with a 29 yard td pass to make it 14-3. At the half MSU only had a 165-110 yard edge. As I tell you every wee, my good buddy Gil Brandt always talks about late scores in the half taking momentum and that is precisely what MSU did. In the 2H they went 75/10, 56/9, 75/2, and 77/8pl for td's on their first 4 poss to blow it open, 42-3 and ended the game taking a knee at the IL19 yard line. That will give them a little confidence heading into this week's big battle vs Michigan.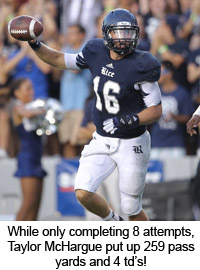 UTEP's Aaron Jones actually rushed for 186 yards on 29 carries vs Rice. Charles Ross rushed for 152 with 21 carries for Rice. UTEP's Jameill Showers hit just 1-3 passes for 4 yards before getting hurt and Blaire Sullivan QB'd most of the game hitting 6-9-112. Taylor McHargue hit only 8-19 but for an efficient 259 yards. UTEP had a 49 yard FG blocked with 4:22 left in the 1Q and Rice would drive 57/11pl for a 28 yard FG to lead 3-0. Rice went 76/4pl and got a 60 yard td pass, 10-0 on their next drive. UTEP battled back with a 50 yard td pass from Sullivan to Hamilton with 6:43 left in the half, 10-7. Rice went 45/4 and on 3&12 got a 17 yard td pass to lead 17-7. UTEP went 83/7pl but on 2&gl from the 3, fumbled at the 1 and Rice went 99/11pl and got a 1 yard td run to make it 24-7. At the half Rice had a 323-204 yard edge. The first 4 poss of the 3Q were punts then UTEP missed a 48 yard FG and Rice got a 72 yard td pass on 2&25, 31-7. UTEP was intercepted and Rice went 47/7pl for a 23 yard td pass, 38-7. UTEP fumbled and Rice went 29/2 for a td with 11:44 left, 45-7. UTEP was SOD on 4&1 at the Rice 20 and ended the game at the 34 yard line running out of time.
WKU had a 532-397 yard edge vs Troy. Brandon Doughty hit 29-45-387 but Corey Robinson hit 20-32-306. This was a game of quarters. WKU had actually given Nelson Fishback his first start at QB and he drove the team for a 29 yard FG to open but Petrino went to Doughty the rest of the game Antonio Andrews rushed for 144 yards on 28 carries and added 128 yards receiving on 7 rec. WKU went 55/11 for a 29 yard FG. After a WKU 24 yard punt, Troy went 19 yards for a 41 yard FG to tie. Then Doughty was sacked and fumbled and Troy went 51/10pl for a td including a 4&14, 24 yard pass to the 17 then a 4&1, 3 yard run. Their td made it 10-3 with 1:02 left in the 1Q. WKU dominated the 2Q. They went 75/11 and on 4&1 an Andrews td run tied it at 10. WKU went 59/10pl and 47/11pl for a td and a 33 yard FG and led 20-10. They had a 251-96 yard edge at the half. Troy was intercepted to open the 3Q on a deep pass at the WKU5. WKU got 2 FD and fumbled then Troy on 3&9 got a 40 yard td pass to pull back within 20-17. WKU went 68/12pl but settled for a 24 yard FG, 23-17. Troy went 69/6 and got a 9 yard td run to take the lead, 24-23. WKU came right back with a 61/7pl drive for the 27 yard FG and the lead, 26-24. Troy went 73/11pl and a 3 yard td run put them up 32-26 with 13:48 left. WKU missed a 37 yard FG with 10:26 left. Troy went 65/11pl, a key was a 3&24, 37 yard pass to Franklin down to the 25 but when they missed a 32 yard FG, it kept WKU within a td of winning and WKU promptly went 50/9pl. On 4&1 at the Troy 22 they simply handed off to the workhorse, Andrews, but he was stuffed for no gain and Troy took over at their own 22 and took a knee with the upset in hand.'
Tulsa had a QB ? all week. Would they go with Cody Green, who had been their starter all year but was less than 100% or their frosh, Dane Evans. Evans got the start and played the entire game vs Tulane. TLN has a ball hawking secondary with 4 all-conf caliber DB's and a solid pass rush. Evans hit just 13-30-139 yards. Devin Powell, who was dynamic 2 weeks ago in TLN's upset win over ECU, was just average this week missing some open receivers and hitting 17-29-164. TLN is another one of my Most Improved Teams that I put on the list that is already bowl eligible at 6-2 knocking off preseason favorite Tulsa. TLS did have their opportunities but as you can tell by the final score of 14-7 it was a defensive game. Late 1Q TLN was intercepted in the EZ from the TLS23. TLN was intercepted at the TLS31 and returned 64 yards to the 5. That set up TLS for a 5/4 drive for their only td of the game and the td came on 4&gl at the 1. TLS had a drive kept alive by roughing the P but would miss a 29 yard FG with 5:23 left in the half and Powell put together an 80/13pl drive for a 19 yard td pass with :42 left in the half to tie it. TLN took their first 3Q poss 70/9pl and got a 30 yard td pass to go up 14-7. There were 5 punts on the next 6 poss and TLS had gotten to the TLN26 but was intercepted at the GL and returned to the 1 late 3Q. TLS fumbled at the TLN38 with 6:56 left. TLN got to the TLS40 but was intercepted with 3:45 left and TLS had a chance to tie. They started at their own 4 and on 4&5 got a 9 yard pass. They would add 2 more FD's but on 4&25 fired incomplete from their own 27 and TLN took a knee. TLS finished with a 344-301 yard edge.
I was doing my Friday radio show on SIRIUS/XM Channel 91 with Bill King and a caller asked if Air Force could stick with Notre Dame. I said yes, they would stay with ND - for the 1H and pointed out that in most AF games this year they either led or were close at the 1H but then ended up getting blown out in the 2H. Nate Romine started for AF and became the 4th different QB to start due to injuries and suspensions. As expected in the 1H they gave ND a game. In fact they led 7-0 after the 1st series going 71/10pl. Many times when you play an option team it takes you a series or 2 to get to up speed defending it. The Irish went 75/5 and 91/6pl for td's to lead 14-7 but AF went 46/13pl for a 47 yard FG, 14-10. The Irish went 51/3pl for a 22 yard td pass with 8:49 left 1H then got a 51 yard FG with 3:57 left, 24-10. AF fumbled at the ND17 with 1:00 left and trailed 24-10 with only a 269-207 yard deficit. AF fumbled at the ND38 and the Irish went 62/6pl for a td and on their next drive, 63/7pl for a td and after 3Q's it was 38-10. AF was SOD at midfield and the Irish went 51/2pl for a td with 13:31 left, 45-10. AF punted with 11:25 left and was SOD at the ND36 with 5:19 left and ND finished with a 466-339 yard edge. Romine was 6-10 passing for 37 yards and led the team in rushing with 76. Carson Roberts took over at QB late. Tommy Rees hit 17-22-285 with 5 td's and Andrew Hendrix was 1-4 but for 47 yards and also rushed 4 times for 9 yards.
A surprising stat in the UTSA/UAB game was that UTSA only had a 523-503 yard edge and UAB had a 28-26 FD edge. UTSA was in control throughout. They took their opening drive 77/9pl for a 22 yard td run then after an int, drove 33/5pl for a td, 14-0. Their 3rd poss went 78/12pl for a 30 yard FG. Then UAB fumbled the KO and UTSA returned it 16 yards for a td, 24-0. UAB went 48/11 for a 50 yard FG to pull to 24-3 but UTSA went 75/7 for a td, 31-3. Each team drove for a td and it was 38-10 at the half with UTSA having a 331-189 yard edge. UAB was intercepted on the 5th play of the 3Q and UTSA went 60/4pl for a td. UAB went 74/12pl getting a td to get back to 45-17 then drove 52/11 but on 4&8 were SOD at the 25 yard line with 14:55 left. Six plays later UTSA got a 51 yard td pass, 52-17. UAB got back in the game statistically driving 79/4pl and 75/9pl for a pair of td's while UTSA had just 24 yards on their final 2 drives.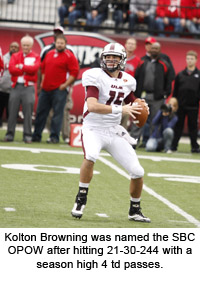 Kolton Browning returned for ULM and he was thought to be lost for a longer period of time. He hit 21-30-224 yards and ULM rolled to a 38-10 win over Georgia St. ULM had 533-244 yard and 23-14 FD edges and led the game 14-0 when they suffered a 14 pt swing. ULM was at the GSt32 and got down to the 13 yard line and fumbled and GSt returned it 87 yards for a td. Instead of going up 21-0 it became 14-7 and GS went 79/9 for a 25 yard FG with 7:01 left to make it 14-10. ULM got a 19 yard td pass with 5:21 left and then forced a punt with 3:54 left and went 73/11pl for a td with 1:00 left to make it 28-10. GSt did get to the ULM8 but fumbled on the last play of the half. ULM went 77/8pl for a 37 yard FG and on their 3rd 2H poss then went 72/8pl for a td to go up 38-10. ULM was SOD at the GSt32 with 8:10 left and GSt was SOD at the ULM20 with 4:37 left but ULM dominated just as the final score indicates.
You know every year if you check out my Most Improved List, 70% of the teams go from a losing record to a bowl. On the average, just 29.4% of teams that had finished with a losing record their last year managed to finish above .500 the next season. I cannot hit them all on the MIP List and one I did not hit this year is Southern Miss. SM just clinched a losing season moving to 0-7 and they did so in miserable fashion. North Texas went into Hattiesburg and had 529-249 yard and 30-10 FD edges on homecoming and the beleaguered SM team had their 2nd straight losing season for the first time since 1933-'34. It was their 19th consecutive loss which is the longest current streak in the NCAA. NT was intercepted on the first poss and SM missed a 35 yard FG. NT then went 80/6pl, 73/13pl for td's, punted on their next poss and SM went 84/3pl for a td. SM went to Nick Mullins at QB replacing Cal transfer Allen Bridgeford. Mullins hit just 12-31-210 yards but his 59 yard td pass made it 13-7. NT then went 61/5pl, 52/9, 67/5 and after an int, 13/3 for td to lead 41-7 at half with a 383-144 yard edge. NT fumbled to open the 3Q at their own 2 and SM got a td, 41-14. They went through 4 straight poss with each turning the ball over twice then NT went 40/8 and 39/8 both after TO's to lead 55-14 early 4Q in their 55-14 route.
LSU came in favored close to 7 td's vs Furman but the 1H was not good with a couple of key TO's keeping Furman in the game. Odell Beckham, Jr had 204 rec yards on 6 catches. Furman got a 74 yard IR td to actually take a 7-0 lead. LSU got a 55 yard td run by Hill to tie but Furman went 46/13pl and got a 46 yard FG to lead again, 10-7. LSU went 69/4pl for a td to go up 13-10 (xpng). LSU went 62/5 for a 39 yard td pass to Beckman, 20-10. Furman went 51/13 for a 31 yard FG, 20-13. LSU missed a 31 yard FG with 4:07 left in the half and then Furman fumbled the punt at their own 28. Furman had a 1&gl at the 1 with a chance to tie but settled for a 23 yard FG and only trailed 20-16. At the half LSU had a 279-149 yard edge. There wasn't any panic in the locker room and LSU just came out and dominated the 2H like you knew they would. They went 84/8pl for a td, were intercepted on their 2nd 3Q poss but then went 90/11, 69/4, and 83/6pl all for td's, the last a 63 yard td pass with 9:10 left. LSU finished with commanding 672-198 yard and 26-13 FD edges vs a Furman team that came in 3-4 in FCS play.
Texas St had a 452-409 yard edge vs South Alabama and got the upset win at home. They took their opening drive 82/8pl for a td then went 68/11pl for a 16 yard td pass to open the 2Q, 14-0. USA took over with 7:22 left in the half and went 61/13 for a 20 yard FG to pull within 14-3. At the half TXSt only had a 177-140 yard edge. After an int and a 35 yard IR and PF, USA started at the TXSt3 and got a td on the next play. Each team went on a long scoring drive with TXSt getting a 35 yard FG and USA a 13 yard td pass to tie it at 17. After an exchange of punts, TXSt got a 37 yard FG to go up 20-17 then 2pl later a 29 yard IR td put them up 27-17. USA went 75/8pl including a 4&7 conv and got a 42 yard td pass to pull within 27-24. TXSt went 47/6 and got a 43 yard FG to lead by 6 with 2:28 left but USA went 75/4pl and got a 43 yard td pass with 1:29 left to take the lead. Much like USA's game vs Troy, TXSt took over and on 4&24 got a 51 yard pass to the USA23 and 2 plays later a 41 yard FG with :04 left for the win. USA's last pay got out to their 43.
San Jose St survived a shootout vs Wyoming. They had a 642-599 yard edge. David Fales, who continues to round into LY's form, hit 27-37-482, Brett Smith hit 22-34-267 and surprisingly had -3 yards rushing on 7 carries for WY. SJSt put themselves in a hole early as WY went 41/13pl for a 43 yard FG then got a 93 yard td pass to Herron to go up 10-0. On their next drive they went 80/6 for a td, 16-0. SJSt fumbled at the WY42 but on their next drive got a 76 yard td pass to Jones, 16-7. Two poss later WY went 41/5pl for a 14 yard td pass, 23-7. SJSt took over with 4:53 left in the half and went 83/11pl for an 8 yard td pass which came 2pl after a 4&7, 26 yard pass to the 11, 23-14. At the half WY had a 322-267 yard edge. WY got a 67 yard run by Wick to open the 3Q and an 8 yard td pass on the next play, 30-14 but SJSt began their comeback. They got a 60 yard td pass 3pl later, 30-21 then rec'd a fmbl and went 30/3pl for a td, 30-28. SJSt went 65/9pl but this time after a 1&gl at the 7, missed a 21 yard FG. SJSt went 66/6pl and got a td with 2:38 left in the 3Q to take the lead, 36-30. WY was intercepted but SJSt punted. WY went 69/10pl and got a 15 yard td run with 11:47 left, 37-36. Each team went on a long drive for a td, 44-44. SJS35 went 65/12pl and went for it on 4&1 and got a 33 yard pass to Freeman to the 13 and their 1 yard td run by Fales with :08 left gave them the 7 pt win.
It's not often that Oregon's starters are playing in the 4Q and they've been very productive. A few weeks back I pointed out how UO dominated the 4Q vs Washington and turned a close game into a blowout and it was deju vu all over again this past week vs UCLA. If you turned the set off in the 3Q you wouldn't believe the final score or the stats. UO won 42-14 with three 4Q td's and finished with 555-283 yard and 30-15 FD edges. There was a lot of talk about De'Anthony Thomas returning to the lineup but he had a pedestrian 31 yards on 10 carries with Byron Marshall rushing for 133 yards on 19 carries. Marcus Mariota hit 21-28-230. Brett Hundley who has 3 frosh OL and didn't have his leading rusher Jordon James for the 3rd straight week (ankle), hit 13-19 but for just 64 yards passing. Surprisingly UCLA ran the ball for 219 yards with that OL and backup RB's and Hundley had 72 yards rushing on 15 carries. Much like the Washington game, UO had the benefit of playing UCLA the week after they played a physical Stanford team. UCLA has not defeated UO since 2007 and not won in Autzen since 2004. UCLA rec'd a fumble on the 2nd play and drove 38/7pl for a 7-0 lead. UO went 82/8pl to tie. After each team punted, UCLA went 41/8pl but on 4&2 went for it and were SOD at the UO32. UO quickly went 68/7pl for a td but on their next drive it was the Ducks on 4&2 from the LA17 that fired incomplete in the EZ. LA went 70/7pl and were at the UO13 when Hundley was intercepted in the EZ. UO went 3&out and LA blocked a punt setting up a 28/6pl td drive. Their two 1H scoring drives combined for 66 yards. UO went 55/7pl and missed a 37 yard FG. At the half UO had a 298-188 yard edge. The 3Q surprisingly opened up with 4 punts and a fumble with UO fumbling at the LA5 with 6:21 left 3Q. UO's next drive went 49/5pl and they took the lead 21-14 with 2:57 left in the 3Q. LA was then intercepted and returned 33 yards and UO went 38/7pl for a td with 12:41 left. UO went 65/9pl for a td with 8:47 left and then UO won by more than they were favored by, going 66/8 getting a 2 yard td run with 2:25 left making Duck backers very happy. LA got down to the UO19 at the end but ran out of time.
Arizona QB BJ Denker ran for 192 yards on 15 carries. He had 54 and 46 yard td runs. Ka'Deem Carey came in avg 160 ypg but only had 119 on 23 carries. It was a close game until Colorado got desperate at the end and faked a punt from its own 17 and were stopped. UA did finish with a 670-349 yard edge. A 75 yard td pass to CU WR Richardson tied the game at 7 mid1Q and a 53 yard FG by CU on the 2nd play of the 2Q tied it at 10. CU missed a 52 yard FG then after an int, got a 48 yard FG for a 13-10 lead with 5:12 left in the half. UA went 75/9 for a td with 2:28 left, forced a punt with 1:17 left and went 74/2pl with Denker hitting a 44 yard td pass with :50 left to give them a 24-13 edge. The 149 yards they gained on those 2 drives helped them have a 361-189 yard edge at the half. The first three 3Q poss were all for scores and UA led 34-20. CU had a 4&gl at the 4 but fired incomplete. CU's next drive they were pinned at their 12 and faked a punt from the 17. UA got an 18/2pl drive for a td then after an int, 6pl later, drove 64/6 for a 28 yard FG to close the scoring at 44-20. Sefo Liufau who has taken over as the starting QB hit 17-32-212.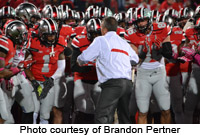 I felt Iowa was a better team than Penn St this year and thought Ohio St would finally get that impressive win they've been looking for this season. Th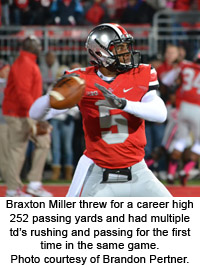 e Buckeyes did not disappoint in a rare night home game as they moved the nation's longest win streak to 20 with the school mark (22) coming during the 1969 season which followed their 1968 Title. While this game was on one of my 12 tv's and in the main area that I view, I didn't pay much attention to it as from start to finish it was a blowout. OSU scored on 6 of 7 poss in the first 2Q's rolling up a 42-7 lead with a 409-168 yard edge. PSU's only 1H score came when they were already down 28-0. The Buckeyes actually punted on their first 3Q poss but then went 33/2 (after fmbl) and 72/7pl. It was 56-7 with 4:01 left in the 3Q. PSU was SOD at the OSU21 and Kenny Guiton led OSU 79/13pl for another td. Hackenberg was replaced by Tyler Ferguson who hit a 65 yard td pass with 7:33 left and the team's basically ran the clock after that with 2 FD's. Hackenberg was 12-23-112 while Braxton Miller was 18-24-252. Carlos Hyde ran for 147 yards on 16 carries.
Kenneth Dixon ran for 183 yards and Louisiana Tech had 333-197 yard and 23-12 FD edges snagging a CUSA road win. LT opened with a 56/11pl drive that included a 4&1 conversion but settled for a 26 yard FG. FIU fumbled on their own 16 and LT had B2B fumbles which they recovered for losses and on 4&18 got a 35 yard FG, 6-0. Later LT added a 33 yard FG after a 57/12pl drive with 3:46 left in the half to make it 9-0. At the half LT had a 157-69 yard edge. LT was intercepted to open the 3Q and FIU got a 38/1pl td pass to Smith to make it 9-7. After an exchange of punts, LT went 32/12 settling for a 30 yard FG, they had a 1&gl at the 3 and all the FG's kept FIU in the game, 12-7. LT was intercepted at the FIU25 (1:17 3Q) and intercepted at the FIU 19 (13:46 4Q) on their next 2 drives but finally broke through with a 51/5pl drive. On 3&8 they got a 39 yard td pass to Dixon, 20-7. After an int, they went 37/8pl for a 35 yard FG for the 23-7 final. FIU was SOD at the LT 46 on 4&6. Jake Medlock who has returned from injury hit just 11-26-126 for FIU.
Nevada had a stranglehold on the Fremont Cannon holding it for 9 years but UNLV finally beat their upstate rival 27-22. The Cannon is the most expensive trophy in college football and UN did have a slim 487-484 yard edge while UNLV a 29-18 FD edge. Cody Fajardo hit 24-40-357 and Caleb Herring hit 29-42-335. UN went 57/6pl for a 40 yard FG and was intercepted at the UNLV30 but after recovering a fumble, went 63/14pl settling for a 22 yard FG and a 6-0 lead. UNLV on 3&8 got a 16 yard td pass capping off a 75/9pl drive for the lead, 7-6 (9:56 2Q). UN got a 61 yard td pass to Turner for a 13-7 lead (6:57 3Q). UNLV answered with a 75/5pl drive and a 44 yard td pass to Davis, 14-13 (5:23). UN was SOD at the UNLV34 on 4&14 then drove 39/7pl and got a 43 yard FG with :24 left in the half to retake the lead. UNLV got 2 FD but missed a 49 yard FG on the 1H's final play and UN had a 325-278 yard edge at the half. With all of that offense, it was surprising the first 4 poss of the 3Q were punts. UNLV went 71/16pl but missed a 35 yard FG. After an exchange of punts, UN fumbled at their own 27 and UNLV 3pl later had a td for a 21-16 lead with 11:46 left. UNLV went 80/10 and got a td with 5:47 left for a 2 score lead, 27-16. UN28 went 72/8 for a 9 yard td pass, 27-22 with 3:20 left and forced a punt with 2:15 left. UN fired incomplete on 4&4 at the UNLV40 with 1:25 left.
Bryce Petty, as usual, played less than 3Q's vs Kansas but still hit 20-32-430 and yes, once again avg over 20 ypc (21.5). Surprising to me was that Baylor punted on their first 2 poss with a grand total of 1 FD. After that they took control. They went 76/4, 84/4, 82/7 and 70/5pl for td's to lead 28-0 then got SOD at the KU49 but drove 84/16pl for a 30 yard FG with 4:34 to go and 80/4pl for a 25 yard td pass with 2:00 left. BU, despite that slow start on the first 2 drives, piled up a 505-91 yard edge at the half and led 38-0. They drove 80/3pl on their opening 3Q poss 45-0, but fumbled at the KU36 and KU went 64/6pl with a 32 yard td run, 45-7 with 4:51 left in the 3Q. KU fumbled and BU went 19/4pl for a td. BU with backup QB Russell in for the 4Q saw him hit just 1-6-7. KU got a 30 yard td pass with 11:14 left. After KU missed a 37 yard FG with 7:12 left, BU got a 68 yard td run for the 59-14 final. Jake Heaps hit 7-19-85 despite Montell Cozart splitting time with him and hitting 4-14-69.
The situation really favored Idaho in the fact that Mississippi was off their huge upset of LSU in an SEC sandwich playing the lowly Vandals. UI was down to their 3rd string QB Taylor Davis (Chalich and McCain both inj) but Davis did have 4 career starts under his belt and hit 12-30-166. Bo Wallace hit 15-22-186. UI was competitive in the 1H. Miss went 60/4pl for a td and UI was SOD at their own 40 yard line on 4&5. Walton got a 40 yard td run on the next play, 14-0. After 3 punts, Miss went 40/10pl for a 50 yard FG, 17-0. UI put together a 75/9pl drive for a 2 yard td run, 17-7. UI got down to the 8 yard line and had a 1&gl but not only settled for a 27 yard FG, they missed it and that would be a key to them not staying close. Miss took over with 7:37 left in the half, went 80/13pl and got a 1 yard td run to lead 24-7 at the half with a 208-120 yard edge. Each team punted to open the 3Q then Wallace hit a 65 yard td pass, 31-7. UI fumbled and Miss returned it 12 yards for a td, 38-7. UI drove again and got a 62 yard td pass to Epps, 38-14 (5:55 3Q). Mathers broke off a 64 yard td run 3pl later, 45-14 and after UI was SOD on 4&1 at the Ole Miss 25 with 2:05 left in the 3Q, Miss went 75/9 for a td, 52-14. Brunetti led UM 70/7pl for a td with 7:36 left, the td came on a 3&10, 35 yard td pass, 59-14. UM did end the game taking a knee at the UI32 and had 572-253 yard and 28-12 FD edges.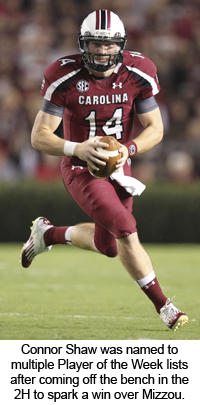 I really liked the pregame speech given by Al Pacino in Any Given Sunday where he talks about football and life being a game of inches and that the inches are everywhere and really make the difference in the game. Missouri is inches away from being a national title contender but due to the lack of a few inches, have fallen all the way down to #10 and are 1 loss away from not appearing in the SEC Title game. South Carolina started Dylan Thompson and while he had decent stats hitting 15-27-222, they trailed 17-0 into the 4Q. Connor Shaw who was banged up, came off the bench and hit 20-29-201 yards guiding scoring drives of 69, 69 and 63 yards to keep alive SC's chances of getting to that SEC Title game. They suffered a big injury when Mike Davis went down late (status unknown). Maty Mauk who looked so good vs the Florida defense, was a little erratic hitting 10-25-249. SC did not get a FD on their first 2 drives but on their 3rd went 54/11. They converted on 4&3 at the MO27 but would miss a 40 yard FG. MO went 77/9pl and got an 11 yard td run by Murphy, 7-0. SC went 47/7pl but fumbled at the MO31. SC went 71/7 and had a 1&gl at the 2 but fumbled again and that was huge because on 3&8, MO got a 96 yard td pass for basically a 14 pt swing and a 14-0 lead. SC's next drive ended on an int at the 10 yard line of MO and then they went for it on 4&1 at their own 34 and were SOD. Surprisingly MO was sacked and fired 2 incomplete passes and punted 27 yards to the 9 with :35 left. At the half MO had a 257-212 yard edge and led 14-0. SC went 55/8pl but on 4&6 from the MO33 were SOD. MO went 58/7pl but settled for a 27 yard FG, 17-0. Shaw came into the game and they got 1 FD and punted. MO punted with 1:47 left in the 3Q and Shaw led a 65/13pl drive. They converted on 4&4 at the MO36 and 3&19 down to the 6 and got a td on the next play, 17-7. It wasn't a good game for MO K Baggett. MO went 37/6pl but he missed a 46 yard FG. That all'd SC to go 69/16pl and get a 29 yard FG instead of having to go for it on 4&2 with 5:03 left. MO punted with 3:08 left and SC went 63/8pl getting a 1 yard td with :42 left to force OT. It still looked good for MO in OT as they got a td in 5pl and SC, after 1 FD faced a 4&gl from the 15 but Shaw hit Ellington with a td to move it to the 2nd OT. Fry got a 40 yard FG then Baggett was an inch away from a made FG but it clanged off the upright and was no good.
Auburn came in #8 in the nation in rushing and despite being in a letdown spot off their big upset of Texas A&M, powered the ball for 422 yards on the ground and surprisingly did not produce a 100 yard rusher. FAU's 2 QB's combined to hit 11-26 passing and AU had a 628-247 yard edge. Big plays helped AU get the big lead. AU22 went 78/6pl for an 8 yard td run. FAU fumbled and AU got a 43 yard td run on the next play, 14-0. After a 63 yard PR, AU went 28/4 for a td, 21-0. After a 34 yard punt they went 48/4pl for a td, 28-0. After 3 punts AU took over with 7:42 left 1H and went 54/8pl for a 43 yard FG then got a 1pl, 67 yard td pass with 3:10 left in the half, 38-0. FAU did go 67/3pl getting a 29 yard td run with 2:13 left, 38-7 and AU missed a 40 yard FG on the 1H final play but at the half AU already had 440 yards to just 168 for FAU. FAU went 61/7pl for a 31 yard FG to get back within 28 but AU went 46/6pl after a PF on the KO and got a td, 45-10. AU was intercepted a the FIU2 at the end of a 13 play drive, SOD at the 4 on 4&1 after a 59 yard drive but FAU did not threaten to score.
Hawaii's MO this year has been to let the other team jump out to a big lead and then make a big comeback at the end. They followed through on that strategy again vs Colorado St. CSU RB Kapri Bibbs rushed for 137 yards on 33 carries. Garrett Grayson hit 15-26-177. Sean Schroeder hit 28-49-349 but they did play Taylor Graham as well (3-7-37). CSU got a 70 yard run by Alexander setting up a Bibbs' 5 yard td run for a 7-0 lead then got a 73 yard FR td to go up 14-0. CSU had leads of 21-7, 28-14 and then 35-17 at the half and were intercepted at the UH29 with 1:09 left up by 18. CSU had a 313-211 yard edge. UH missed a 42 yard FG on their 2nd 3Q poss and there were 5 punts on the first six 2H poss. UH was intercepted at the CSU18 on a deep pass, went 59/8 but were SOD at the CSU34 with 12:19 left. UH went 89/7pl and got a td and 2 pt conv with 6:45 left to pull within 10 then went 53/9 and got a 20 yard FG with 2:54 left to pull within 7. They forced a punt with 1:24 left and converted on 4&7 with a FD to the 50 but on 4&5, alternating Graham and Schroeder at QB, Graham fired incomplete on the final play.
Fresno St sure reminds me of Hawaii from their 2007 season. That year I picked UH to go to the Sugar Bowl as the BCS buster and was scoffed at by many. UH did have 3 or 4 narrow escapes during the season and ended up staying unbeaten and getting there. This year I picked FSU as my top non-AQ team and FSU has already had a couple of close games like their 52-51 OT win vs Rutgers and then vs a very good Boise St team, got past them 41-40. Vs Hawaii last month they jumped out to a 42-3 lead and only won 42-37 and UH had the ball. Against SDSt it was another narrow escape. Surprisingly the 1H was just 7-7 with SDSt having a 233-111 yard edge. SDSt took the lead on their 2nd 3Q poss going 80/11pl for a td, 14-7. FSU went 85/11, 91/8 and got a 78 yard FR td and with 9:51 left in the game, took a 28-14 lead and appeared safe. SDSt quickly answered. They went 61/4pl with a 60 yard pass on 3&10 a key for a td then rec'd an onside and went 49/6pl for a td to make it 28-28 with 6:15 left. FSU punted with 4:32 left and the Aztecs converted on 4&1 to the FSU24 and lined up for the game winning FG but their 37 yarder was blocked. FSU needed 5 plays for a td and SDSt on 4&5 fired incomplete. Derek Carr hit 35-57-298 while SDSt QB Quinn Kaehler hit 21-39-337. SDSt did finish with a 507-341 yard edge.
Normally my Saturdays begin at 5:00 am. I have a hectic morning trying to keep up to date on all of the latest information for the games about to begin and then I watch 12 tv's from noon to 1:00 am trying to capture every single play while going through play by plays of as many games as I can. My Saturday this past week was extended by a 3:06 rain delay. I was very interested in the Texas/TCU game for obvious reasons. UT held TCU to 5 yards on their first 7 plays and Casey Pachall came off the bench for the Frogs. He would hit just 13-34-139 yards. UT recovered a fumble at the 3 and got a td to open, 7-0. Then went 62/8pl for a 43 yard FG, 10-0. TCU got a 38 yard td pass with 1:24 left in the 1Q to make it 10-7. UT went 79/6pl and on 3&10 a 65 yard td pass put them up 17-7. After 2 punts the game was delayed 3:06 for lightning. When it came back, UT forced a punt with :50 left in the half and on 2&8 took a chance and got a 44 yard pass to Davis and would add a 37 yard FG to lead 20-7 at the half. They had a 228-164 yard edge. UT went 89/8pl for a td to open the 3Q but then McCoy, who had been throwing some passes down the field and up for grabs, got picked off on one at the TCU13. On their next drive McCoy was picked off again, this time at the 8. After an exchange of punts, UT went 13/6pl for a 36 yard FG for a 30-7 lead with 11:55 left. After the teams combined for 3 punts, UT took over at the 50 with 4:57 left and got down to the 19 yard line but on 4&5 lost 7 yards with :25 left. UT had a 415-246 yard edge and 18-12 FD edge and I was up until 1:30 am.
Oregon St finished with 23-13 FD and 288-273 yard edges. Kevin Hogan for Stanford hit just 8-18-88. Sean Mannion put it up 57 times completing 41 but was very un-Bryce Petty-like as he avg just 6.6 ypc with 271 yards on 41 comp. Brandon Cooks had 9 catches but for just 80 yards. SU was far from dominant but did rush for 185 yards with Tyler Gaffney having 145. SU was without WR Devon Cajuste and K Jordan Williamson. SU fumbled at the OSU22 and gave up a 41 yard PR setting up OSU for a 6 yard drive for a 50 yard FG and OSU led 3-0. OSU surprisingly with a K that made a 50 yarder, went for it on 4&3 at the SU19 and the pass was incomplete. OSU went for it on 4&1 at the SU34 with just :46 left and were stopped. That was crucial as SU went 66/7pl for a 4 yard td run by Gaffney, that gave them the lead with just :07 left in the half for a 7-3 lead and the momentum. At the half SU did have a 162-98 yard edge. OSU fumbled the opening KO of the 3Q and Gaffney got a 9 yard td run on a 12 yard drive, 13-3. OSU went 45/13pl but was SOD at the SU35. OSU went 90/12pl for an 8 yard td pass, 13-9 but SU put together another offensive drive going 73/8pl for a 32 yard td run by Gaffney, 20-9. After 3 punts, Gaffney fumbled at their own 20 and OSU got a 39 yard FG with 3:00 left, 20-12. SU26 punted with 1:43 left and OSU got a 28 yard PR to the SU43. They got 3 FD's to the 7 needing a td and 2 pt conv for the tie. Their final 4 passes were all incomplete including a very close one on the final play on 4th down.
New Mexico St finally got their first win but it came vs an FCS foe in Abilene Christian who came in 5-3 on the season. It also did not come easily. NMSt did take their opening drive 80/13pl for a td and ACU went 80/11 for a 20 yard FG. NMSt was intercepted at midfield and ACU was intercepted. NMSt went 65/9pl for a td and a 14-3 lead. ACU went 75/9 for a td (xp blocked) then after an int, 37/5pl for a 20 yard td pass (2 point no good), 15-14 with 3:36 left in the half. NMSt went 69/9pl for a 6 yard td pass, 21-15. ACU35 went 65/3pl for an 8 yard td pass, 22-21 with :09 left in the half. ACU had a 285-224 yard edge. The 2H opened with 5 punts. ACU fumbled and NMSt would get a 32 yard FG on a 24/6pl drive, 24-22. NMS13 went 87/12pl for a 5 yard td run, 31-22. ACU37 on 4&1 was SOD at their own 46 and NMSt went 45/8pl but settled for an 18 yard FG, 34-22 (2:32). ACU27 went 73/15 and on 4&gl got a 5 yard td pass with :19 left in the game to make it 34-29 then the fun happened. ACU rec'd the onside kick at the 31, they got a 14 yard pass called back on a hold but then got a 30 yard pass to midfield after bouncing off a couple of players, it was then lateralled and with an ACU player running down the sidelines for a miracle td, NMSt's LB Trashaun Nixon made the game saving tackle inside the 10.
Cal came in with a banged up team but that has been their MO all season, as their offense put up some yards. Jared Goff hit 32-54-336 yards. Cal did have 483 yards. Washington was still winning by more than the experts thought and had a 642-483 yard edge. Cal has not beaten an FBS foe since Oct 2012. UW scored on 3 of their first 4 poss to lead 17-0 and it was 24-7 at the half with a 373-214 yard edge. They extended it to 41-10 with 10:27 left and Cal was SOD at the UW24. UW punted and Cal got a 73 yard td run that made a lot of their backers happy trimming the deficit to 41-17 with 5:04 left. UW punted with 2:40 left and Cal34 on 4&8 was SOD at the UW43. UW took a knee. UW came into the game off 3 straight losses.
Follow Phil Steele anywhere!

•

•

•
•

•

•

•

•
Phil Steele is a college football analyst who has been publishing his annual College Football Preview since 1995. His magazine is regarded as one of the best in the business.
Google+